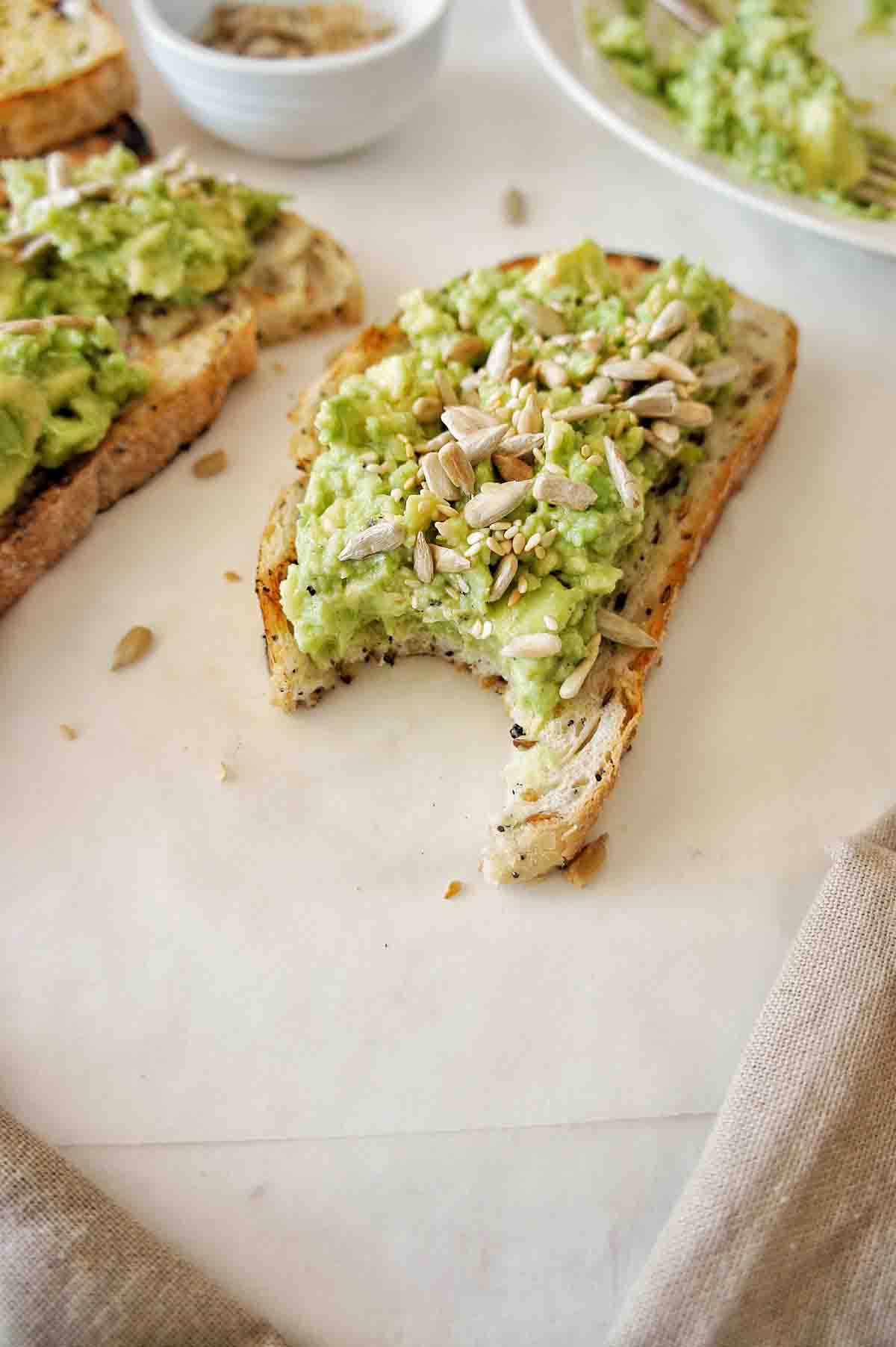 Grab some avocados, fresh bread with seeds, a lemon, some pepper and get into your kitchen with them!
Everyone loves a delicious breakfast. Especially on weekends, when you have a bit more time to think about and plan your meals.
This simple avocado toast recipe is one that doesn't take much effort yet provides amazing results.
What is avocado toast
Avocado toast is the simple process of smearing ripe and buttery avocado on crispy toasted bread.
It tastes even better when you season the avocado with lemon and cracked pepper and top it with toasted seeds (it is SO good!)
This is an easy avocado recipe that is super quick and easy.
How to make simple avocado toast
To make Simple Avocado Toast we start with basic ingredients.
The photo below shows you what we need  for this recipe.
We have:
avocado
lemon
multigrain sourdough
sunflower seeds
sesame seeds
butter
pepper
If you want this vegetarian recipe to be vegan, there is only that one simple change to make for the recipe. You can switch out the butter for spray olive oil instead. I like using butter as it really does toast well and brings a nice colour to the bread.
These ingredients are all straight forward and easily accessible. You might even have most of them at home already!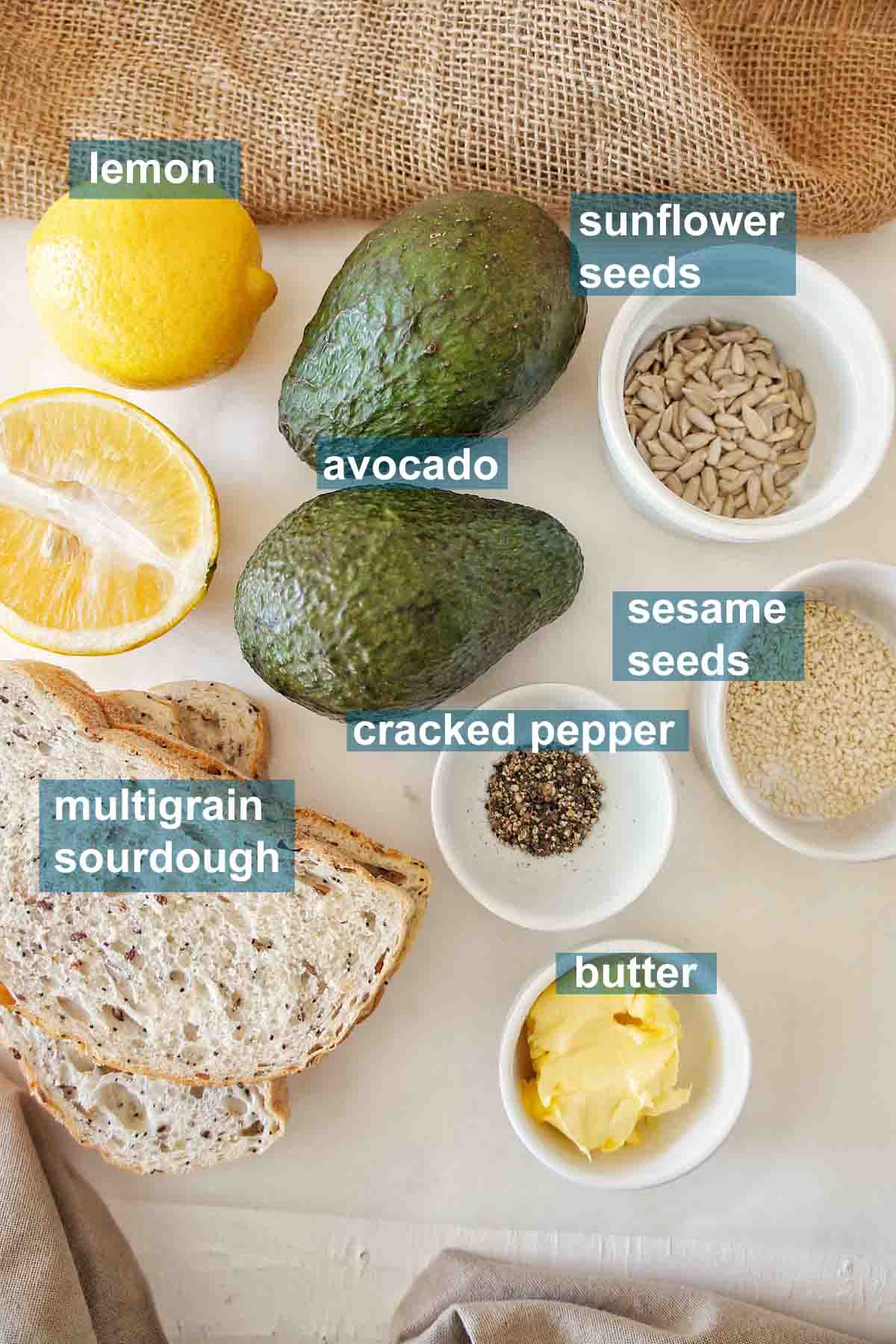 For the bread, you can use any sort you like. My preference is for multigrain as it has both taste and texture. I also like the shape of it as it is nice and rounded. By all means use white, wholemeal, rye or whichever bread is your favourite.
Go for ripe avocados that soften slightly when you push them gently from the outside
Simple avocado toast method
Making avocado toast is simple and easy.
The photo below shows you the avocado in the beginning stages of the recipe
Start by slicing your avocados in 1/2 and removing the seed.
The image on the right shows you that the next step is to use the knife to make gently make cuts across both directions of the avocado. This makes it so much easier to scoop out the avocado so we can season it. Using a spoon is easiest. I find that a fork doesn't ever really get ALL the avo out and I love avo so much I don't want to waste any of it.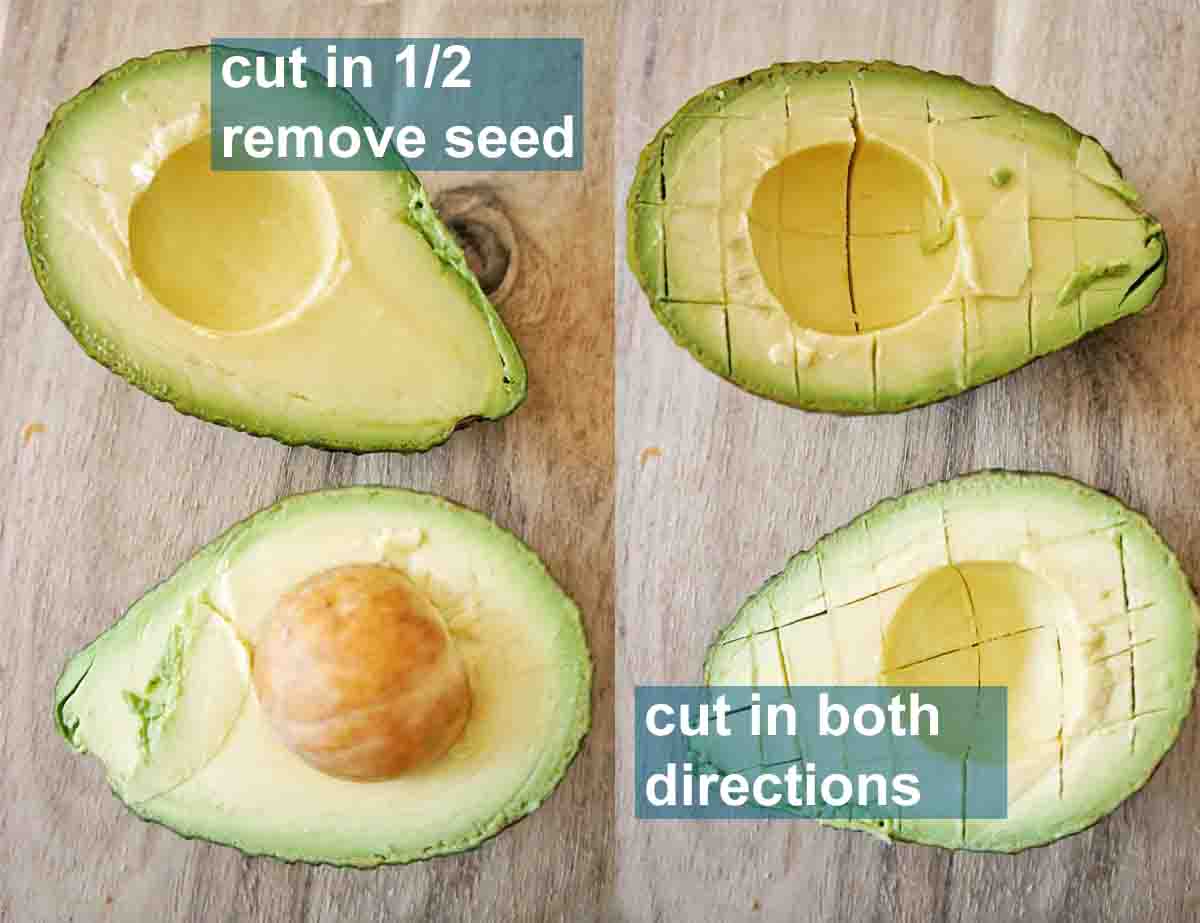 How do you make simple avocado toast
The next steps for this recipe are to season our avocado. 
The photo below shows you how to do this.
There are 4 easy steps to follow
butter the bread (or use spray oil for a vegan option)
mash the avocado in a bowl with a fork
squeeze in some lemon juice
add pepper
Then all you have to do us use your fork to really mix the lemon and pepper into the avocado.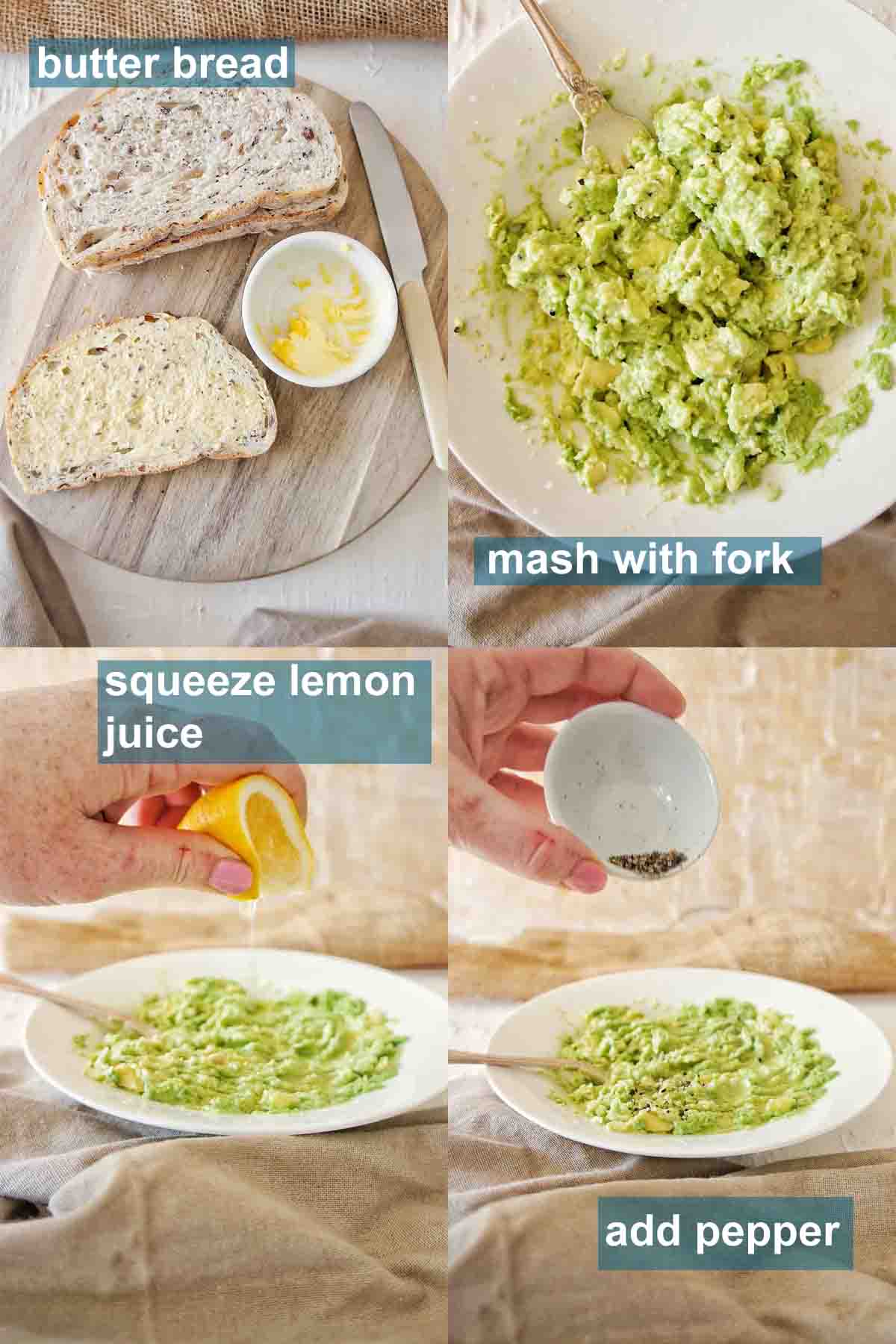 Avocado toast toppings
There are so many options that you can take when making avocado toast, keeping it simple is one of them.
You could also try adding additional toppings.
Delicious avocado toast toppings ideas:
bacon (hello, my friend bacon)
egg
chilli
mushrooms
tomatoes
smoked salmon
The key is to keep it simple. Some recipes, like this one are perfect because of their simplicity. When you deviate too much from the basic ingredients you loose the joy of a tasty, easy recipe.
Is avocado on toast healthy
One of the reasons I like this recipe is that it is so healthy.
It is also easy to make it healthier. The butter is optional as you can use spray oil if you prefer.
If in doubt at all, have a look at the nutritional information in the recipe card as that will give you insight into the exact breakdown of the ingredients.
What is good with avocado
I think avocado is amazing on its on. But like all ingredients, sometimes you want to make it even more amazing.
These are all ingredients that go well with avocado:
boiled eggs
sriracha sauce
haloumi
dukkah
You have so many options that you can try a new one each time you make this recipe!
Simple avocado toast questions answered:
About the recipe:
use ripe avocados
you can use bottled lemon juice if you need
to make the recipe vegan, omit the butter
you can add salt if you wish
use your favourite bread, mine is multigrain sourdough
Your quick questions answered:
you can use a frypan or toaster for the bread
the seeds take about 2-3 mins to toast
this recipe is not suitable to freeze (bread, yes, avo, no)
serve on its own or with an avocado topping suggested above
This is an EASY recipe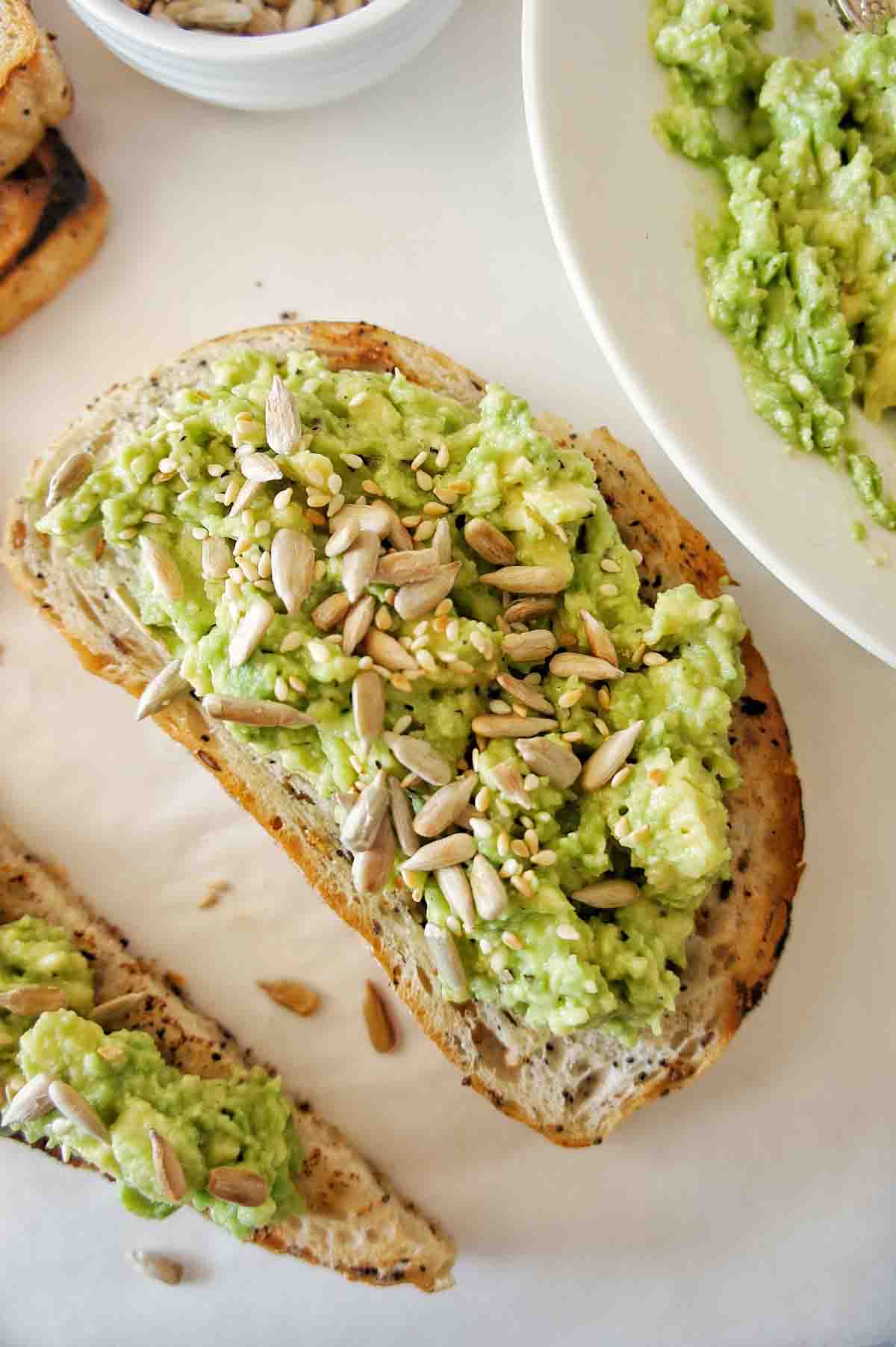 The textures of the smooth buttery avocado topped with the hard little seeds work so well together!
This is one of the best ways I know of to start the day. It is nutritious, delicious and you are going to LOVE it.
To serve your toast top it with the toasted seeds. These are a delicious texture and give you that next level to your avocado toast.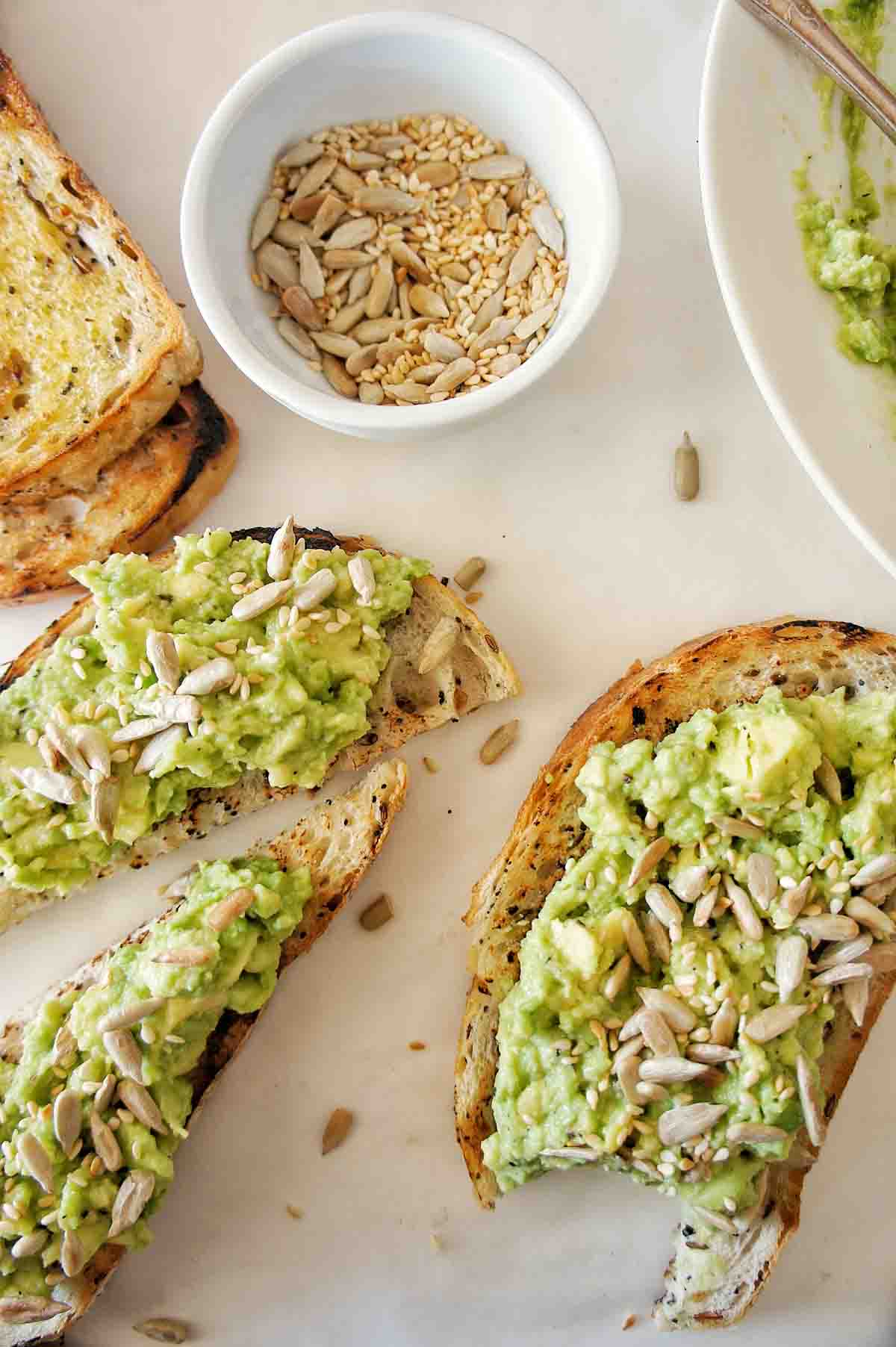 To serve your toast top it with the toasted seeds. These are a delicious texture and give you that crunchy delicious taste that works so well with toast.
Simple avocado toast is one of the easiest breakfast recipes you can make, why not try it for lunch or dinner too!
If avocado is your thing and this simple avocado toast makes you want to have breakfast in bed every weekend, then check our these other great recipes to start the day with:
Or for Avocado lovers, check out this dip:
Avocado Dip (cause we all need more avos in our life!!)
Or you might want to start your day with a refreshing smoothie. If that is the case, these recipes will tick your boxes:
If you make this recipe, tag @sweetcaramelsunday on Instagram and use hashtag #sweetcaramelsunday Or you can upload a photo (I would love to see) via the pin on my recipes board >> Sweet Caramel Sunday Recipes board  >> Pinterest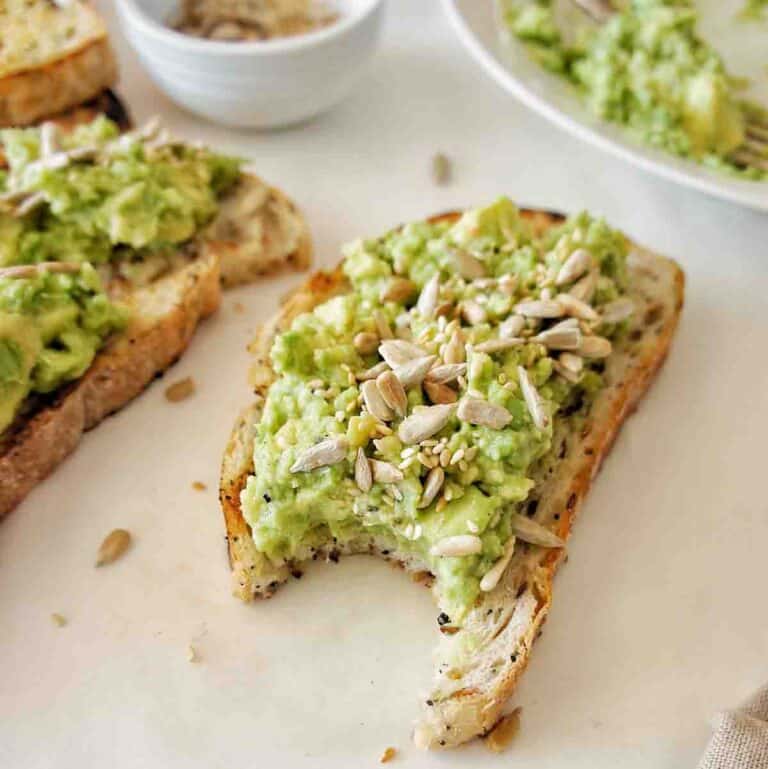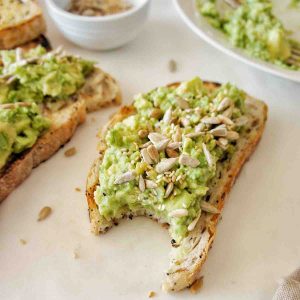 Simple Avocado Toast
Simple Avocado Toast is what we all need to get us jumping out of bed and ready to face the day ahead. Calling all avocado lovers! You are going to LOVE this recipe. 


Print
Pin
Rate
Ingredients
Simple Avocado Toast
2

avocado

1/2

lemon

1

tsp

cracked pepper

1

tbsp

sesame seeds

40

grams

butter

spreadable

1

tbsp

sunflower seeds

4

slices

multigrain sourdough
Instructions
Simple Avocado Toast
Cut your avocado in 1/2, remove the seed and make cuts in both directions through to the skin. Use a spoon to scoop out the flesh and place in a bowl. Repeat with other avocado.

Season with lemon juice and cracked pepper. Use a fork to mix through to combine. Note 1

Butter one slice of bread on one side and repeat for the 3 remaining pieces of bread.

Place a medium fry pan on the stove at a medium heat. Cook for 4 mins one side, before using tongs to flip to the other side

Combine sunflower and sesame seeds into a non stick pan. Cook for approximately 2-3 mins or until the are light golden brown.

Scoop your seasoned avocado onto each slice of toasted bread. Top with toasted sesame seeds.
Video
Notes
Note 1 serving suggestion is 1 piece of toast with avocado and toasted seeds
Note 2 if any lemon seeds fall onto the avocado when squeezing the lemon, simply remove and disguard. 
Nutrition
Calories:
378
kcal
|
Carbohydrates:
47
g
|
Protein:
11
g
|
Fat:
18
g
|
Saturated Fat:
3
g
|
Sodium:
336
mg
|
Potassium:
615
mg
|
Fiber:
9
g
|
Sugar:
3
g
|
Vitamin A:
147
IU
|
Vitamin C:
17
mg
|
Calcium:
66
mg
|
Iron:
3
mg
Did you make this recipe? Share on Instagram!
It makes my day when you make my recipes! Tag @sweetcaramelsunday
This simple avocado toast is one of my all time favourite recipes! There is something so delicious about the fresh, ripe avocado and using the lemon juice and pepper with it takes it to that next level.
If you haven't made avocado toast before, I encourage you to give it a go. I think you will really enjoy it!  

Let me know if something doesn't make sense or if you have questions, I am here and happy to help.
Adrianne xx
P.S. This simple avocado toast will make you want to eat it every morning, make sure you grab enough avos!
If breakfast recipes are your thing, then check out some more ideas in this selection of lunch recipes: