Bruschetta with Feta, tomatoes, basil and balsamic dressing makes an easy appetizer! This is THE BEST bruschetta recipe for, it is easy, packed with flavour and has a tomato basil feta combo that packs a punch.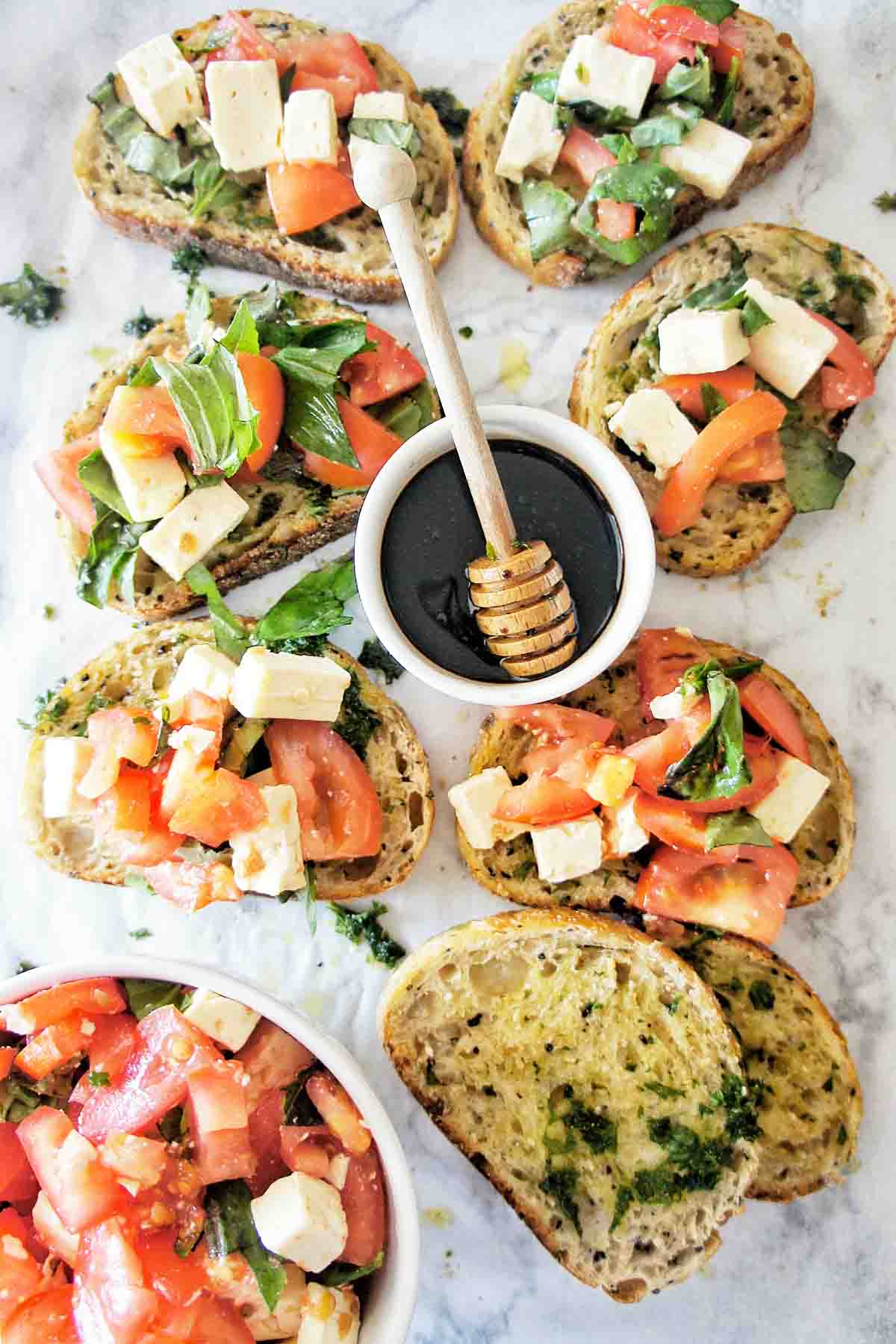 Appetizer recipes like our Grazing Platter, Caprese Bites, Baked Brie with garlic and our Spinach Cob Loaf make entertaining simple! Olive recipes like our Artichoke Olive Tapenade, Easy Green Olive Tapenade, Sun-dried Tomato Tapenade and Olive Tapenade are for making in advance and freezing ready for deliver for easy crostini toppings.
Need inspiration for appetizer recipes, click here!
How to make Bruschetta at home
To make brushcetta at home, you need some simple ingredients and a technique to bring them all together.
We take easy steps by seasoning and toasting our bread, then stirring together the ingredients for the topping.
BROWSE BY:
Appetizer recipes Quick and Easy recipes Vegetarian recipes
Bruschetta with feta ingredients!
This recipe is about super simple, easy ingredients. Let's have a look at what we need. In the photo below, you can see what brings this sandwich together: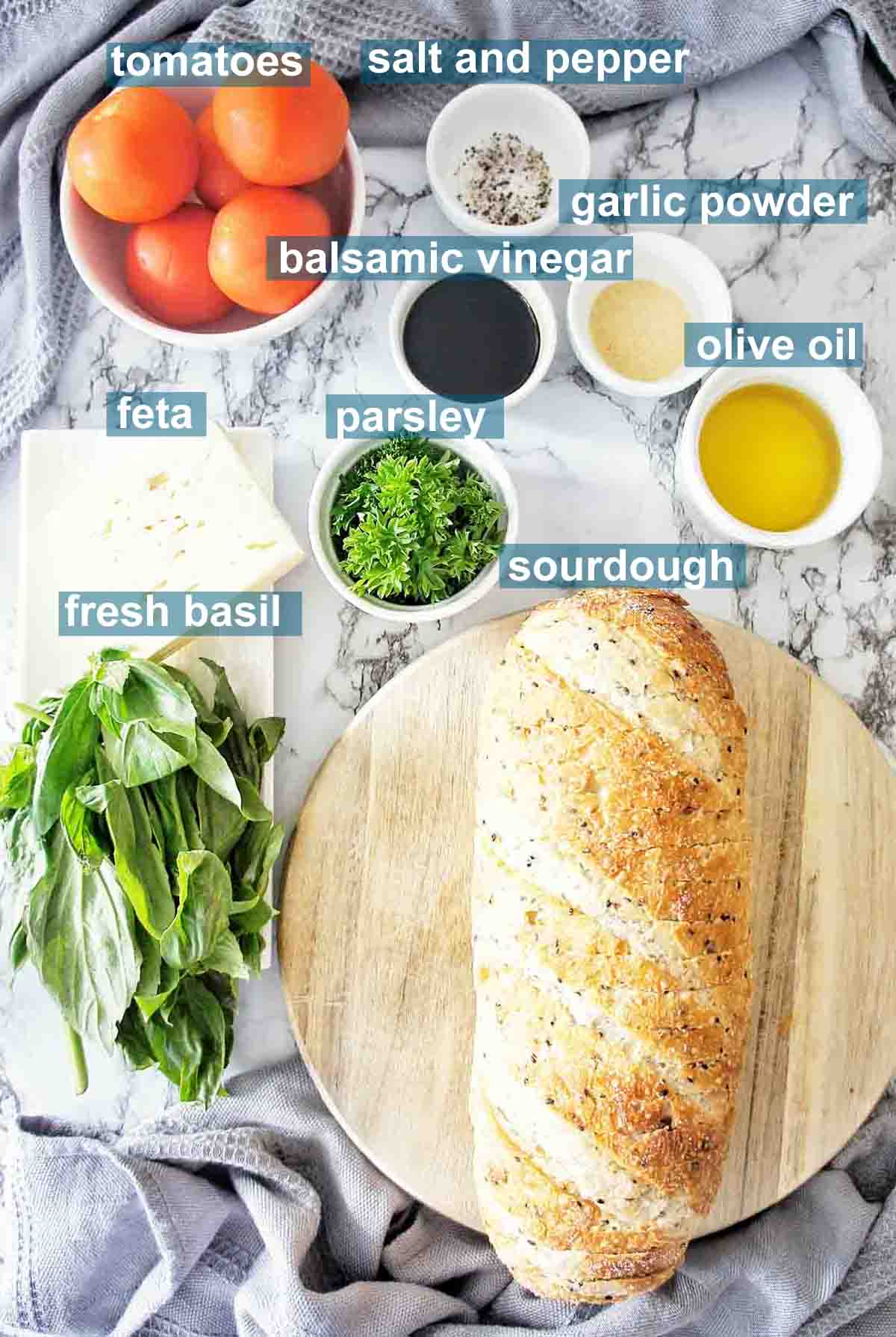 As you can see we have:
sourdough
fresh basil leaves
feta cheese
tomatoes
parsley
olive oil
garlic powder
salt and pepper
balsamic vinegar
We toast our bread in the oven till it is crispy, delicious and ready for toppings!
There is a Greek appetizer twist in our recipe for the the feta, basil, tomato combo is traditionally found in Greek Bruschetta recipes. It is a winning combination resulting in a bruschetta starter that takes amazing with tomato, basil and feta zinging around on the toast!
To make Bruschetta with Feta, Tomatoes and Basil
Making tomato bruschetta is EASY!
I have step by step instructions and photos below: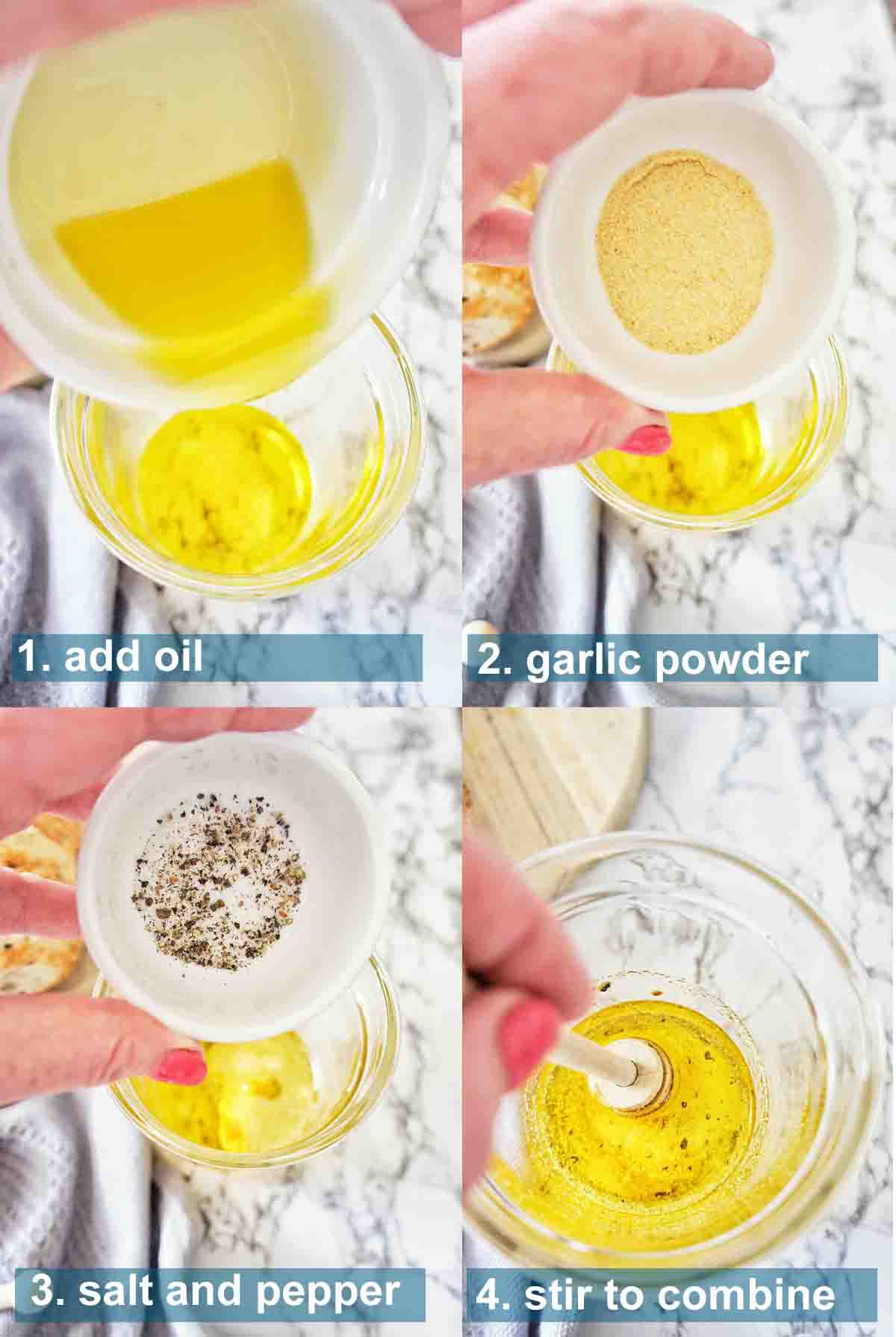 The steps above are:
Start with olive oil (photo 1)
Add garlic powder photo 2)
Salt and pepper (photo 3)
Whisk to combine(photo 4)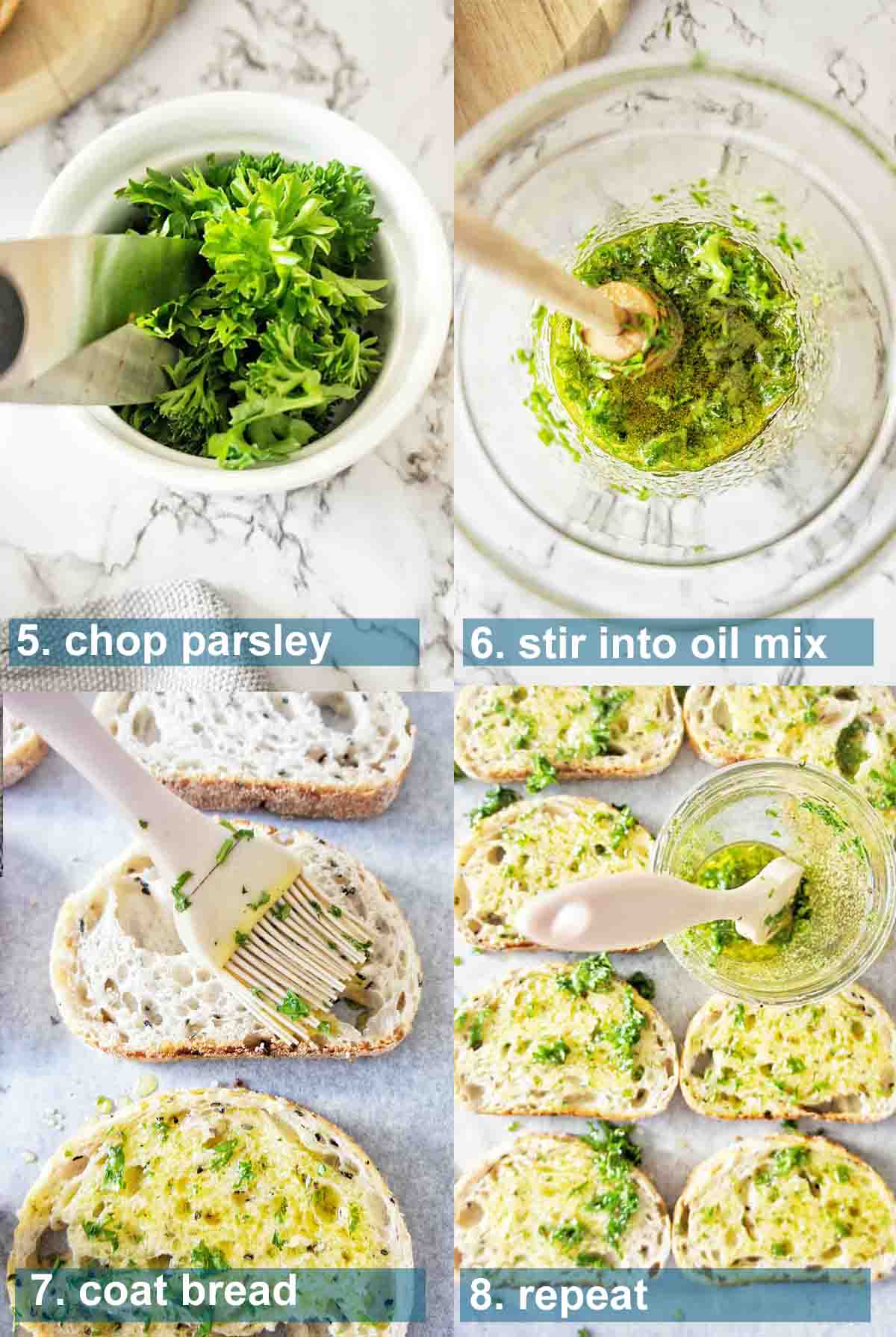 Next we need to:
chop parsley (photo 5)
stir parsley into olive oil mix (photo 6)
brush each slice of bread with seasoned oil (photo 7)
repeat till all slices are seasoned (photo 8)
Then we pop the baking tray with our seasoned bread into the oven for at least 15 mins. This will crisp up the bread so that the bruschetta is crunchy and delicious!
Find us on Facebook by clicking this link
When the bread is toasting in the oven, you can use this time to prepare the bruschetta topping!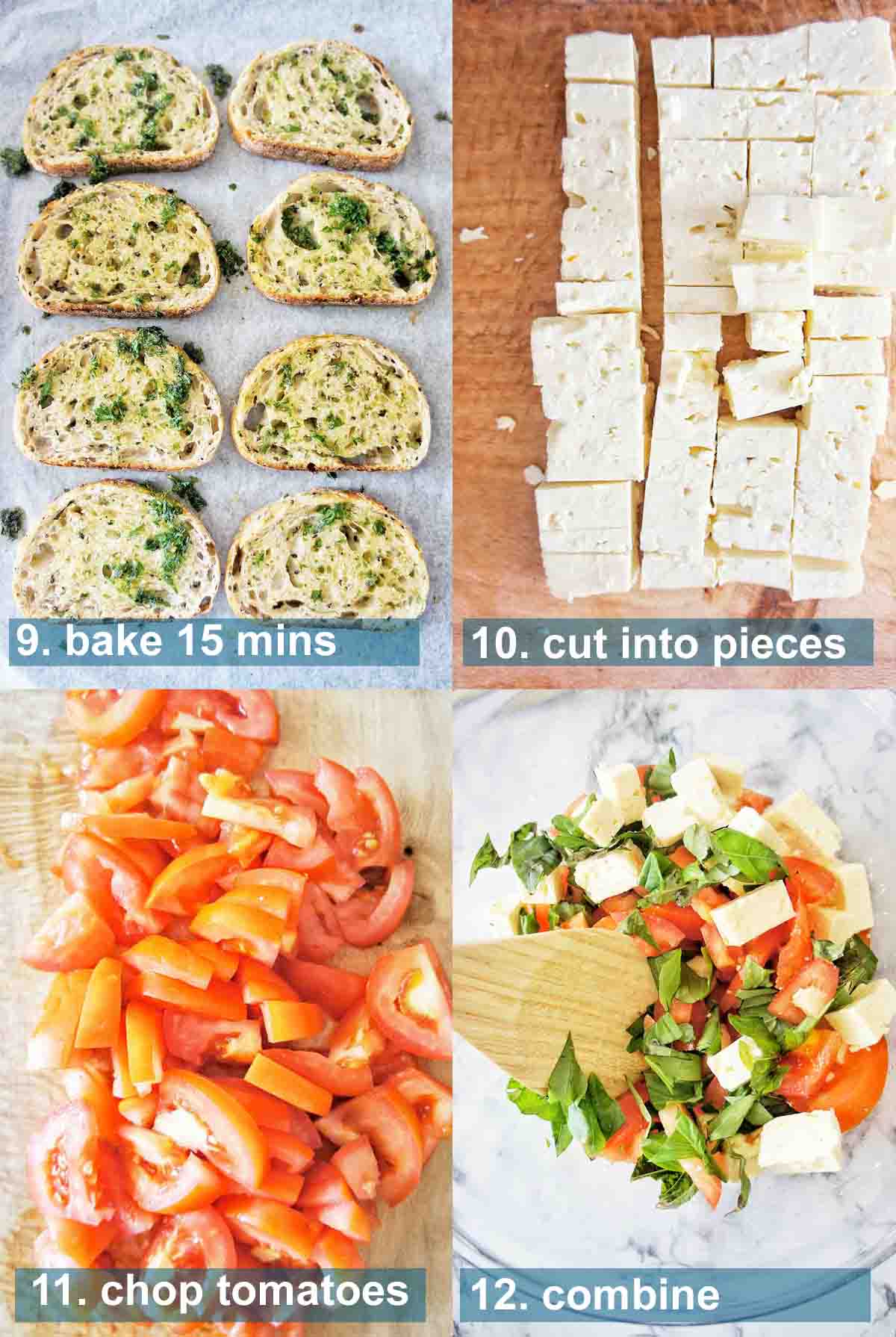 The final 4 steps are:
bake the bread for 15 mins in the oven (photo 9)
cut the feta cheese into small pieces (photo 10)
use a knife to chop your tomatoes (photo 7)
combine the tomato, basil and feta in a bowl (photo 8)
To keep the bruschetta crispy and not soggy, we need to seperate the bread from the topping and balsamic vinegar until it is time to serve it. Then when you are ready simply top the bruschetta with the basil, tomato and feta and drizzle with balsamic vinegar!
Reliable recipes that work are best for parties and entertaining guests.
You might need a few more recipes for further inspiration:
Looking for the latest recipes on the blog? Click here!
Bruschetta with Feta, Basil and Tomato Quick info:
FAQ's about the recipe:
this recipe is vegetarian
I use greek style feta cheese
fresh basil leaves are best
This is a super EASY recipe
Expert tips for success:
roughly chop the basil to add colour and flavour in the dish
buy a sliced loaf of bread to save cutting it yourself!
make the toasted bread a few hours in advance
keep the topping, balsamic vinegar and bread seperate until ready to serve!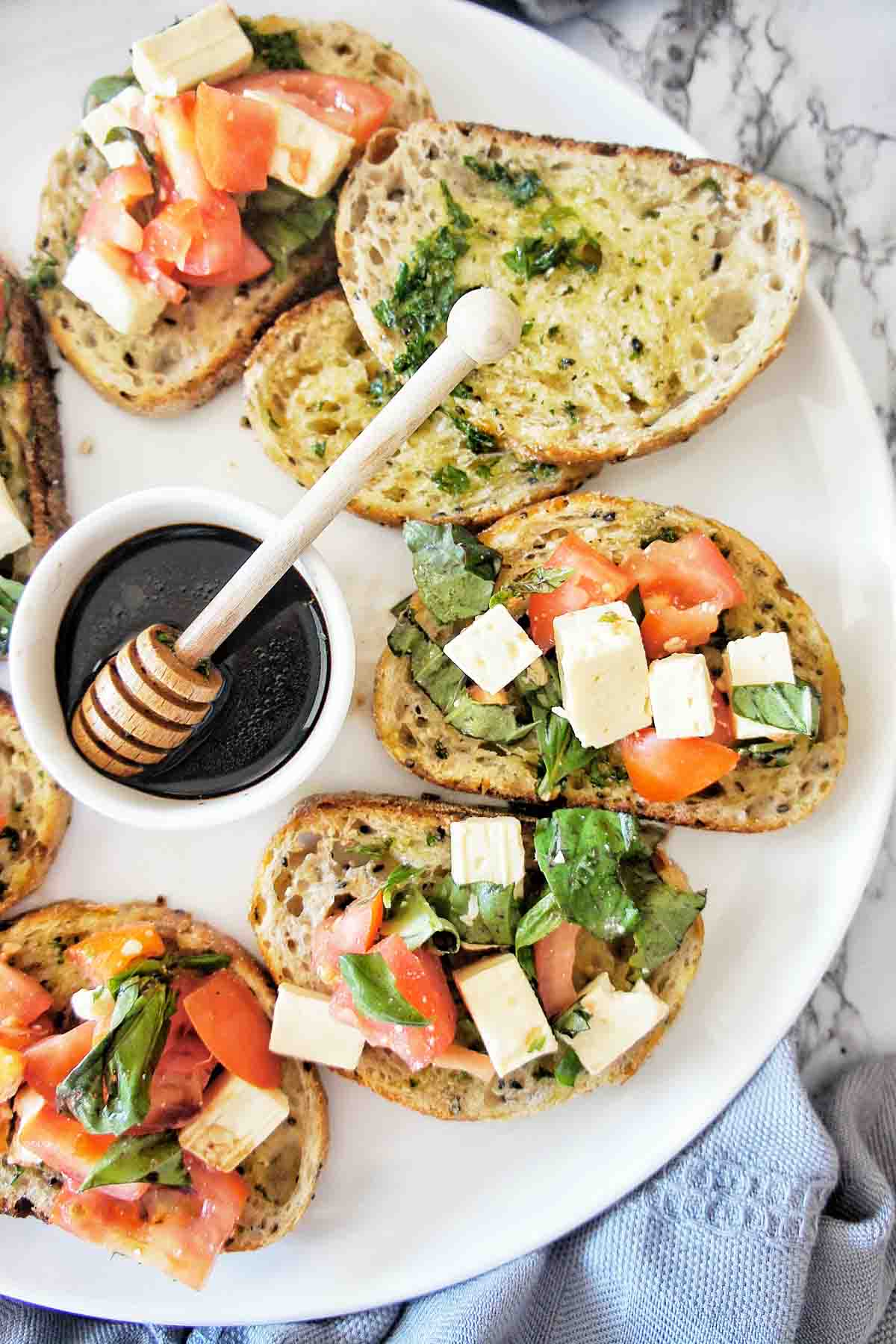 The balsamic vinegar is the key ingredient to draw together all of our ingredients. We use it in a similar way in our Cheese and Onion Sandwich and our Pesto Grilled Cheese.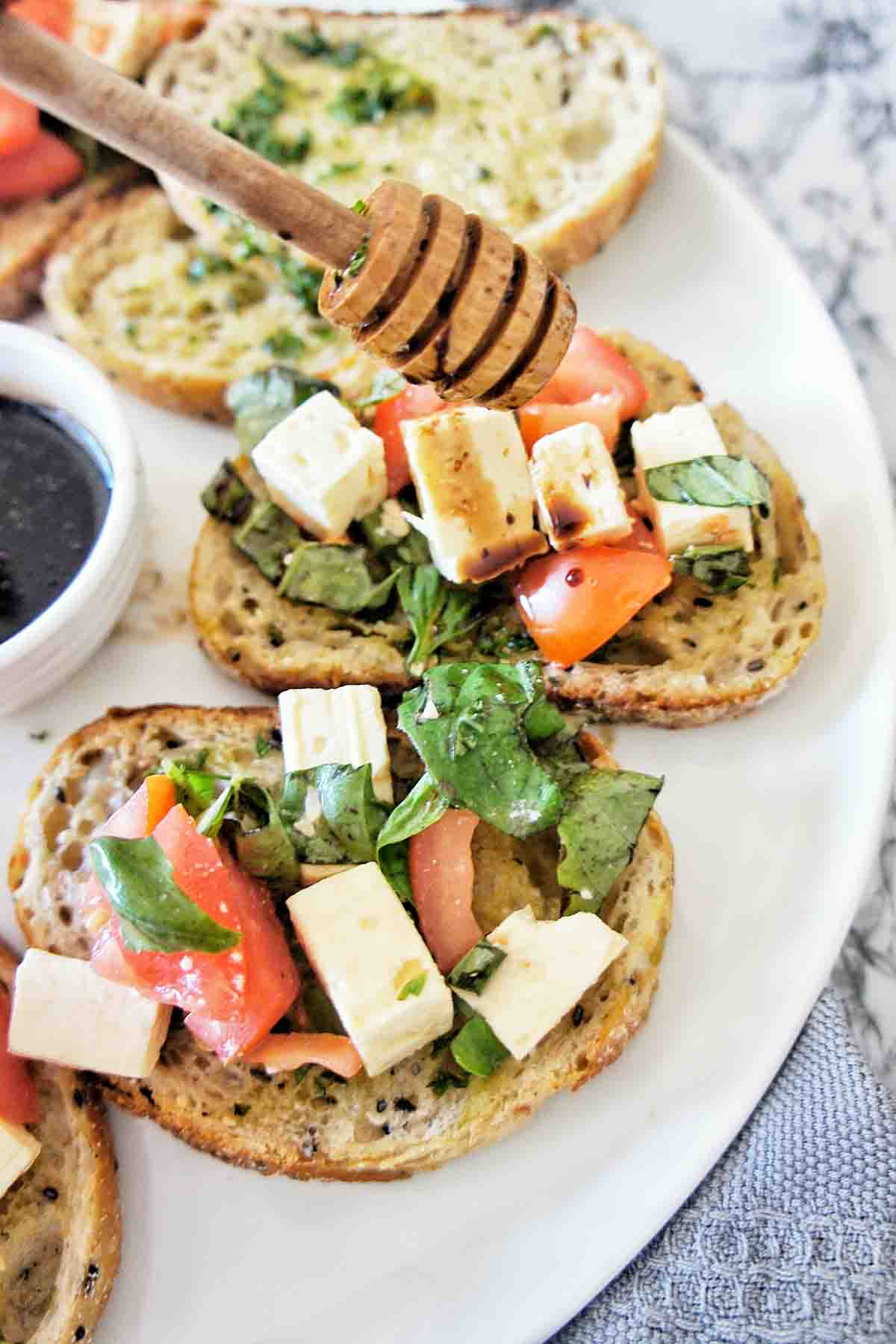 Need inspiration for appetizer recipes, click here!
Is Bruschetta better the next day?
One of the best things about this recipe is that you can make it in advance.
If you make the topping, keep it in a bowl with glad wrap in the fridge. Toast the bread and keep that separate in an air tight container. Drizzle with balsamic vinegar at the time of serving!
The bruschetta can be served warm or cold, my personal preference is to serve the toast warm with the delicious flavour packed toppings at room temperature!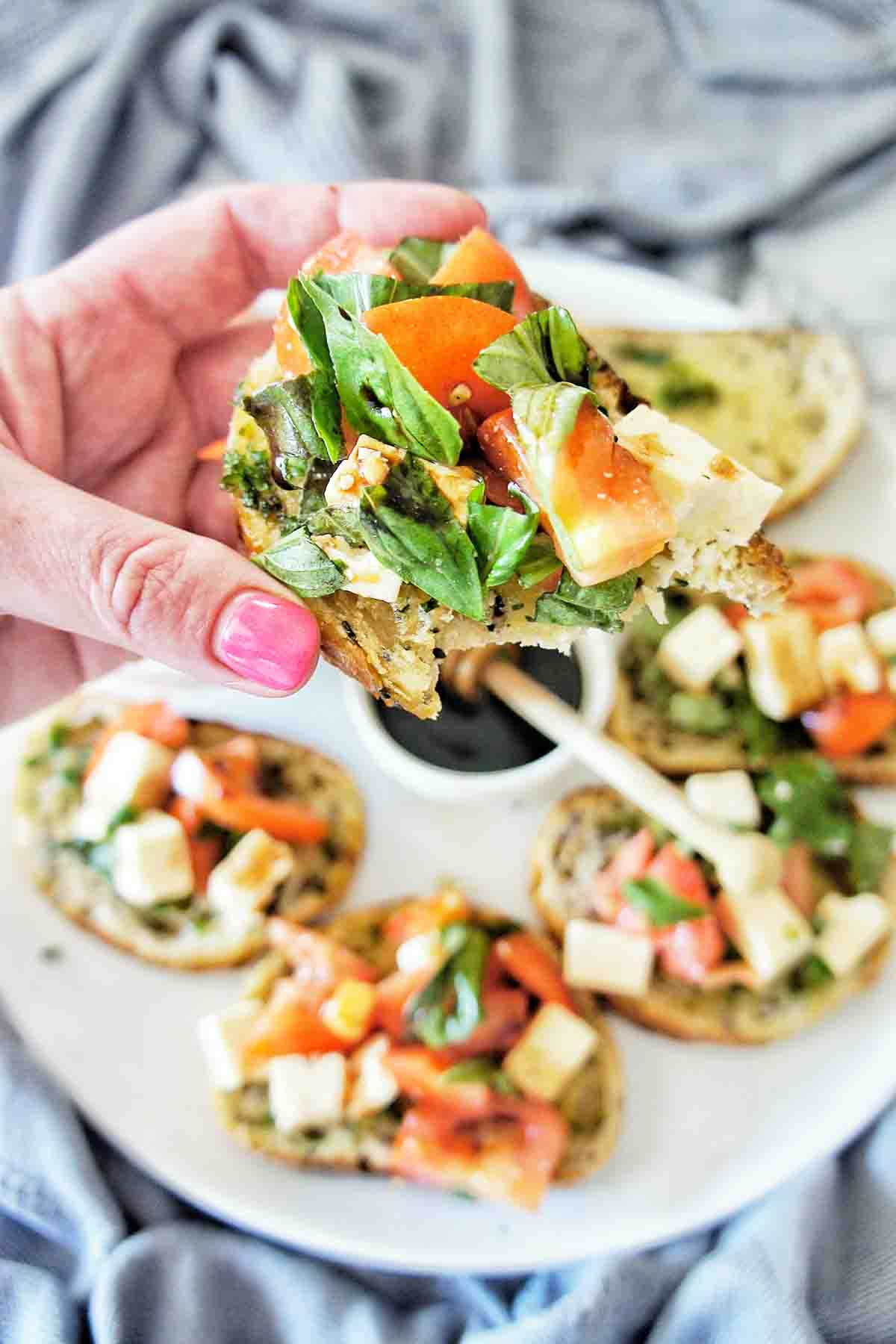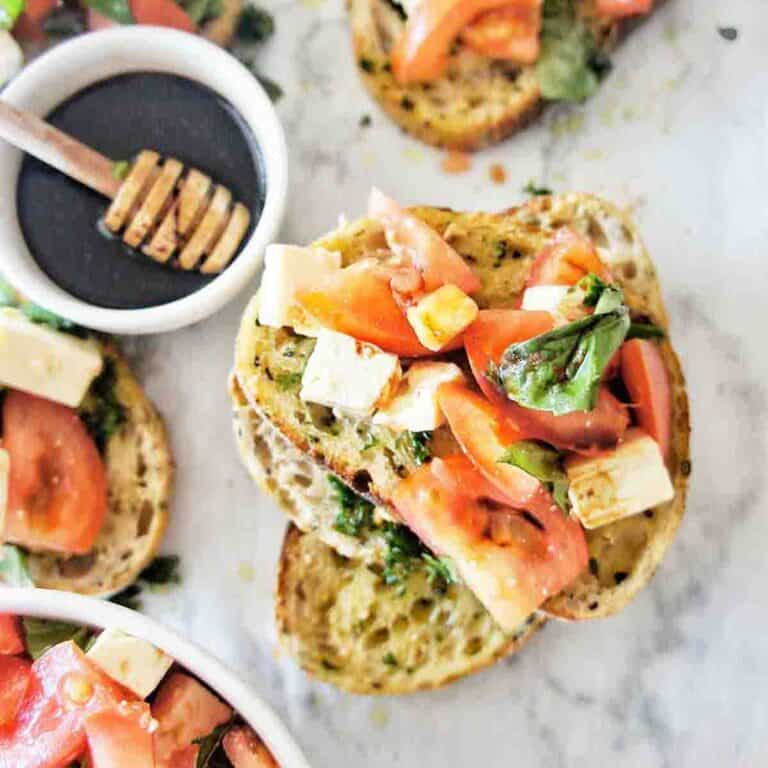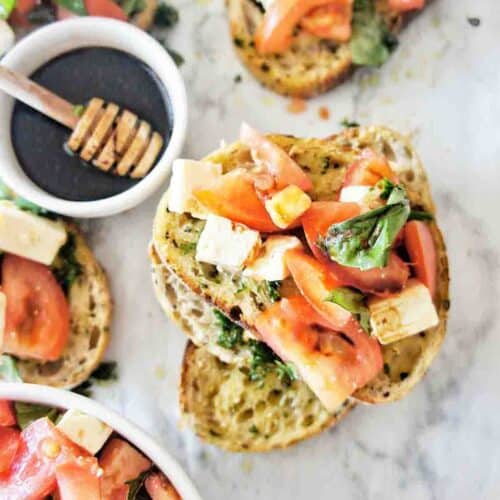 Brushetta with Feta
Bruschetta with Feta, tomatoes, basil and balsamic dressing makes an easy appetizer!  This is THE BEST bruschetta recipe, a winning tomato basil feta!
Print
Rate
Equipment
Baking tray

Bowl

Pastry Brush

Small jug

Mini whisk

Small serving bowls

Party platter
Ingredients
Bruschette with Feta
400

gram

sourdough (loaf)

sliced, Note 1

200

grams

feta cheese

Note 2

5

small

tomatoes

Note 3

1/2

bunch

fresh basil

Note 4

1/2

olive oil

1

tsp

garlic powder

Note 5

1/3

cup

fresh parsley

optional

balsamic vinegar

to serve

salt and pepper
Instructions
Bruschetta with Feta
Preheat your oven to 180°C/400°F/gas 6.

Line a flat baking tray with grease proof paper

Combine olive oil, garlic powder, salt and pepper in a small jug Note 6

Use kitchen scissors to roughly chop the parsley then add it to the seasoned oil

Spread your bread slices out onto the baking tray

Use a pastry brush to coat each bread slice with the seasoned oil

Place the baking tray in the oven and bake the bread for 15 mins or until toasted. Note 7, 8

Use a knife to chop the tomatoes and feta cheese, roughly chop the basil leaves.

Combine the tomatoes, feta and basil in a mixing bowl and stir to combine.

Remove the toasted bread from the oven, let sit for 1-2 mins and then top with the tomato, basil and feta mix

Drizzle with balsamic vinegar and serve.
Video
Notes
Note 1 Purchase sliced bread as this will save you time, plus the pieces will be all uniform in thickness which is hard to achieve if you are cutting them one by one yourself! 
Note 2 I use Greek style feta cheese, you can also use Danish style if you prefer
Note 3 You can use normal tomatoes, vine ripened tomatoes or roma tomatoes. 
Note 4 Fresh basil leaves are essential for this recipe as they bring a flavour that ties everything else together! 
Note 5 This will be in the herbs and spices aisle, it is a handy ingredient for many recipes! 
Note 6 I like to use a mini whisk to combine these ingredients, it is easy and ensures that everything is consistently mixed together. 
Note 7 Don't worry about turning the bread slices over in the oven, they will get crispy and crunchy with the technique of brushing them with oil before baking. 
Note 8 The bread will still feel a little soft when you gently press a finger onto middle after 15 mins, but it will crispy up very nicely as it cools down. (Don't worry if it is not 'rock hard' at this point). 
Nutrition
Calories:
63
kcal
|
Carbohydrates:
3
g
|
Protein:
3
g
|
Fat:
4
g
|
Saturated Fat:
3
g
|
Cholesterol:
18
mg
|
Sodium:
227
mg
|
Potassium:
135
mg
|
Fiber:
1
g
|
Sugar:
2
g
|
Vitamin A:
653
IU
|
Vitamin C:
9
mg
|
Calcium:
106
mg
|
Iron:
1
mg
Did you make this recipe? Share on Instagram!
It makes my day when you make my recipes! Tag @sweetcaramelsunday
Bruschetta starter is all you need!
This recipe is intended to give you party food with flavour but without fuss.
Step out of the kitchen and have a wine with you guests when they arrive or a lazy Sunday drinking session with good company and the best bruschetta recipe you can find.
I've got you sorted for easy entertaining, so you can get your oven on and get to it!!!
I would love to hear your feedback in the comments below. As always sing out if you have any questions.
Adrianne xx
Appetizer recipes Christmas recipes Popular recipes Quick and Easy recipes