Sun-dried Tomato Tapenade recipe that will blow your mind! With olives, capers, garlic and sun-dried tomatoes, this homemade tapenade is just the thing you need for an easy appetizers that you can munch on whilst sipping a wine!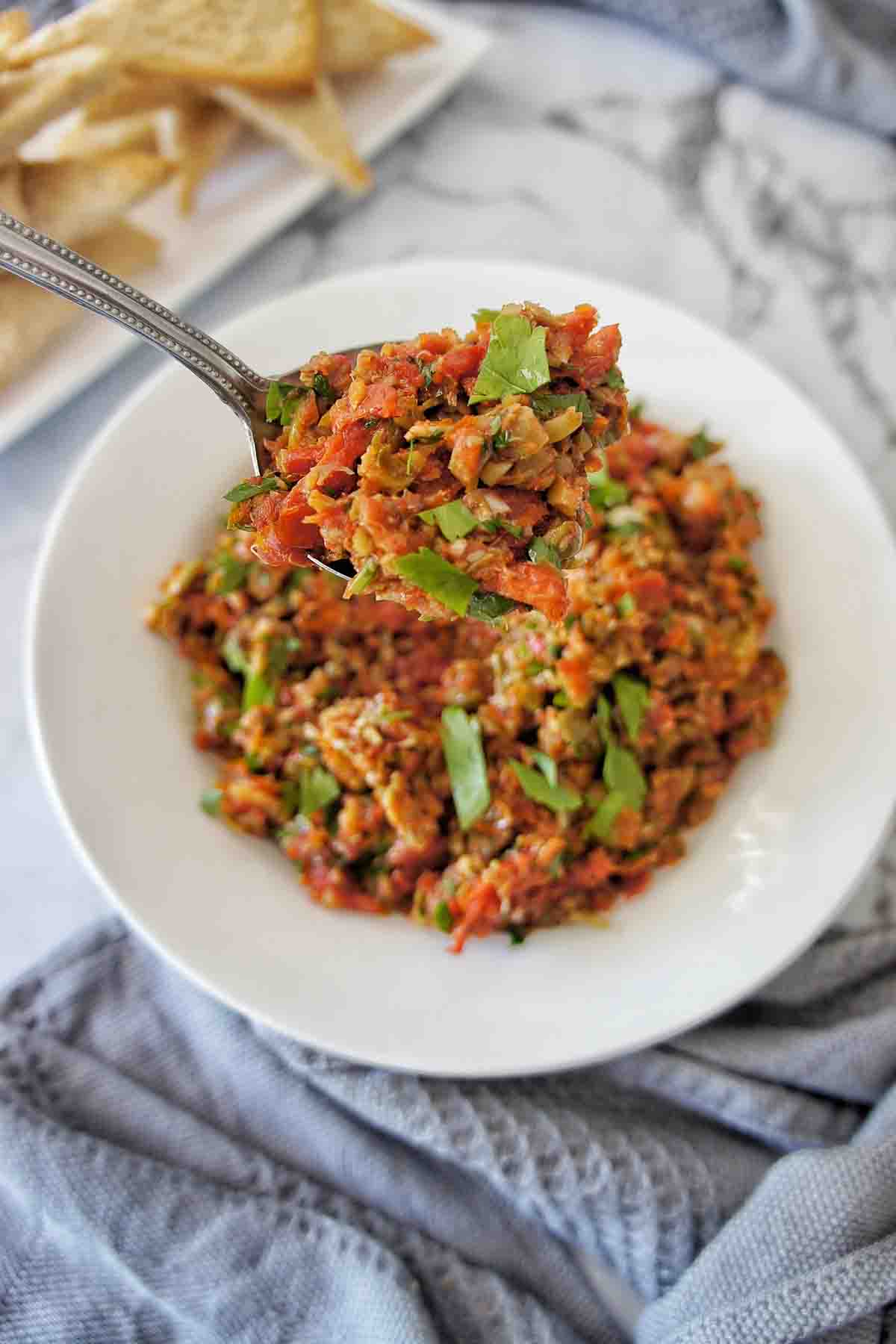 Easy starters like our Artichoke Olive Tapenade, Olive Tapenade, Easy Green Olive Tapenade, Caprese Bites and Baked Brie with garlic are all appetizer recipes with pictures and step by step instructions. Our Spinach Cob Loaf and Grazing Platter cater to feeding a crowd. Use our Easy Crostini recipe as a serving suggestion!
Homemade tapenade is the thing you need in life. Lazy Sundays, tapenade and wine, yes please!
Recipes like our Coconut Prawns, vegetarian spinach dip and cranberry brie give you ideas to feed a variety of tastes! Rocket and Cashew Pesto is a quick and easy recipe!
Looking for appetizer recipes for entertaining? Click here!
This sun-dried tomato caper tapenade gives you a super easy and quick idea that you can whip up any time you like! It is similar to our Black Olive Tapenade with its own distinct flavour! Serve with homemade pita chips.
Garlic and herbs help to add flavour to this dish, the sun-dried tomato oil able to be used in place of regular olive oil.
Try the Sun-dried Tomato Pesto if these flavours are your thing and stir it through pasta for a quick dinner!
BROWSE BY:
Appetizer recipes Popular recipes Quick and Easy recipes
Are Sun-dried tomatoes a healthy snack?
Sun-dried tomatoes can be considered a healthy snack as they are packed with vitamins. However, they are most often sold preserved in oil.
We do reserve the oil for this recipe and add it as an ingredient, although you can use olive oil if you purchase sun-dried tomatoes in a packet without the oil.
Ingredients for Sun-Dried Tomato Tapenade
This recipe uses basic ingredients, they are set out and labelled in the photo below so you can pop to the shops and grab exactly what you need!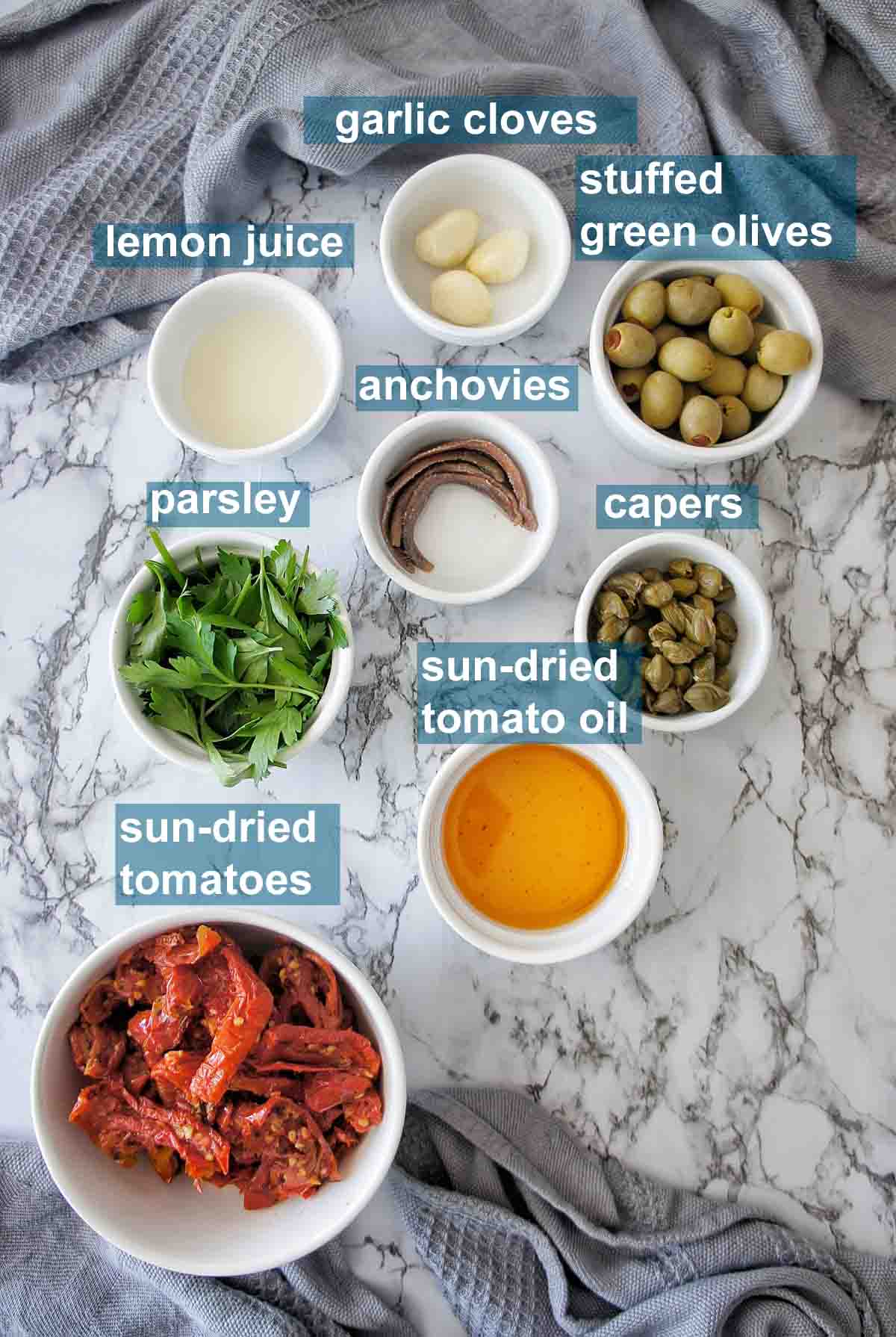 Homemade Tapenade ingredients are:
sun-dried tomatoes
oil (reserved when draining the sun-dried tomatoes)
parsley
lemon juice
anchovies
capers
garlic
stuffed green olives
Grab the stuffed green olives with the red pimento inside! They are easy to find.
Looking for the latest recipes for on the blog? Click here!
How to make Sundried Tomato Tapenade (follow these steps):
The recipe can be broken down into easy steps which are shown in the photos below. There is instructions underneath so you can can follow easily.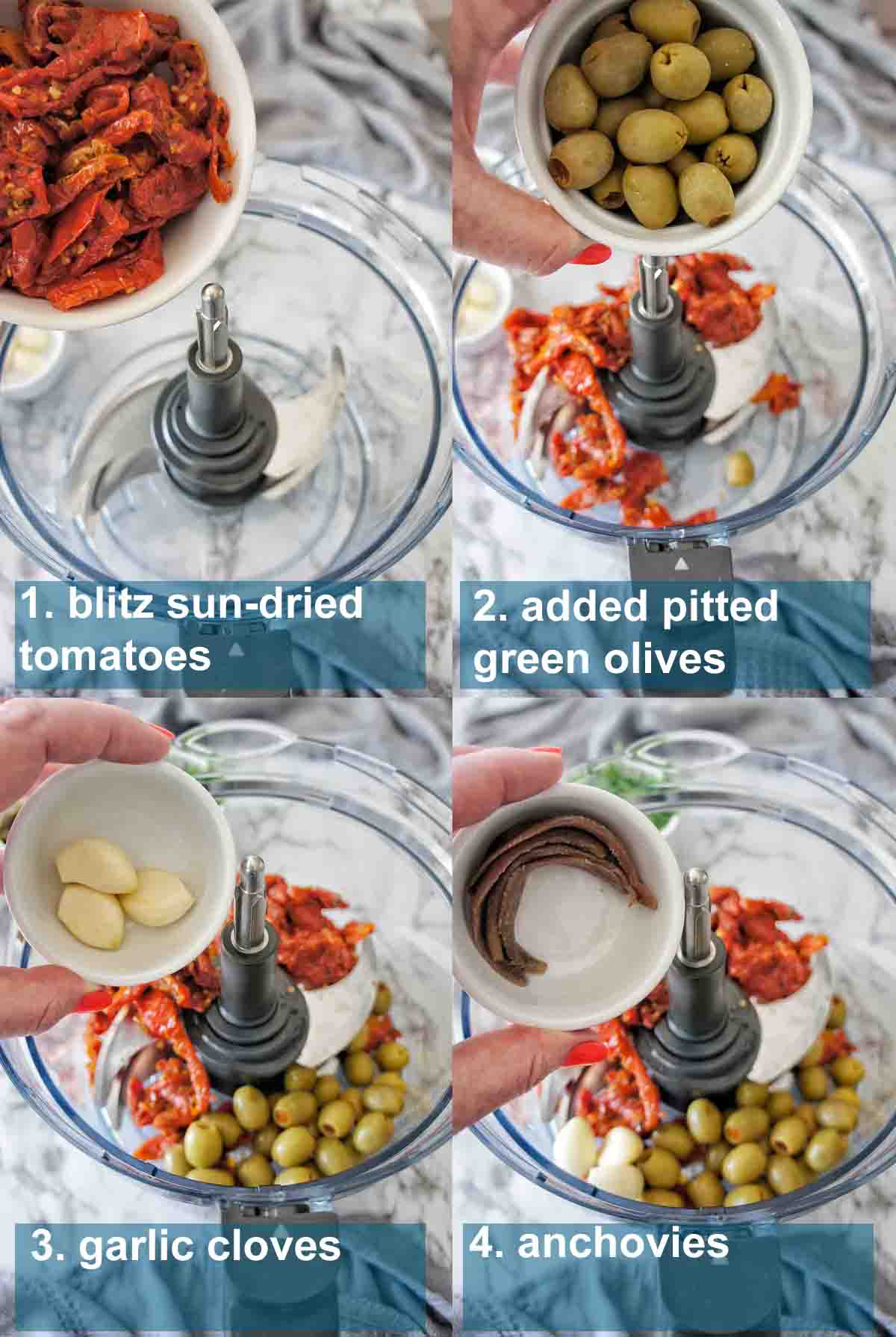 Add sun-dried tomatoes, pitted green olives, garlic cloves and anchovies to the food processor (shown in photos 1-4)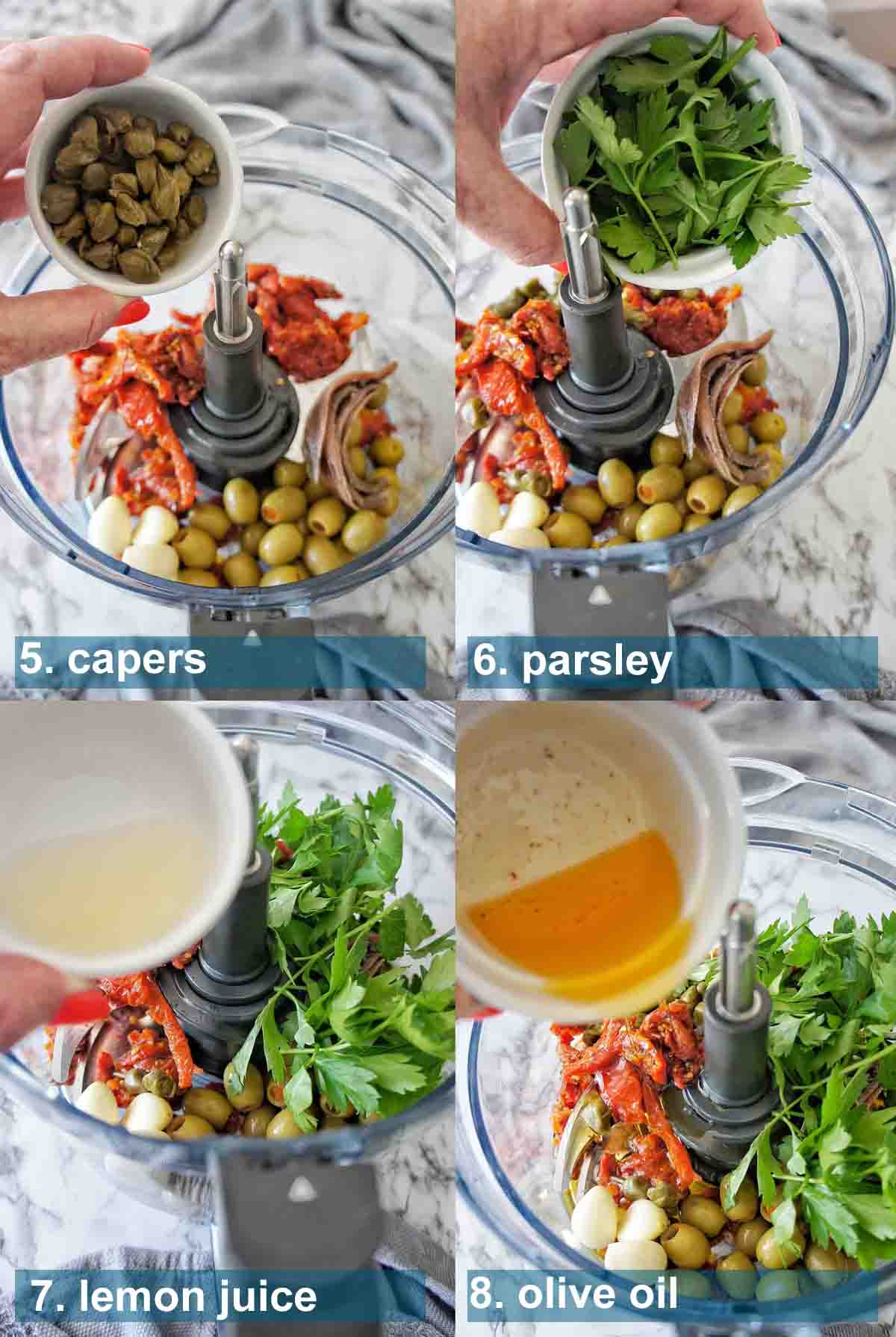 Followed by capers, parsley, lemon juice and olive oil (shown in photos 1-4)
Once the ingredients are together in the food processor we are going to blitz them to make the tapenade. This part of the process takes less than 10 seconds. We want chopped but textured tapenade where individual ingredients are still identifable.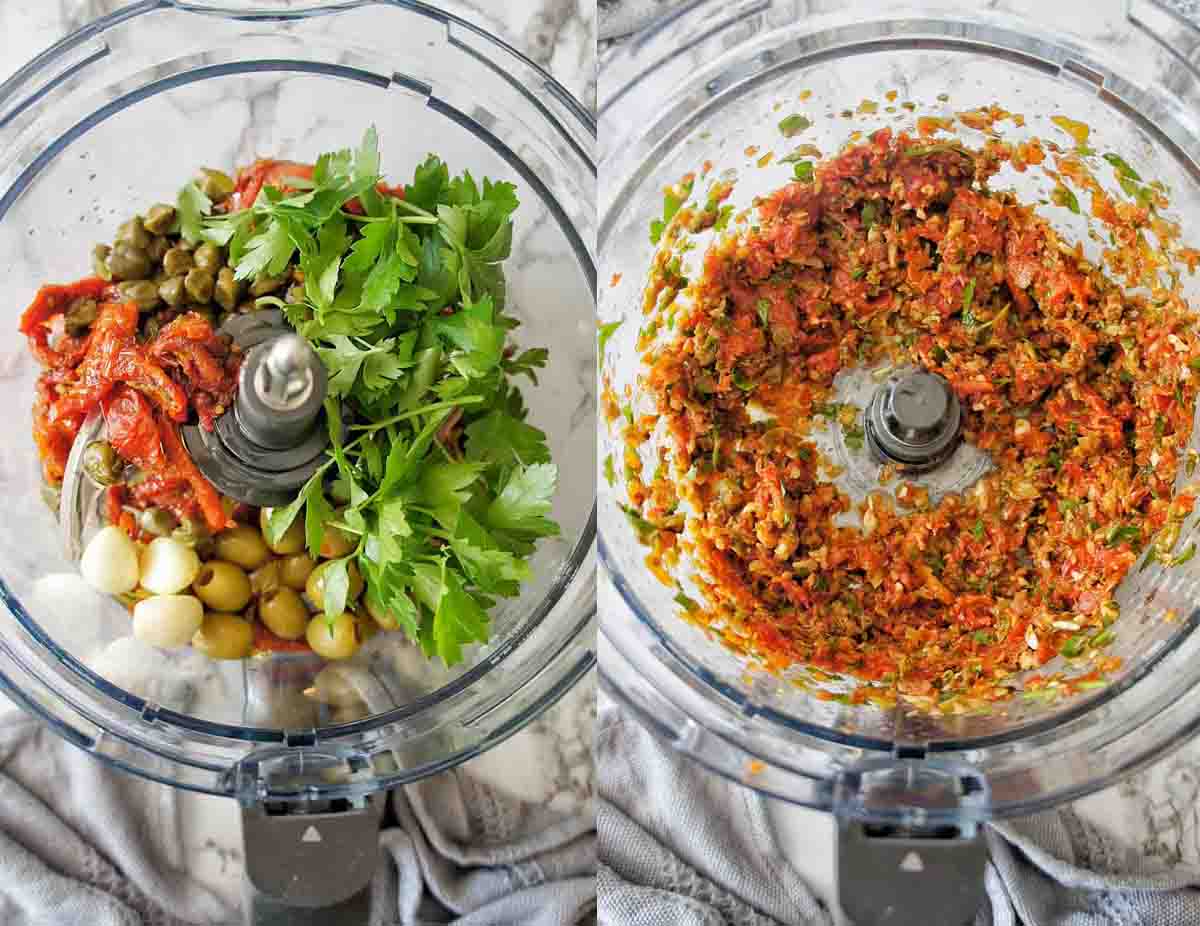 Sun-dried Tomato Tapenade recipe quick info:
About the recipe:
we use sun-dried tomatoes from a jar
the olives have their pit removed when they are stuffed
we discard the liquid from the capers
fresh or bottled lemon juice works
we do not use salt and pepper in the recipe
FAQs about Sun-dried Tomato Tapenade
If your tomatoes don't come in oil, simply use olive oil
There is minimal difference between semi and sun-dried tomatoes
Both of the above are fine to use
You can make this recipe ahead of time
Crackers, toast points or crostini are all good serving ideas
Your quick questions answered:
This recipe is quick to make!
Toast points are the serving suggestion I have made with the tapenade
All of the ingredients are available at your local store
This is an EASY recipe
Expert tips:
This is what I have learnt that will help you succeed in nailing this recipe each and every time:
understanding that the blitz time is short is necessary as we don't want mushy tapenade
don't worry which parsley type ie flat or curly, they both work well!
make this recipe in advance, freeze and defrost a few hours or overnight ahead of time
a few slices of bread will allow you to make toast points very easily!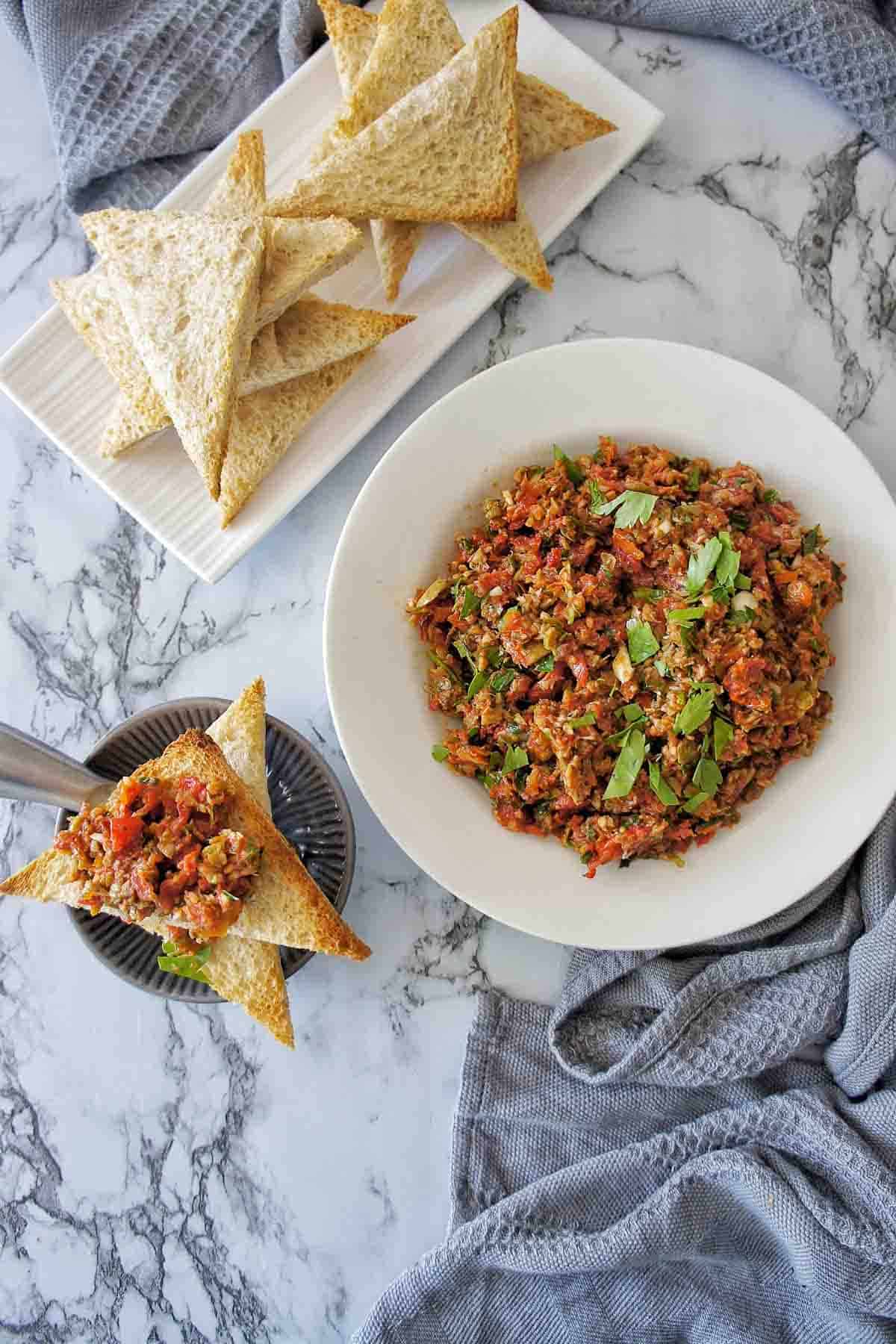 These recipes will allow you to feed your guests and deliver deliciousness on the plate: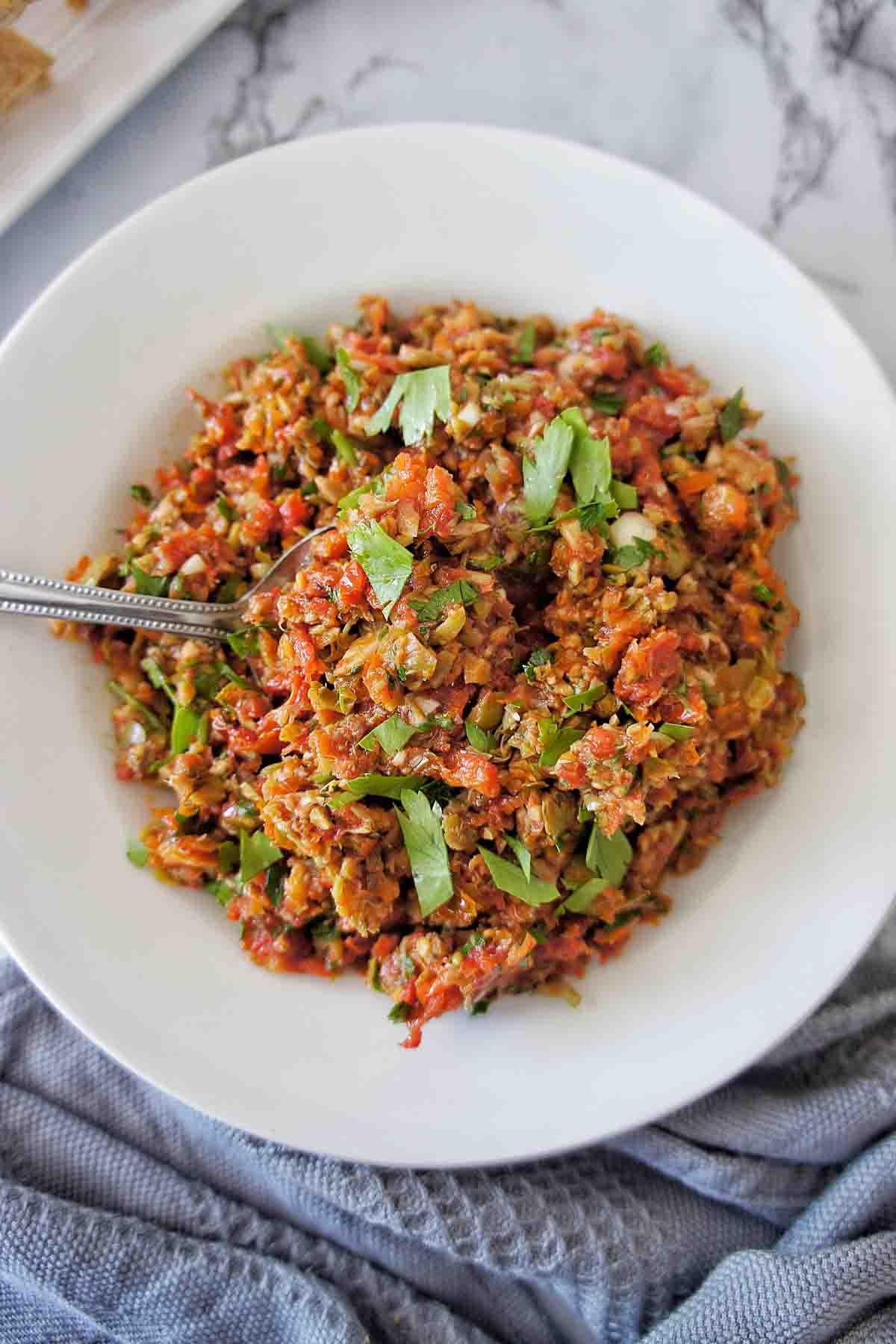 To make Toast points like the ones seen in the photos here, simply remove the 4 crusts from a regular loaf of bread. Cut diagonally across it in 1/2, spray with cooking oil and bake for approx 5 mins. They are crispy and perfect for tapenade!
Find us on Facebook by clicking this link
Serve this tapenade in a bowl on a Grazing Platter Board with labneh dip and homemade pita chips for a complete feast!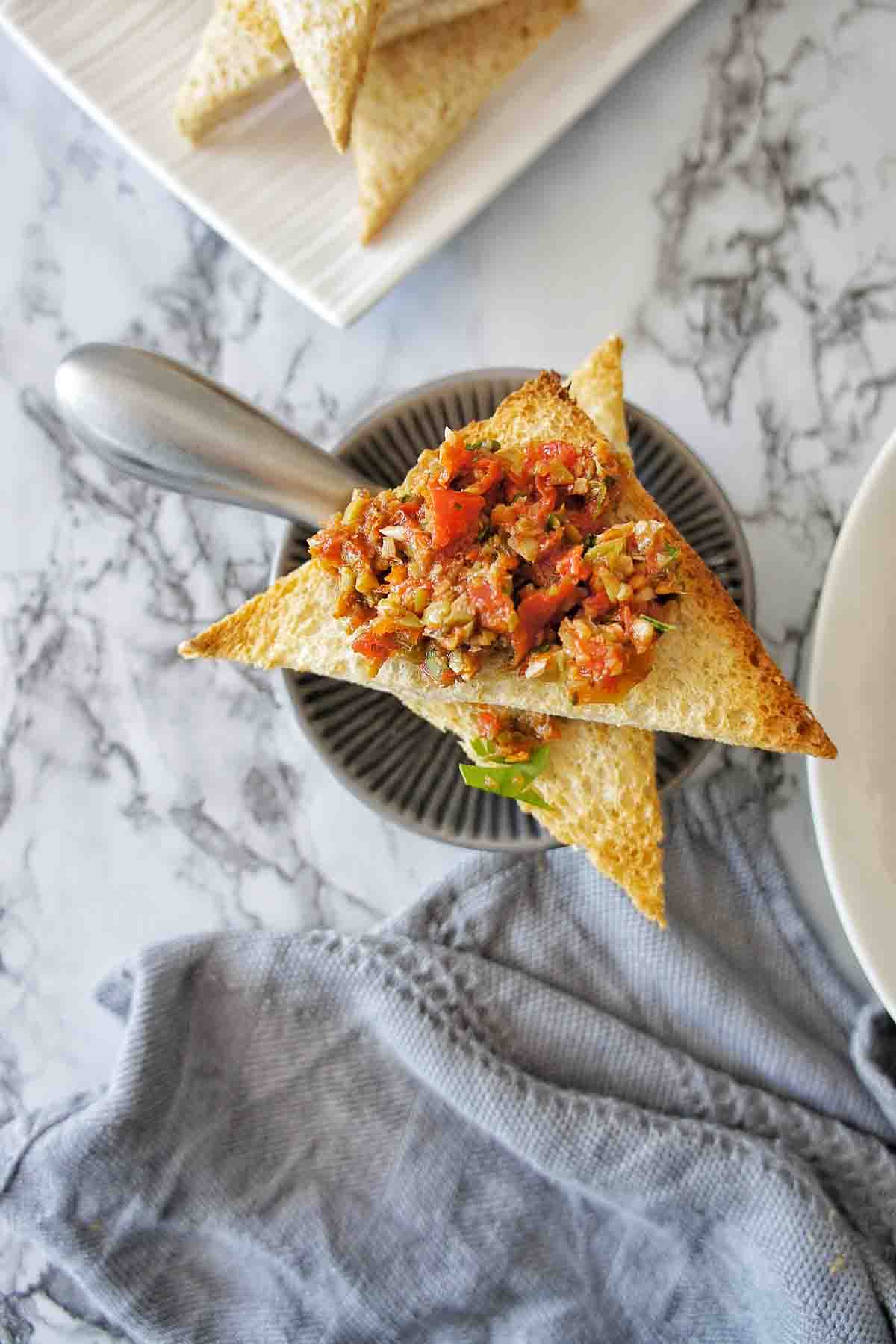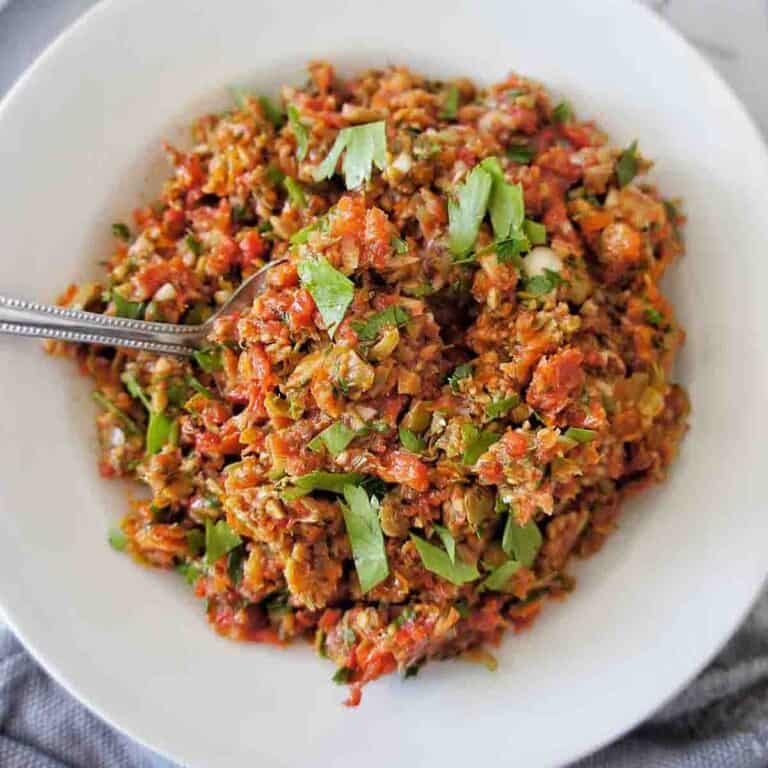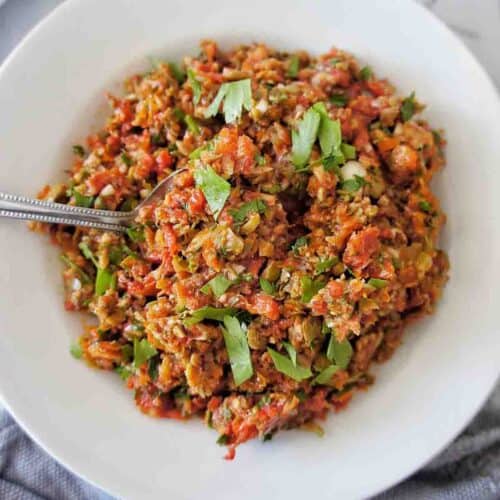 Sun-dried Tomato Tapenade Recipe
Sun-dried Tomato Tapenade recipe that will blow your mind!  With olives, capers, garlic and sun-dried tomatoes, this homemade tapenade is delicious!
Print
Rate
Ingredients
Sun-dried Tomato Tapenade Recipe
270

grams

sun-dried tomatoes

Note 1

1/3

cup

oil

Note 2

1/2

cup

flat leaf parsley

Note 3

3

cloves

garlic

skins removed

1/2

cup

stuffed green olives

Note 4

1

tbsp

lemon juice

Note 5

4

anchovies

drained

1/3

cup

capers

drained

toast points

to serve
Instructions
Sun-dried Tomato Tapenade Recipe
Add sun-dried tomatoes, olives, anchovies, capers, garlic, parsley, lemon juice and oil to the bowl of a food processor

Pulse for less than 10 seconds to combine Note 6

Serve with toast points Note 7
Video
Notes
Note 1 If you purchase your Sun-dried tomatoes in a jar, we are going to drain but keep the oil from the jar. The recipe uses 1/3 cup reserved oil from the jar. However, if you purchase your sun-dried tomatoes without the oil, you can use olive oil instead. You will find that you can get either Sun-dried or Semi dried tomatoes. The jars are very similar and it is only a keen eye that can see the difference especially if you grab it, throw it in your trolley and head to the check out. Never fear, both will be perfect for the recipe, so don't loose a minutes sleep over it!
Note 2 This is reserved from the jar of sun-dried tomatoes talked about above. It has GREAT flavour and will enhance the tapenade delightfully. 
Note 3 You can use curly leaf parsley if you have/grow/prefer, both work well and bring great flavour. 
Note 4 The olives I am referred to here are the stuffed green olives that have the red colour in the middle. You can also use pitted green olives. 
Note 5 An Australian tablespoon measures 20ml, slightly more than an American one. 
Note 6 This keeps our texture chunky is much better for tapenade than mushy!
Note 7 Toast points are super easy to make! Simply cut the 4 crusts off a slice of bread, put the bread in half on the diagonal, place on a lined baking tray and spray with cooking oil. Cook in a moderate oven for approximately 10 mins or till toast points are browned and crispy! 1 slice of bread will produce 2 toast points. 
Nutrition
Calories:
152
kcal
|
Carbohydrates:
16
g
|
Protein:
4
g
|
Fat:
9
g
|
Saturated Fat:
1
g
|
Cholesterol:
1
mg
|
Sodium:
337
mg
|
Potassium:
952
mg
|
Fiber:
4
g
|
Sugar:
10
g
|
Vitamin A:
523
IU
|
Vitamin C:
16
mg
|
Calcium:
44
mg
|
Iron:
3
mg
Did you make this recipe? Share on Instagram!
It makes my day when you make my recipes! Tag @sweetcaramelsunday
Olive tapenade recipes are the best! They are so easy and quick to make. Once you have tried one of my recipes for it, you will want to make each of them again and again.
Tapenade can be used for an appetizer, added to pasta, spread on crackers, as a layer in a finger food recipe and more. Try it, love it and ideas will come thick and fast about what to do with it.
I've got your tapenade sorted with this recipe and you have got your party covered by serving it!
Would love to hear you feedback in the comments below.
Tap, tap, tapenade on my friends!
Adrianne xx
RELATED RECIPES:
Artichoke Olive Tapenade Olive Tapenade Grazing Platter
Appetizers Christmas recipes Popular recipes Quick and Easy recipes