Easy Black Olive Tapenade recipe that everyone will love! Serve with toast points for a fuss free appetizer, stir through pasta, use for bruschetta or as a dip or spread.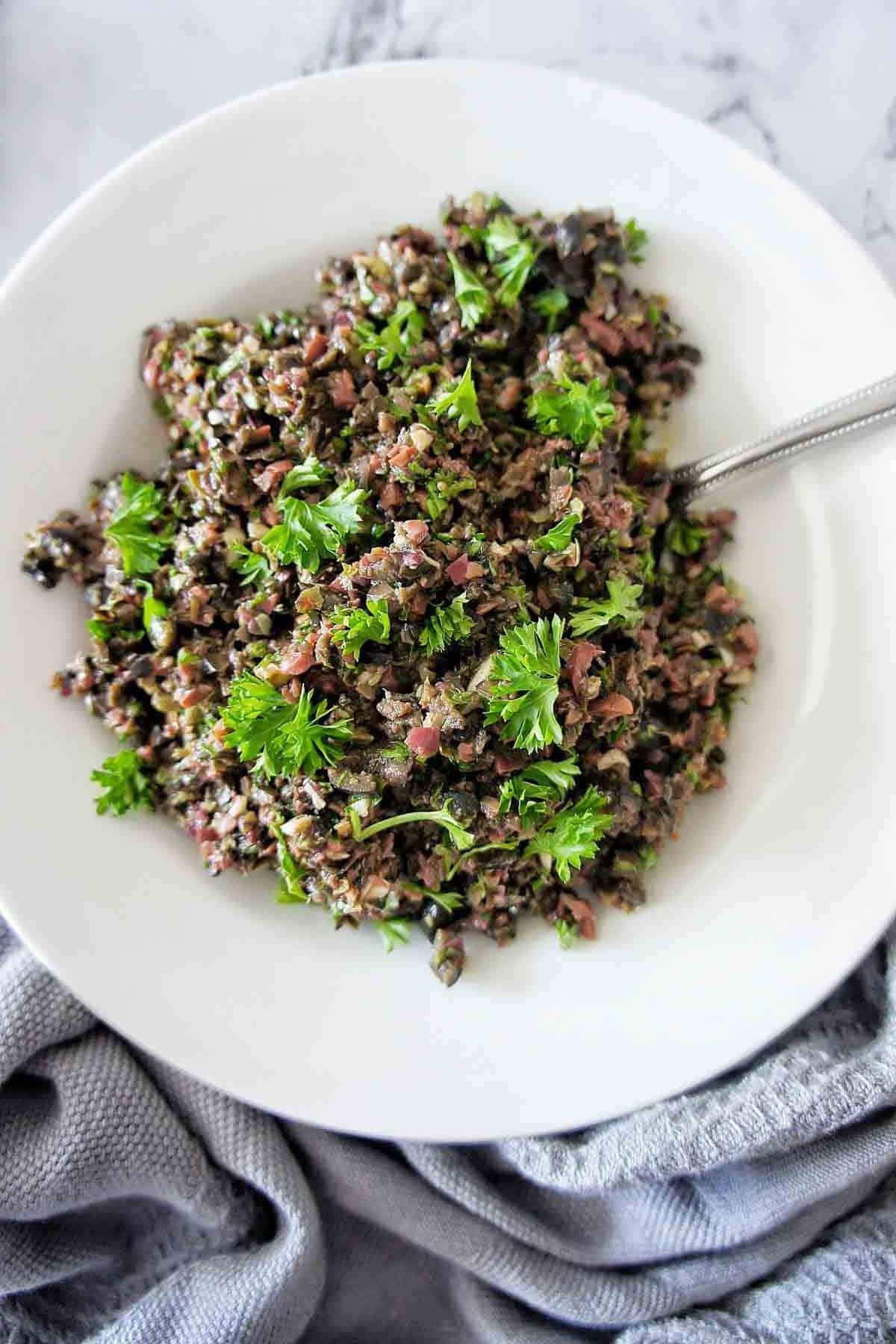 Olive recipes make entertaining a breeze! With recipes like our Grazing Platter, Artichoke Olive Tapenade and Coconut Prawns, you can prepare them in advance and then party with your guests! Rocket and Cashew Pesto is a great quick and easy recipe!
Black Olive Tapenade has many uses! It is versatile and brings great flavour to many recipes!
Our Chicken Liver Pate, Sun-Dried Tomato Tapenade and Easy Green Olive Tapenade are ideas for serving as toppings on the Easy Crostini which takes barely anytime at all to prepare!
Looking for appetizer recipes for entertaining? Click here!
Olive tapenade recipes are sophisticated and stylish, but seriously easy to make. We literally throw all of the ingredients into our food processor, blitz and serve! Serve with homemade pita chips to get your party started!
Toast points, bruschetta, crostini or crackers are ideal for serving tapenade!
BROWSE BY:
Appetizer recipes Popular recipes Quick and Easy recipes
What is Black Olive Tapenade?
Black Olive Tapenade is a recipe that used black olives, garlic, capers, anchovies, parsley and lemon juice to make an olive spread.
It is most popular as an appetizer idea as you can serve it as finger food or a dip.
Often referred to as black olive paste, it is a versatile recipe that works with so many serving ideas.
On the blog we also have recipes for Sun-dried tomato tapenade, Artichoke olive tapenade, Olive tapenade and Easy Green Olive Tapenade.
Black Olive Tapenade Uses
Some ideas for serving tapenade are:
on crostini
stirred through pasta
as part of a canapy
as part of a dip platter
with various tapas
on fish
as an appetizer
part of a graxing platter
spread for toast
dressing for a salad
There is no limit to the ways to use this tapenade!
Black Olive Tapenade ingredients
The photo below shows you exactly what we need for this recipe. They are all simple, easy to find ingredients.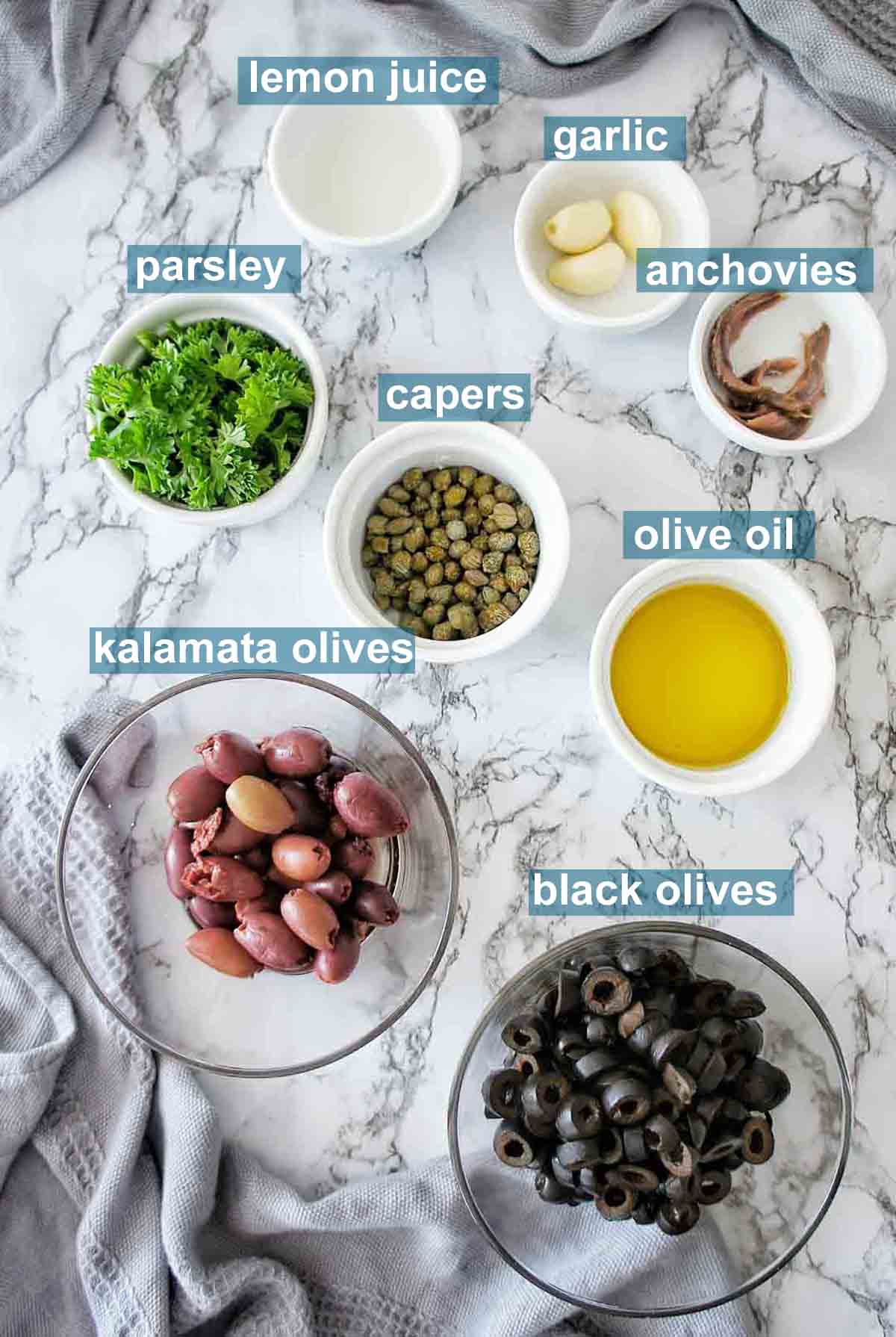 As you can see, we have:
sliced black olives
pitted kalamata olives
olive oil
capers
parsley
lemon juice
garlic
anchovies
You can easily find the olives at your local grocery store, in a jar with the antipasto ingredients!
Looking for the latest recipes for on the blog? Click here!
How to make Black Olive Tapenade
The photos below are step by step showing you how to make this tapenade. The entire recipe is done in the food processor!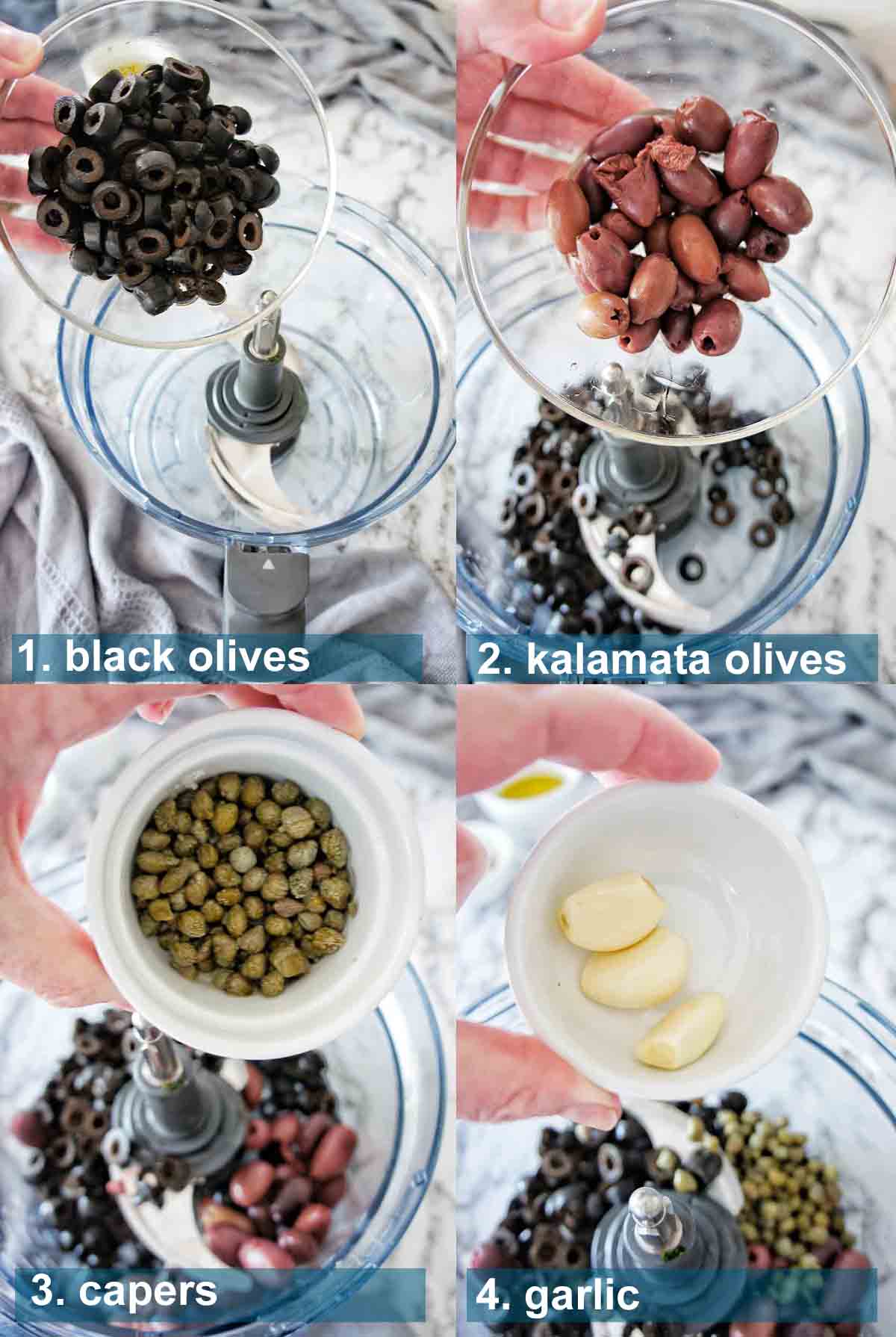 Add sliced black olives to food processor bowl (Photo 1)
Add kalamata olives (Photo 2)
Capers (Photo 3)
Garlic (Photo 4)
For a vegan tapenade, omit the anchovies as an ingredient in the recipe!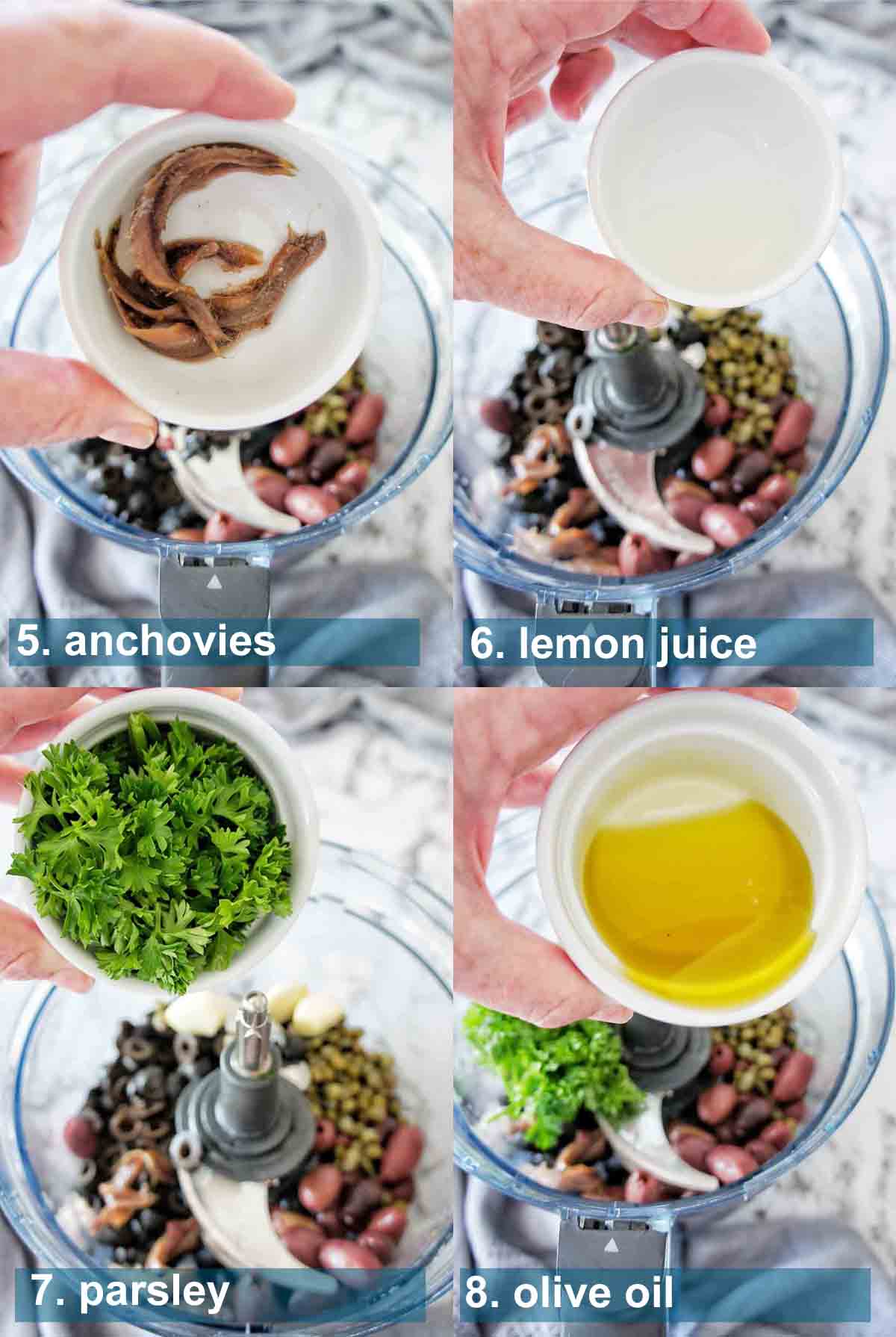 Add anchovies (shown in photo 5)
lemon juice (shown in photo 6)
parsley (shown in photo 7)
and olive oil (shown in photo 8)
Once the tapenade ingredients are all in the food processor, we blitz it for a few seconds to chop everything up and combine!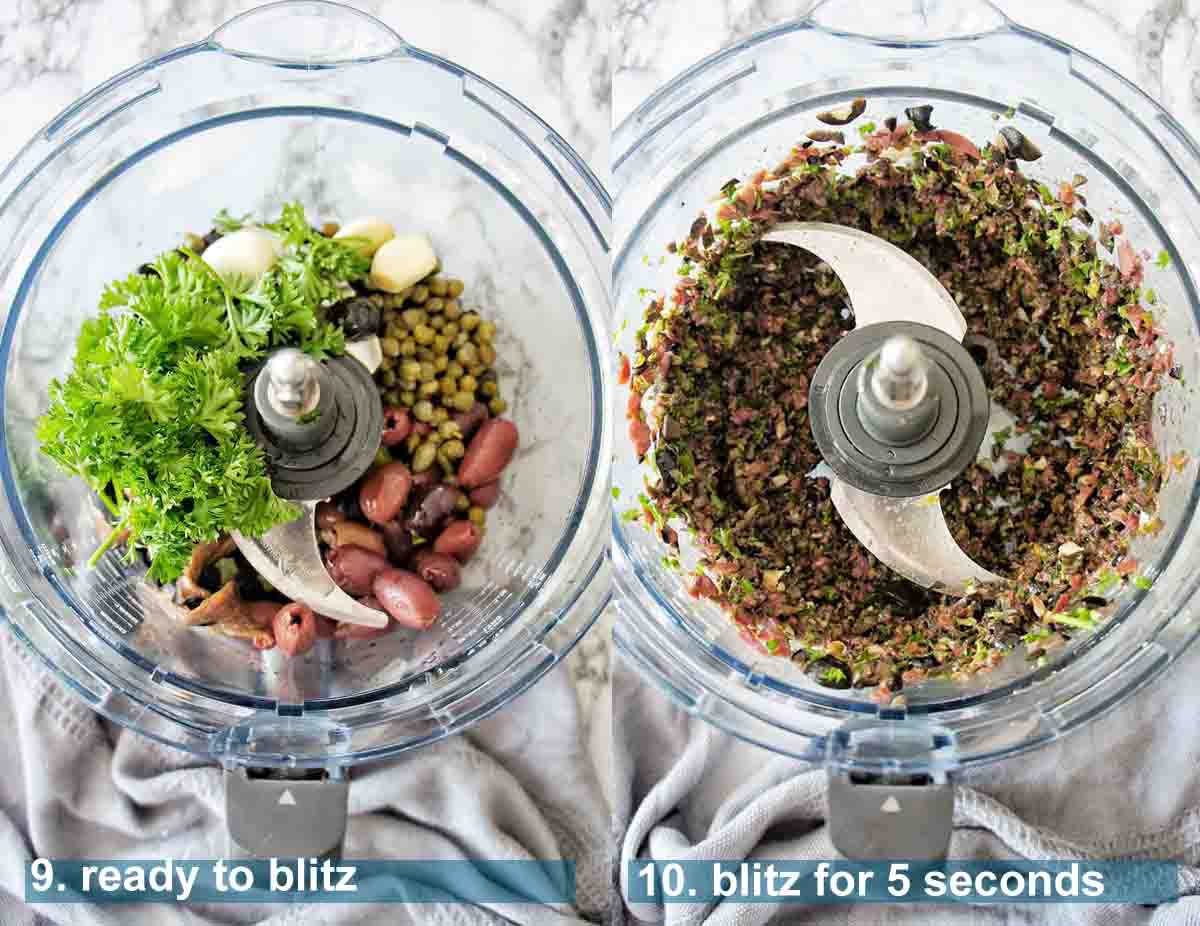 Easy Black Olive Tapenade recipe quick info:
About the recipe:
we use 2 types of olives in this recipe
black sliced olives
pitted kalamata olives
drain and discard liquid from capers
bottled lemon juice is fine!
the entire recipe only has 8 ingredients
FAQs about Easy Olive Tapenade
the anchovies are the only non vegetarian ingredient
peel the skin and cut the end off the garlic before adding
you make make this tapenade ahead of time
crostini, bruschetta and toast points are all ideal serving suggestions
Your quick questions answered:
This is a quick and easy recipe
Serve the tapenade cold or room temperature
Blitz for only 5 seconds so the texture is chunky
This is a FREEZER FRIENDLY recipe
This is an EASY recipe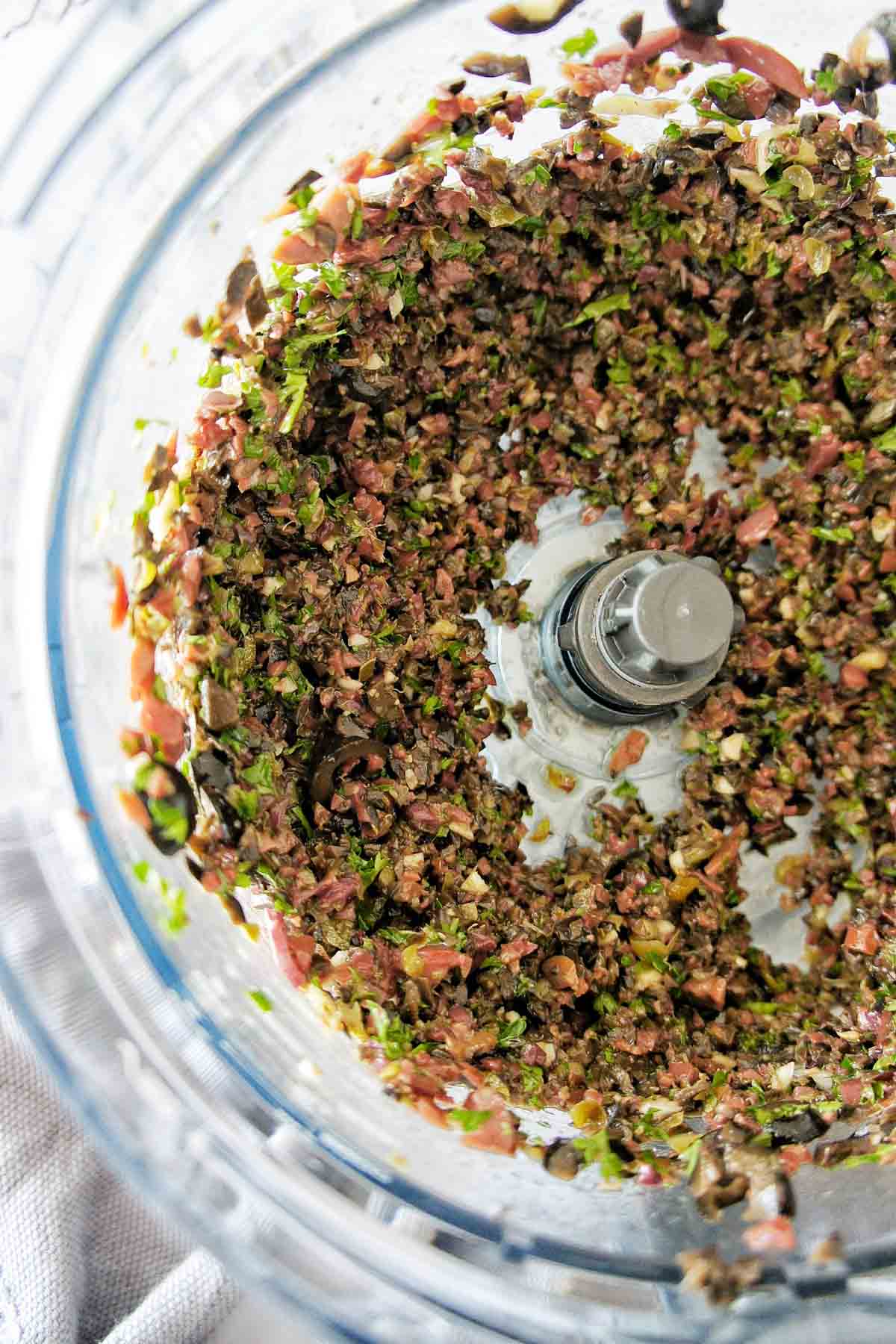 Expert tips:
These tips are to help you master this recipe from the 1st time you make it:
have all of your ingredients on hand and ready to go
omit the anchovies for a vegan option
blitz only for about 5 seconds
make and freeze this recipe for easy entertaining!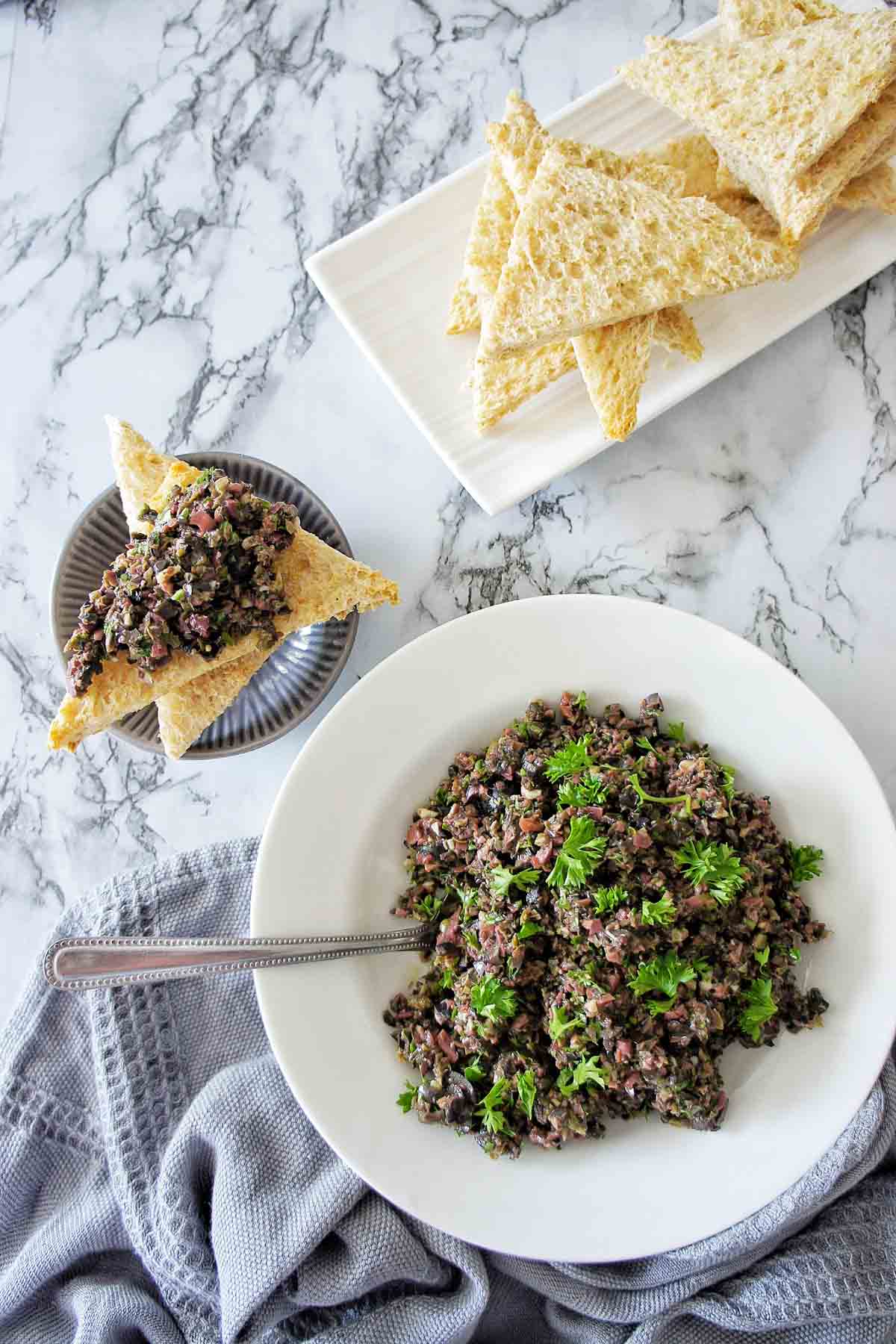 The bread you see in the photos is known as Toast points. They are are freshly toasted and easy to make!
Find us on Facebook right here!
To make, remove the crusts from a regular individual slices of bread, cutting each slice on the diagonal and in 1/2 and spray with cooking oil. Bake for approx 5 mins until golden brown!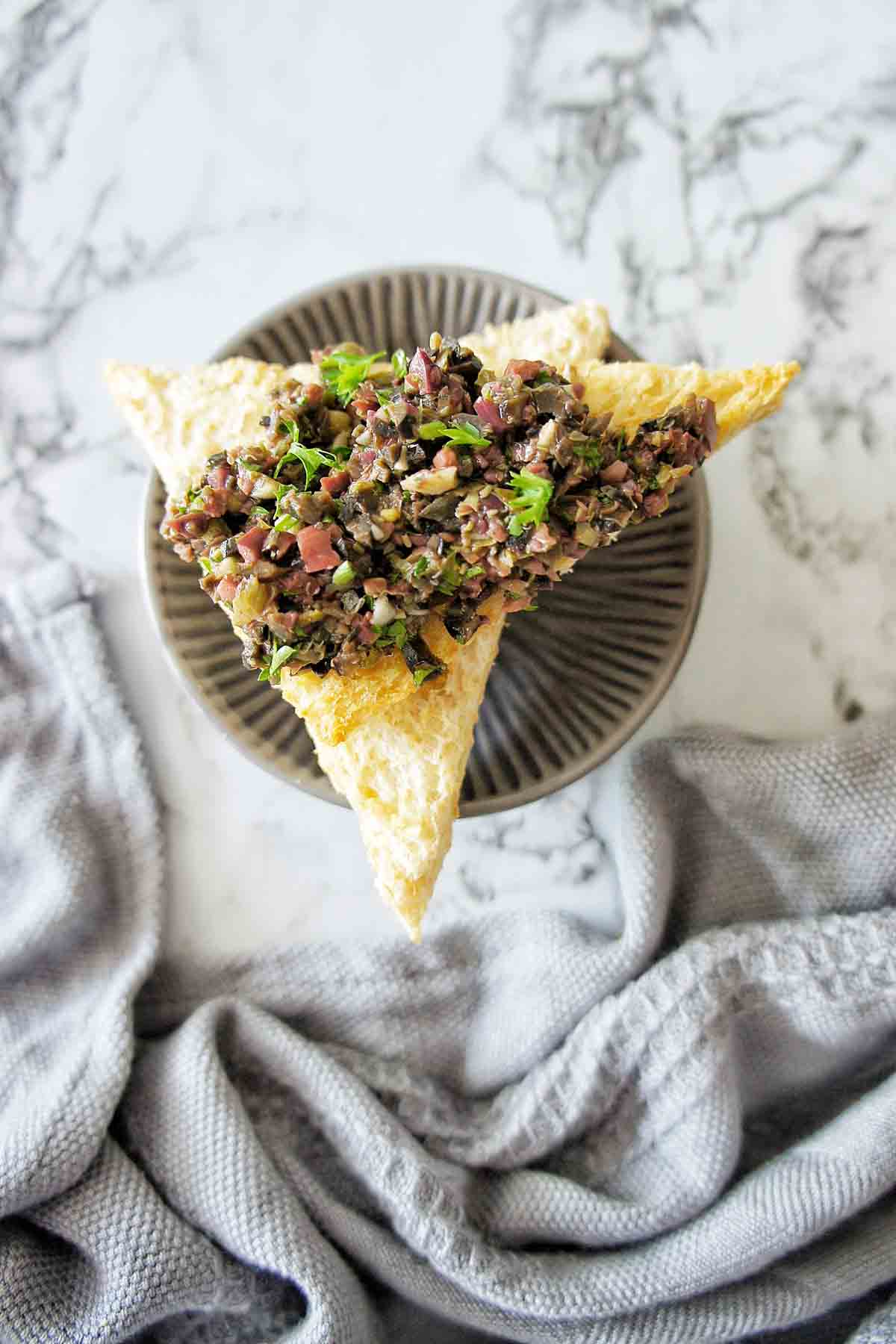 Entertaining can be simple and fuss free with some easy recipes up your sleeve. Try out these ideas: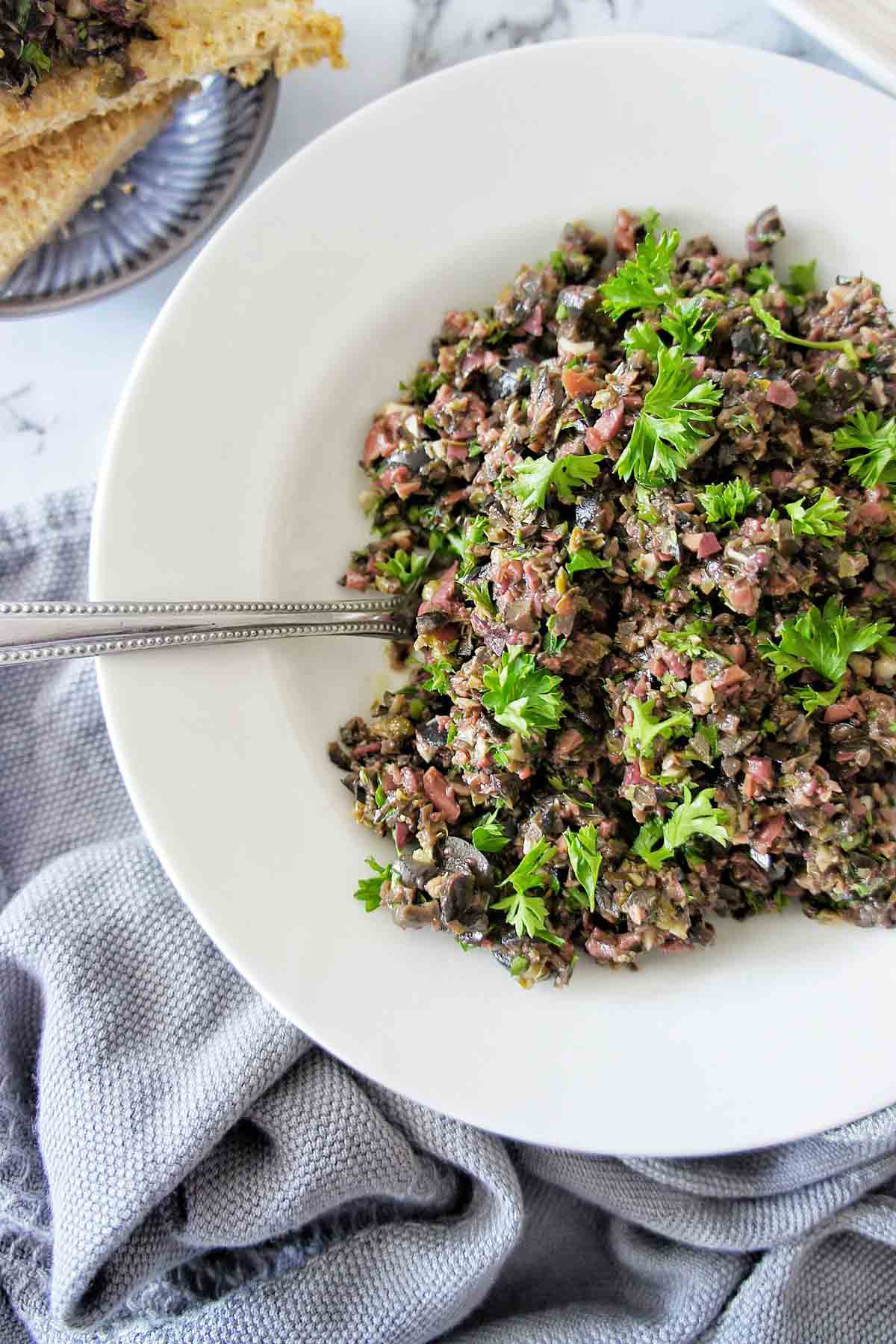 PIN and save this recipe for later!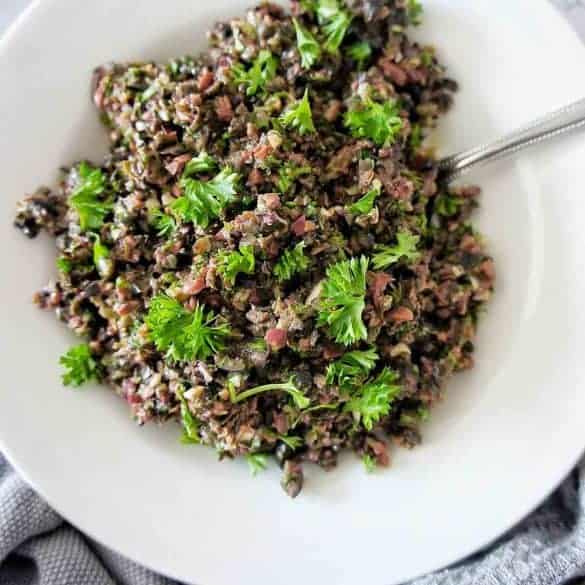 Easy Black Olive Tapenade
Easy Black Olive Tapenade recipe that everyone will love!  Serve with toast points for an easy appetizer, stir through pasta, use for bruschetta or as a dip and spread. 
Print
Rate
Ingredients
Easy Black Olive Tapenade recipe
1 1/2

cup

sliced black olives

Note 1

1

cup

kalamata olives

Note 2

1/4

cup

capers

drained

3

cloves

garlic

peeled and end cut off

4

anchovies

1

tbsp

lemon juice

Note 3

1/3

cup

parsley

1/4

cup

olive oil

Toast points

to serve
Instructions
Black Olive Tapenade
Add sliced black olives, kalamata olives, capers, garlic, anchovies, lemon juice, parsley and olive olive to the bowl of a food processor

Blitz for 5 seconds to chop and combine

Transfer tapenade to a serving bowl

Serve with toast points
Video
Notes
Note 1 You can use sliced or pitted black olives. But don't get olives and try and remove the pits as that will take too much time! 
Note 2 Kalamata Olives are known as a black olive type. They are a deep reddy/purple in colour and have a very distinct salty flavour about them. 
Note 3 Bottled lemon juice is totally fine to use for this recipe. Don't give it a 2nd thought! x 
Note 4 I have used both curly parsley (shown in the photos) and flat leaf parsley at times for this recipe and both are perfect to use, either or, whichever you have or can get is fine! 
Nutrition
Calories:
102
kcal
|
Carbohydrates:
2
g
|
Protein:
1
g
|
Fat:
11
g
|
Saturated Fat:
1
g
|
Cholesterol:
1
mg
|
Sodium:
649
mg
|
Potassium:
35
mg
|
Fiber:
1
g
|
Sugar:
1
g
|
Vitamin A:
307
IU
|
Vitamin C:
4
mg
|
Calcium:
26
mg
|
Iron:
1
mg
Did you make this recipe? Share on Instagram!
It makes my day when you make my recipes! Tag @sweetcaramelsunday
Fuss free entertaining is possible with handy recipes like this tapenade!
If you know you are going to be flat out, make a batch in advance, freeze and then pull out ready for guests on the day. It defrosts quickly and still tastes fresh and full of flavour when defrosted!
This chunky olive tapenade recipe is going to rock your socks!
Let me know if you have any questions, I would love to hear your feedback in the comments below.
Adrianne xx
RELATED RECIPES:
Artichoke Olive Tapenade Olive Tapenade recipe Sun-dried Tomato Tapenade
Appetizers Christmas recipes Popular recipes Quick and Easy recipes