Smashed Avocado recipe that will make your life complete. How good are easy avocado recipes like our Simple Avocado Toast. The thought of avocado and egg on toast makes you want to jump out of bed!!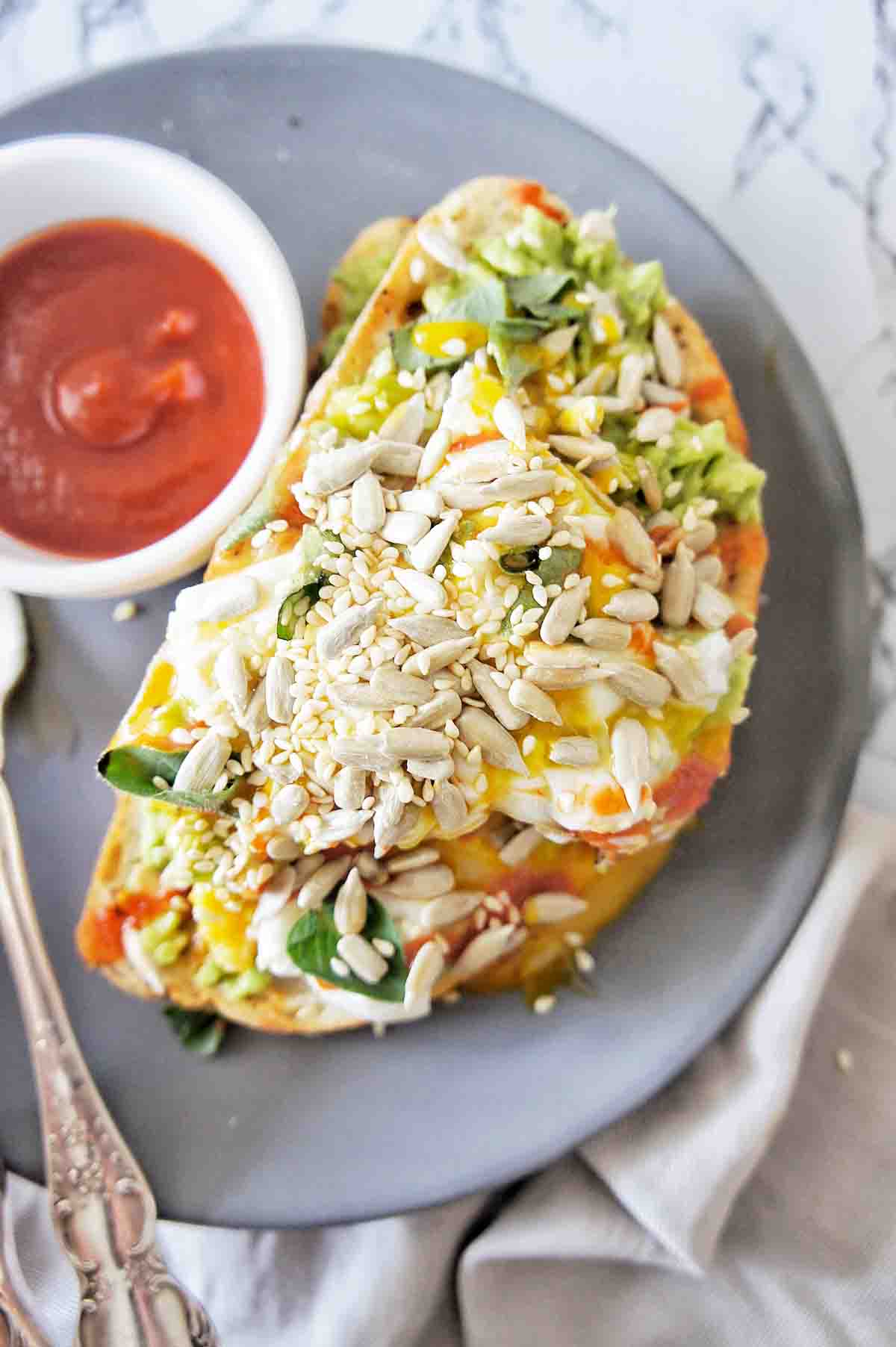 This is an easy breakfast recipe that works for brunch or lunch as well. Healthy avocado breakfast ideas are the best!
For a non bread based breakfast recipe check out our Zucchini Slice Muffins.
Smashed Avocado recipe that uses easy ingredients!
We use simple, basic ingredients for this meal.
The aim is for an easy to follow recipe that takes avocado, eggs, sourdough and creates deliciousness on toast.
Smashing the avocado and getting some flavour in there from the lemon is the perfect way to have an ultra delicious breakfast.
The crunchy toasted topping of the seeds provides texture and the eggs provide an ooey gooey delight.
Keen for more vegetarian recipes? Click here!

Avocado and Egg on toast recipe ingredients
The ingredients for our smashed avocado recipe are basic, tasty and healthy.
You can see each ingredient you will need in the photo below:
Ingredients needed are:
avocado
eggs
sourdough
lemon
sunflower seeds
sesame seeds
butter
sriarcha (optional – hot stuff baby!)
salt
pepper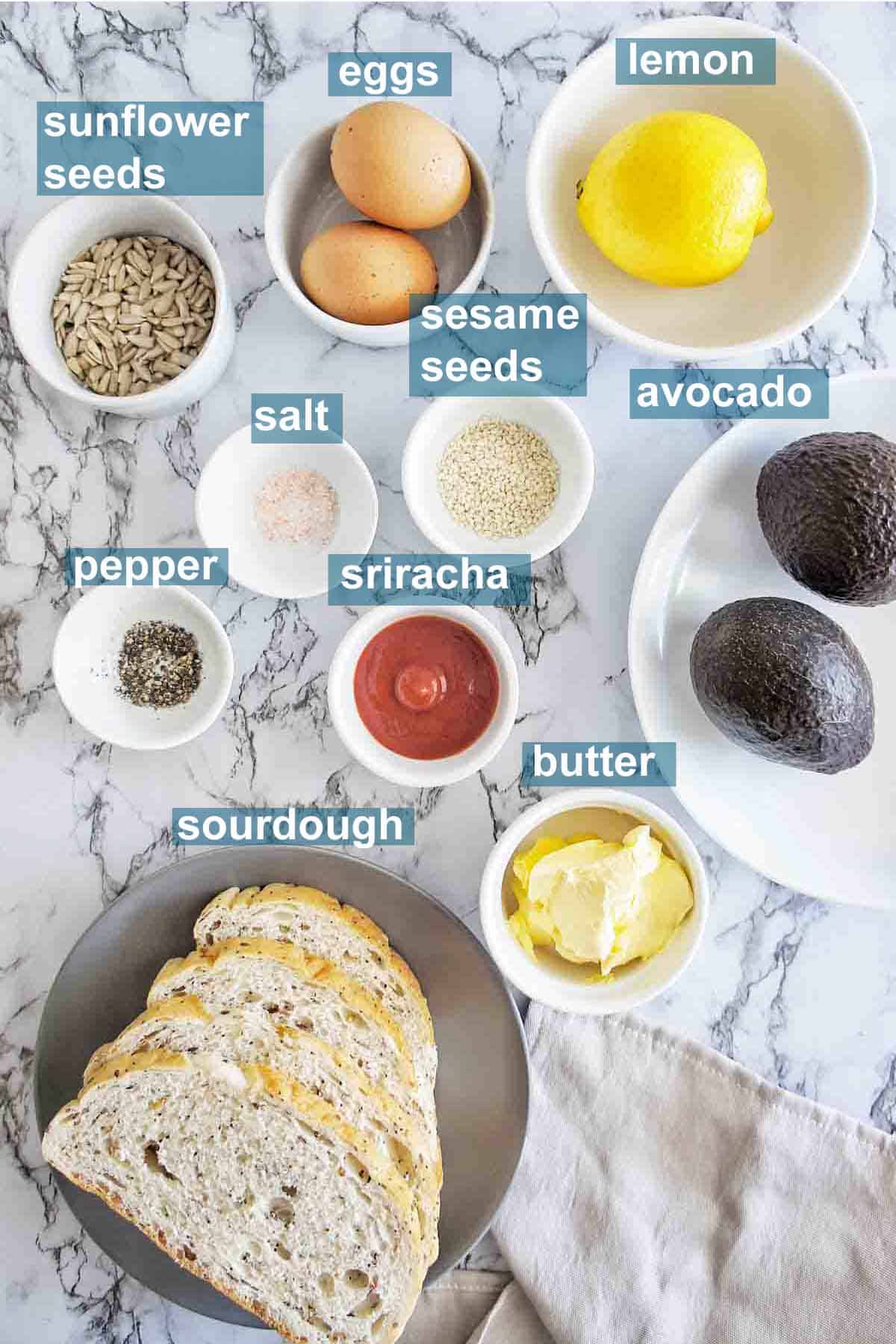 You can use any bread you like. My favourite is multigrain sourdough, what is yours?
How do you make Smashed Avocado
Making Smashed Avocado is EASY (it is also pretty fun) Think healthy and nourishing.
To begin with, we need to prepare our avocado.
Australians call Avocado 'Avo' generally! Similar to Australians being 'Aussies!! We shorten everything.
The photo below shows you the 16 simple steps we take to make this recipe.
The steps are quick and easy, but I wanted to show you each of them so your Smashed Avocado can be the bomb diggity!
Here is how to make Smashed Avocado recipe steps:
Cut your avos or avocado in halves (shown in photos1 )
Cut your lemon into wedges (shown in photo 2)
Avocado into a mixing bowl and smash with a fork (shown in photos 3 and 4)
Add salt, pepper and freshly squeezed lemon juice to your avo (shown in photos 5, 6 and 7)
Smash your avo again to mix it all in (shown in photo 8)
Butter your bread (shown in photo 9)
Toast your bread (shown in photo 10)
Scoop smashed avocado onto toast (shown in photo 11)
Spread smashed avocado onto toast (shown in photo 12)
Sprinkle toasted seeds onto avocado toast (shown in photo 13 and 14)
Boil eggs and place on smashed avocado toast (shown in photo 15)
Drizzle sriarcha on smashed avocado toast (shown in photo 16)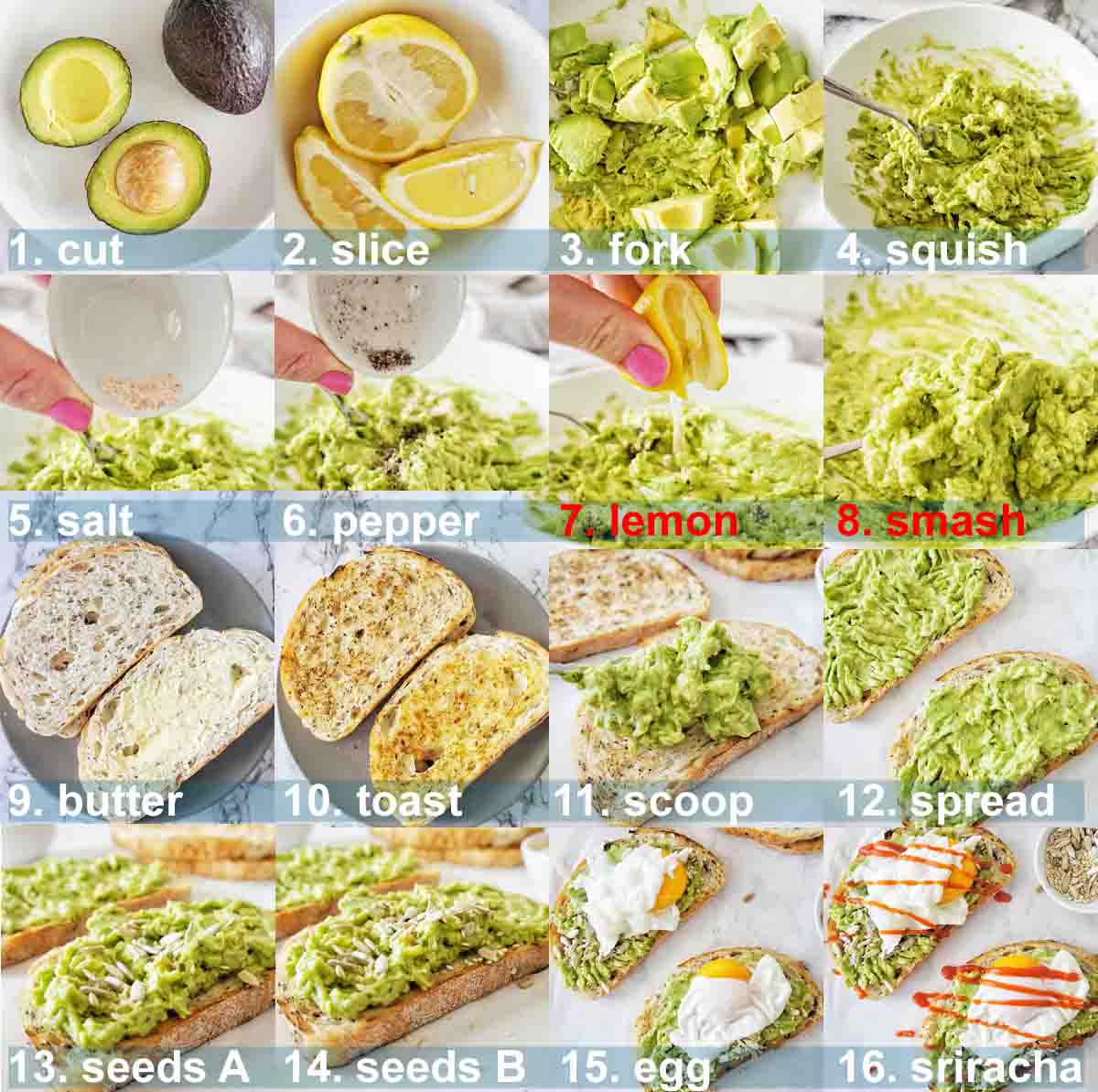 Seriously guys, this is such simple and tasty recipe! Plus it takes less than 15 mins to make.
Before we move on, I just want to draw your attention to something I know you will be curious about in the photo above. Photo 10 is where to look. On the left is a piece of sourdough that I sprayed with cooking oil and on the right is a piece of sourdough that I spread butter on. I did this to show you the difference in using either of these 2 methods.
My favourite is the butter as I find it toasts the bread to a point of deliciousness that the spray oil doesn't get to (albeit not as healthy, but is more buttery and crispy, ie more 'YUM!')
Smashed Avocado recipe with 2 essential steps
The photo with the 16 steps to make this recipe above is a summary from start to finish. Of those 16 steps there are 2 essential steps that are where the method makes the deliciousness of the dish.
I have highlighted these in the photo below.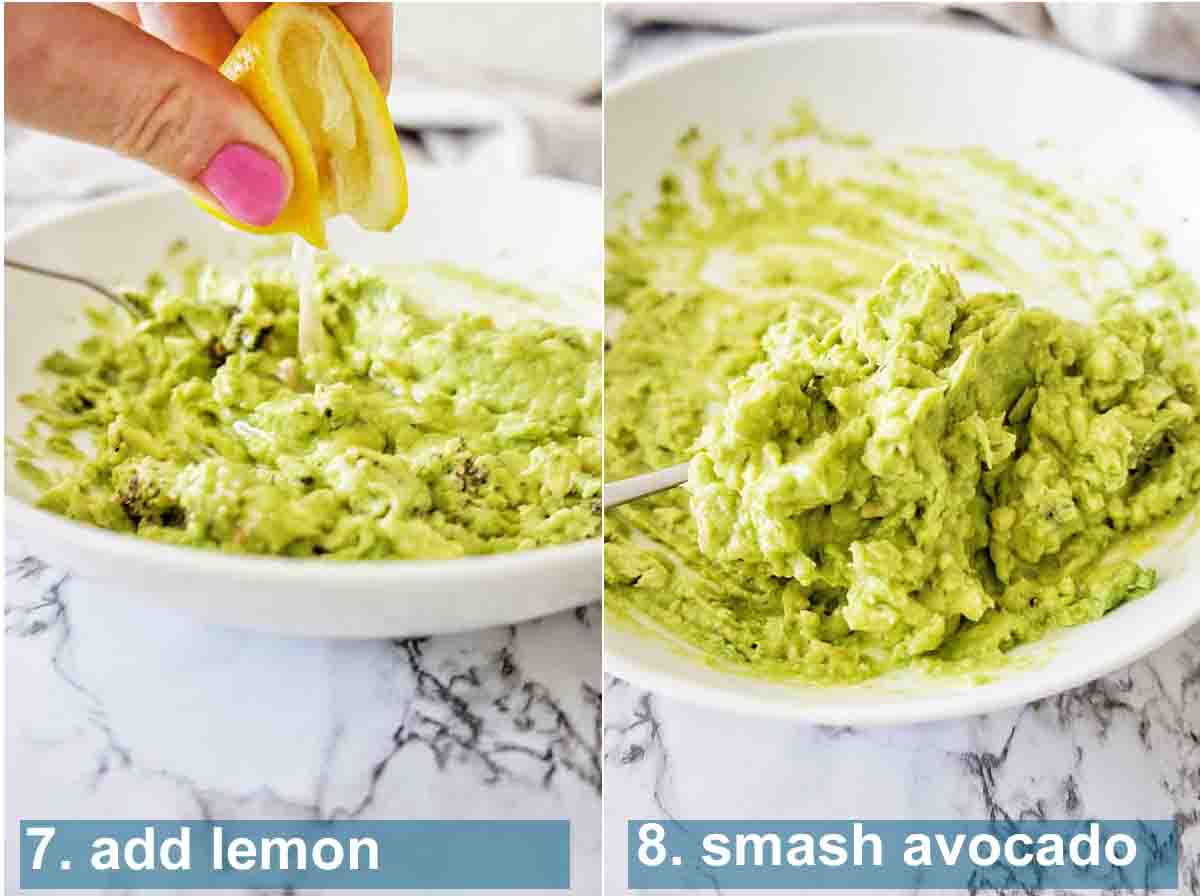 You can see on the left I am squeezing fresh lemon juice onto the avocado. This gives it a zesty freshness that works. On the right I am showing you our smashed avocado. Taking a fork and continually smashing or mashing the avocado changes the texture of it and it becomes smooth and buttery. Otherwise known as darn tasty too!
Whilst all of the steps are necessary, these are the 2 that I implore you focus on as that time well spent, delivers on the plate.
Instructions to make smashed avocado sourdough
As you can see we:
prepare our avocado and lemon
season the avocado
smash the avocado flesh
toast our sourdough
load our sourdough with smashed avocado
pop our egg onto our toast
drizzle sriracha and toasted seeds on top
You will end up with smashed avocado toast that is better than you can buy at your local cafe.
Don't be suprised if your every weekend 'to-do list' starts with 1. Make Smashed Avocado Toast after you try this recipe for the 1st time.
Looking for inspiration for breakfast recipes? Click here!
Avocado toast toppings
The egg is an optional component to the recipe.
A few other toppings you can consider are:
bacon
tomatoes
haloumi
mushrooms
chilli
feta
It is up to you to decide if you want to stick to a vegetarian breakfast or lash out and go the full big breakfast with loads of sides that we all know and love!
How long does smashed avocado last?
Smashed Avocado is fragile recipe and is best made at the time of serving.
In my experience whilst the lemon juice does extend the life of the avocado and the old wives tail of squeezing more lemon juice onto our avo preserves it, I think it is best made and eaten on the same day. If needs be you could eat it across 2 meals in the day. More avo = more yum!
Guacamole is a little bit different as there are a few more ingredients in there. Not to worry though as when you make this, you won't have any left over to keep in the fridge as it is so delicious!!
FAQs to make your Smashed Avocado Toast
The sourdough is toasted
The avocado is smashed in a separate bowl and spooned on top
if any lemon seeds fall into the avocado, scoop them out
Butter only one side of each bread slice
Smashed Avocado Toast quick info:
About the recipe:
this is a vegetarian recipe
the sriarcha is optional (it is a hot sauce)
toasting the seeds makes their flavour shine
you can add some herbs on top for colour and texture
Your quick questions answered:
Smashed Avocado Toast has crispy bread and buttery avocado
You can use spray oil if you prefer
Fried eggs also work well
This is an EASY recipe
Expert smashed avocado cooking tips:
These are my best tips for this recipe:
choose ripe avocados
use freshly squeezed lemons
runny egg yolk gets absorbed by the toasted bread
keep an eye on the seeds as they toast quickly
Not knowing for sure but if I was to take a guess, I would say that you love breakfast recipes seeing as you have come to this recipe.
For further ideas to make, bake and dream about, here is some inspiration.
These recipes are good for brunch or lunch also: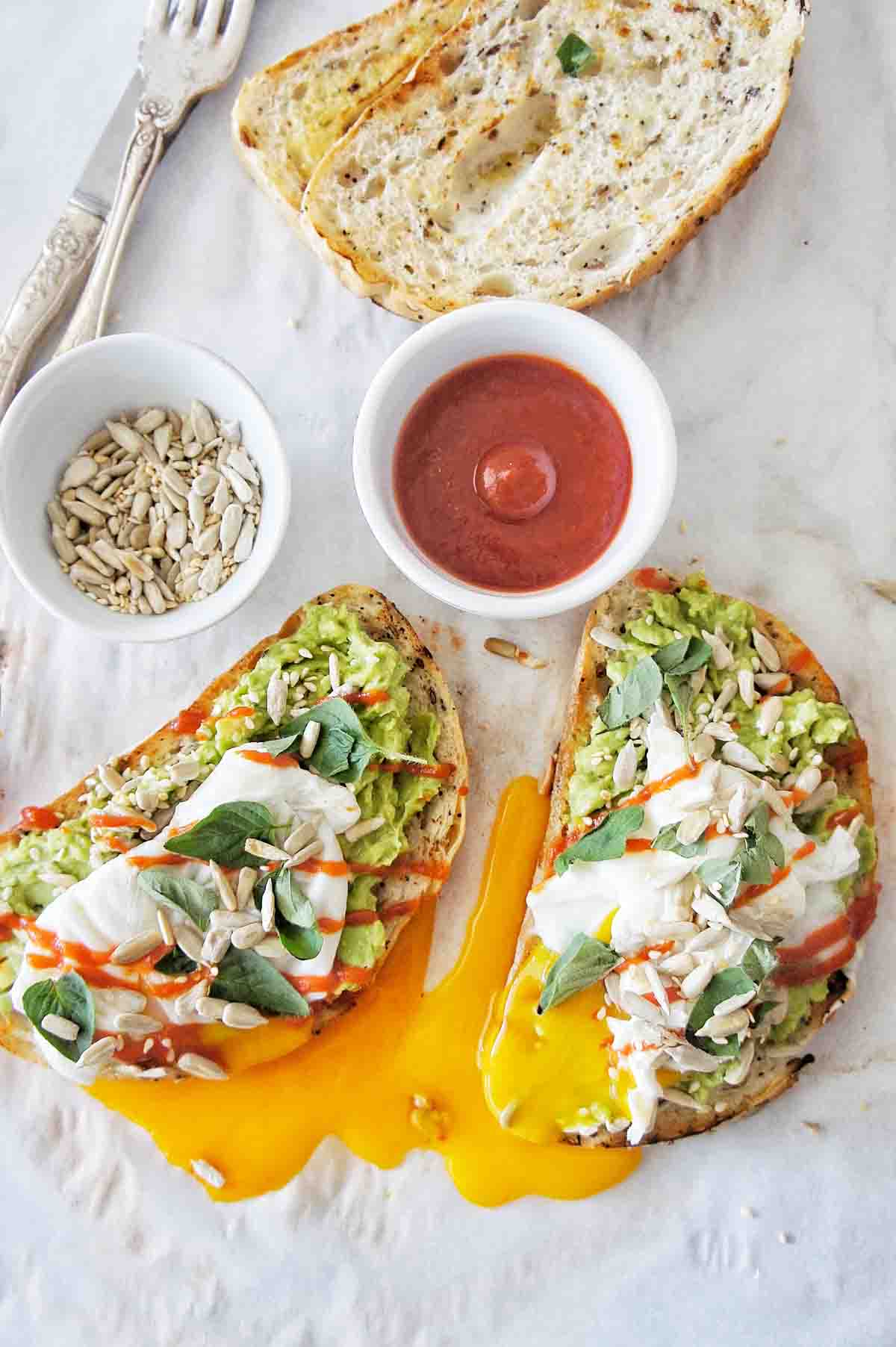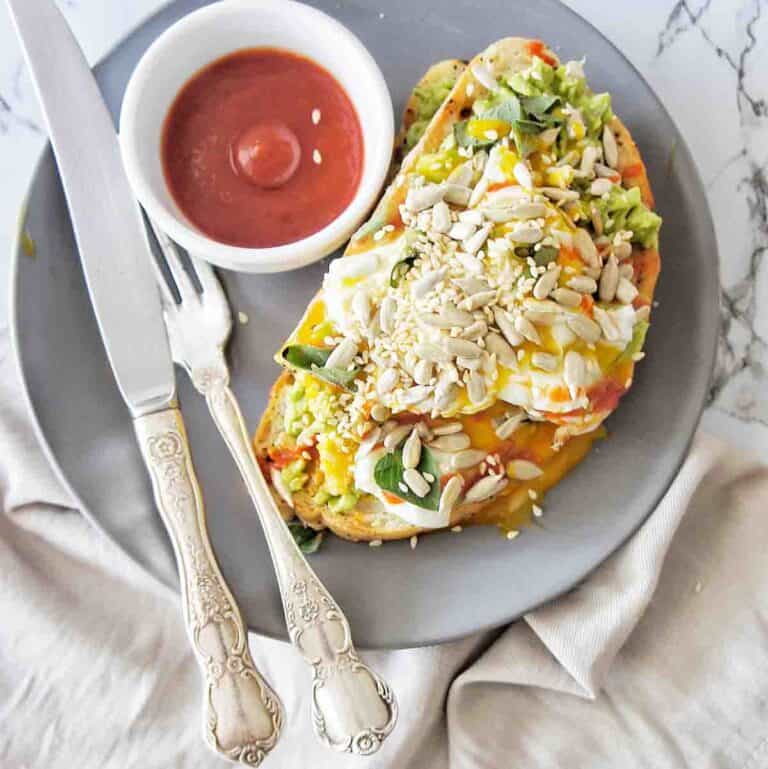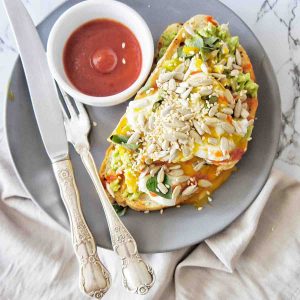 Smashed Avocado Recipe
Smashed Avocado recipe that will make your life complete.  How good are easy avocado recipes that you look forward to making!
Print
Pin
Rate
Ingredients
Smashed Avocado Recipe
2

avocado

Note 1

1

lemon

salt and pepper to taste

1

tbsp

sesame seeds

1

tsbp

sunflower seeds

2

slices

sourdough

Note 2

2

tbsp

butter

softened, Note 3
Instructions
Smashed Avocado recipe
Cut avocado in half and spoon flesh into bowl and mash with a fork

Season with salt, pepper and lemon juice, continue to mash with fork to combine

Butter 1 side of each slice of bread

Toast bread buttered side down in a fry pan at a medium heat

Place toasted sourdough on plates, scoop smashed avocado on top

Bring a medium saucepan to the boil, use a spoon to create a whirlpool in the water, crack egg into water, allow to cook for 2- 3 mins, then remove with a slotted spoon.

Toast seeds in a flat saucepan for 2 - 3 mins or until lightly golden brown

Drizzle sriracha over top of eggs and top with toasted seeds
Video
Notes
Note 1 if the avocado has the little nub at the top, push it back with your figure. Green means ripe and ready to go
Note 2 or your favourite bread. Texture through nuts and seeds taste good
Note 3 you won't need an exact tablespoon per slice of bread, you just need to spread it on one side, to the edges (I allowed for a little more it as I wanted you to be able to accurately get an idea of the calories)
Nutrition
Calories:
653
kcal
|
Carbohydrates:
59
g
|
Protein:
13
g
|
Fat:
45
g
|
Saturated Fat:
12
g
|
Cholesterol:
31
mg
|
Sodium:
445
mg
|
Potassium:
1152
mg
|
Fiber:
17
g
|
Sugar:
4
g
|
Vitamin A:
648
IU
|
Vitamin C:
49
mg
|
Calcium:
110
mg
|
Iron:
4
mg
Did you make this recipe? Share on Instagram!
It makes my day when you make my recipes! Tag @sweetcaramelsunday
Avocado recipes are tasty and delicious, but they are not always in season. I find that I make heaps of avocado recipes when they are in season and then make more egg recipes for breakfast when they are not. Eggs are always available so it gives me reliable go to recipes.
The best thing is you can mix it up. You can serve this smashed avocado recipe with egg, without egg or egg on the side.
Sometimes you might want to make it with sourdough and sometimes rye bread, go for it, whatever floats your boat at the time will work.
Avocado and scrambled egg is another popular option and one to use if this becomes your go to weekend breakfast, but you still want to spice it up a bit every now and then. You might like avocado toast with hard boiled egg instead of runny every once in a while. Changing the way the eggs are cooked will achieve that.
As always, give me a shout if you want me to expand on anything. I am here, in my kitchen and together, we have got this.
Adrianne xx
P.S. If you want to pop some crispy bacon on there too, go right ahead!
October 2, 2019

August 23, 2019

July 1, 2018