I want to show you How To Cook with Olives so that you can learn the various ways this delicious ingredient can be used in many recipes!
Wondering what to do with olives? Let me show you!
Including roasted olives, olive tapenade recipes and olive dips, there is something here for everyone!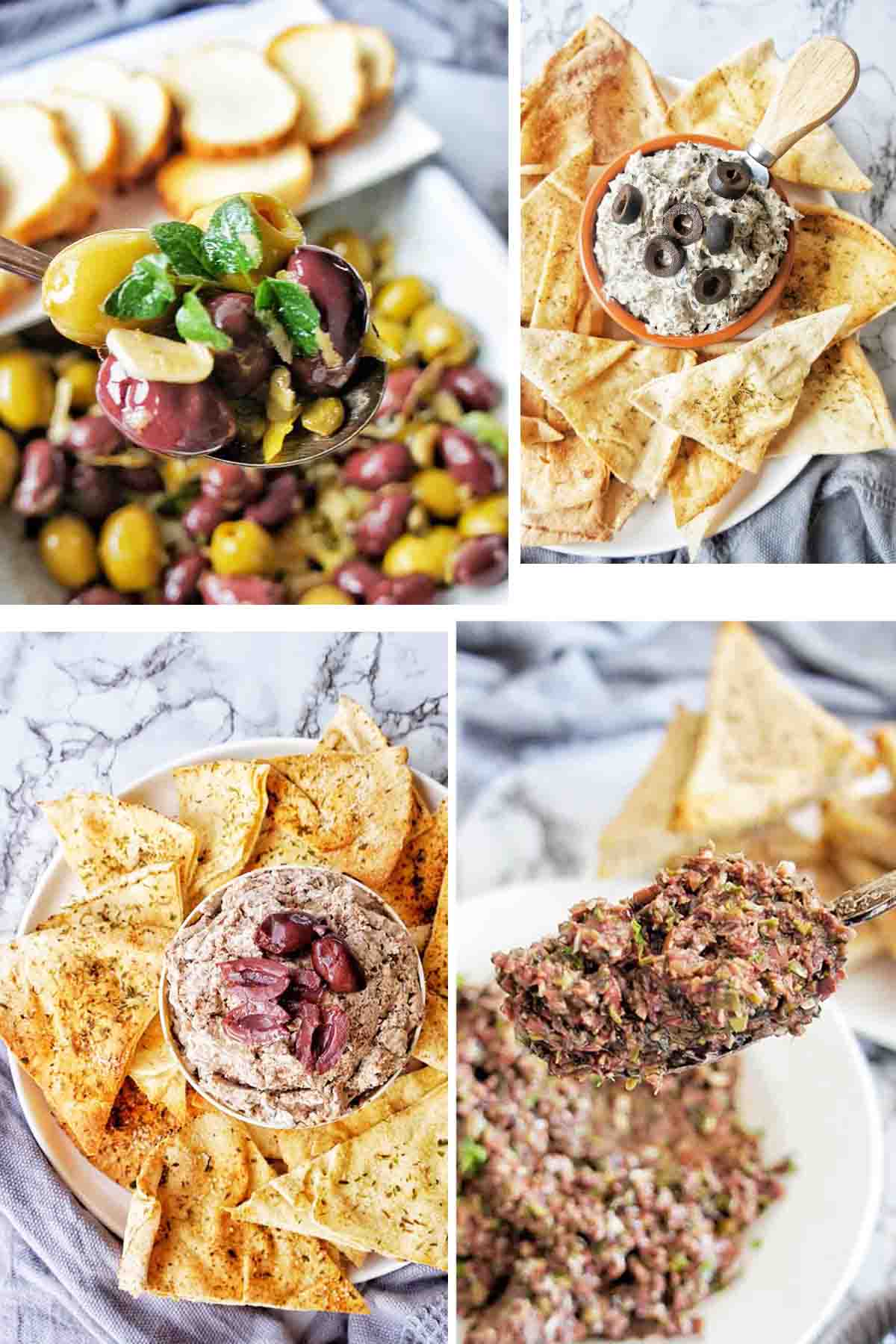 1. Roasted Olives
Oven baked roasted olives are one of my favourite ways to cook olives! This simple recipe is perfect for parties and entertaining guests!
Olive Tapenade recipes
If you haven't made olive tapenade yet, you are in for a treat as I have a few to choose from on the blog and I know you will fall in love.
So easy to make in your food processor, my method is to honour each indiviual ingredient, so when you are munching away you can 'see' what you are eating!
2. Olive tapenade
The 1st tapenade I am sharing uses a combination of Kalamata Olives and Sliced Black Olives.
We pair them with garlic (of course!), capers, parsley, lemon juice and olive oil.
3. Green Olive Tapenade
You are less likely to find green olives on your pizza and more likely to see them on a Grazing Platter.
For this recipe we use a combination of simple pitted green olives as well as stuffed green olives.
This allows us to see tiny red flecks from the pimento pepper (the 'stuffing') that add a pop of colour to the tapenade.
4. Easy Black Olive Tapenade
Black Olives are the rebels of the olive world! Commonly found on pizza with some pepperoni and anchovies, they are the best for subtle but also punchy flavour.
5. Sun-Dried Tomato Tapenade
If you love Sun-dried tomatoes (who doesn't right!) then this recipe will be right up your alley.
Highlighting the delicious juicy taste of the sun-dried tomatoes, this tapenade is one to try if you are not an olive lover.
You will become one, don't worry, haha, but the combination of ingredients allows for other flavours to dominate any salty briny overload.
6. Artichoke Olive Tapenade
In a similar style to the above Sun-dried Tomato Tapenade, our Artichoke Olive tapenade is not just about the olives.
The soft, melt in your mouth artichokes are simply to die for and they bring their own flavour and texture to this tapenade.
7. Spicy Olive Tapenade
We have had some subtle flavours above, so this one is for the olive lovers.
Garlic and chilli pack a punch in our Spicy Olive Tapenade.
These olives do a little dance party in your mouth and that explodes in a festival when you combine with them with the other band members, yum!
Recipes with Green Olives
We use the following recipes to showcase the delightful green olives:
Recipes with Black Olives
However, if black olives are your favourite, try one of these recipes:
Olive Dip recipes
If you are looking to make easy homemade dips, then an Olive Dip should be on your list.
Quick, simple and subtle in flavour, they are great on a Crudite Platter or served with Pita Chips.
8. Green Olive Dip
Use everyone's favourite stuffed green olives and cream cheese to make this smooth and simple dip.
If chips are not your favourite dip accompainment, try using this as a spread on toast.
My How to Toast Bread in the Oven will give you lots of ideas to pair this dip with bread in a variety of ways!
9. Black Olive Dip
Those pizza olives are back for this easy Black Olive Dip recipe!
Like our Green Olive dip, we combine cream cheese with the olives for a thick dip, perfect to serve with veggie sticks!
10. Kalamata Olive Dip
If you love the purple coloured Kalamata Olives, this dip will be your favourite!
Serving Suggestions
Here are some ideas that you might like to try any of the aove recipes with:
If you have made any of these recipes, have questions or feedback, I would LOVE to hear it in the comments below.
Which one will you try 1st and more importantly, which will come to be your favourite olive recipe?
Adrianne x