Dark Chocolate Bark is for dessert on Sweet Caramel Sunday!
Does the thought of Dark Chocolate Bark, make you enter a blissful contented state where you are visualising pools of melted Chocolate? Nope, then have a read of this recipe and hopefully it will soon enough! It sounds delicious doesn't it….Dark Chocolate, so you know it is going to be rich and Bark, so you know if won't just be a slab of store bought chocolate that can be overly sweet and lacking texture.
One of the best things about this dish is that it looks so pretty!
It is not overly complicated even though it seems a little different from what you see at the shop and the toasting of the coconut and pistachios add a lovely flavour and crunch.
Down time activities
I have been having one of those weekends where I feel like I wish there was a 'pamper me' store where you could walk in, get a full service and walk out looking a million bucks. Nothing fake or over the top, just some self maintenance type of all in 1 beauty bar. It has been cold here and that means dry skin and the thought of putting a cold moisturising cream  on is not as appealing as pj's and ugh boots. So, I usually take sometime on the weekend to 'do me', whether it be a face mask, skin and nails, blow drying my fair, these things all make you go from drab to feeling fab in my book really fast! But sometimes, you wish you could click your fingers and get it all done without the time and effort and processes involved!
I have super long thick brown hair and than means washing and blow drying does take a chunk of time, however, it looks good when it is done and when it isn't you feel like you wish you had the time and energy. But, I did this week have a 'rest' day where I used some dry shampoo to give me one more day before the routine began again – have you tried it, it is AMAZING! Almost as good as washing your hair again. I totally encourage you to give it a go if you haven't already. Having a bottle of that on hand is a girl's best friend. And so I digress……..but I will get back to the recipe now………
Ok, so this is super fun to make and your Dark Chocolate Bark will be sure to impress. Let's get started…….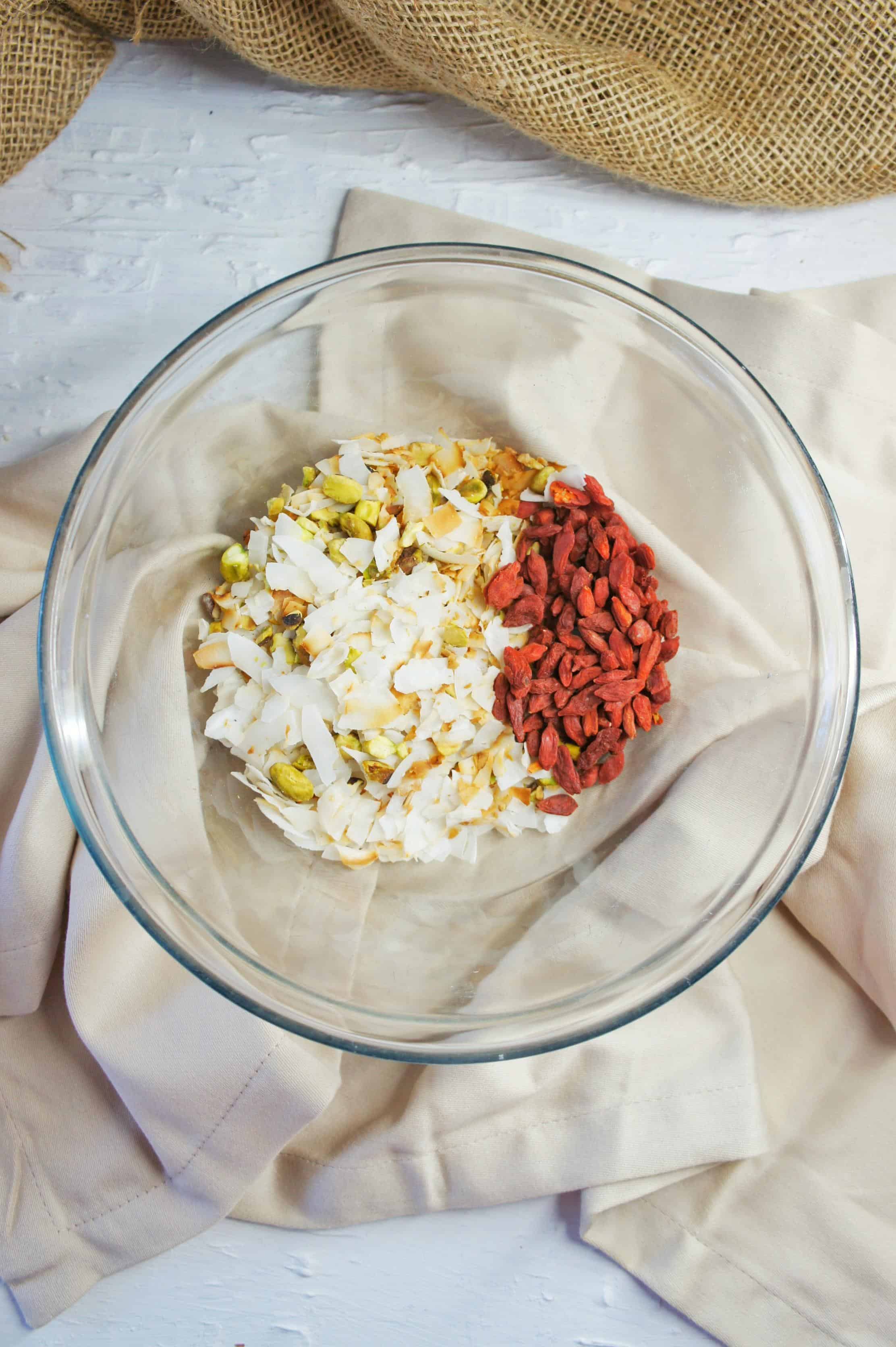 The combination of coconut, pistachios and goji berries, is bright and colourful, you should be able to find all in the same aisle at the supermarket, including the cooking chocolate!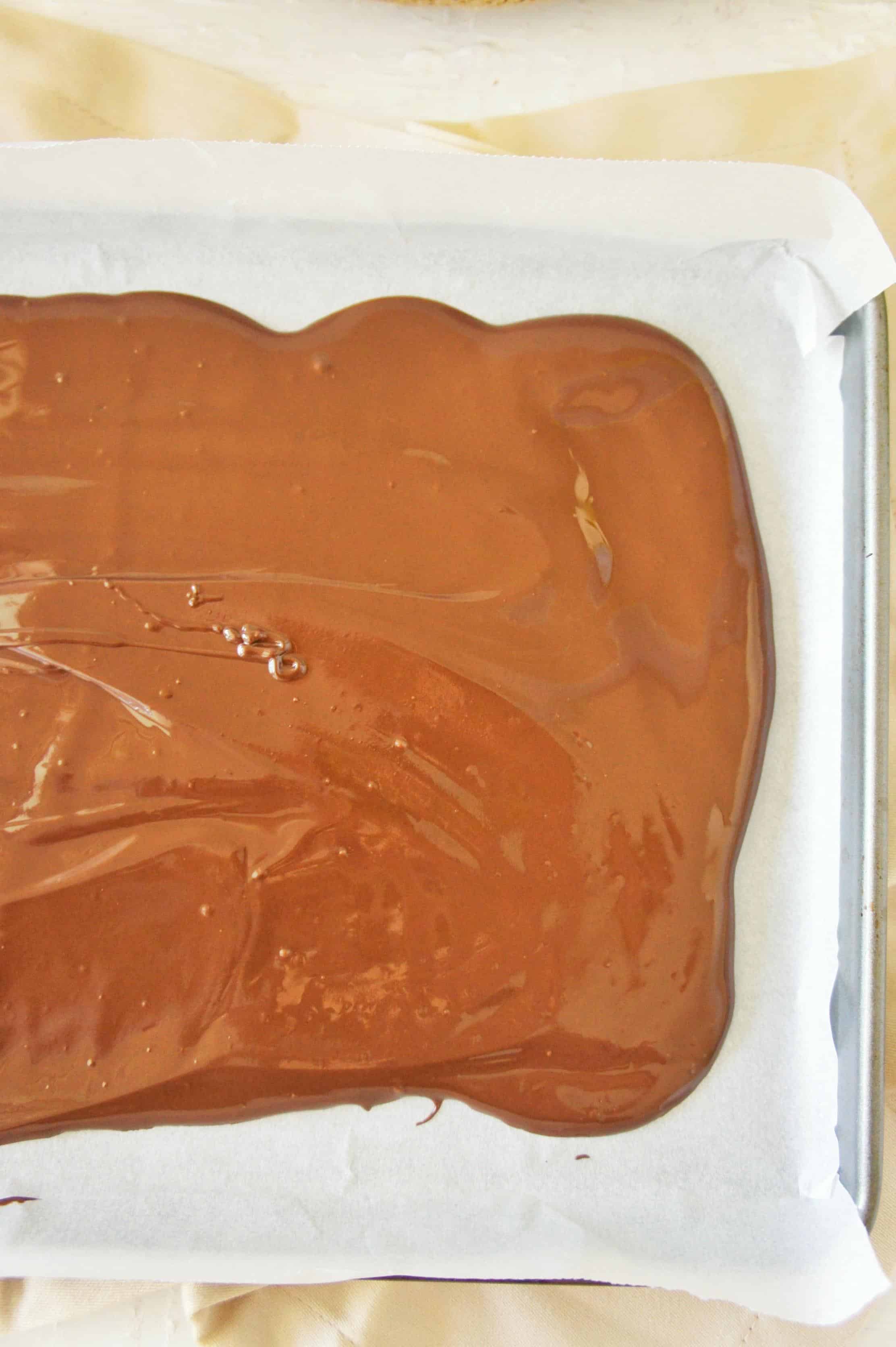 When pouring the chocolate into the slice tray, think about how thick you want your pieces of bark to be. For thick pieces, don't spread the chocolate out that much, just pour and then flatten. For thin pieces, spread the chocolate over the entire tray surface.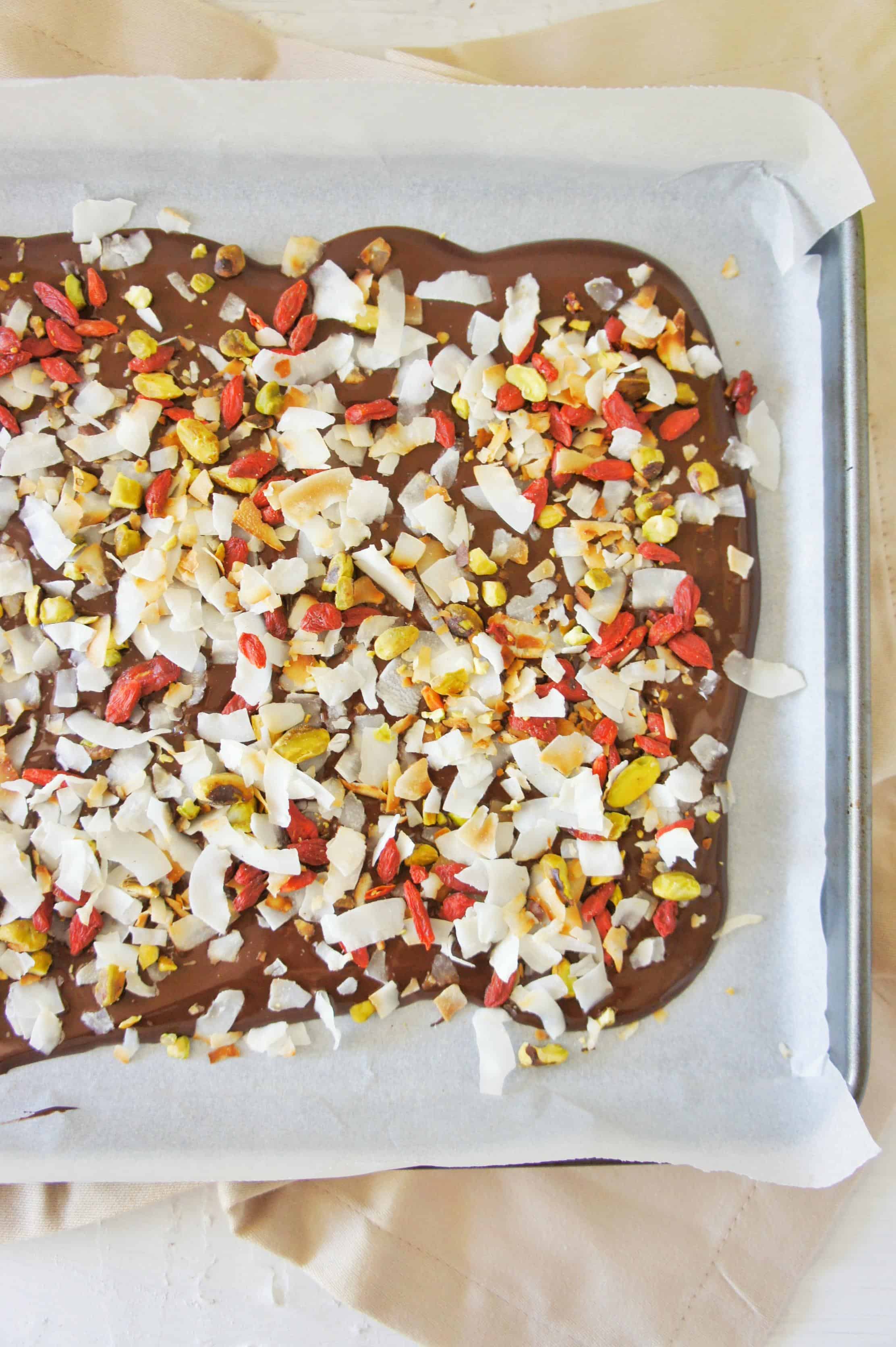 The chocolate will start setting again quickly so be ready with your 'Sprinkes' and have a little fun whilst decorating.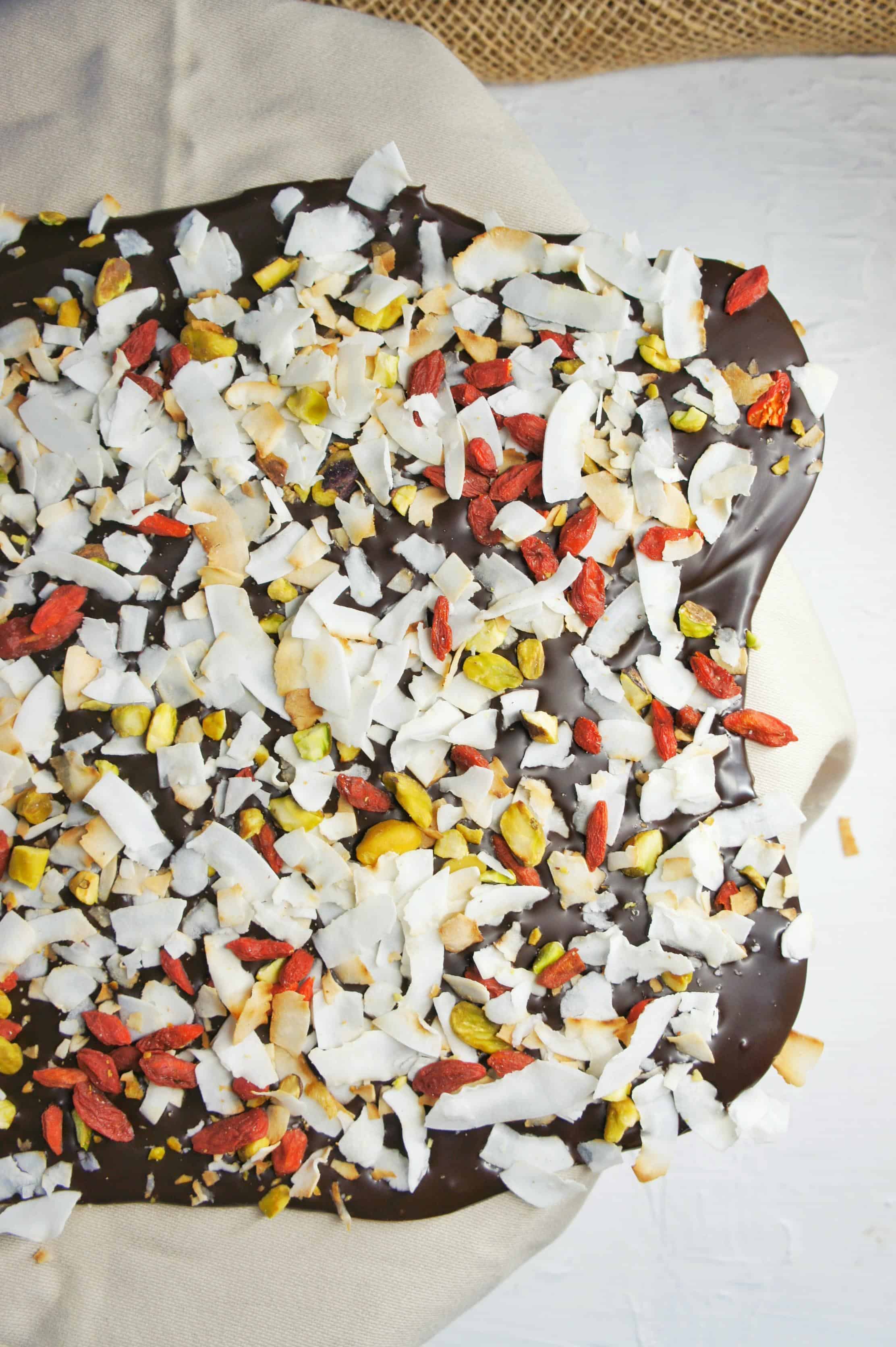 After 1 hr or so, the chocolate will be fully set. Use a knife to begin to break it up into bits and pieces.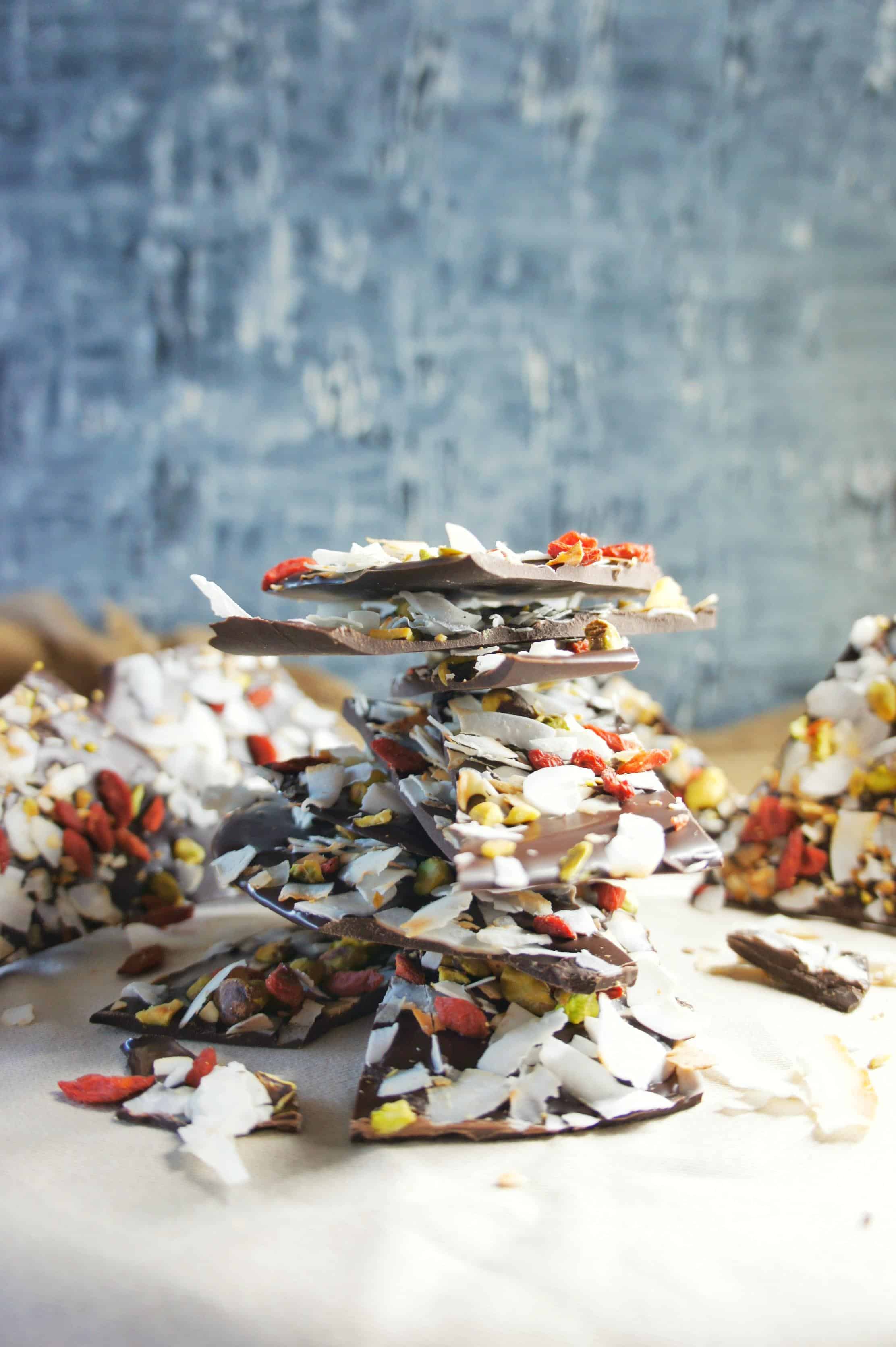 It will store well in the fridge in a zip lock bag or plastic container with a lid. If you want to give it as gifts, you can places pieces of the Dark Chocolate Bark in clear bags, with a pretty ribbon to tie bag together.
Hope you enjoy this recipe and see you again for using the leftover Sprinkles as an ice cream topping soon!
Cheers
Adrianne (it's all good, the sun is shining in QLD!)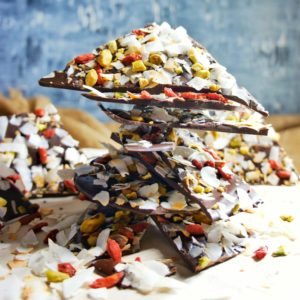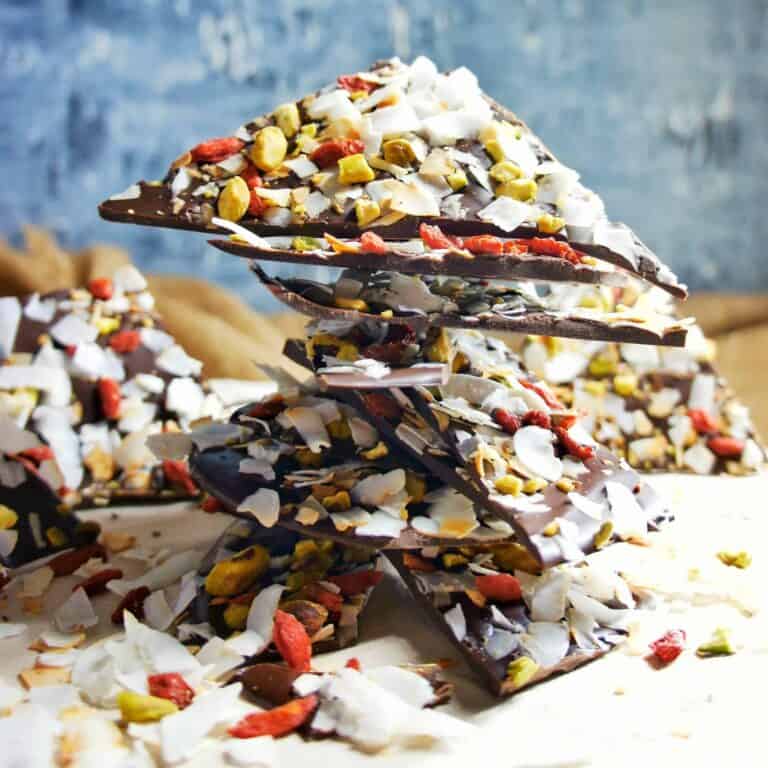 Dark Chocolate Bark
This recipe is for a super quick and easy dark chocolate bark. It is bright and colourful and is an eye catching treat you could whip up for your next social engagement. With toasted coconut and pistachios as well as a few juicy goji berries, you won't be able to stop at just the one piece!
Print
Pin
Rate
Ingredients
1

375g

dark chocolate melts

1

cup

coconut

shaved and dried

1/4

cup

pistachios

1/4

cup

goji berries
Instructions
Place the pistachios in a small zip lock bag, seal, then use the back of the spoon to break into smaller pieces

Add the coconut and pistachios to a medium fry pan and toast till a light golden brown (approximately 5 minutes). Once done, remove from heat and set aside

Add goji berries to a small bowl and when cool, add toasted coconut and pistachios. Stir to combine.

Line a slice tray with baking paper with a little over at the edges so that you can use it as a handle

Fill a medium size saucepan with water and place a heatproof bowl on top (there should be a gap between the water level and base of bowl). Add chocolate and allow to melt (stir as you go). Remove from the heat once done.

Pour the melted chocolate into the slice tray, use a the back of a spoon or spatula to spread over the tray surface

Top chocolate with sprinkle mix and refrigerate till set (approximately 1 hour)
Notes
I did put it in the instructions, but make sure you line your tray BEFORE melting the chocolate, as it will set again quickly and you won't have time to do it after melting the chocolate. 
The coconut and pistachios will burn very quickly, so keep an eye on them whilst cooking 
The chocolate will over cook quickly also if you are not careful, so as soon as the last piece is melted, turn the stove off 
This recipe will be enough to cover the chocolate and then some. Use the leftovers as 'Sprinkles' for ice cream.  
Nutrition
Calories:
38
kcal
|
Carbohydrates:
1
g
|
Protein:
0
g
|
Fat:
3
g
|
Saturated Fat:
2
g
|
Cholesterol:
0
mg
|
Sodium:
1
mg
|
Potassium:
49
mg
|
Fiber:
0
g
|
Sugar:
0
g
|
Vitamin A:
10
IU
|
Vitamin C:
0.3
mg
|
Calcium:
4
mg
|
Iron:
0.3
mg

A few of my favourites
Alright, alright, sooooooooooooooooooo, I want to show you some other recipes that you could do, which might appeal to you. For the sweet teeth amongst us, there is my Super Easy 4 Ingredient Rocky Road and that recipe can be found here.
I would also like to tempt you with this recipe for my Blueberry and banana crepes…..if so you can find that recipe right here.
Or if you prefer Strawberries, don't worry, I have you covered there too, here is my Strawberry Crepes recipe and they are SO good, I promise your whole family will love them. You can whip up a big batch for breakfast one weekend!
And for one more dessert idea………………this one is dairy free!!!  It is a thick and rich Chocolate Mousse, you will find that recipe right here!
And if ALL else fails, let me spark your enthusiasm with some dinner ideas if you want to be sure to balance out your treat versus non treat food intake for the week…………..you might be interested in checking out is this Vegan Brown Rice Noodles and that super delicious recipe is here.
If you are not vegan or vego, you might like this make Pad Thai instead of getting take out and this recipe is a fabulous go to for authentic tasting Thai at home (or you could substitute tofu for the chicken mince and give it a vegan twist) is here.
If, however, you are not after dinner recipe ideas, but are open to trying something new, than I can highly recommend my Beetroot Powder Smoothie and that recipe can be found here.
So, I am off to do some of that pampering I told you about, look out world here I come! Have a great rest of your weekend!
Let me know if you give this dish a shout, I would love to know what you think. If you share a picture on instagram use the hashtag #sweetcaramelsunday I would love to check it out xx
P.S If you love food and want to start your own blog, I have written a Step by step guide to starting your own blog and you can get that here.
P.P.S And if you want to up your Food photography, I book I highly recommend is The Food Photography Book by Nagi from RecipeTin Eats.