Crispy Smashed Potatoes are on the menu on Sweet Caramel Sunday! With simple ingredients and step by step instructions, you will be able to make this dish tonight!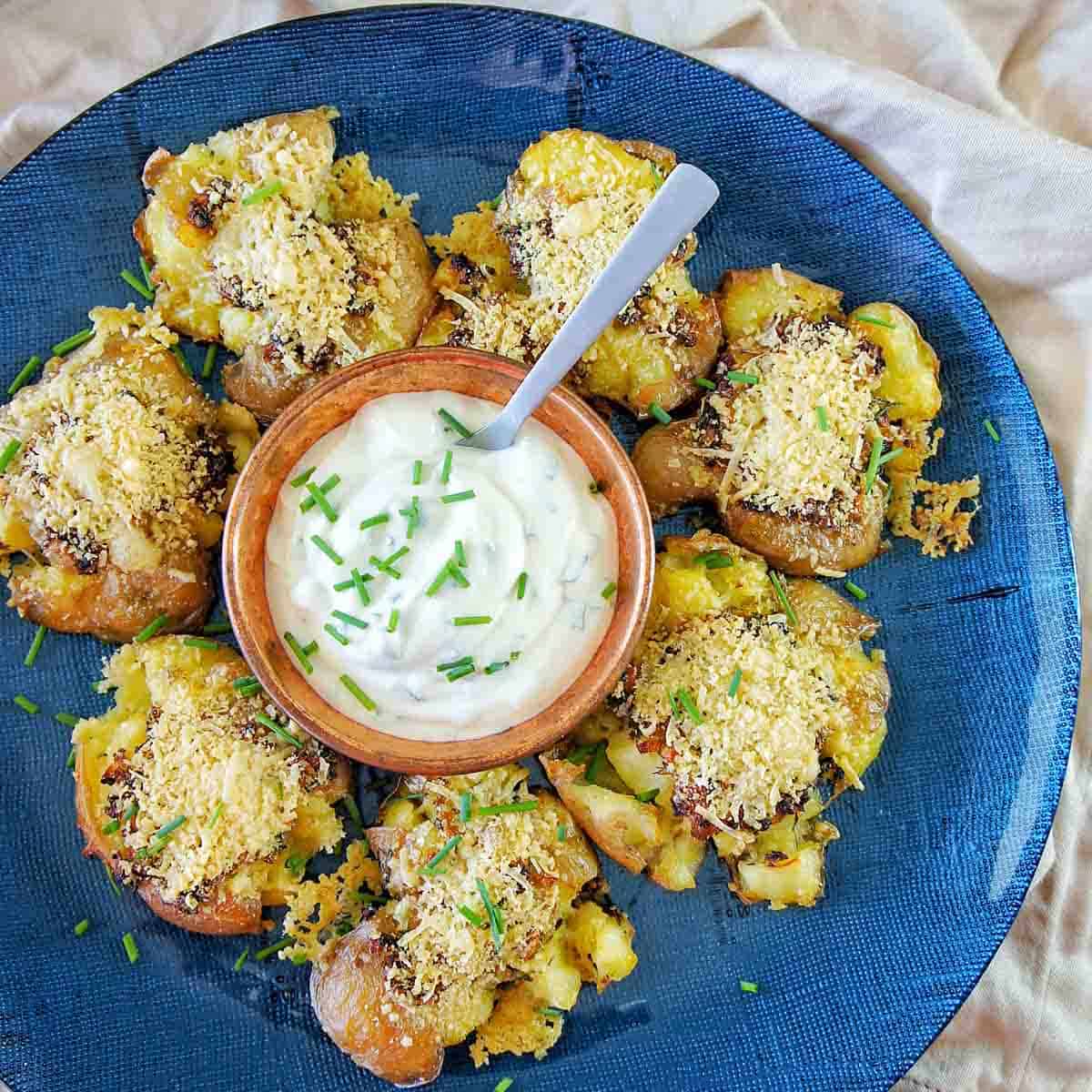 What to serve crispy smashed potatoes with
Crispy Smashed Potatoes are a great side dish for a lot of recipes. They work well with chicken and would be great to accompany these Honey Soy Chicken Wings.
In Australia, there is a children's entertainment group called The Wiggles. They have bright clothes and sing songs that children love and are a household name. One of their top songs is called 'Hot Potatoes'. It is a super catchy tune, that starts with them singing,  'hot potato, hot potato…. with some pretty cool dance moves and lyrics', they then move into 'cold spaghetti and mashed banana'. Whilst I admit that the last 2 don't quite appeal to me or make me drool, the 'hot potato, hot potato', not only appeals to be it makes me wish they would include, 'baked potato, baked potato, mashed potato, mashed potato, smashed potato, smashed potato and many many more'.

How to make crispy smashed potatoes
Aren't potatoes, just darn good. Like any combination of them too, it is not like mashed potatoes are anything to turn your nose up at and then all of a sudden you come up with smashed potatoes, and ermagawd, you have literally died and gone to a roast heaven place filled with aromatic spices and so much flavour!
This recipe for me came about as I had being seeing small bags of potatoes in Aldi for the last couple of weeks. The potatoes were itty bitty and very cute and I needed to make something with them STAT. I was having a scroll through Pinterest recently and I saw an image for Smashed Brussel Sprouts. Immediately I knew, I wanted to smash my potatoes and so I went about doing just that.
I am however, funny in always wanting to be original in the sense that I couldn't even look at another recipe for these as I didn't want to be influenced to the point that I couldn't bring you my flavour combination and my technique. So at the risk of loosing my authenticity, I avoided all of those recipes and stuck to my own guns.
There is a lot of love that has gone into this recipe. These beautiful plates were also a present from my friends Emily and Tim and I wanted to do something special to plate on them.
About the recipe:
This is the PERFECT side dish!!
This recipe is VEGETARIAN
We use salt, pepper, garlic, thyme, onion flakes and fresh chives to make our potatoes taste terrific!!
We use oil to ensure the most crispy potato we can achieve
To answer your questions:
The dish is best served HOT!
This dish is not suitable for freezing
This dish involves using both the stove and the oven
This is a SUPER EASY dish to pull together
Let's cook these bad boys…here is how to make our Crispy Smashed Potatoes with step by step photos: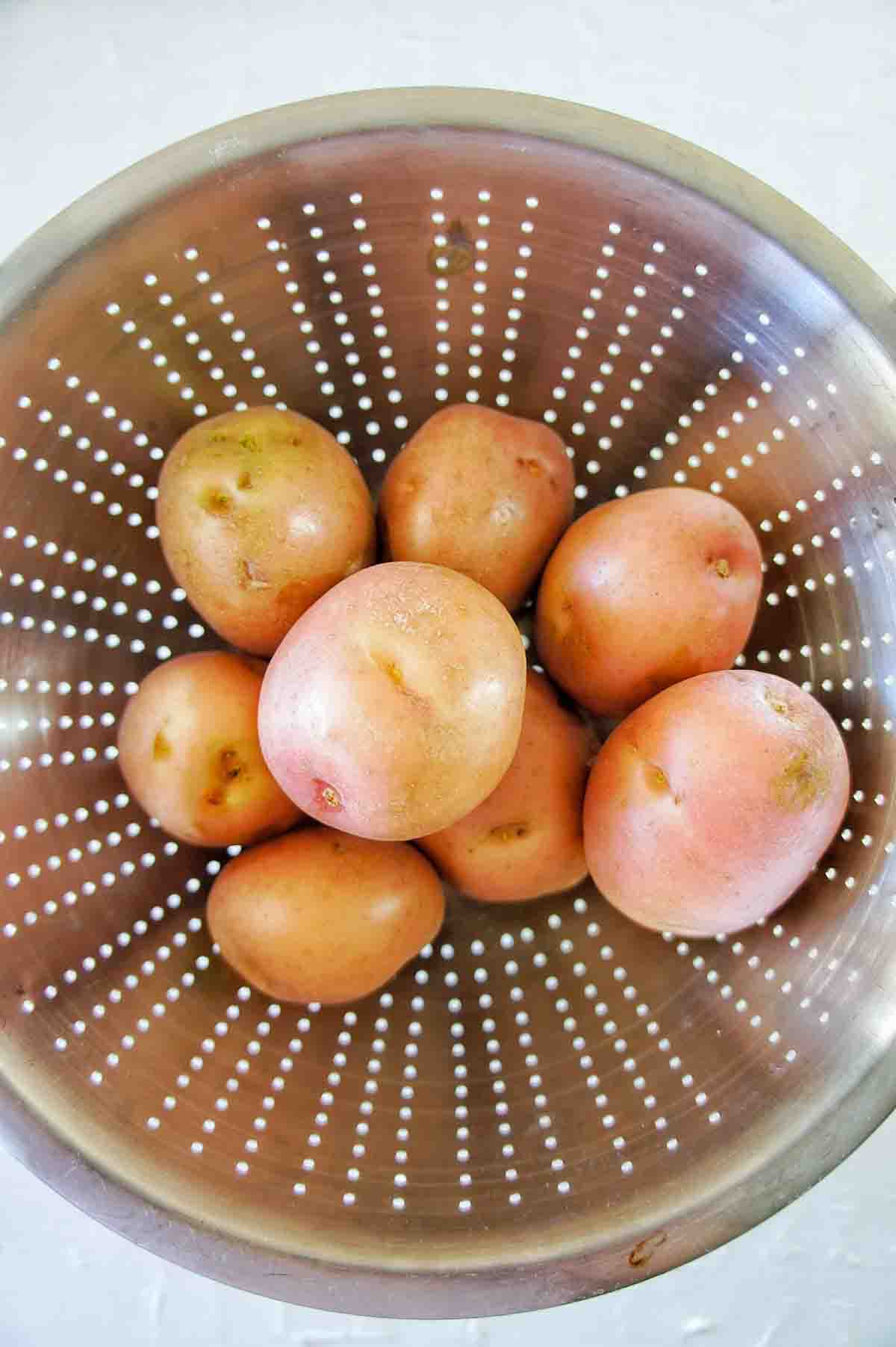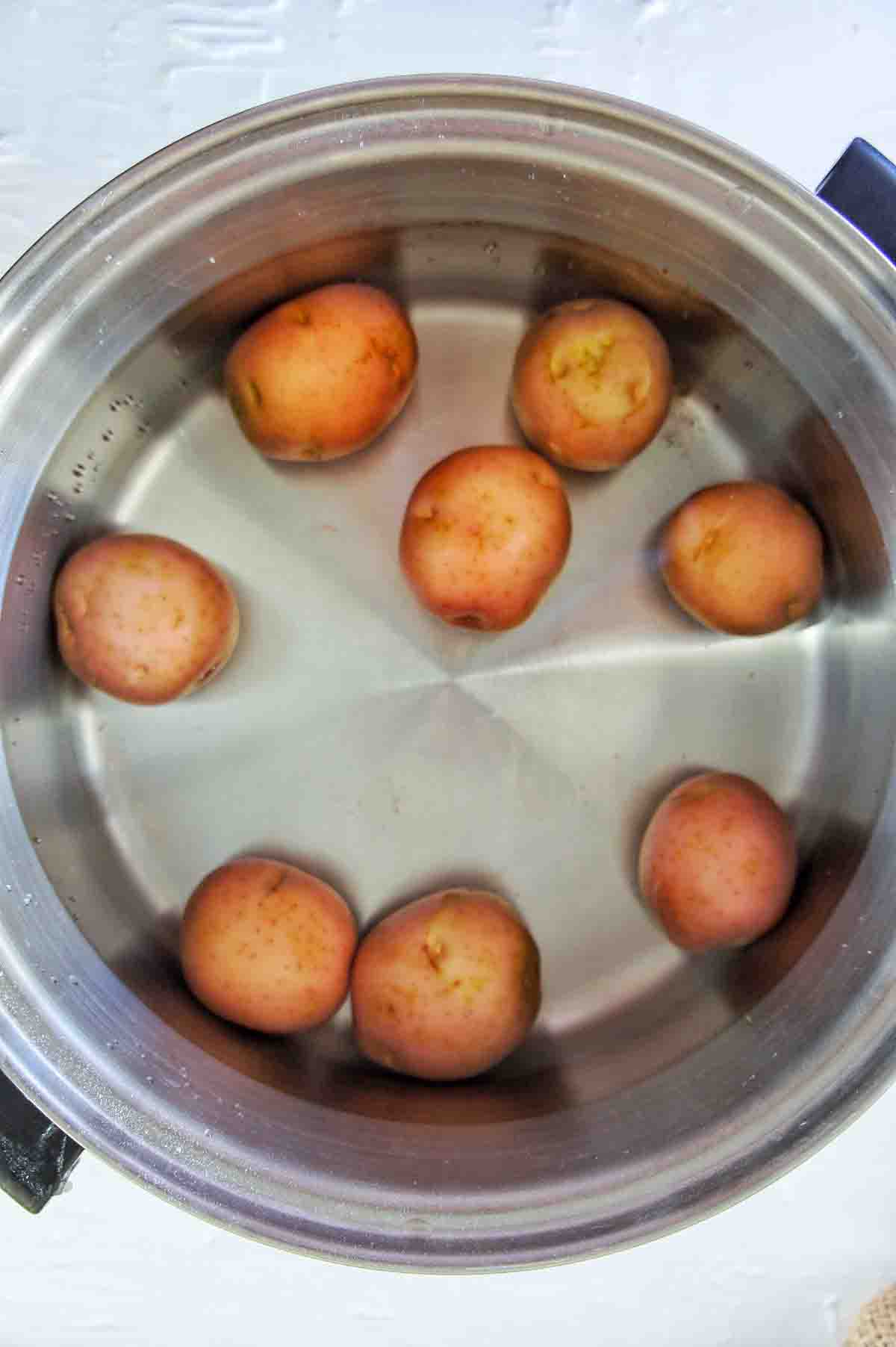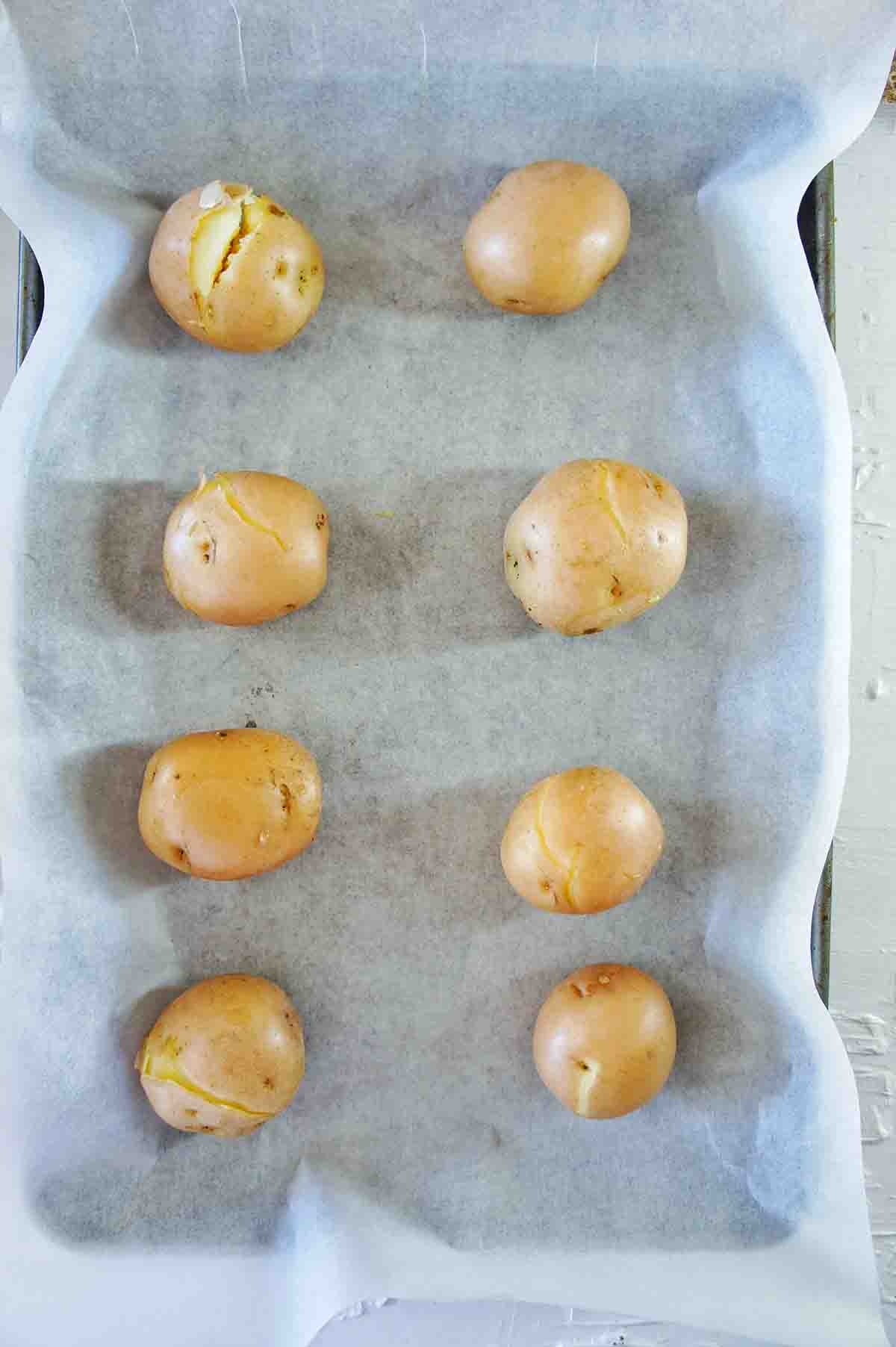 The beginning steps are super easy, rinsing, boiling and resting our potatoes.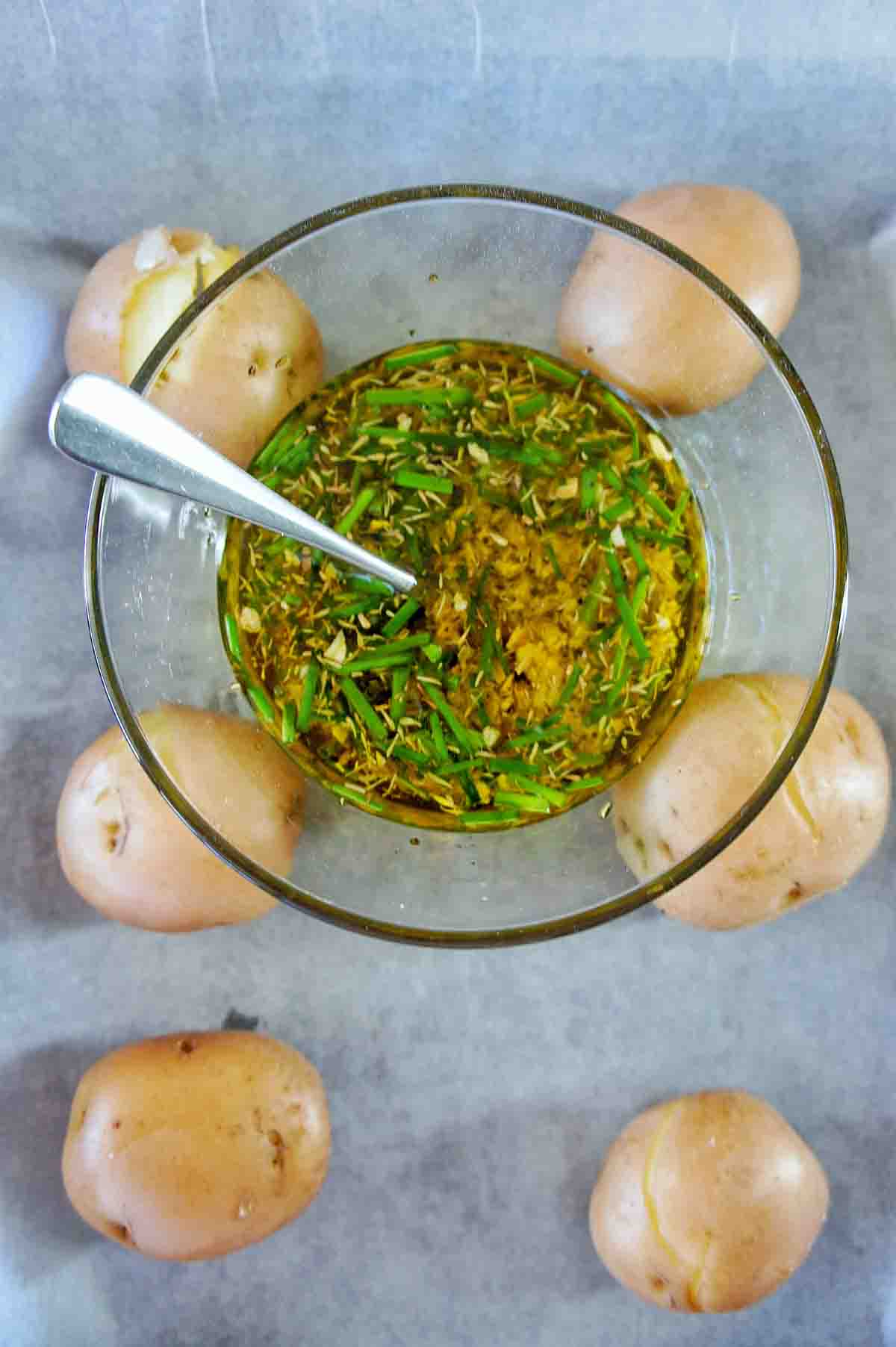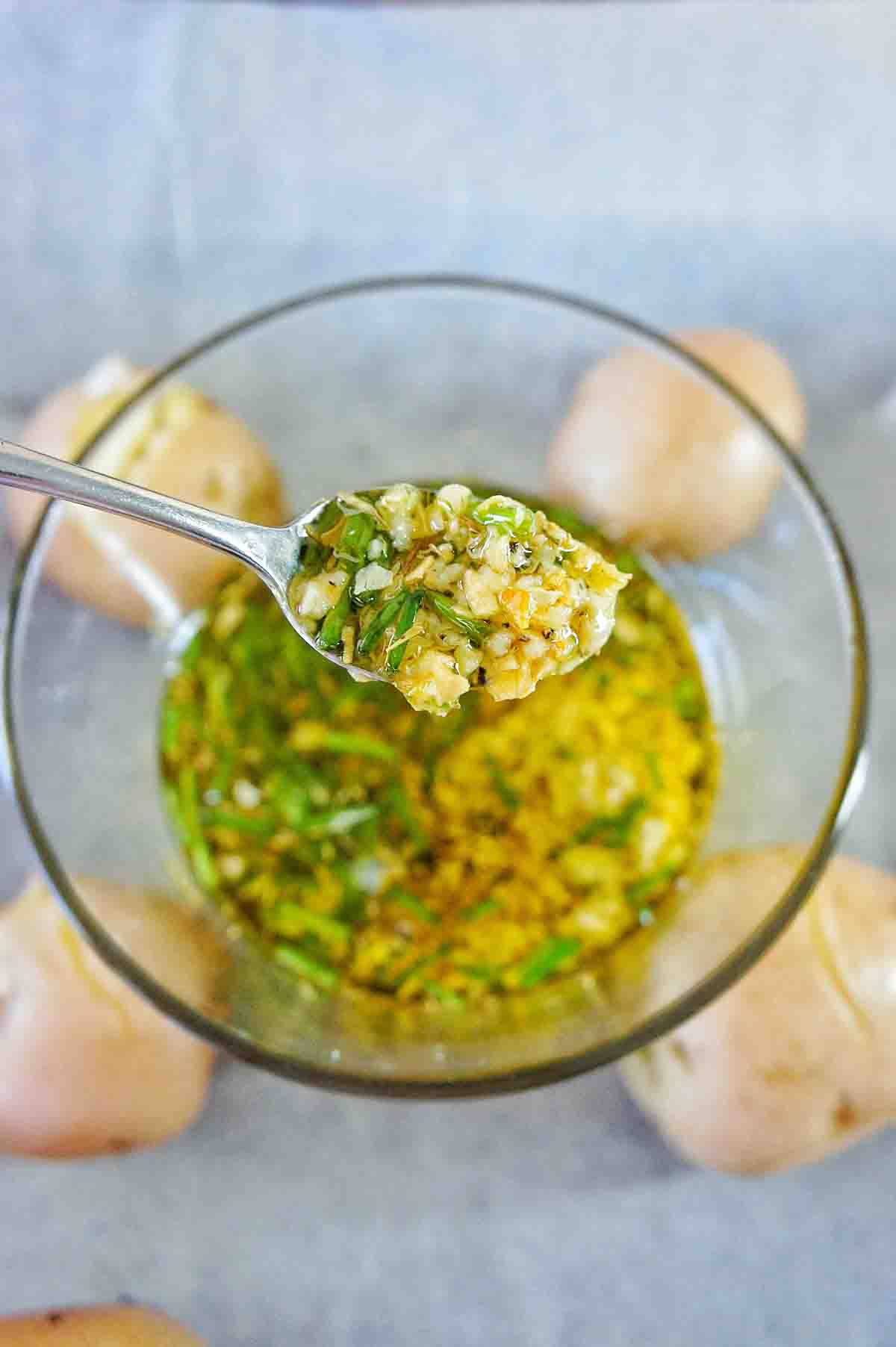 Our seasoning mix, only needs to be stirred together with a spoon, so many flavours, leading to such great tasting smashed potatoes!!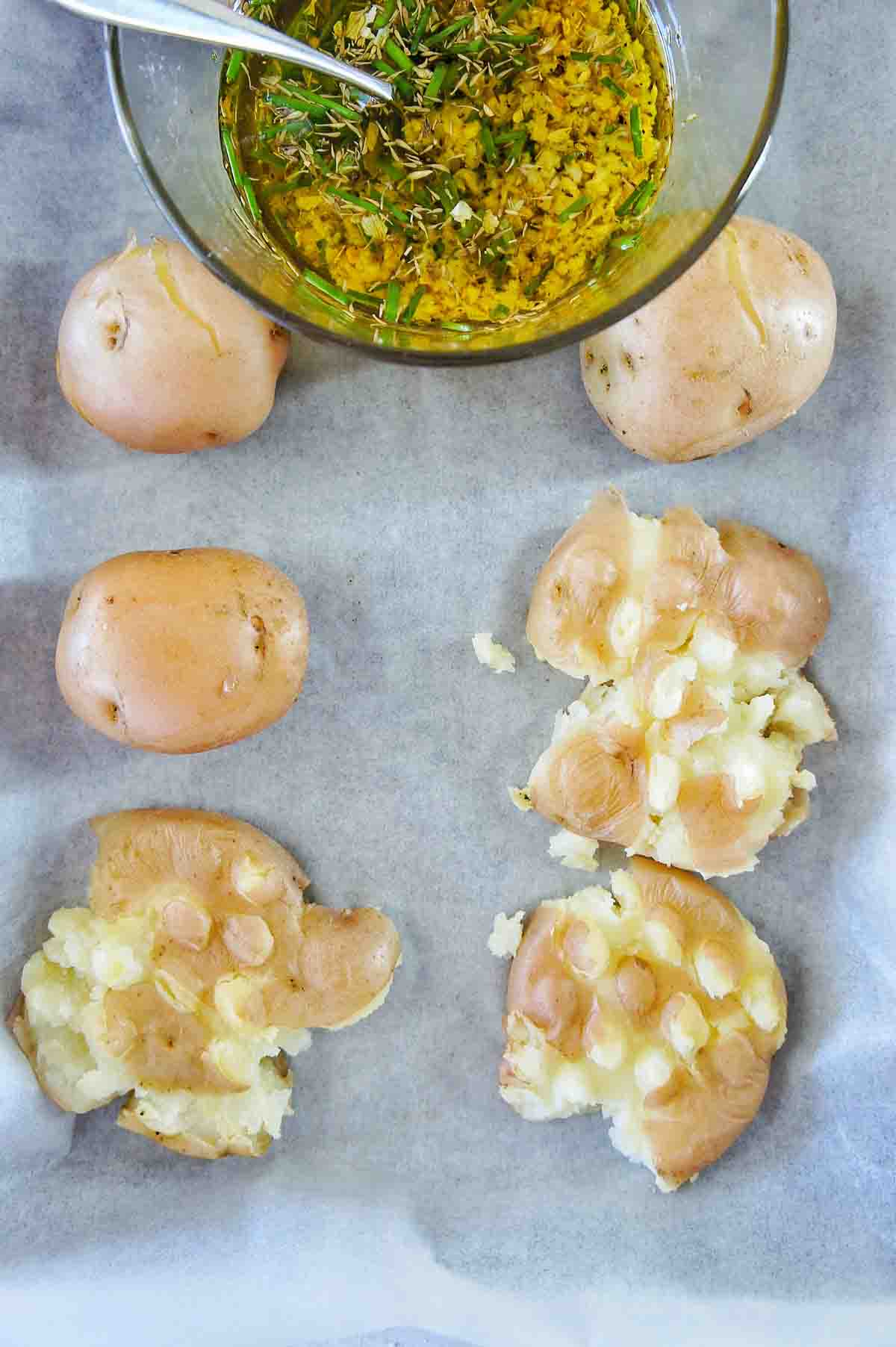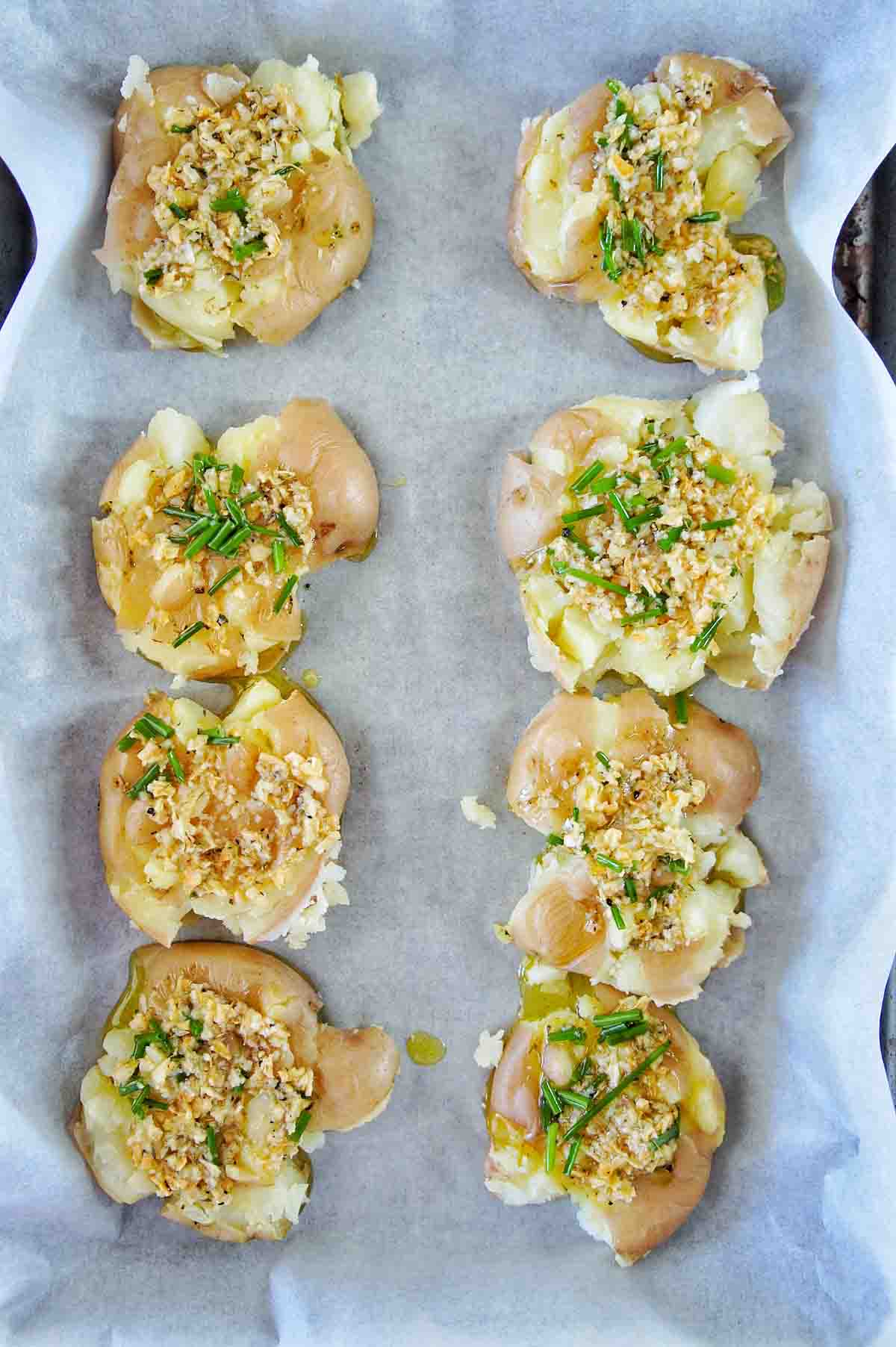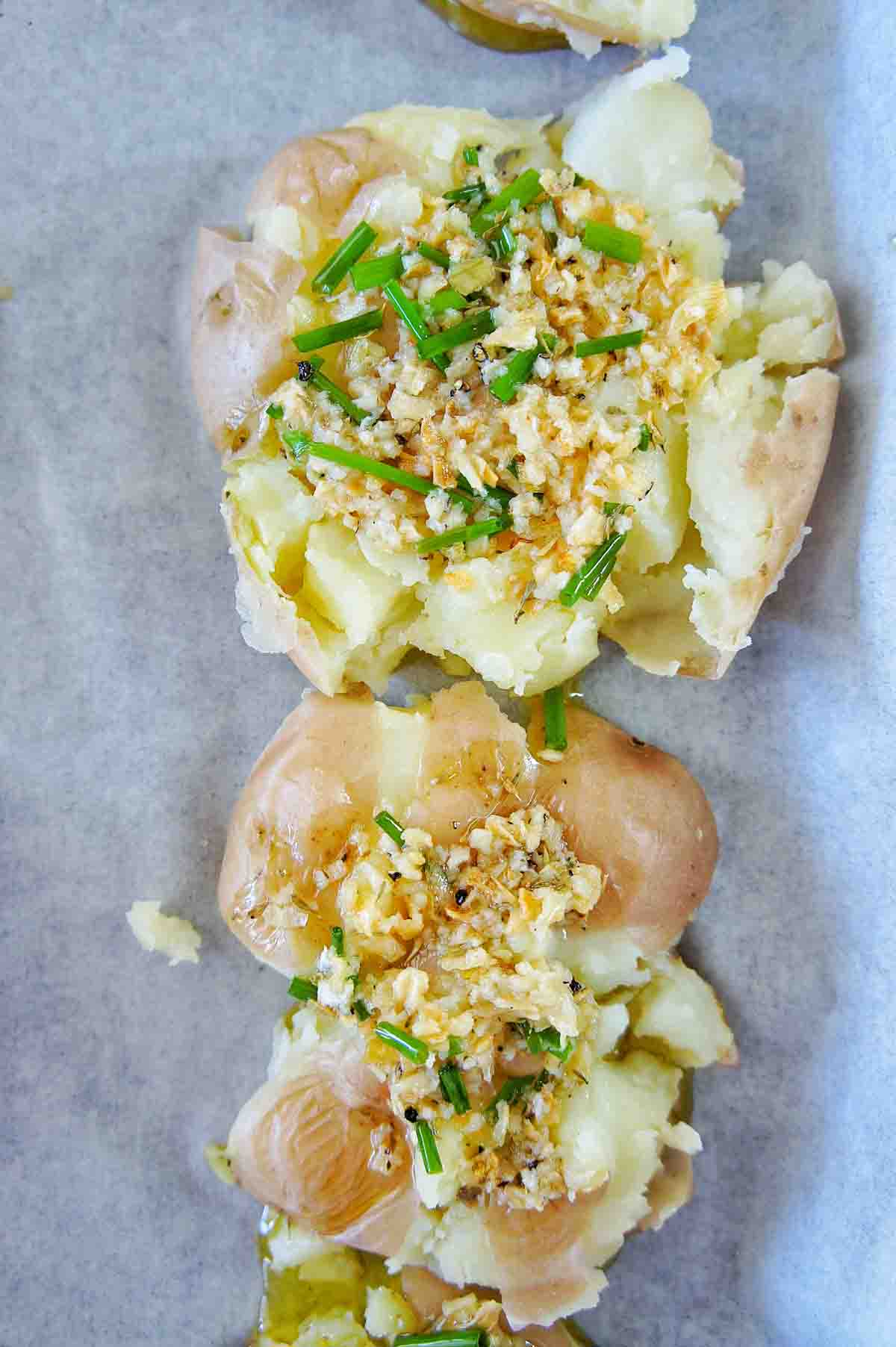 The reality is if you push too hard, your potatoes will not be 'one piece' anymore. If this happens, you can repair that down the track a bit as your parmesan will help stick all of the pieces back together again! (Sort of like, humpty dumpty, having a fall from the wall, but all of the king's horses and all of the king's men will be able to pull our potatoes back together again as the parm is the 'glue (not like poor Humpty!)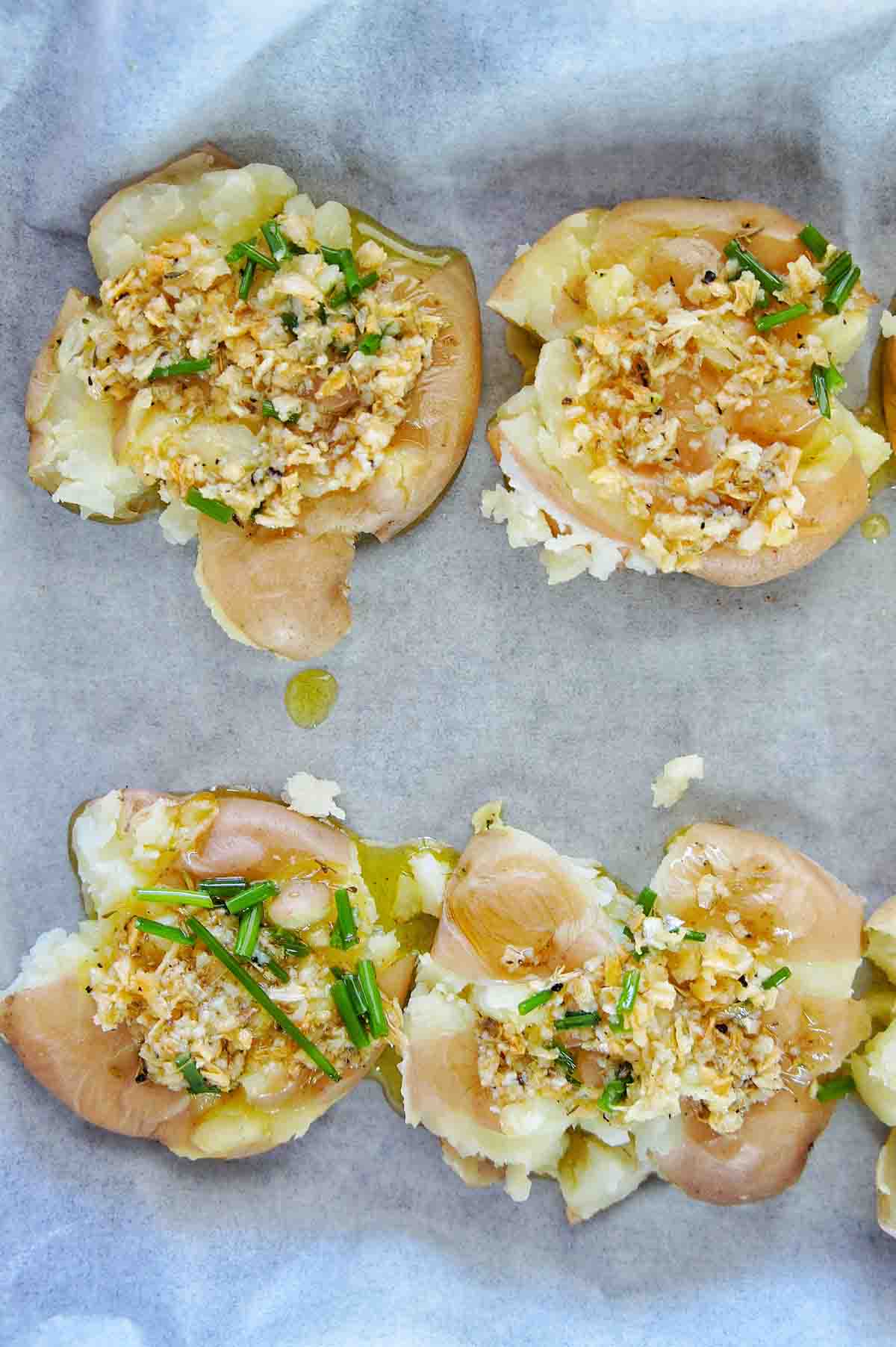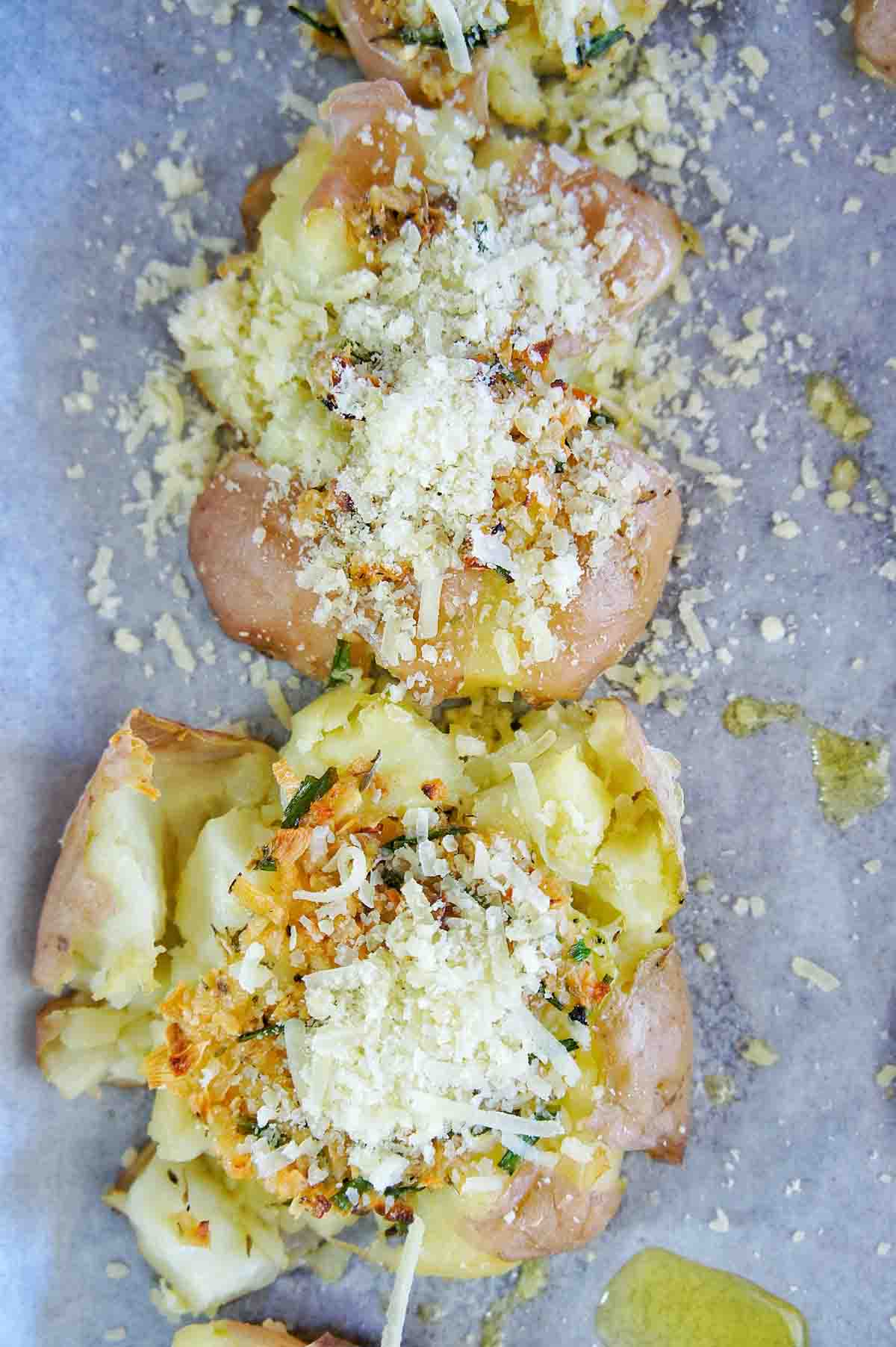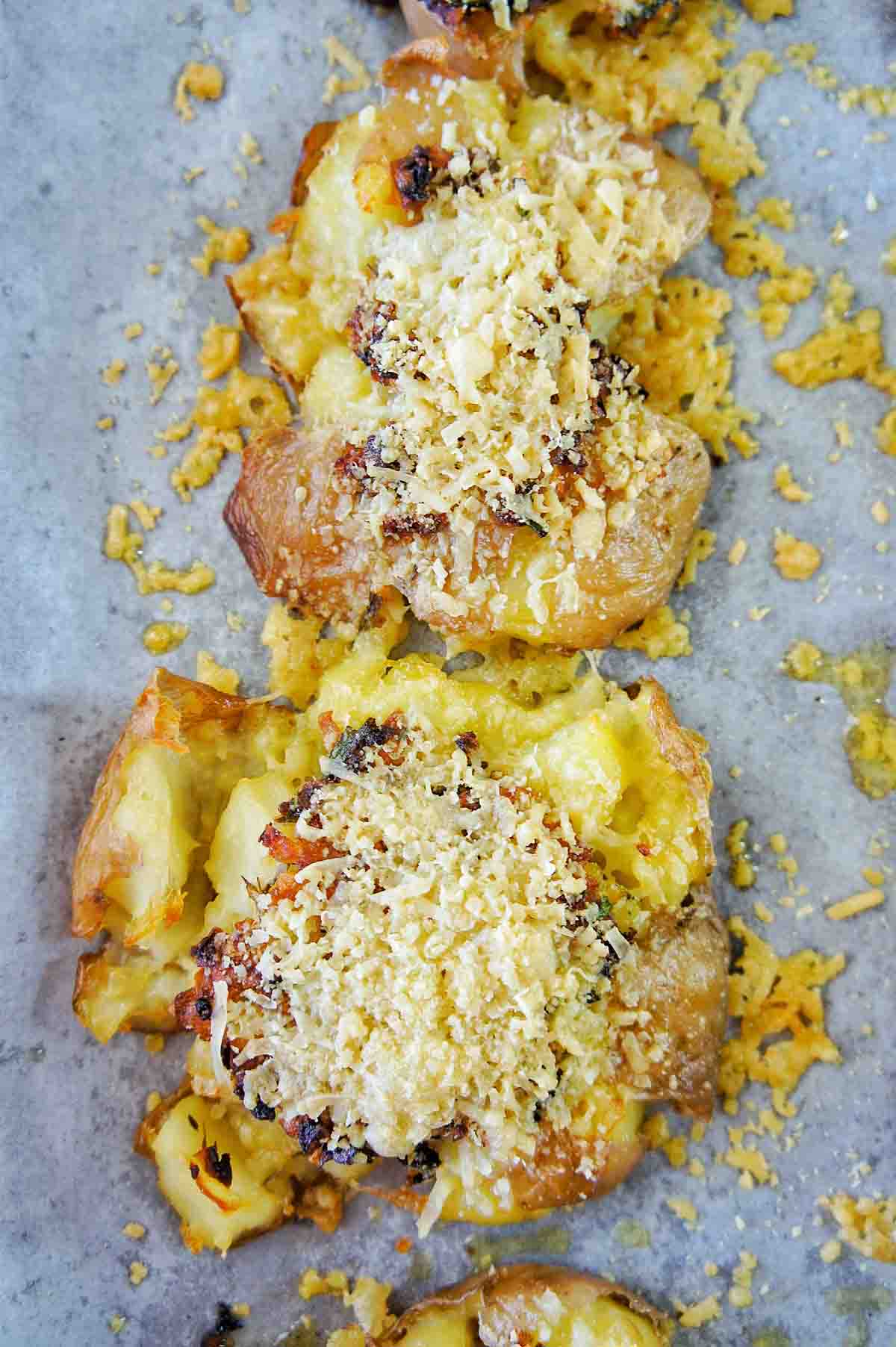 Serving these is sure to bring some ohhhs and ahhs, just make sure you get one too as they will go like hot cakes!!  Queue the music 'hot potato…hot potato….hot potato….hot potato!!' (it's just so darn catchy!!)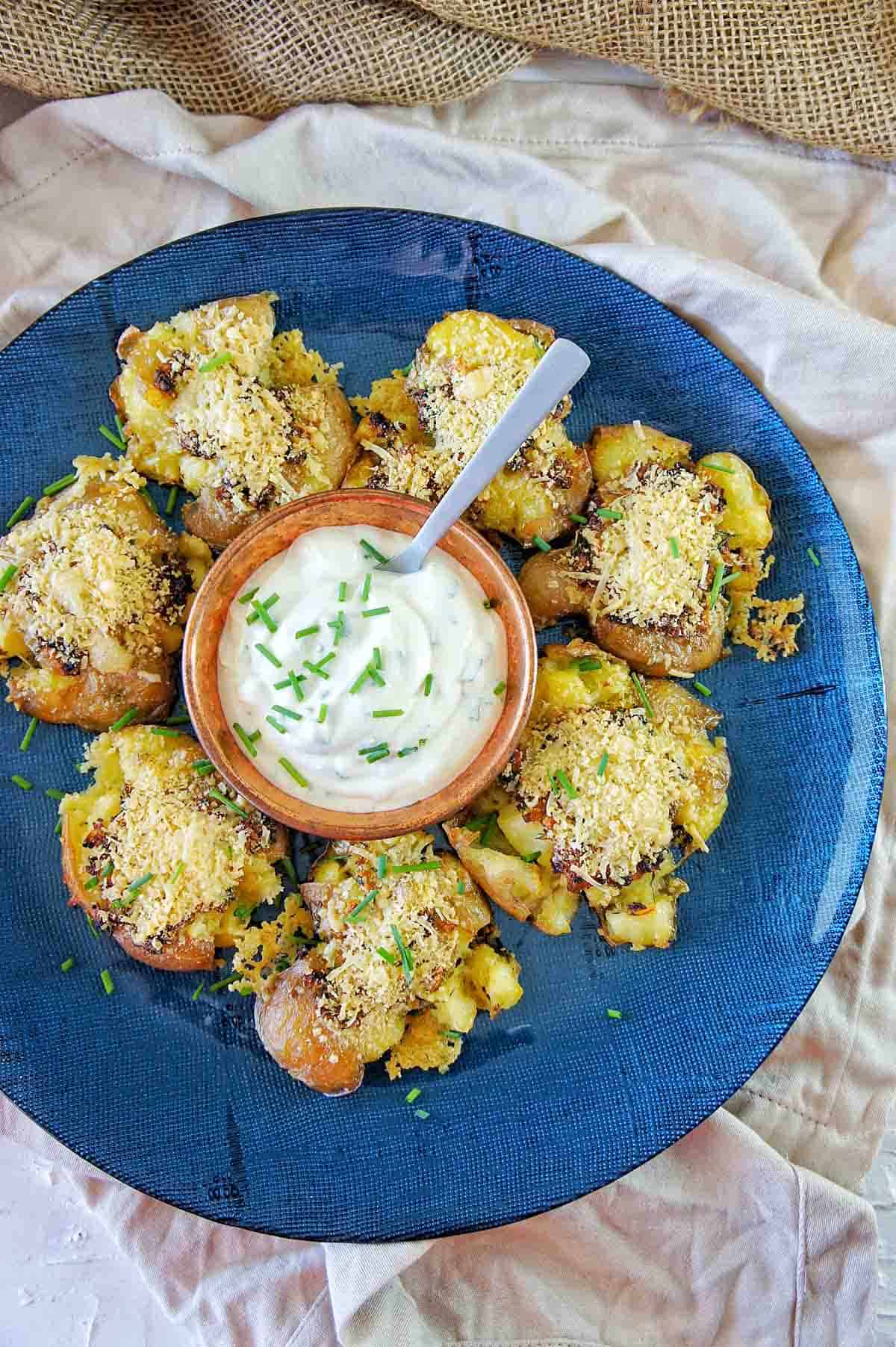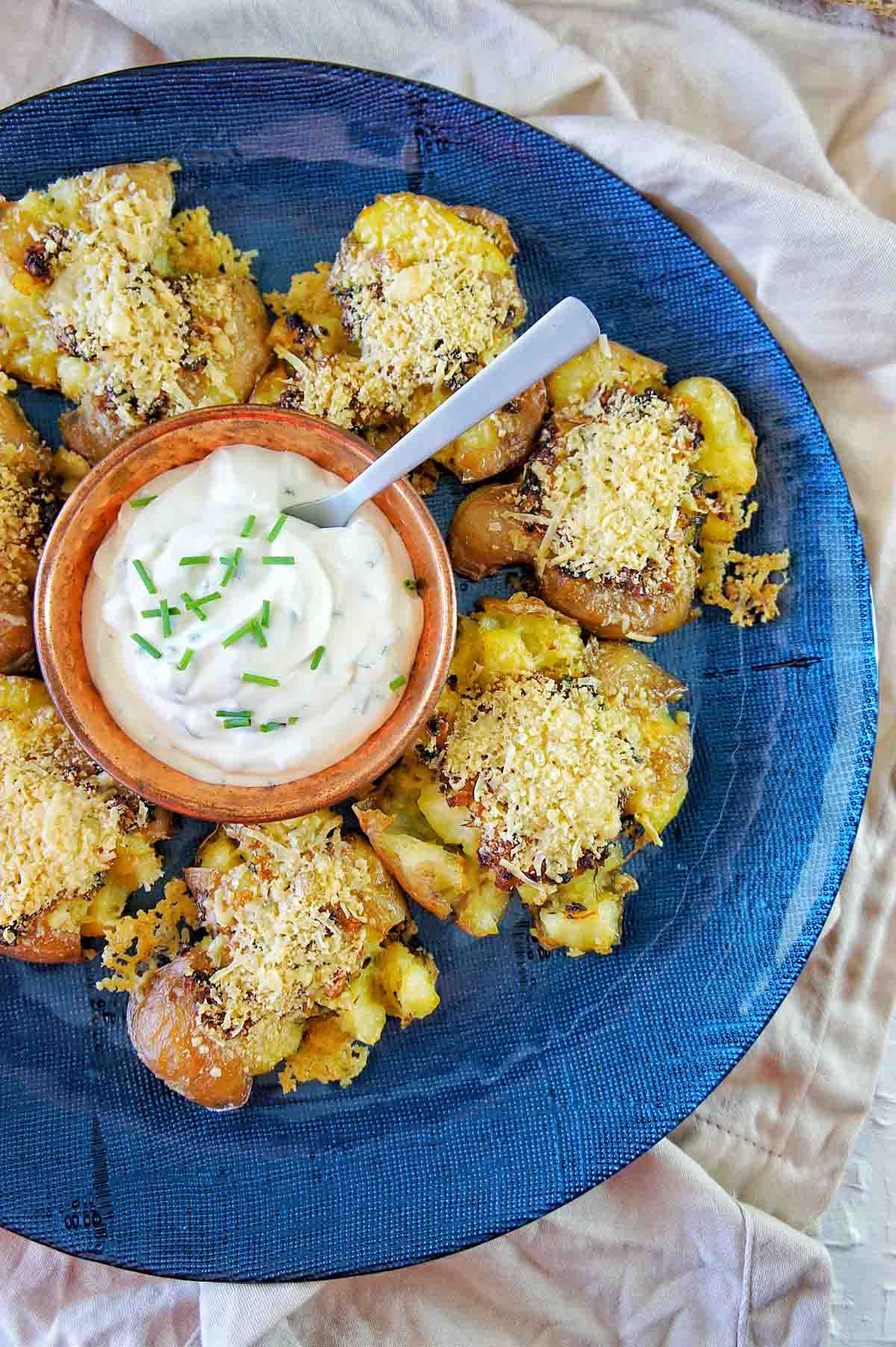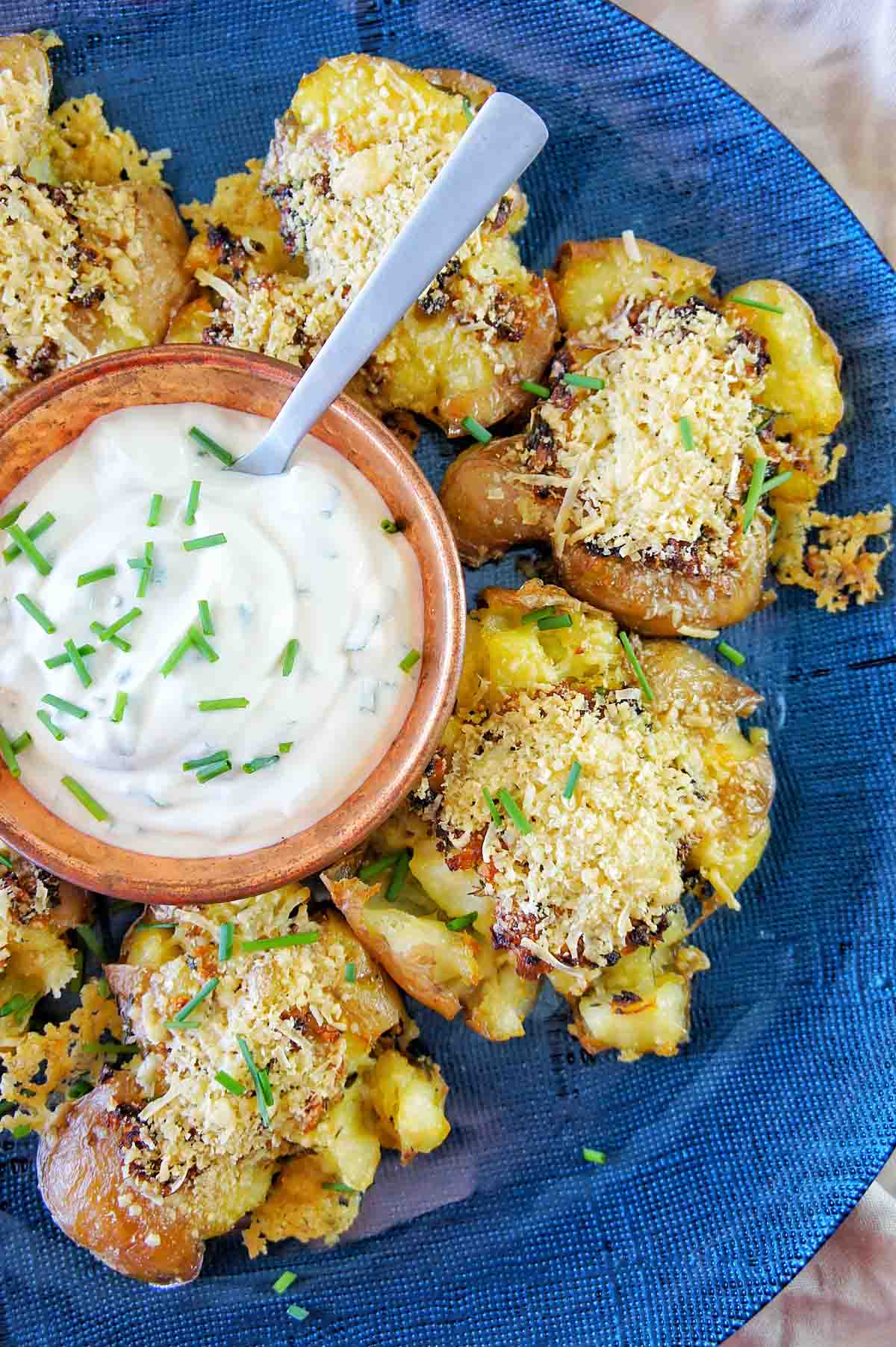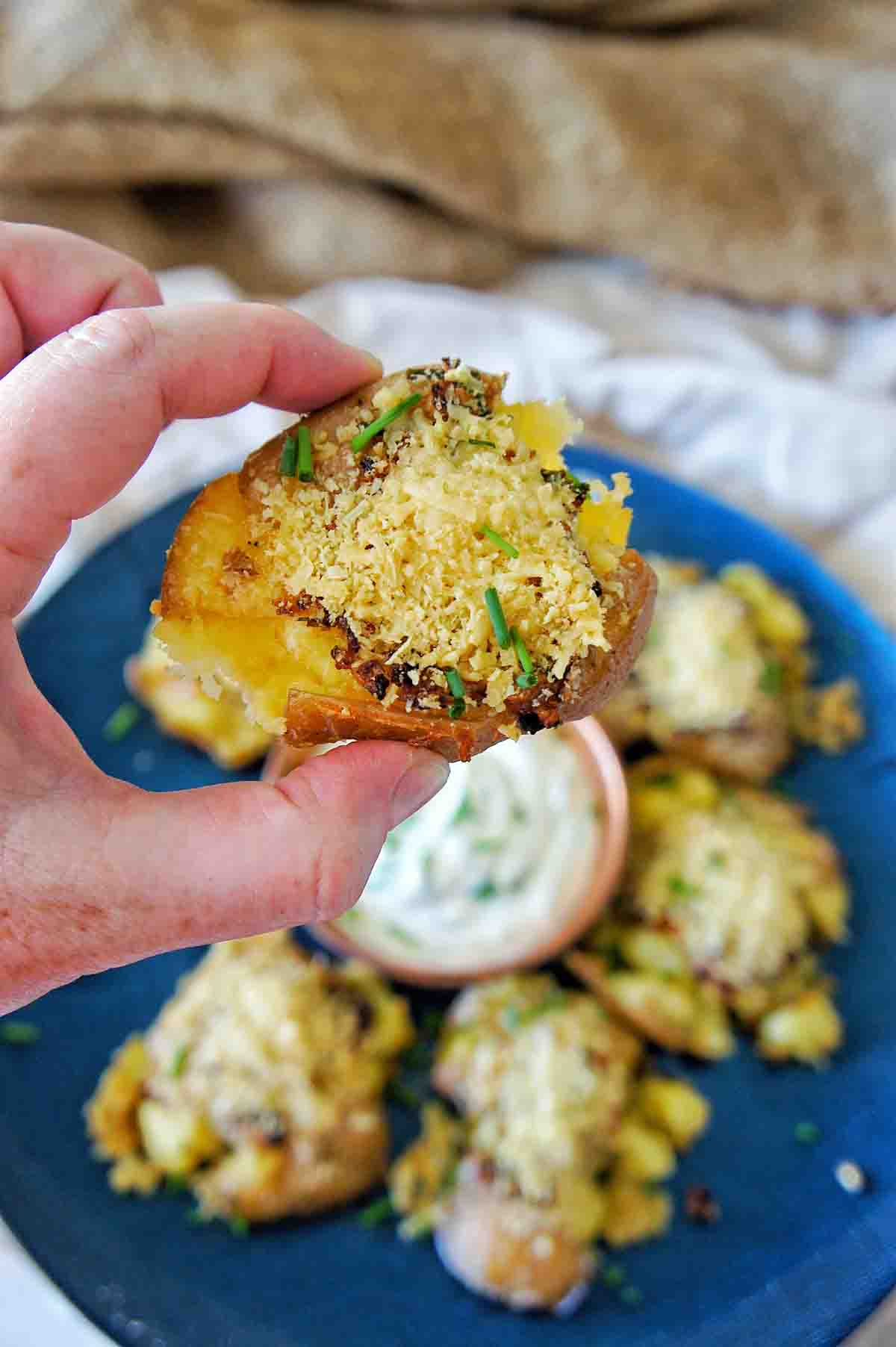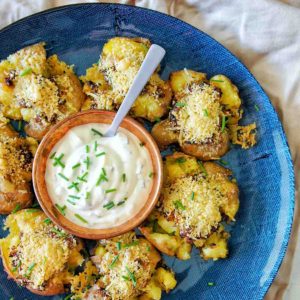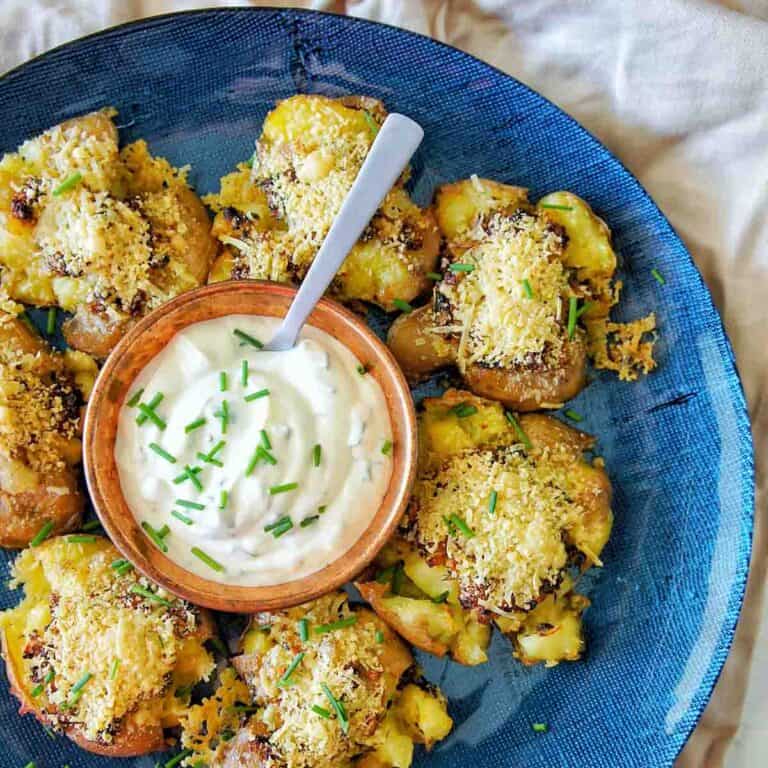 Crispy Smashed Potatoes
Crispy Smashed Potatoes are on the menu on Sweet Caramel Sunday! With simple ingredients and step by step instructions, you will be able to make this dish tonight!
Print
Pin
Rate
Ingredients
Crispy Smashed Potatoes
500

grams

baby red potatoes

(approx 8 small potaoes)

1/3

cup

olive oil

1

tbsp

garlic

minced

1

tbsp

onion flakes

1

tsp

thyme

1

tsp

himalayan rock salt

1

tsp

cracked black pepper

1/2

bunch

fresh chives

1/3

cup

parmesan cheese
Chive and Yoghurt Drizzle
1

cup

low fat greek yoghurt

1/2

bunch

fresh chives

1

tsp

lemon juice
Instructions
Crispy Smashed Potatoes
Rinse potatoes and add them to a large saucepan filled 3/4 with water. Add a pinch of salt

Bring to the boil with the lid on, then take lid off and continue to boil for 15 minutes

Potatoes are ready when you can insert a fork into them and it goes cleanly in and out

Preheat oven to 180 degrees F 82.2 degrees C and line a baking tray with greaseproof paper

Lay each potato onto the paper with some space in between them

Use a potato mash utensil and gently press down on each potato until it is smashed

Combine olive oil, garlic, onion flakes, thyme, salt, pepper and fresh chives and stir to combine

Use a teaspoon to spoon seasoning mix over each potato, repeat till all are covered

Place in oven for 10 minutes

Remove tray from oven, add sprinkle of parmesan to each potato.

Place back in oven for a further 5 minutes, or until parmesan is melted and turned a light golden brown

Serve with Chive and Yoghurt Drizzle
Chive and Yoghurt Drizzle
Combine yoghurt, lemon juice and chopped chives into small bowl and stir together with a spoon
Notes
The onion flakes are sold in the spices section of the supermarket, usually not in a bottle, but in a small spice bag 
These are best served HOT straight from the oven! 
The edges of the potatoes will be super crispy and toasted (yum yum!!) 
Nutrition
Calories:
165
kcal
|
Carbohydrates:
12
g
|
Protein:
5
g
|
Fat:
10
g
|
Saturated Fat:
2
g
|
Cholesterol:
4
mg
|
Sodium:
380
mg
|
Potassium:
294
mg
|
Fiber:
1
g
|
Sugar:
2
g
|
Vitamin A:
70
IU
|
Vitamin C:
6.8
mg
|
Calcium:
92
mg
|
Iron:
0.6
mg
Did you make this recipe? Share on Instagram!
It makes my day when you make my recipes! Tag @sweetcaramelsunday
Hmmmmmmmm, k, now that we have spent half of our lives talking about smashed potatoes, let's have a look at a couple more veggie based dishes.
3 of my favourites from the blog are……drumroll please!!
Thanks for checking out my latest recipe, I know you will LOVE it, enjoy your cooking and let me know of any questions I can answer along the way.
Adrianne xx
P.S 'hot potato, hot potato…………. hot potato, hot potato…..cold spagh…' haha, it is stuck in my head (google it!!)