Baked Stuffed Mushrooms are the perfect appetizer recipe! This is a simple stuffed mushroom recipe that has bacon, cheese and sliced green onions.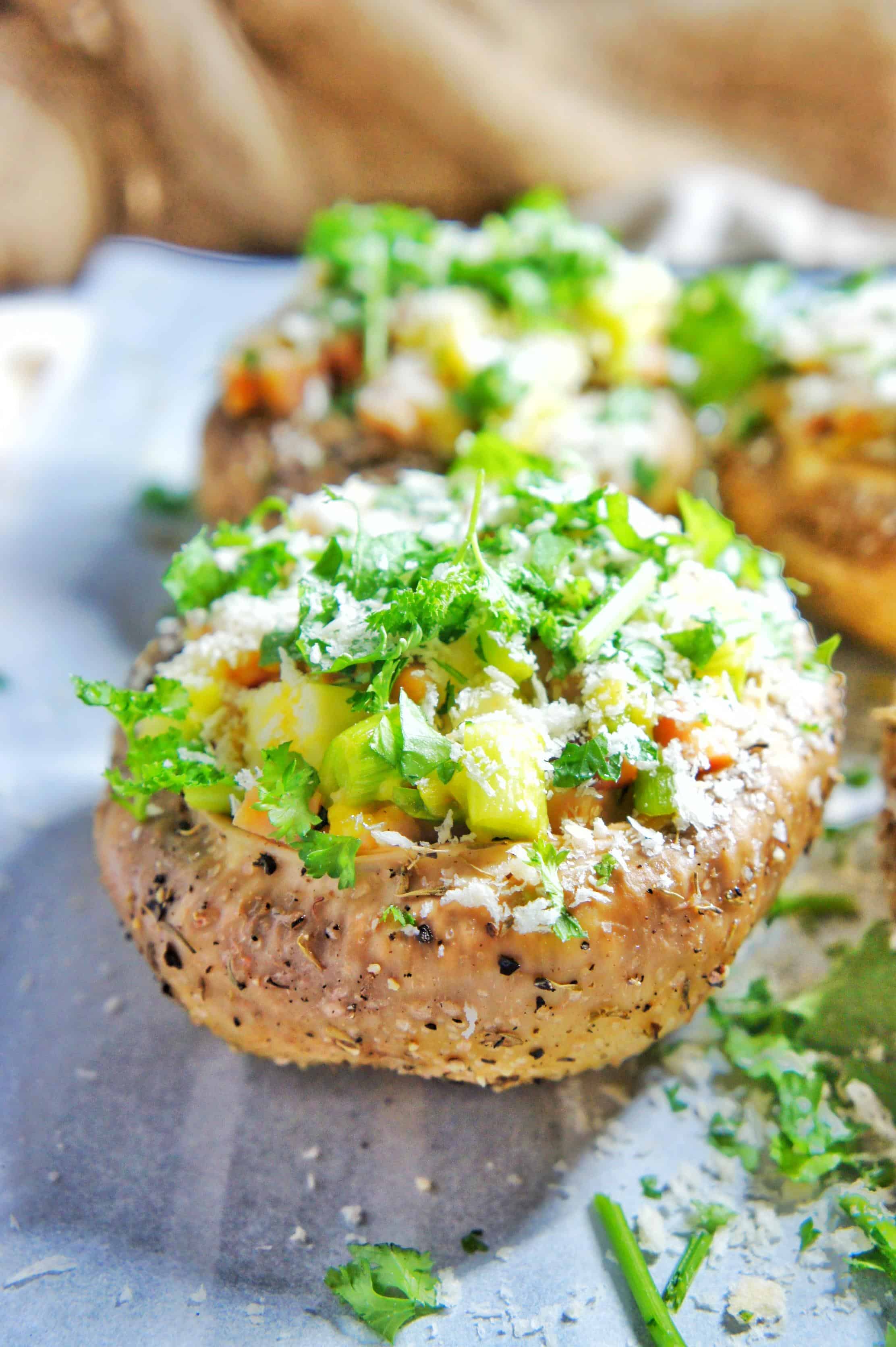 Bite sized or snack type appetizer recipes are perfect for entertaining! A few popular options are Caprese Bites, Melon and Prosciutto Skewers, Baked Brie with Garlic and our Spinach Cob Loaf. For festive occasions our cranberry brie ticks a lot of boxes.
Best stuffed mushroom recipe
It is THE best day of the week – FRIYAAAAAAAAAAY and with that I wanted to share my latest recipe for some damn good bloody delicious bad boy stuffed mushrooms. THEY……ARE……SOOOOOO……GOOD…..you will never be able to eat just one. They are a one or two bite kindof dish and when you are chewing through all that flavour you are going to be HAPPPPPPP——–EEEEEE! (Yep, I know it isn't spelt like that, but haaaaaa-ppppp-yyyy just doesn't give the same ring to it as haaaaaa-pppppp-eeee!
Simple Stuffed Mushroom recipe
So, let's talk about the ideas behind the stuffed mushroom recipe. I was coming from a few places when I came up with these ones:
The desire to eat more veggies
The desire to eat more heart warming foods during this cold period in vegas
Wanting to have a kick arse appetiser that I can have on my 'go to' but doesn't take 5 years to make list

Varying it up a little from some of the other dishes I have been doing of lately (read: noodles here or milk or dark choco Rocky Road, if you get what I am saying.
Ok, now that we are clear about where I was coming from, let's look at where I wanted to go to…
I wanted crunch because I didn't want TOO much cheese (love cheese) but in mod-er-ation.

I wanted to use some of the bright green parsley I have been growing in my garden (yippee)

Bacon (enough said)
Not really a specific reason but I like the colour of the shallots ie bright green so they were on the list too (onion texture too unusual to mix with other ingredients as primarily the other ingredients are pretty basic BUT TOGETHER, ohhhhh wowieeeeeeee
Let's have a look at how we do this now.
You are going to need to start with A BUTT LOAD of little white mushrooms (otherwise known as button mushrooms).
You are going to not rinse the butt load of mushrooms for your stuffed mushrooms, but you will take a little pastry brush and gently flick off any dirt that maybe on each one (that wouldn't taste so good in the mix).
So after you have done that (note my mushrooms for this were pretty perfect looking when I bought them on the Thursday night but my Saturday were looking a tiny bit browner than I would have liked and I think this is because where I got them from they sell them in a plastic container with cling wrap on them and no paper bags……….but I am telling you this as I learnt that it really didn't matter, so if your mushies are not perfect little pristine white ones, don't loose sleep over it cause it really won't matter in the long run). Okayyyyyyyyyy, after our little brush and flick trick, we take each one and push the stalk at an angle to 'pop' it out of the cap. Set the caps aside in a bowl (cause we are going to use them later and keep going).
Now that all of your mushies are looking a little empty, let's do what we can to fill them right up again.
And (sorry) just to divert as I am thinking about you watching the video and I want that to make sense, I will let you know I didn't discard these bits of the mushroom (and you shouldn't too, cause that would be sacrilegious), I diced them in the food processor and used them combined with quinoa as a base to make these as a meal as at this stage I wasn't having a party so needed a bit more balance than sitting on the couch eating 5000 stuffed mushrooms with a toothpick. So work lunches with the quinoa mushroom mix they became and a happy little heart I had.
Stuffed Mushrooms with cheese
For the stuffing, remember earlier when we said it was based around basic flavours, we have little bacon bits, shallots (which are cooked together in the oven with a little salt, pepper and olive oil), mixed with some Parmesan (yum) cheese and a whisked egg to stick all that stuff together. (This decision was largely based on technique and the size of the mushrooms as without something sticking them together, there was going to be A LOT of little bits of things everywhere. So making your life easier, the egg will stick this all together.
Now that our mix is ready, we want to take one last step to prep our shrooms (I did, I kid you not, try magic mushrooms when I lived in a Steamboat Springs in Colorado for a ski season waaaaay back and I have never quite looked at mushrooms the same way since then, but that was a thing of youth and just sprung to mind so I wanted to share that with you as it was one of the best adventures away from Australia I have ever had (not because of the shrooms) but just because we were young and it was fun (cold) but a good mix of Aussies and Kiwis in the land of the red, white and blue and I am grateful for having that that time). OMG, sorry, I am getting back to the topic now………if you don't have time I wouldn't cry over not doing this step, which is using the pastry brush from earlier to coat each mushroom with a combination of olive oil and garlic salt (again, leave out if just too hard on the day you are doing this).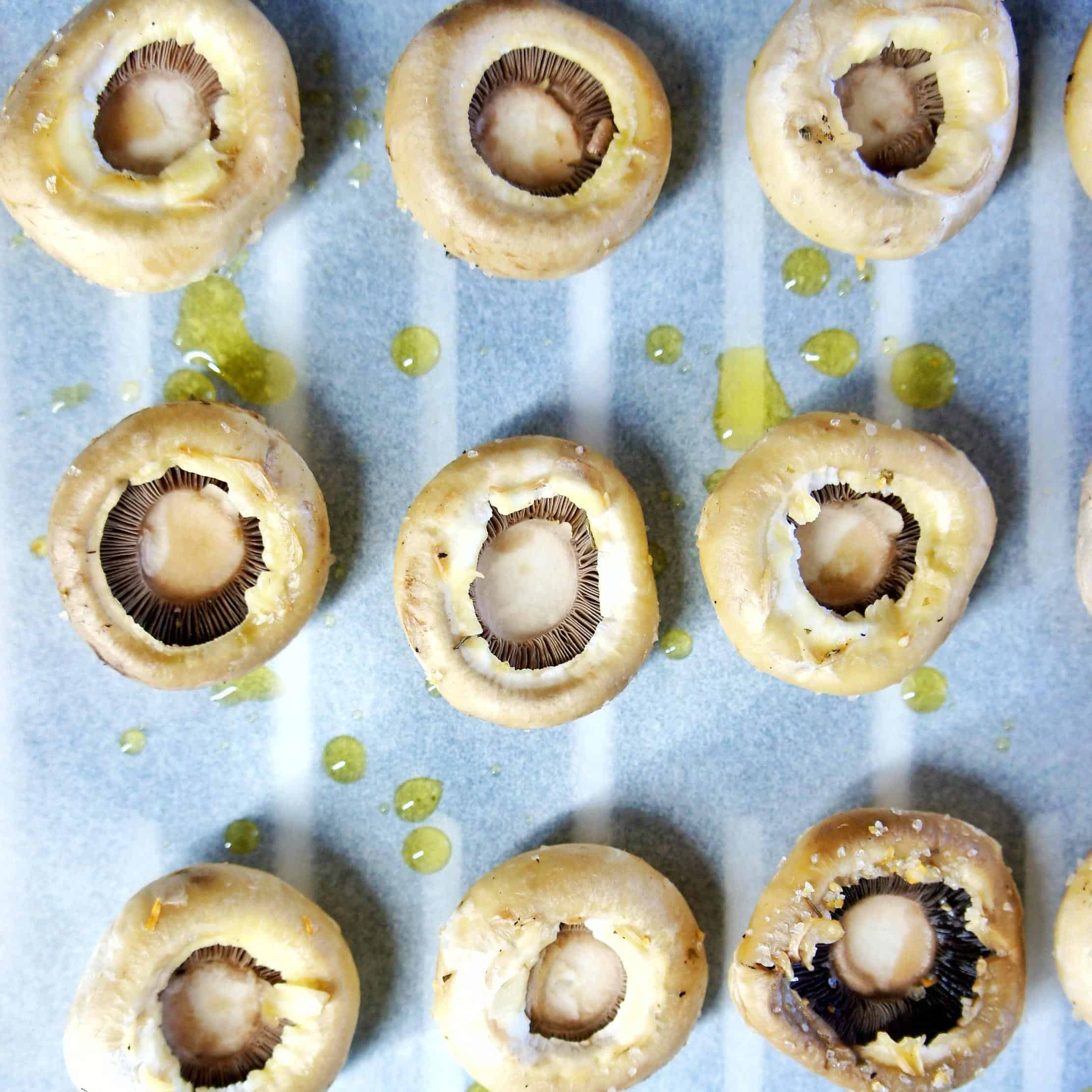 I like how this changes the texture and state of the vegetable in that it makes them a little more towards the 'cooked' side of things than the 'raw' side of things, which I always prefer with mushies, but I will tell you why but leave the ultimate decision of 'if' or 'how' to you.
So, now for the fun part……..stuffing these bad boys. I think it is handy to have a technique up your sleeve for this step, so I recommend a teaspoon in one hand and a mushroom in the other so you can scoop and stuff, but you might (likely) also find that after you have scooped and stuffed you also want to squish the stuffing together a little bit more on each mushroom to make sure that the mushrooms are going to stay stuffed when moving them around later (eg transferring to a serving plate).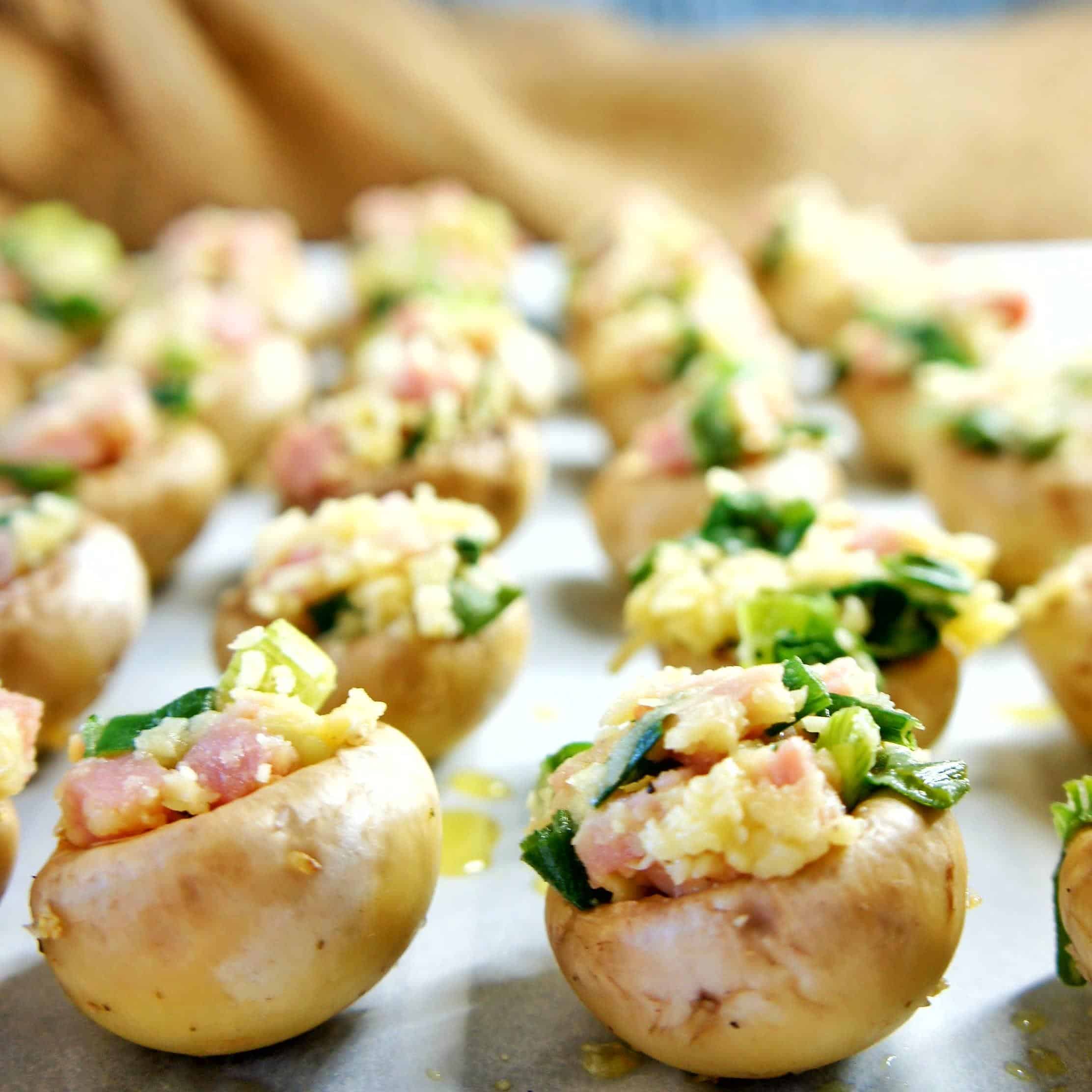 Healthy Stuffed Mushroom recipe
After the squishing is done, we want to sprinkle. This is done through using a combination of parsley mixed together with panko breadcrumbs, and literally sprinkle this over each mushroom, don't worry too much about squishing this on the shrooms, because you will find the parm in the mix will ensure this will stick to the top and I have given you enough in the recipe to generously coat each one, so have a little fun with it.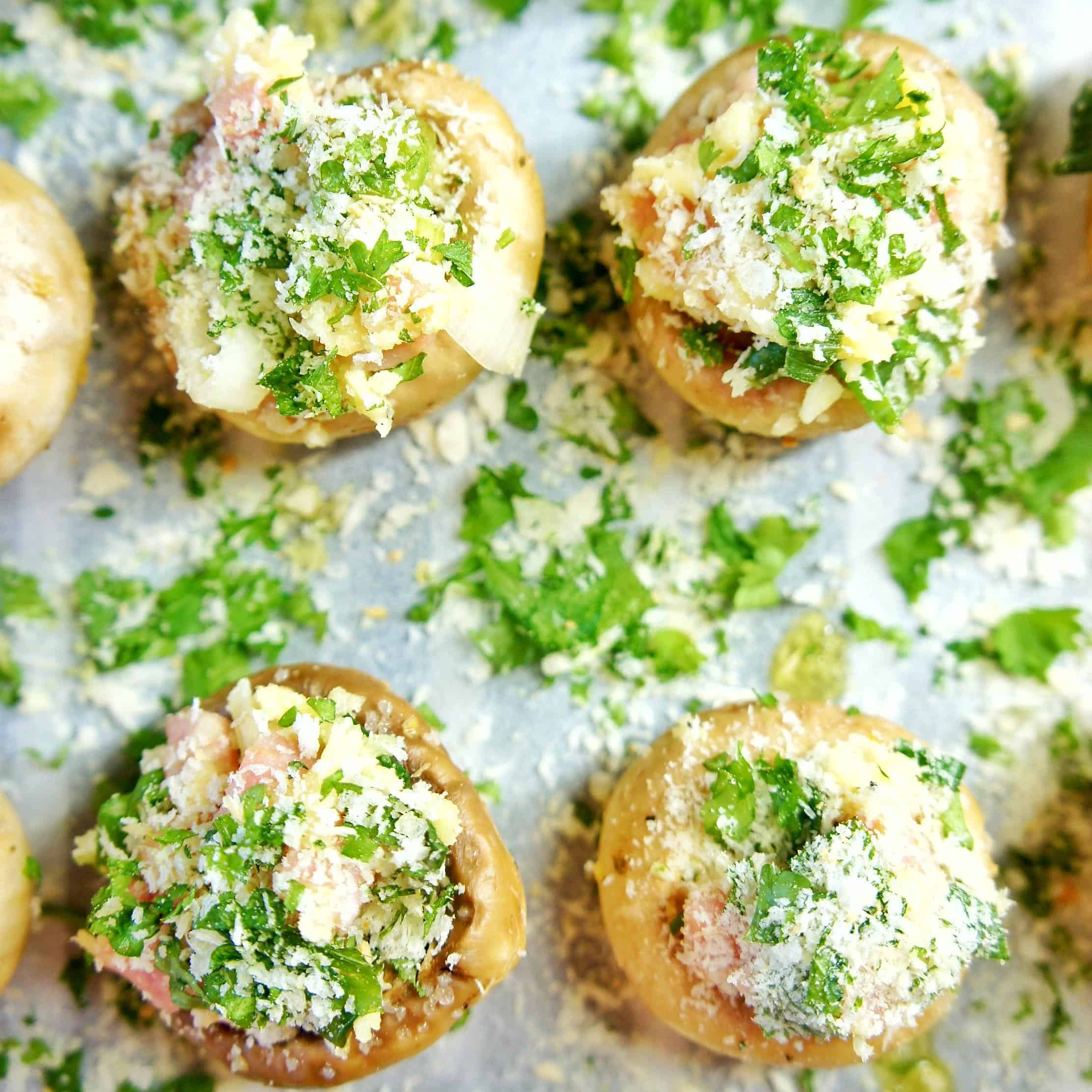 Cheese stuffed mushrooms
Okayyyyyyyyyy, so we have stuffed and sprinkled our shrooms and now we pop them in the oven for 20-25 minutes to cook and if you wanna sit on the floor of your kitchen in front of the oven and watch whilst this happens then go for it as I do this all the time and find it is a therapeutic and enjoyable thing to do (just use a pillow if you have tiles cause you don't want your butt to get cold in this bloody freezing Queensland what the hell winter).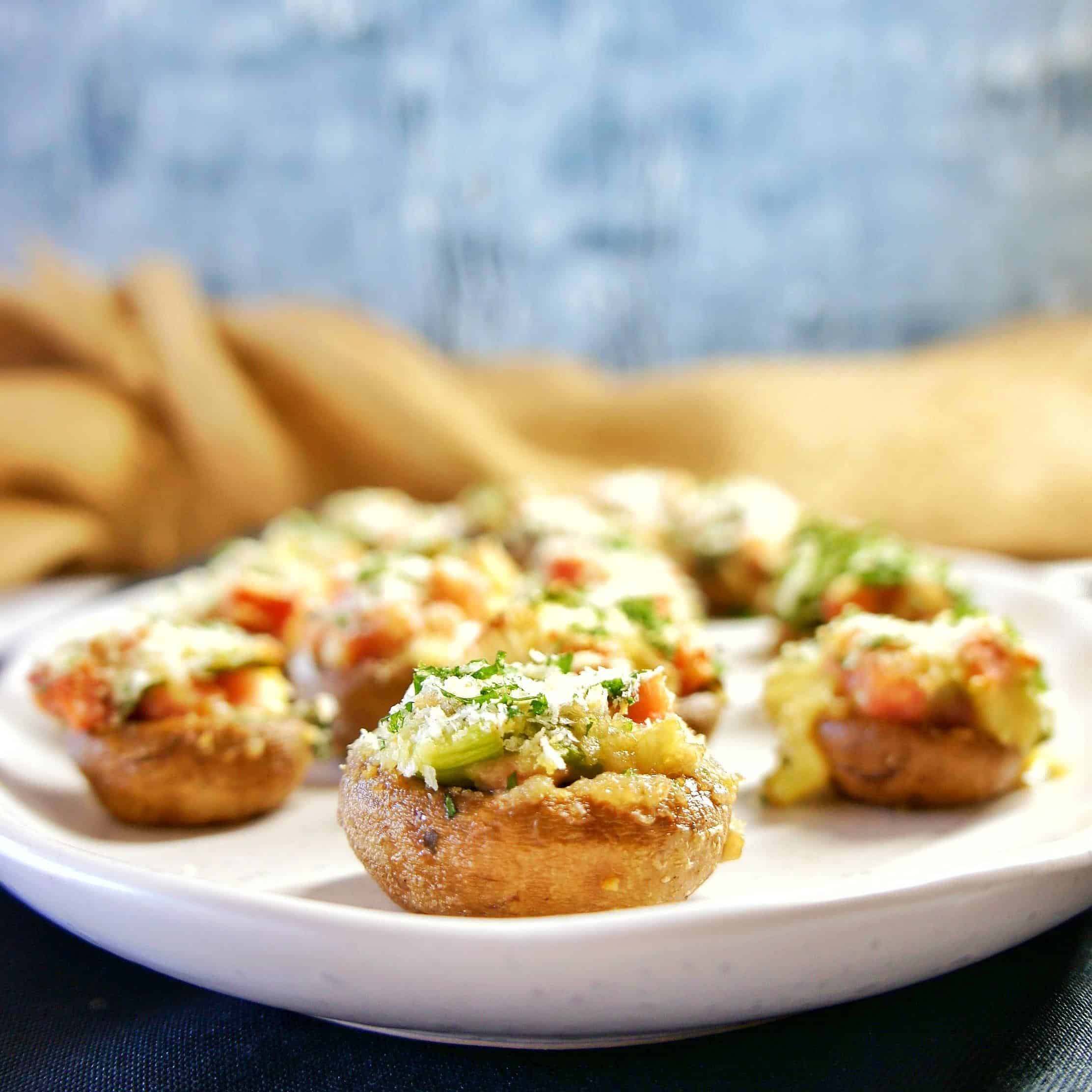 Now take pics of them till your heart is content so you can show your friends and family your latest cooking adventure but I think you will have a hard time doing this as I think you will find out of nowhere your other hand (the one without the camera) will be picking up a little stuffed mushroom and making its way to your mouth and when that explosion of flavour happens in said mouth, I know you will be thanking me.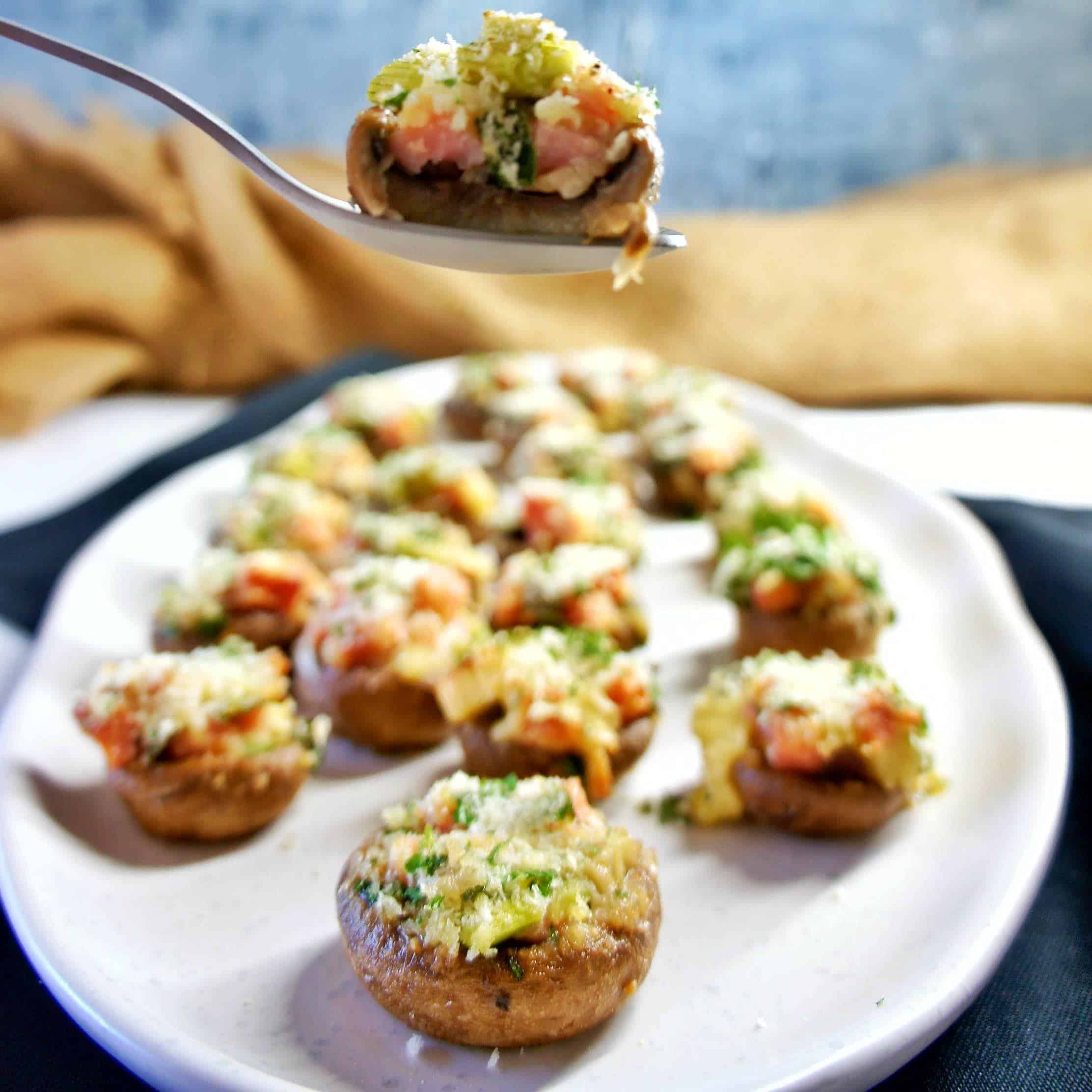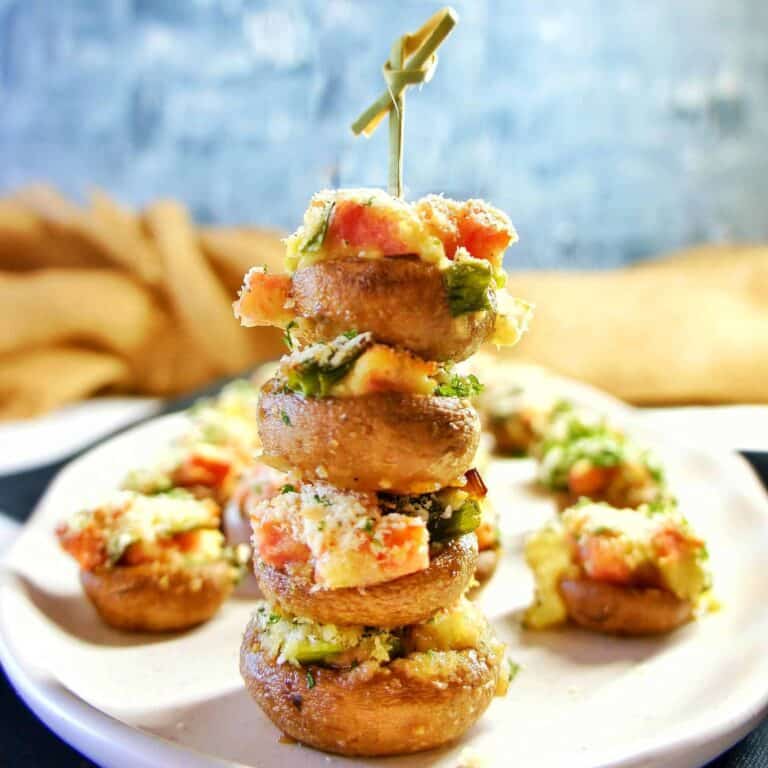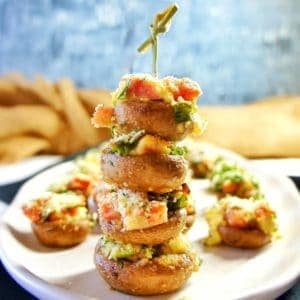 Baked Stuffed Mushrooms
These bite sized Baked Stuffed Mushrooms are a delectable appetizer, lunch or main meal. With simple ingredients and a step by step method on how to prep your mushrooms, this dish will be a hit at your next dinner party!
Print
Rate
Ingredients
Baked Stuffed Mushrooms
500

grams

button mushrooms

or brown mushrooms

1/2

bunch

shallots

finely chopped

300

grams

diced bacon

1/2

cup

parmesan cheese

shredded

1

egg

free range, whisked

1

tbsp

olive oil

extra virgin

1

tsp

salt

Himalayan pink salt

1

tsp

cracked pepper

1/4

cup

olive oil

for brushing

1

tsp

garlic salt
Panko Breadcrumb Mix
1/2

cup

Panko Breadcrumbs

1/4

bunch

parsley

curly leaf or flat leaf
Instructions
Baked Stuffed Mushroom instructions
Preheat oven to 180 degrees and line a baking tray with baking paper

Use a pastry brush to flick off any dirt on your mushrooms, then remove caps and set aside

In a food processor, dice caps of mushrooms to use in a quinoa or rice side dish

Spread bacon and shallots on the baking paper, drizzle with olive oil, salt and pepper. Use another piece of paper to spread diced mushrooms onto and place side by side in the baking tray with the bacon and shallot mix

Place the baking tray into the oven. The diced mushroom will cook in 5 minutes, the bacon and shallots 10 mins.

Mix together olive oil and garlic salt. Use pastry brush to coat the caps of all of your mushrooms

In a mixing bowl add Parmesan cheese and whisked egg to bacon and shallots and stir to combine

Stuff mushrooms with stuffing mix

Sprinkle breadcrumb mix over mushrooms

Bake for 20 minutes or until breadcrumbs are lightly toasted
Notes
You can use the same stuffing mix to stuff mushrooms of all sizes. This recipe quantity will make 4 large stuffed mushrooms 
Flat leaf parsley or parsley works for the herb in the breadcrumb mix 
I buy the diced bacon for this recipe as it makes that step EASIER! Knock your socks off if you want to buy and dice yourself. 
Don't rinse the mushrooms before using, rather, use a pastry brush to clean any dirt off 
Omit bacon for a vegetarian option 
Can omit garlic salt of you don't have it (it is not that common a spice that everyone will have it in their spice rack) Don't use normal salt instead as it is the garlic moreso than the salt flavour we are going for. 
Nutrition
Calories:
180
kcal
|
Carbohydrates:
3
g
|
Protein:
14
g
|
Fat:
12
g
|
Saturated Fat:
5
g
|
Cholesterol:
52
mg
|
Sodium:
1230
mg
|
Potassium:
152
mg
|
Fiber:
0
g
|
Sugar:
1
g
|
Vitamin A:
150
IU
|
Vitamin C:
2.5
mg
|
Calcium:
59
mg
|
Iron:
0.5
mg
Did you make this recipe? Share on Instagram!
It makes my day when you make my recipes! Tag @sweetcaramelsunday
So, my friends, I am off, I did sit in bed to write this post as I wanted to snuggle under the blankets a little more and Tonky Poo Poo is sitting here staring at me wide eyed like he would like some attention, so I have got to get onto that (see icky orange light, I know, (obsessed with natural or artificial light but not bedroom lights much) pic below!).
Please subscribe to my blog if you haven't already done that, you can do it here and here at the bottom of the page. I am finding myself spending more and more time in my little internet world and I love having fellow food lovers to share my recipes with (scroll down for my latest suggestions on other recipes that might whet your appetite…….)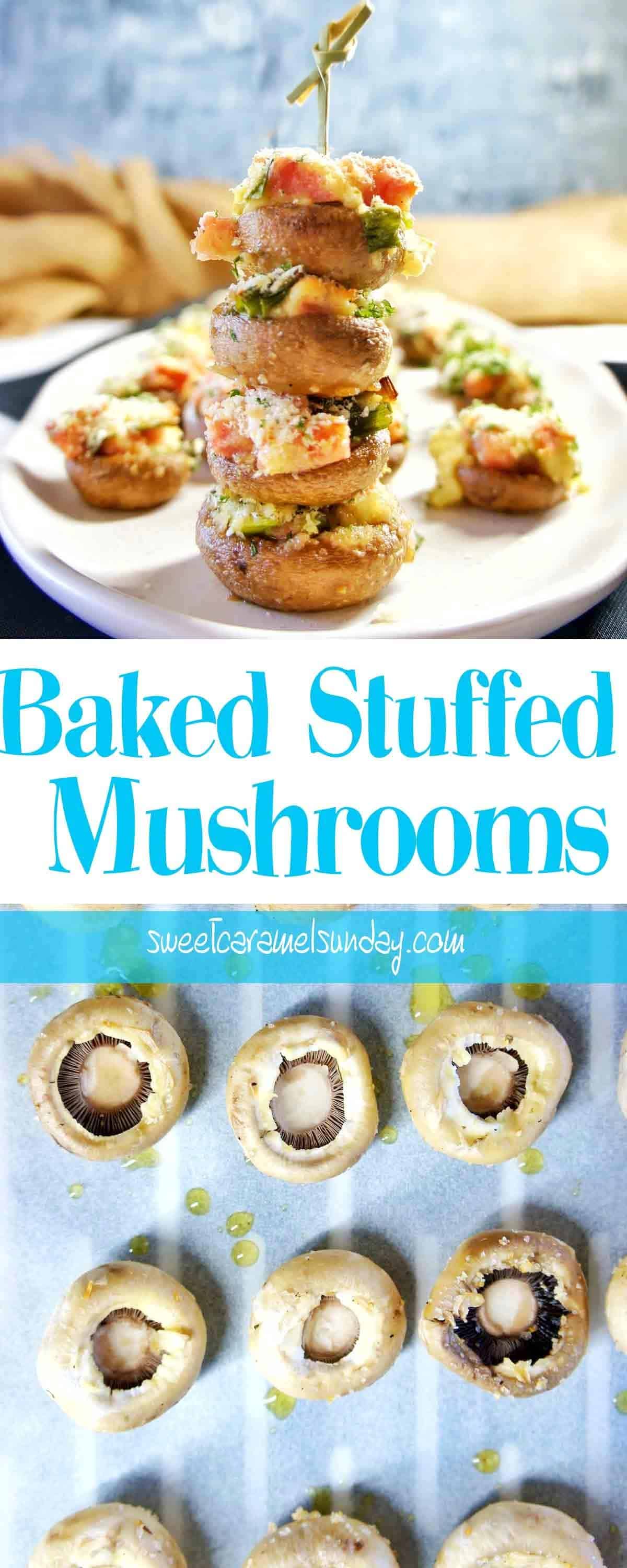 As we have been on the topic of mushrooms today, I will stay on that and recommend these 2 delicious risottos that are both mushroom based:
Or for a vegan option with mushies then this yellow curry will do the trick:
Thanks for coming
Adrianne x