Slow Cooker Sticky Chicken Wings with a maple glaze are finger licking good! Of all our slow cooker recipes these wings have to be one of the easiest! With simple, hassle free ingredients, these maple syrup chicken wings will disappear fast!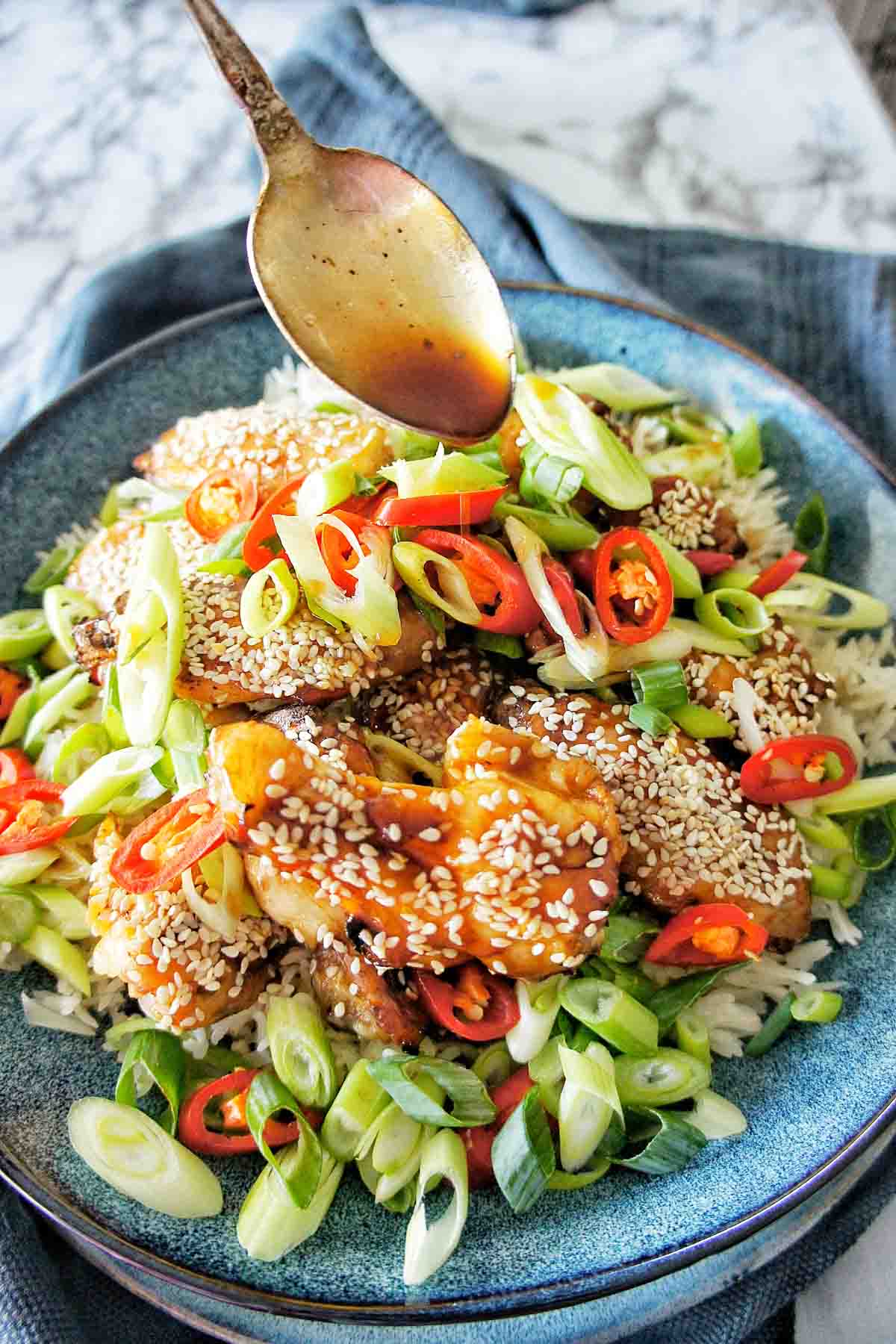 If you love finger licking good chicken, then you have come to the right place! Slow Cooker Chicken recipes like our Lemon Garlic Chicken are succulent and juicy. Serve with an easy side dish for an all out feast.
I've got you covered if you are looking for easy Chicken Wings recipes for dinner!
Make take out at home with our Honey Soy Chicken Stir Fry. Or try this and then another tasty wings recipe like our Honey BBQ Chicken Wings or Honey Soy Asian style chicken wings.
How do I make Chicken Wings?
Chicken wings can be made in the oven, on the BBQ, in the air fryer or the Slow Cooker!
To make chicken wings in the slow cooker, we combine our maple sauce ingredients, spray the crock pot bowl with cooking oil, add our chicken wings, then pour the sauce over to cover.
They are ridiculosy easy to make! After they have cooked, we transfer them to a baking tray, sprinkle some more sauce and sesame seeds over them and place under the grill in the oven.
Looking for side dish recipes to serve with these wings? Click here!
Slow Cooker Sticky Chicken Wings
The ingredients for this recipe are easy to find at your local store. See the photo below to create your shopping list: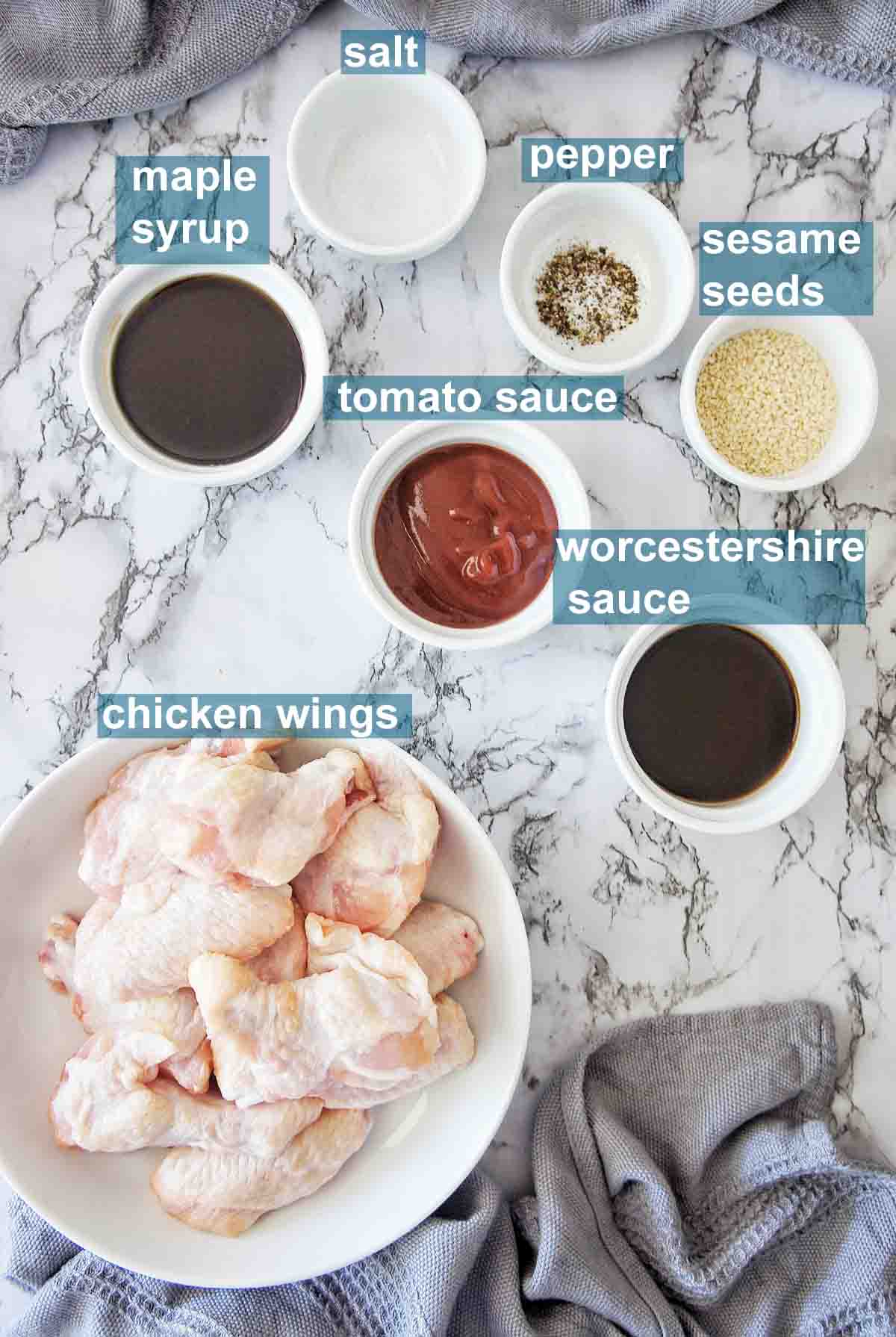 We need:
chicken wings
maple syrup
tomato sauce (ketchup)
worcestershire sauce
salt
pepper
sesame seeds
Unique wing sauces are the thing that allows us to create copious variety in our recipes for chicken wings!
BROWSE BY:
All Chicken recipes Chicken Thighs Chicken Wings
Here is how to make sticky slow cooker wings.
You can follow along with the step by step photos and instructions and if you have any questions you can shoot them to me below and I will get back to you quick as a flash!
It takes 12 steps to make these wings. These are outlined in the image below: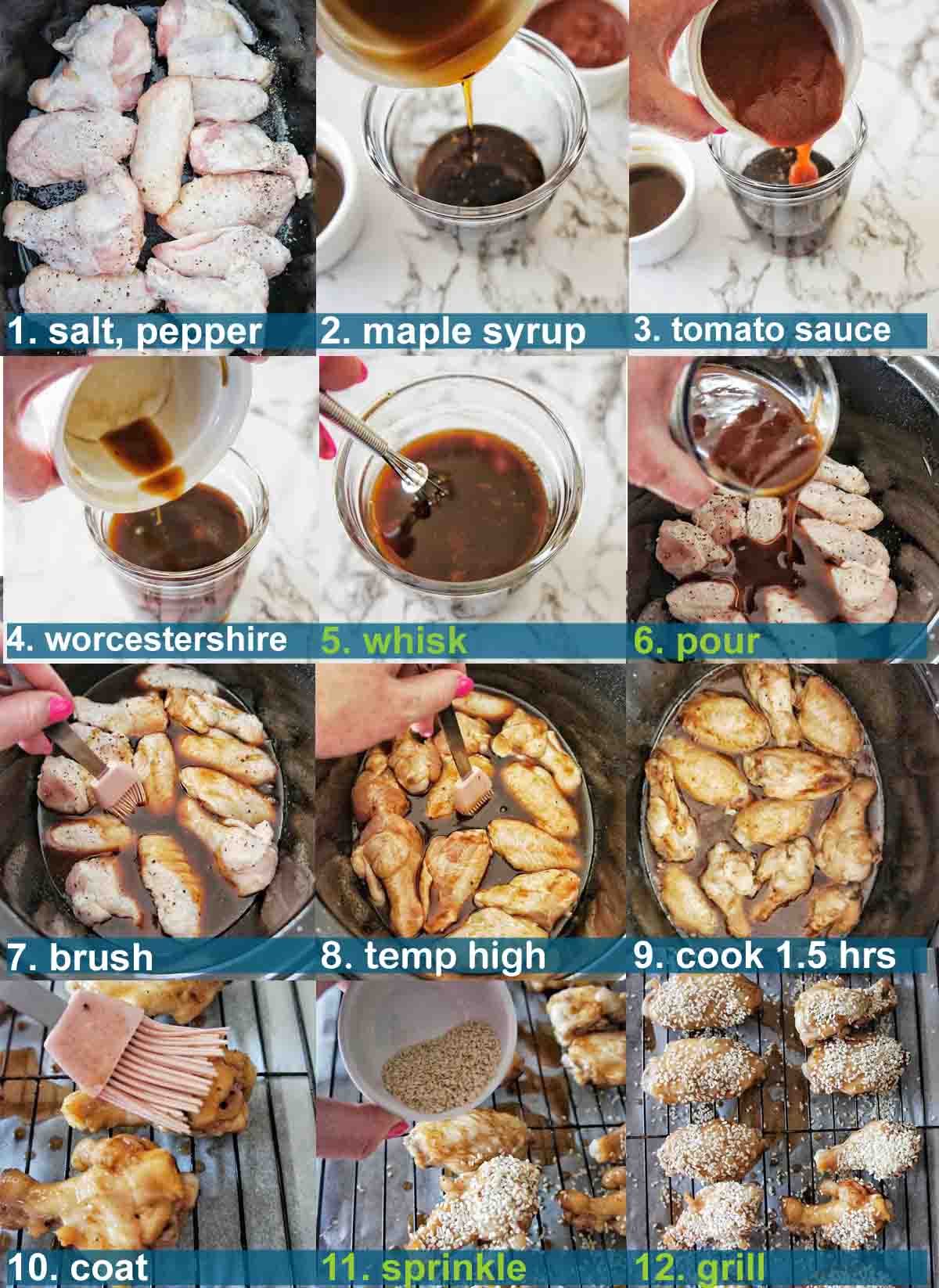 The method we follow is to:
spray crock pot bowl, add wings, season with salt and pepper (shown in photo 1)
combine maple syrup, tomato sauce, worcestershire sauce and whisk to combine (shown in photos 2-5)
pour maple glaze into your slow cooker and use a pastry brush to coat wings (shown in photos 6-7)
set the temperature to high and cook for 1.5 hrs (shown in photos 8-9)
remove wings, place on a wire rack and coat with sauce (shown in photo 10)
sprinkle with sesame seeds (shown in photo 11)
grill the wings in the oven for 10-15 mins (shown in photo 12)
From the steps shown in the photos above, there are 4 to focus on for creating the BEST EVER chicken wings!
These are shown in the photo below.
Slow Cooker Sticky Chicken Wings
Instead of marinading our chicken in the fridge for hours, we make a simple sweet sauce that does the job of getting flavour packed delight into our wings.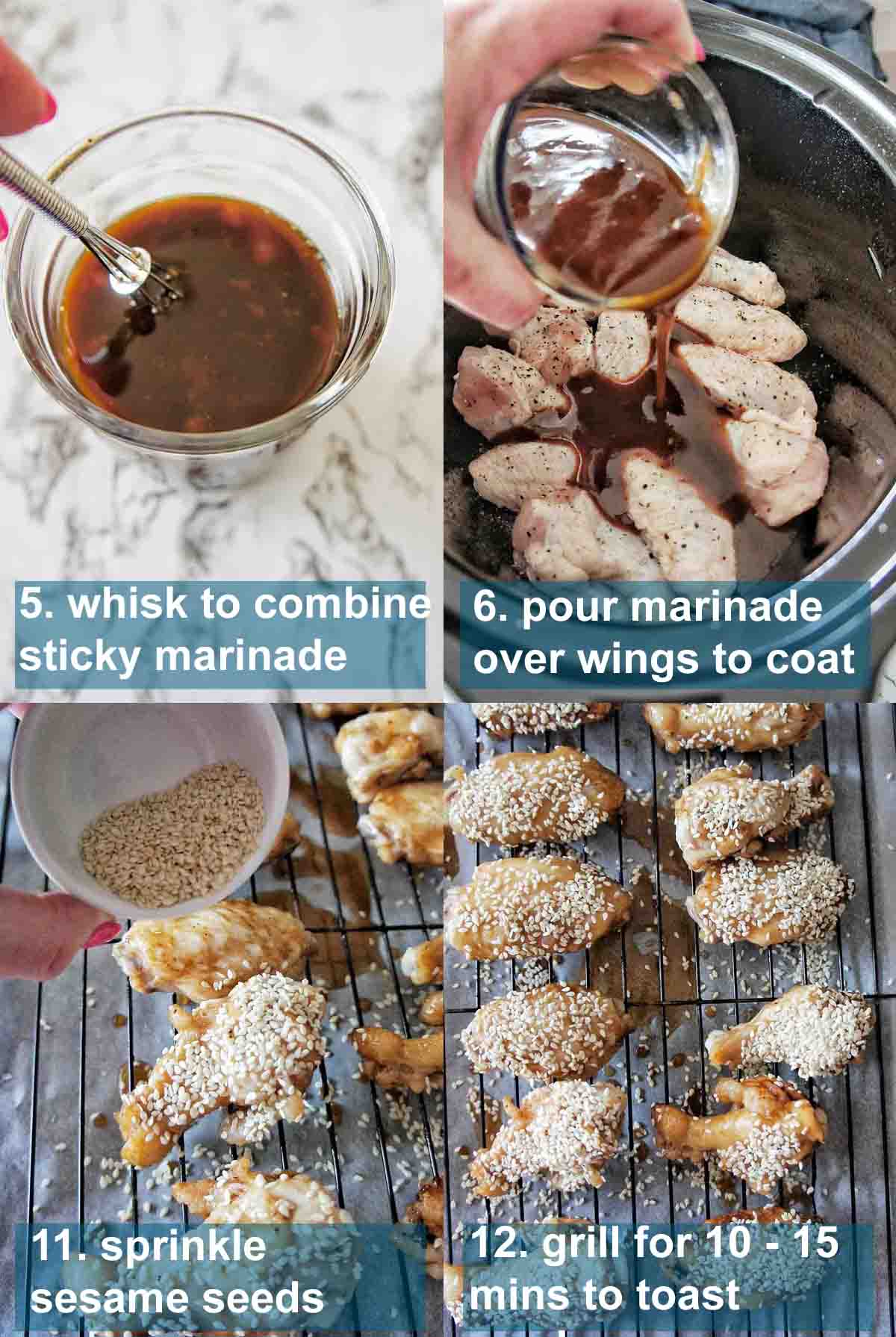 Maple Syrup chicken wings step by step
the sauce has only 3 ingredients!! Simply combine in a small jug and whisk (photo 1)
pour the sauce into your slow cooker and use a brush to coat your wings (photo 2)
once the wings are cooked, remove from oven, place on wire rack (photo 3)
place in the oven under the grill for 10 – 15 to brown the skin (photo 4)
Looking for more Chicken wing recipes? Click here!
Sticky Chicken Wings quick info:
About the recipe:
the sauce has a sweet and unique taste, is it simply DELCIOUS!
nutritional info is provided per 1 chicken wing
it is unlikely you will be able to stop at only 1 wing!
pre cut wings (nibblets) will save you from cutting them yourself
cook time for the wings is 1.5 hrs on high or 3 hrs on low
FAQs about Slow Cooker Chicken Wings
it is recommended to spray your crockpot bowl to prevent sticking
700 grams (indicated here) will make approximately 13 chicken wing pieces
there is no marinade time for this recipe, simply pour over the wings
these wings are FINGER LICKING GOOD AND STICKY!!
Your quick questions answered:
the maple syrup sauce will take 2 mins to bring together
my slow cooker if 5.5 litres, from Kmart, nothing super fancy or expensive!
place the wings flat ie not on top of each other
This is an EASY recipe
Expert tips:
It will be handy to keep these tips in mind when you are making this recipe:
you can do these either on high or low depending on how fast you want to cook them
if you don't have a mini whisk, use a fork to combine your sauce ingredients
use tongs for easily handling of the wings
leave the lid on the whole time, peak through the glass if you are an eager beaver!
I'm not sorry you will never be able to walk past the chicken wings in Woolies and not think of making them again and again and again when you get a load of these recipes. I just can't be as the taste is there, the texture, the stickyness, you have to make them to see what I mean! I look forward to a 5 high five in the street if we ever cross paths!
Why not go all out and make a chicken wing party platter with a combination of all of the delicious flavours above!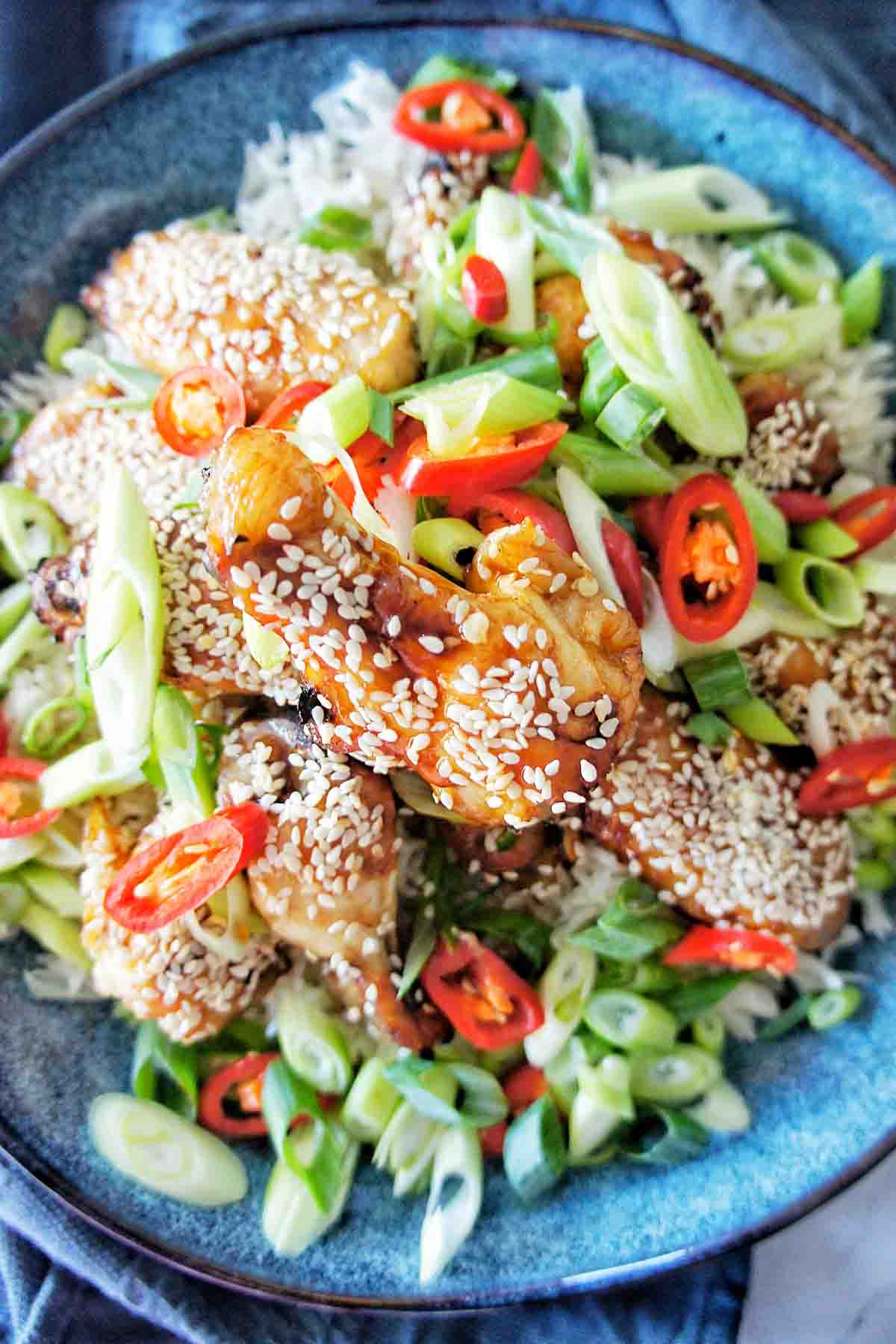 I don't want to leave you hanging, so here are some ideas for what to make with chicken wings for dinner:
At the end of the day, you may want to sit down with a glass of wine and a plate of wings and that too is OK! I can easy eat a few of these on their own as they get me EVERY SINGLE TIME!! (They are coming to get you too, haha!)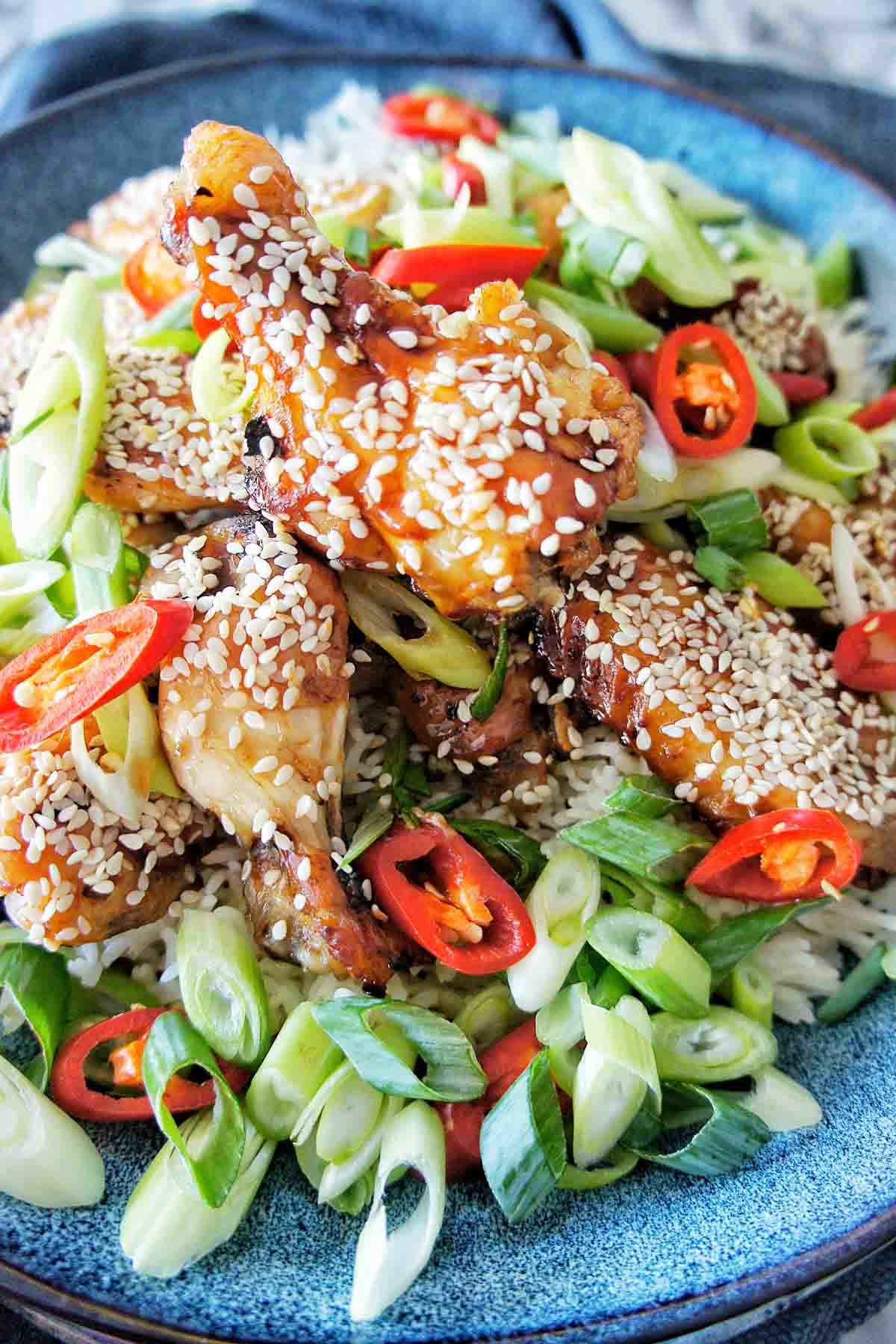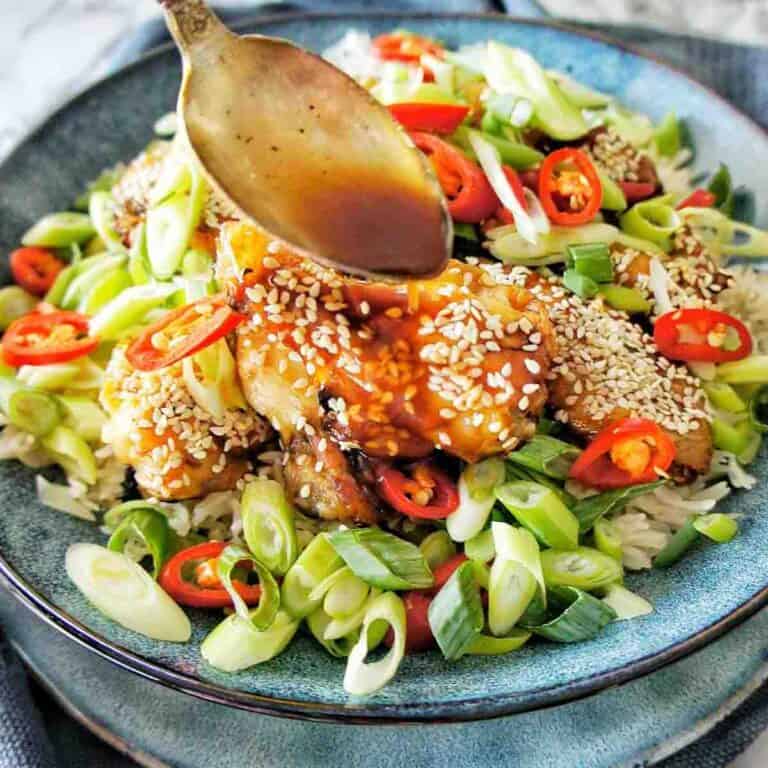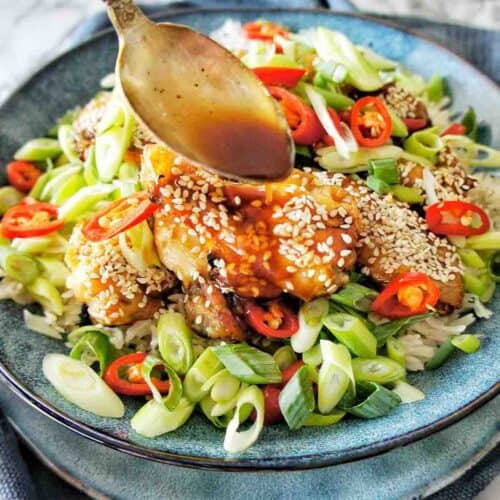 Slow Cooker Sticky Chicken Wings
Slow Cooker Sticky Chicken Wings with a maple glaze are finger licking good!   With simple, hassle free ingredients, these chicken wings will disappear fast!
Print
Rate
Equipment
Slow Cooker (mine is 5.5l)

Baking tray

Kitchen Tongs

Small glass jar

Mini whisk
Ingredients
Slow Cooker Sticky Chicken Wings
700

grams

chicken wings

1/2

cup

maple syrup (glaze)

1/3

cup

tomato sauce

1/4

Worcestershire sauce

salt and pepper

to taste

sesame seeds

to garnish

shallots

to garnish

red chilli

to garnish
Instructions
Slow Cooker Sticky Chicken Wings
Spray the base of your crock pot with a little cooking oil. Note 1

Use a pair of kitchen tongs to transfer your chicken wings into the slow cooker bowl. Season the wings with salt and pepper. Note 2

In a small jug combine maple syrup, tomato sauce, Worcestershire sauce and whisk to combine. Note 3

Turn the slow cooker onto a high temperature, pour the maple sauce into the slow cooker and use a pastry brush to coat your wings. Note 4

Place the lid on your slow cooker and allow the wings to cook for 1.5 hrs Note 5

Preheat your grill to high.

Line a baking tray with grease proof paper. Place a wire rack on top.

Place the chicken wings onto the rack, use the pastry brush to coat the wings again with the sauce that is in the slow cooker bowl. Sprinkle sesame seeds on top.

Grill for 10 - 15 mins until the skin browns and the sesame seeds toast. Note 6

Serve with rice, garnish with sliced shallots, red onion and extra sesame seeds.
Video
Notes
Note 1, I use either Olive oil spray or Canola Oil Spray, either is fine and the cheap stuff is fine too, they will essentially do the exact same thing and prevent sticking. 
Note 2 This saves handling the raw chicken meat with too many hands/fingers. I prefer this now as my hands stay clean too and it is a good technique for maneuvering the wings. 
Note 3 these can be simply stir together with a fork if you don't have a mini whisk (don't run out and buy one for this recipe only, although they are pretty cute and handy in the kitchen!)
Note 4 The idea here is that your wings are ENTIRELY covered with/by the sauce. Saving marinade time, they will infuse and flavour as they go. You can use your tongs, to turn around also to coat.  
Note 5 No lid off peeking!! That will release the heat we have built up, instead peak through the glass top. You can cook these for 3 hrs on low also if you want a sloooooower cook time. 
Note 6 Keep an eye on theme throughout the grilling (or broiling) process as they will brown up quickly. Too long and they will blacken and burn. They will be ready when the skin is brown and the seeds are a light golden. If in doubt, you can turn your oven off early but leave them in the oven for a further few minutes. 
Note 7 You may want to eat these and drizzle the left over sauce from the bowl over your wings = YUM!! Serve on their own or with rice, sliced green onions and sesame seeds for a little bit more of a fancy look! 
Nutrition
Calories:
66
kcal
|
Carbohydrates:
1
g
|
Protein:
5
g
|
Fat:
5
g
|
Saturated Fat:
1
g
|
Cholesterol:
22
mg
|
Sodium:
54
mg
|
Potassium:
66
mg
|
Fiber:
1
g
|
Sugar:
1
g
|
Vitamin A:
70
IU
|
Vitamin C:
1
mg
|
Calcium:
4
mg
|
Iron:
1
mg
Did you make this recipe? Share on Instagram!
It makes my day when you make my recipes! Tag @sweetcaramelsunday
You are going to love the unique sauce combination over these wings, it is sweet, it is a little salty, it is sticky heaven sent delight.
If you haven't got a slow cooker, check out some of the recipes like honey soy chicken wings which will show you how to make them in the oven. The technique will be different, the flavour the same.
Let me know if you have questions, just want to say hi, make these and wanna tell me you now understand how good there are or because you have become the wing mastro of your household.
I love sharing my recipes with you are you are going to slow cook your way it heaven on earth.
Adrianne xx