Basil and Cashew Pesto is a great alternative to traditional basil pesto substituting cashew nuts instead of pine nuts. This easy pesto recipe is versatile and quickly whipped up in the food processor.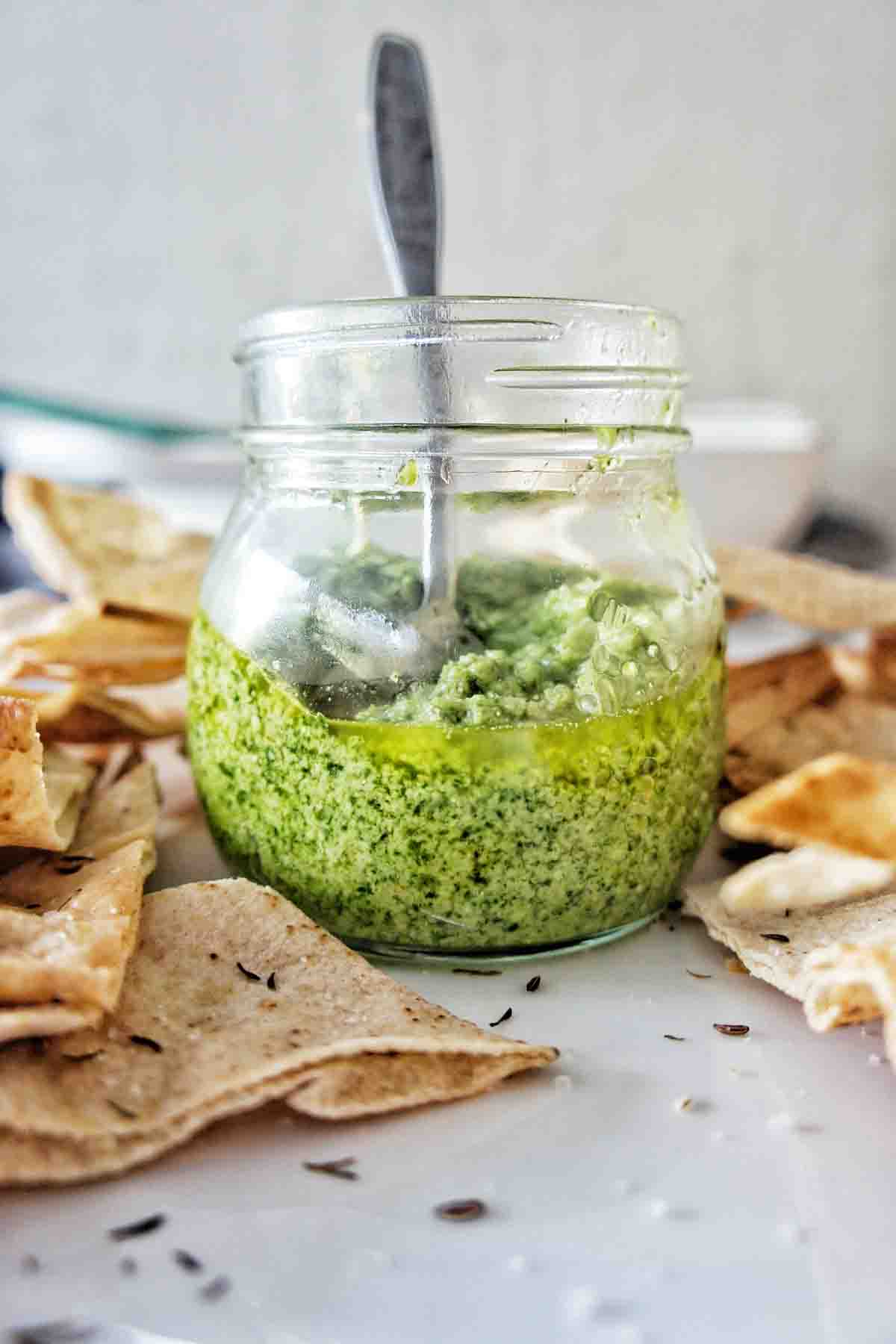 Nut pesto recipes are a great alternative to dips and spreads like our Olive Tapenade recipes. Try the Rocket and Cashew Pesto and use the Easy Crostini as a serving idea! Or the Roast Capsicum Pesto for a pop of colour!
Pesto is a super easy recipe to make, throwing all ingredients into the food processor and blitzing to combine.
Our Artichoke Olive Tapenade, Sun-Dried Tomato Tapenade and Easy Green Olive Tapenade like our pesto recipes can be stirred through pasta or served with meats, fish or chicken. For a healthy snack, pair with the Homemade Pita Breads!
Pizza sauces, salads, flatbreads and veggie sticks are all great ways to use pesto!
Whip this through the Pesto Penne with walnut crumb for a no fuss dinner idea recipe. Or use the Sun-dried Tomato Pesto as an alternative!
BROWSE BY:
Appetizer recipes Popular recipes Quick and Easy recipes
Can you substitute Cashews for Pine Nuts in Pesto?
Whilst Pine nuts are the most commonly used nut in pesto making, it is possible to switch them out and substitute another nut like cashews or walnuts.
Making pesto from scratch is very easy. We combine all of the ingredients in our food processor, blitz to chop and combine, then add lemon juice to desired taste.
Adding the lemon juice at the end, allows us to get the flavour of the pesto spot on as we use the lemon juice to balance the flavours.
Use this pesto in the Bacon Pesto Pasta for an easy dinner any night of the week!
Traditional Pesto recipes
Basil Pesto is the most popular and well known version of pesto.
It is made using fresh basil leaves, pine nuts (toasted or untoasted), garlic, olive oil and parmesan cheese.
It is a great versatile recipe using basil leaves as the star of the show.
Try substituting it for the lemon cream sauce in the Artichoke Spaghetti for a quick dinner tonight!
Pesto recipes without pine nuts
For this recipe we switch out the pine nuts and use cashew nuts instead.
You can also try walnuts, pecan nuts, macadamia nuts or hazlenuts!
For vegan basil pesto, substitute vegan cheese for the parmesan and keep the rest of the ingredients the same.
What is Basil Pesto used for?
Pesto can be used for a variety of dishes, try these ideas:
spread for toast
dressing for a salad
stirred through pasta
as a pizza sauce
spread on cooked meats and fish
on flatbreads
as a dip
Substitute it for the cream pasta sauce in the Smoked Salmon Spaghetti for an easy weeknight dinner!
Or try using this Pesto as an alternative to the Rocket and Cashew Pesto in the Rocket Pesto Pasta.
The pesto will keep for about a week in the fridge in a jar with a lid.
It also freezes very well, so you can use at a later date. If freezing use a touch of additional lemon juice to help preserve it and keep the pesto from going brown
Once you make it and store it in the fridge, you will find you want to spread it on EVERYTHING!
Basil and Cashew pesto ingredients
We use simple, easy to find ingredients for this recipe. The photo below shows you what you need: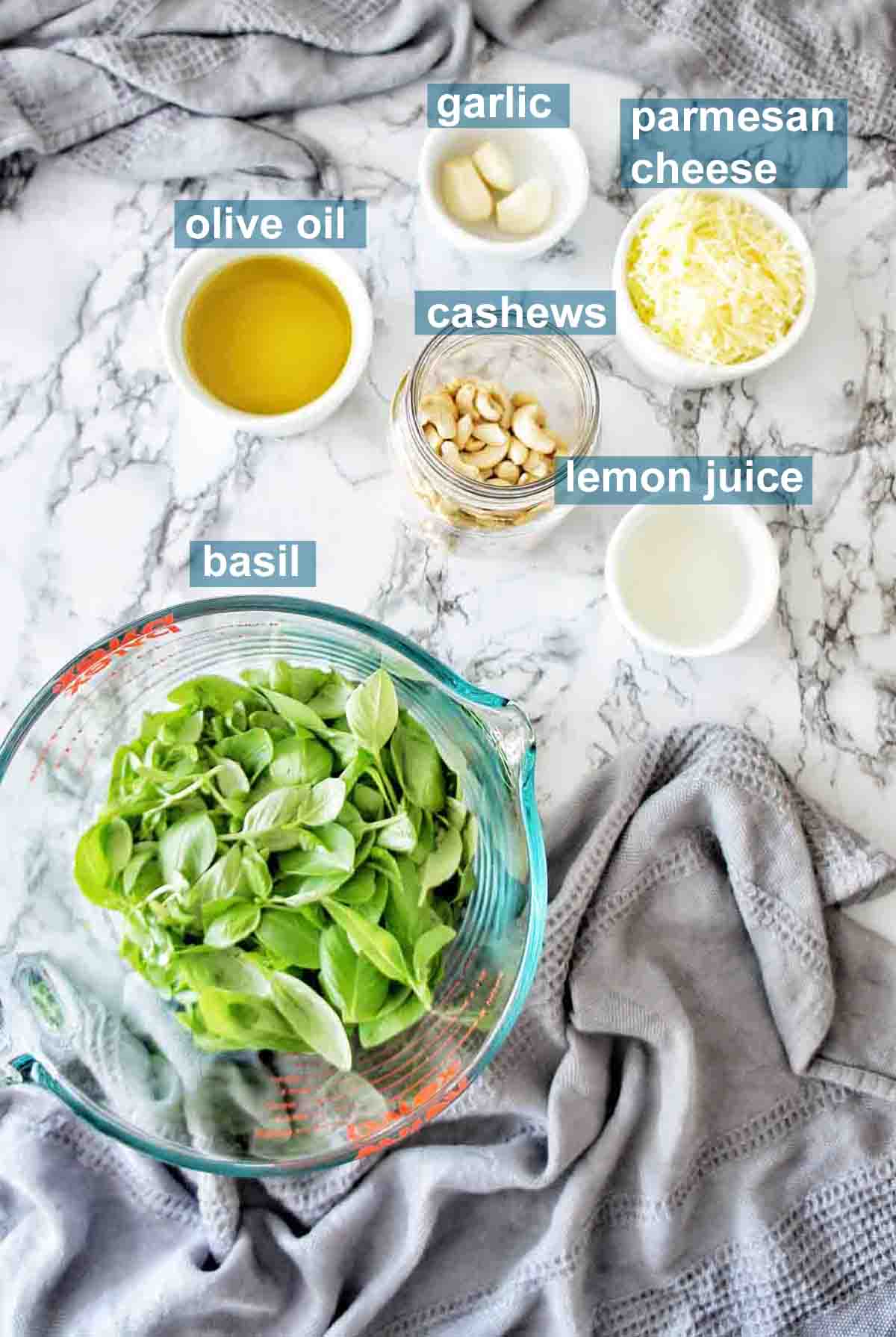 As you can see, we have:
basil leaves
garlic
olive oil
parmesan cheese
cashews
lemon juice
The lemon juice doesn't go into the pesto until the very end where we taste the pesto and adjust the flavour!
Read the How to Toast Bread in the Oven Guide for serving ideas, such as toast points and pita chips!
How to make Basil and Cashew Pesto
The photos below are step by step showing you how to use the food processor to make the pesto: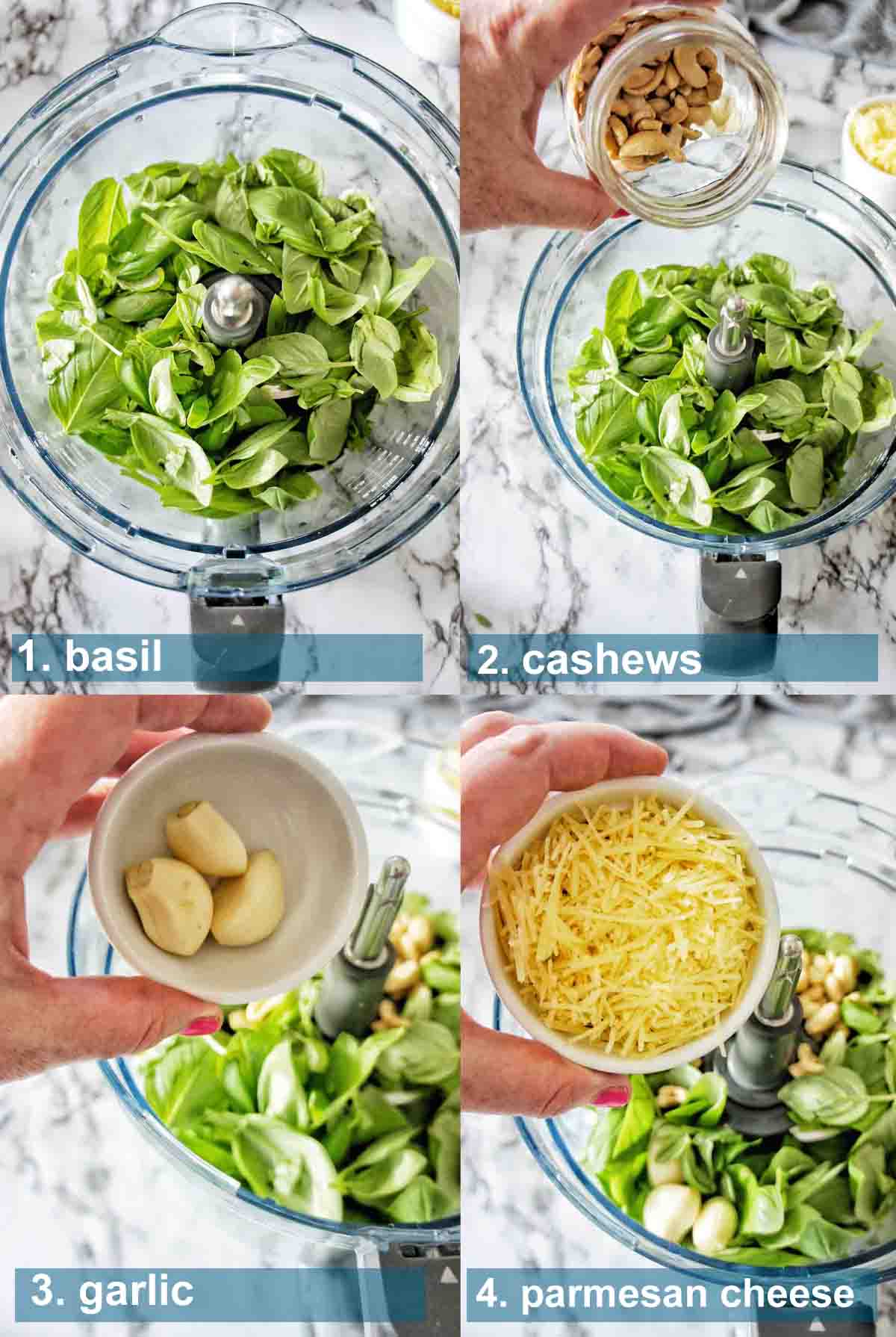 Add basil to food processor bowl (Photo 1)
Add cashews (Photo 2)
Followed by garlic (Photo 3)
And parmesan cheese (Photo 4)
If you like, you can toast the cashews for 3-4 mins in a pan on the stove for an extra depth of flavour!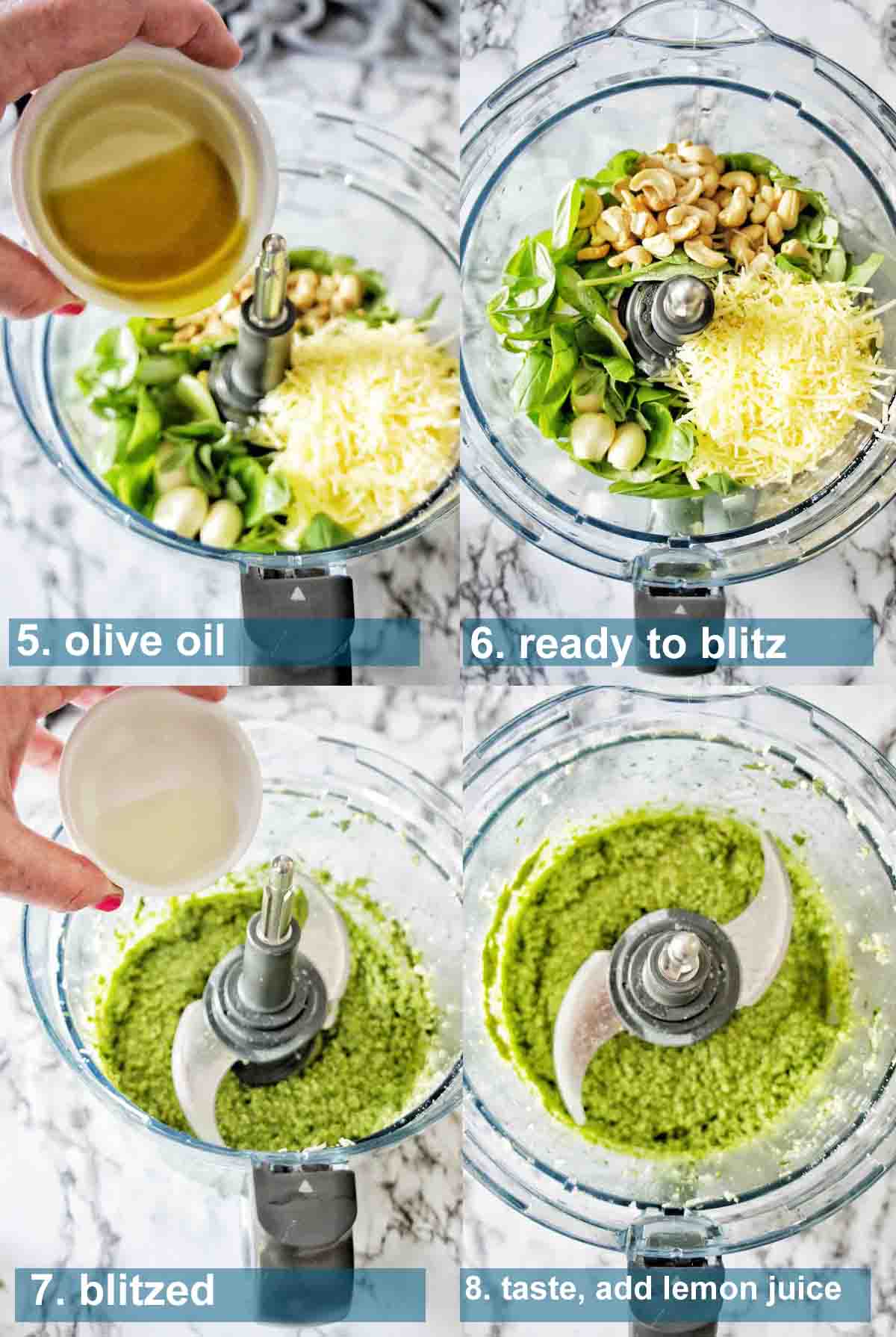 Add olive oil (shown in photo 5)
all ingredients ready to blitz (shown in photo 6)
blitz for approx 10 seconds to combine (shown in photo 7)
taste, add lemon juice, blitz again, repeat tasting and continue until pesto is fresh and balanced (shown in photo 8)
Storing this pesto in the fridge helps to let the flavour develop. Sometimes I think it even tastes better the day after making it!
Basil and Cashew pesto recipe quick info:
About the recipe:
we only need 6 ingredients for this recipe!
you can toast the cashews or leave them as it (faster)
I use roasted unsalted cashews
bottled lemon juice is fine!
FAQs about Cashew Basil Pesto
this is a vegetarian recipe
blitz for less than 10 seconds
you make make the pesto ahead of time
the pesto will last for 1 week in the fridge
the recipe makes about 1 cup of pesto
Your quick questions answered:
This is a quick and easy recipe
Store in the fridge in a sealed jar
This is a FREEZER FRIENDLY recipe
This is an EASY recipe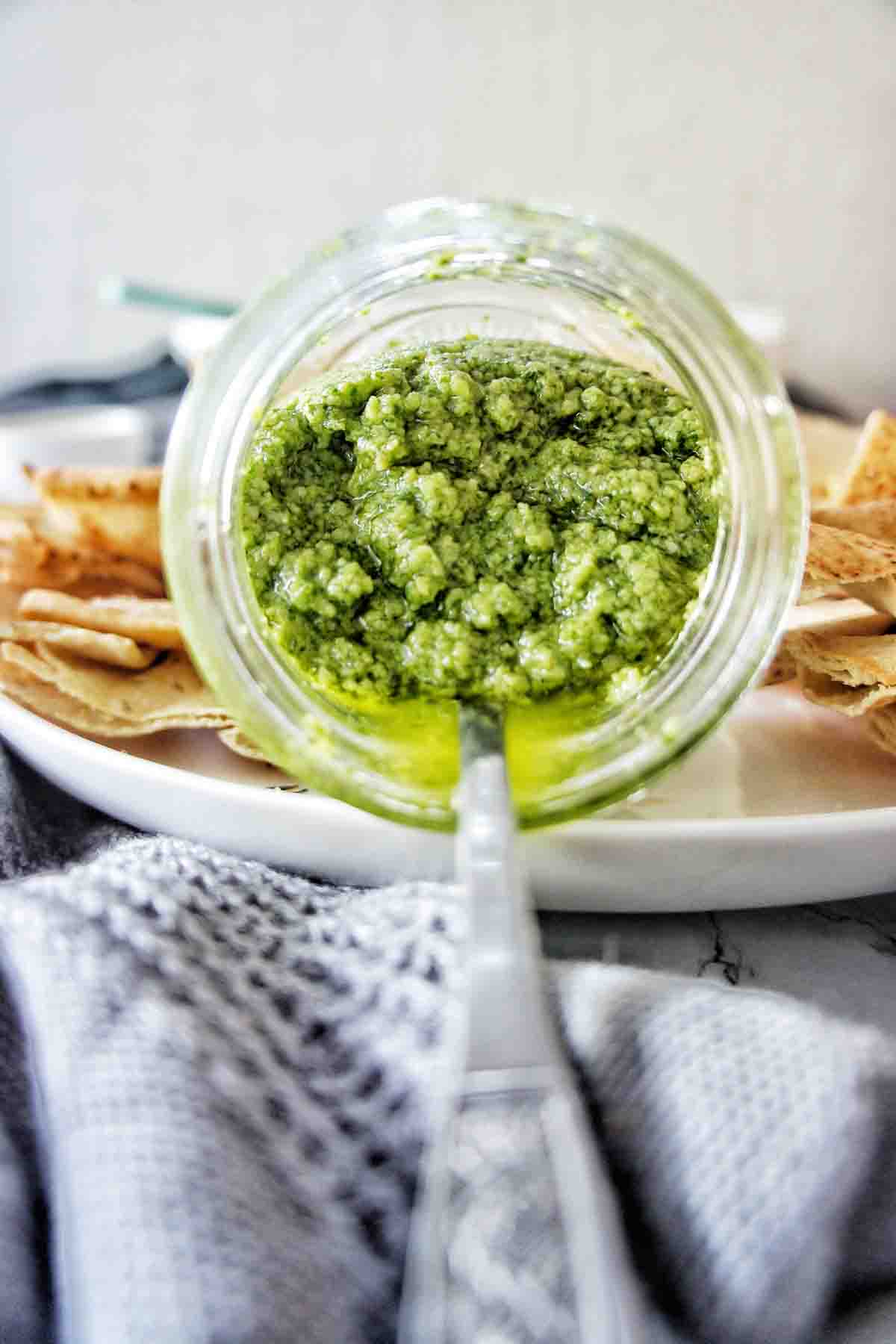 Expert tips:
These tips are to help you master this recipe from the 1st time you make it:
add everything except the lemon juice to the food processor and blitz at the one time
keep the blitz time short, it will take less than 10 seconds.
after blitzing, taste the pesto, then add lemon and combine to get the flavour spot on and not bitter!
freeze this recipe ahead of time and defrost for parties, platters and more!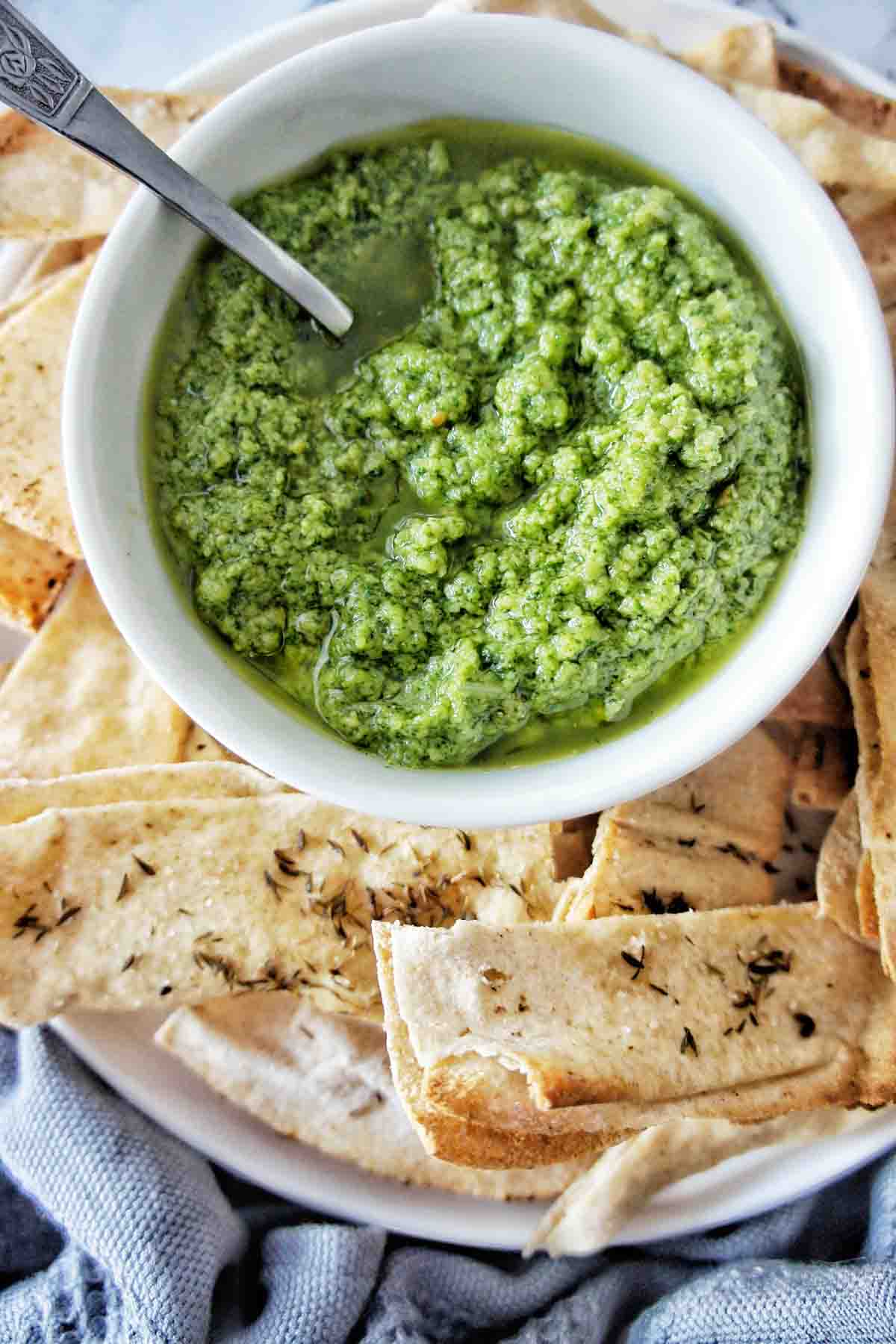 Try using the pesto as an alternative to a traditional Italian style pizza sauce or flatbread topping with some melted cheese!
Find us on Facebook right here!
Or try the pesto with Easy Homemade Pita Chips for a great healthy snack!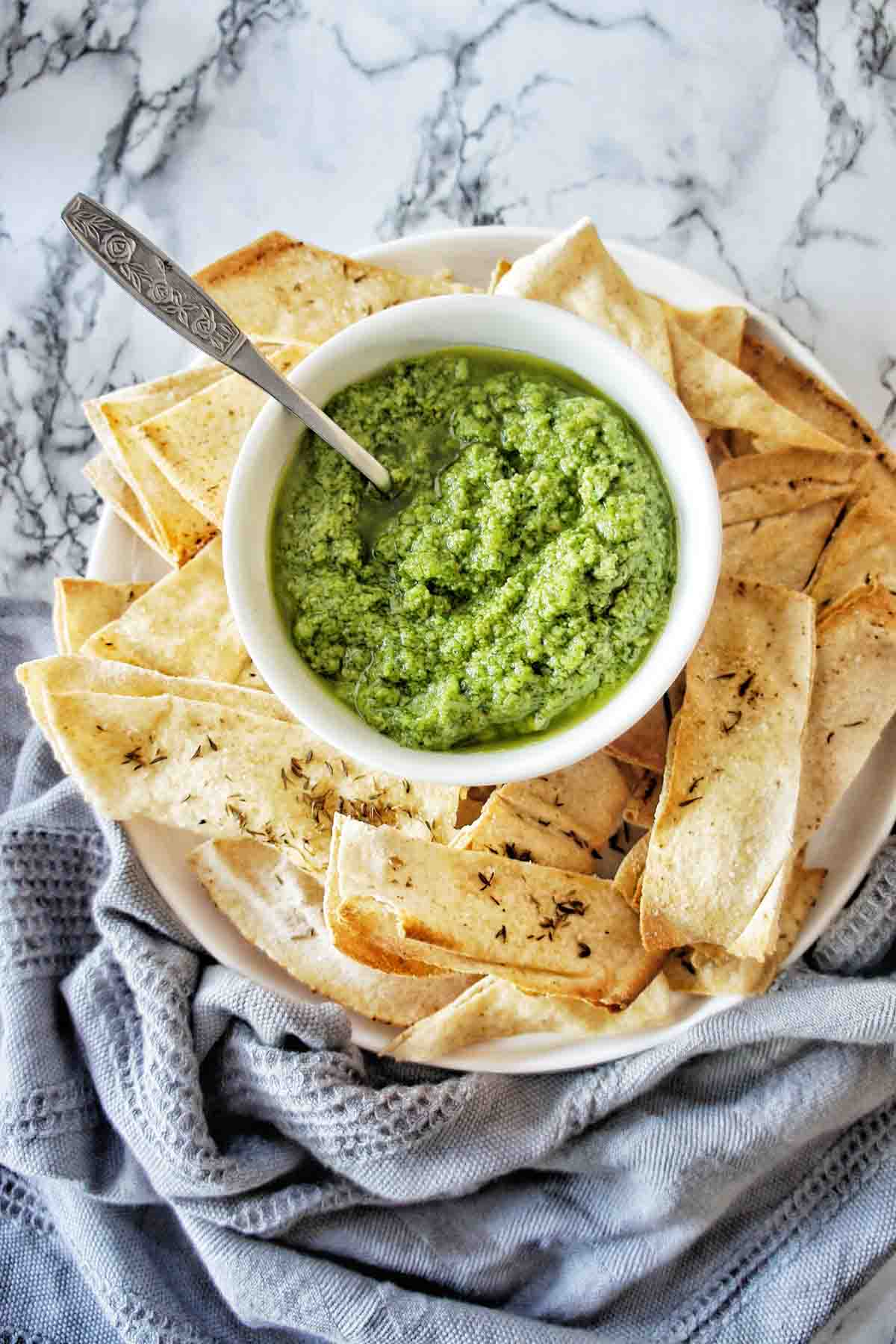 Dip and spread recipes
For fuss free entertaining try these recipes:
Add the pesto to a bowl and serve on our Grazing Platter Board, alongside the Labneh Dip!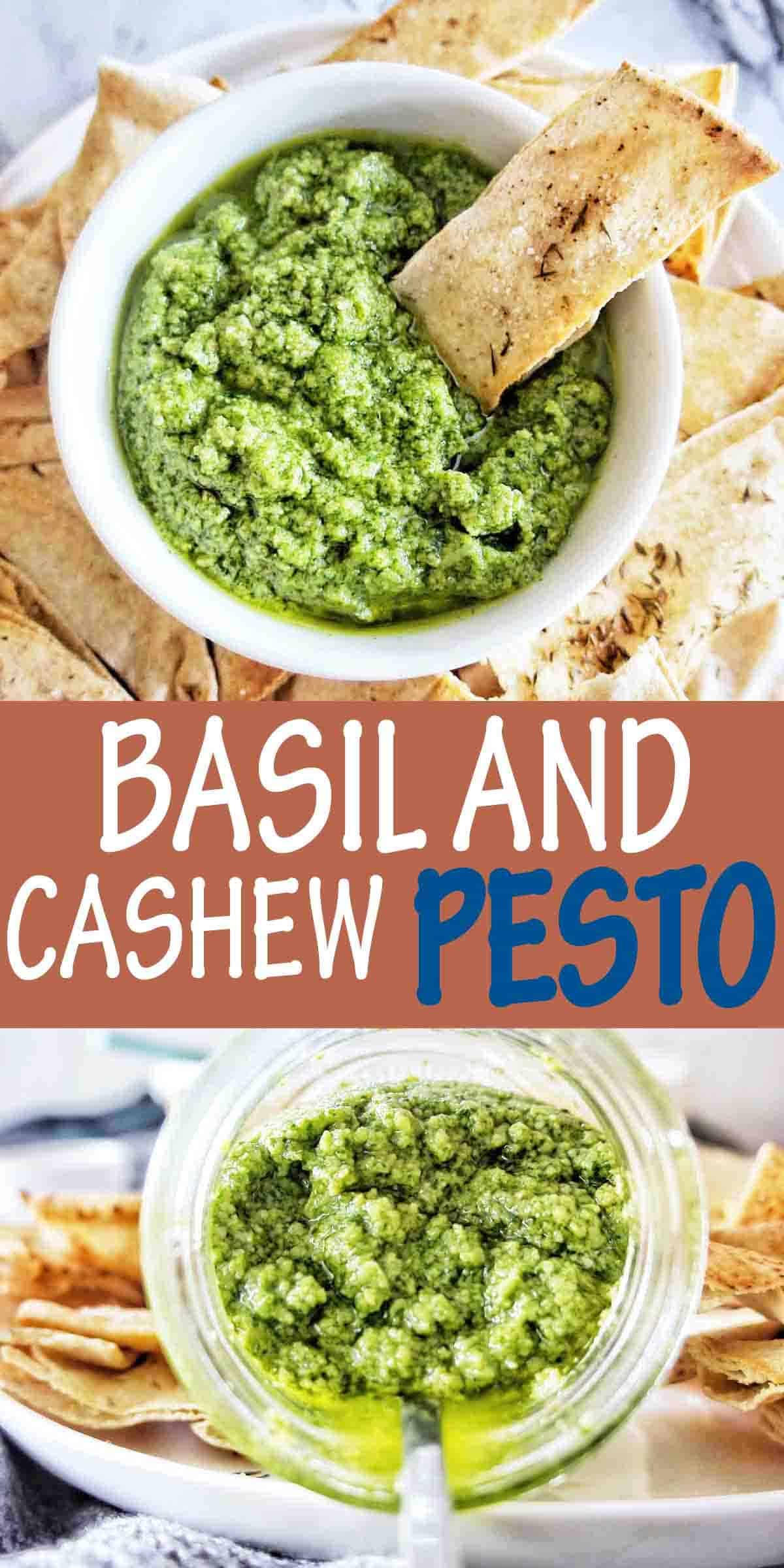 PIN and save this recipe for later!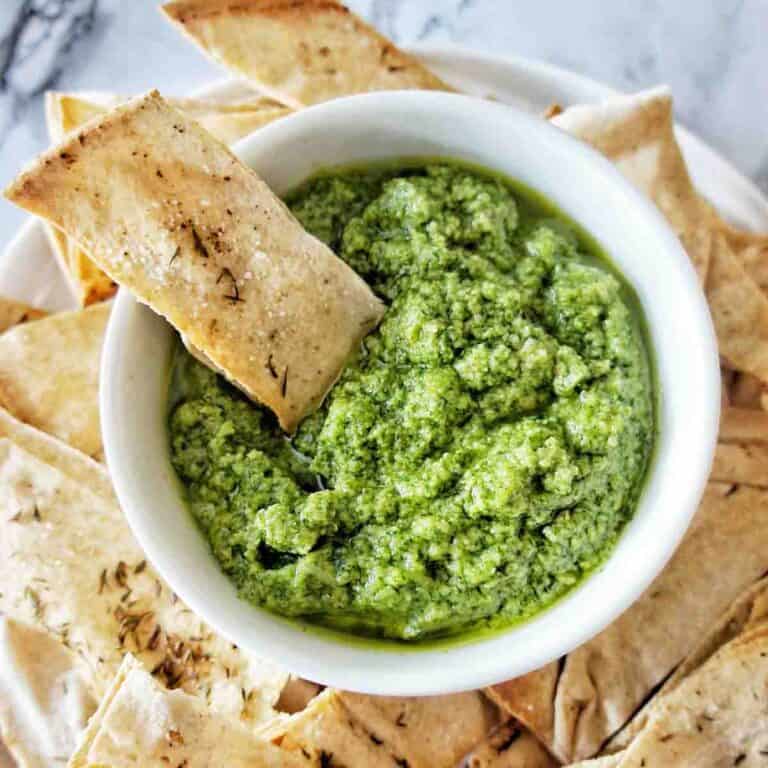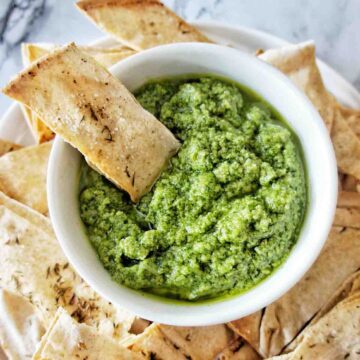 Basil and Cashew Pesto
Basil and Cashew Pesto is a great alternative pesto using cashew nuts. This easy pesto recipe is versatile and quickly whipped up in the food processor.
Print
Rate
Ingredients
Basil and Cashew Pesto
2

cups

basil leaves

Note 1

½

cup

cashews

Note 2

½

cup

parmesan cheese

Note 3

½

cup

olive oil

3

cloves

garlic

1

tbsp

lemon juice

Note 4
Instructions
Basil and Cashew Pesto
Combine basil leaves, cashew nuts, parmesan cheese and garlic in the bowl of a food processor, blitz for approximately 10 seconds.

Remove the lid and scrap the sides of the bowl, pushing the pesto back into the food processor.

Use a teaspoon to taste a small amount, then add lemon juice a little at a time, blitz for another couple of seconds then taste again. Repeat till desired taste achieved.

Pesto can be stored in the fridge in a sealed container for one week.
Video
Notes
Note 1 Pull the leaves off the stems and add to a bowl. Don't worry if a little bit of stem gets into the mix, but for the majority, we are looking for the leaves not the stem.
Note 2 I use roasted unsalted cashews for this recipe.
Note 3 Try and get the parmesan cheese that has a real 'bite' to the taste and texture. It is THE BEST and other ones whilst still being cheese, won't taste as good. The packet will indicate 'strong flavour'. 
Note 4 If you want to use fresh lemon and squeeze it in, that works, but store bought lemon juice is fine, don't loose a wink of sleep over this one ingredient. 
Nutrition
Calories:
192
kcal
|
Carbohydrates:
3
g
|
Protein:
4
g
|
Fat:
19
g
|
Saturated Fat:
4
g
|
Cholesterol:
4
mg
|
Sodium:
102
mg
|
Potassium:
81
mg
|
Fiber:
1
g
|
Sugar:
1
g
|
Vitamin A:
365
IU
|
Vitamin C:
2
mg
|
Calcium:
90
mg
|
Iron:
1
mg
Did you make this recipe? Share on Instagram!
It makes my day when you make my recipes! Tag @sweetcaramelsunday
Different pesto recipes
Once you give this recipe a go and see how easy it is to make pesto at home, you will want to serve it with everything!
The good thing is, the quick and easy recipe means as long as you have the ingredients, you are good to go!
It won't be a pizza party but a PESTO PARTY at your place and I know which I would rather attend.
Pesto, pizza, party, ok, why don't we have all 3 and a glass of vino of course.
Let me know if you have any questions, I would love to hear your feedback in the comments below.
Adrianne xx
RELATED RECIPES:
Artichoke Olive Tapenade Chicken Liver Pate Sun-dried Tomato Tapenade
Family Favourites Pasta recipes Popular recipes Quick and Easy recipes