Cornflake Biscuits are the most fuss free cookies around! Simply oven bake these crunchy cornflake cookies for a fun recipe that are quick and easy!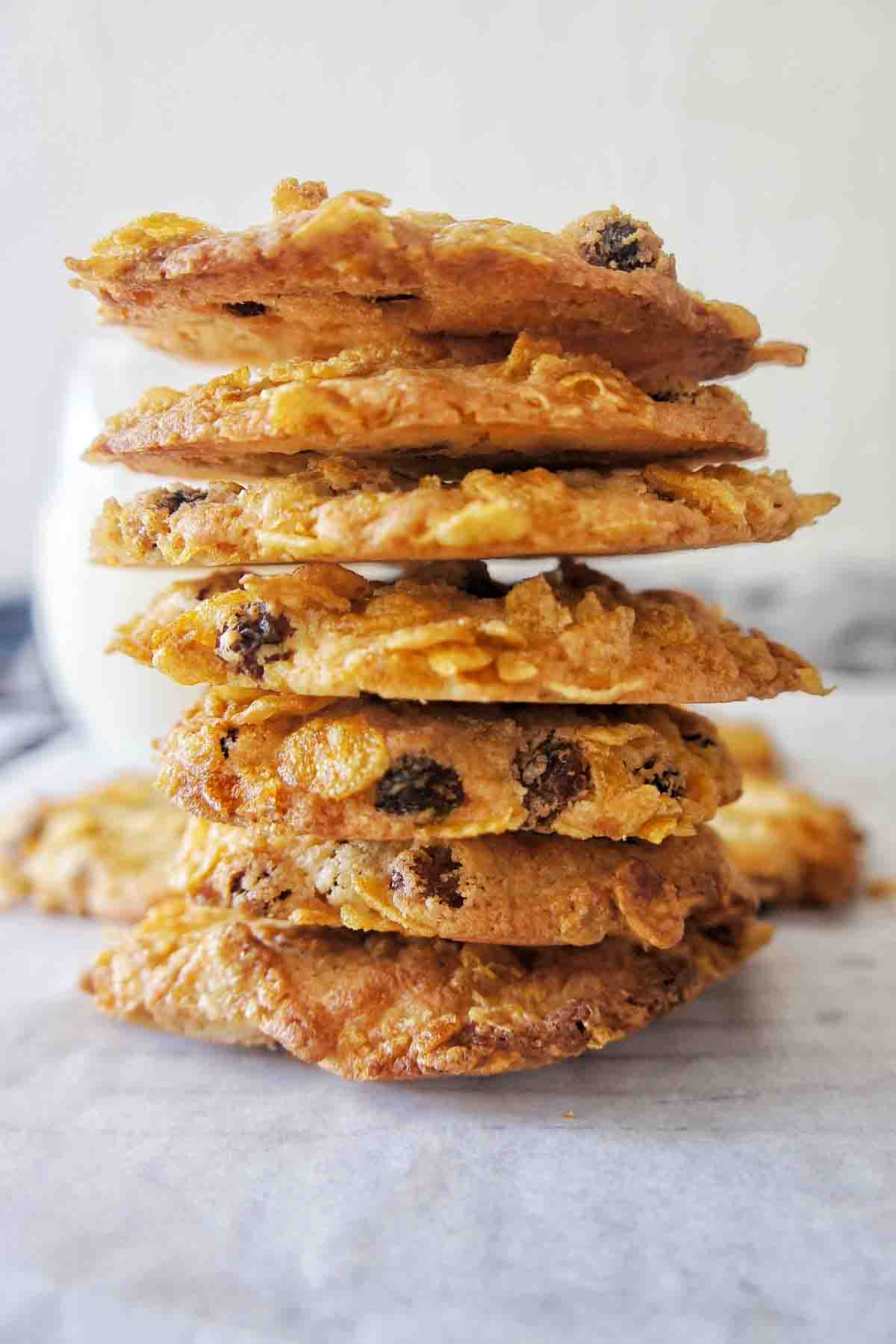 In similar style to our Anzac biscuits recipe these cornflake cookies use simple ingredients and take only minutes to bring together.
Sultanas and cornflakes are a match made in heaven! Crunchy and chewy at the same time.
If you are looking for a cookie recipe to make with kids, or simply an easy recipe that doesn't take too much fuss, then this is the recipe for you!
Breakfast of champion recipes, right here!
What are cornflakes made of?
Cornflakes are a breakfast cereal we all know and love.
Made from corn, they are an inexpensive idea and handy to have in the cupboard!
Whipping them out to make crunchy cornflake biscuits are a great alternative to having them for breakfast with milk and a piece of fruit!
It only takes 16 mins for our cookies to bake to crispy, crunchy perfection!
Once the biscuits are cooked you can store them for up to a week (or 10 days) in a sealed air tight container.
Cornflake Biscuit ingredients
The ingredients you need for this recipe are all easy to find at the local store. They are set out in the photo below: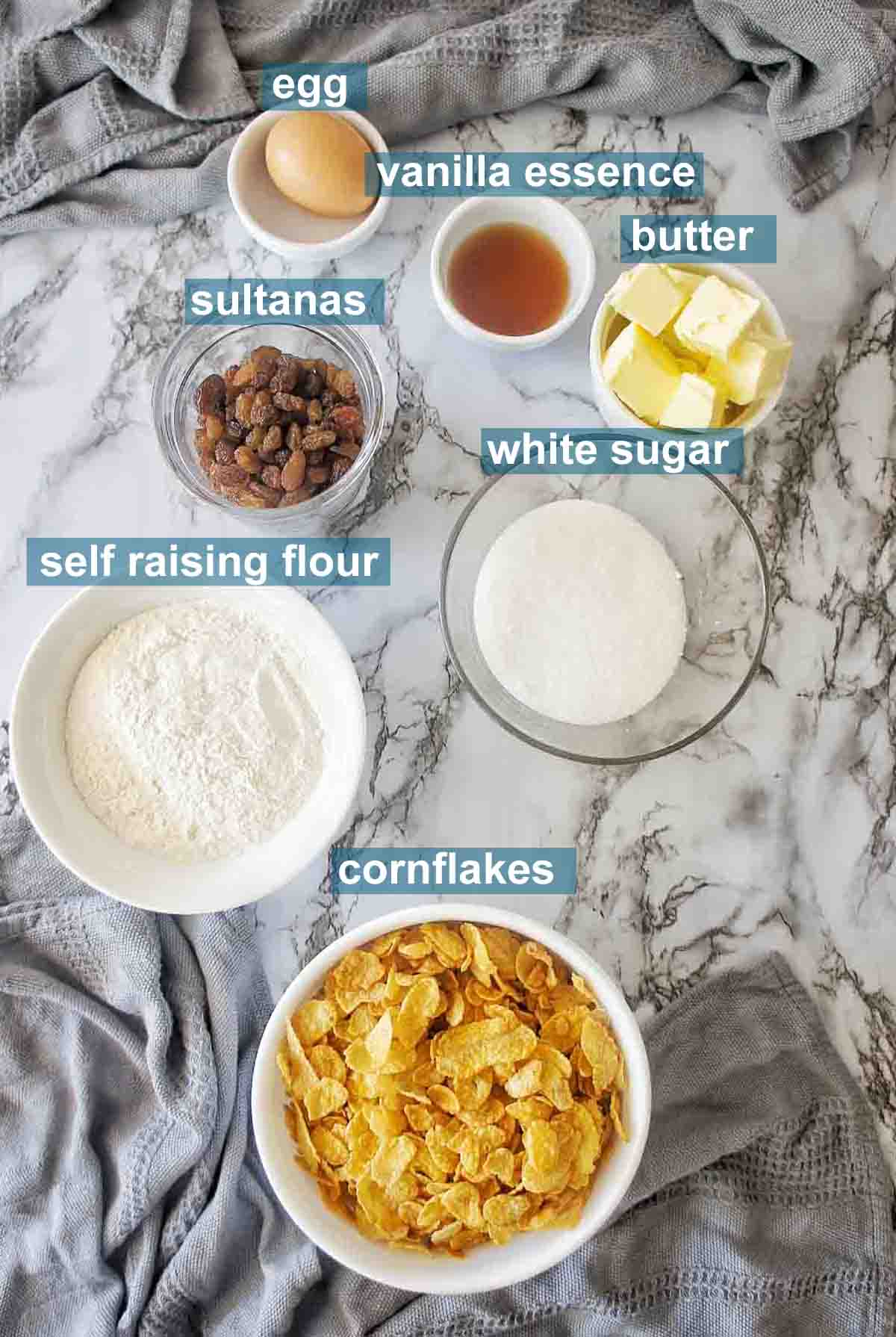 As you can see we need:
cornflakes
self raising flour
white sugar
sultanas
egg
vanilla essence
butter
This is an easy cookie recipe as it has few ingredients many of which you may already have at home!
Crunchy Cornflake Cookies
The best way to cook these biscuits is to preheat your oven.
This means that by the time you have rolled your cookies the oven will be the perfect temperature to cook them quickly.
The biscuits will turn a light golden brown and harden as they cool after baking.
BROWSE BY:
Family Favourites Popular recipes Slow Cooker recipes
How to make Cornflake Biscuits
The steps we need to take are shown in the photos below. They are all super easy!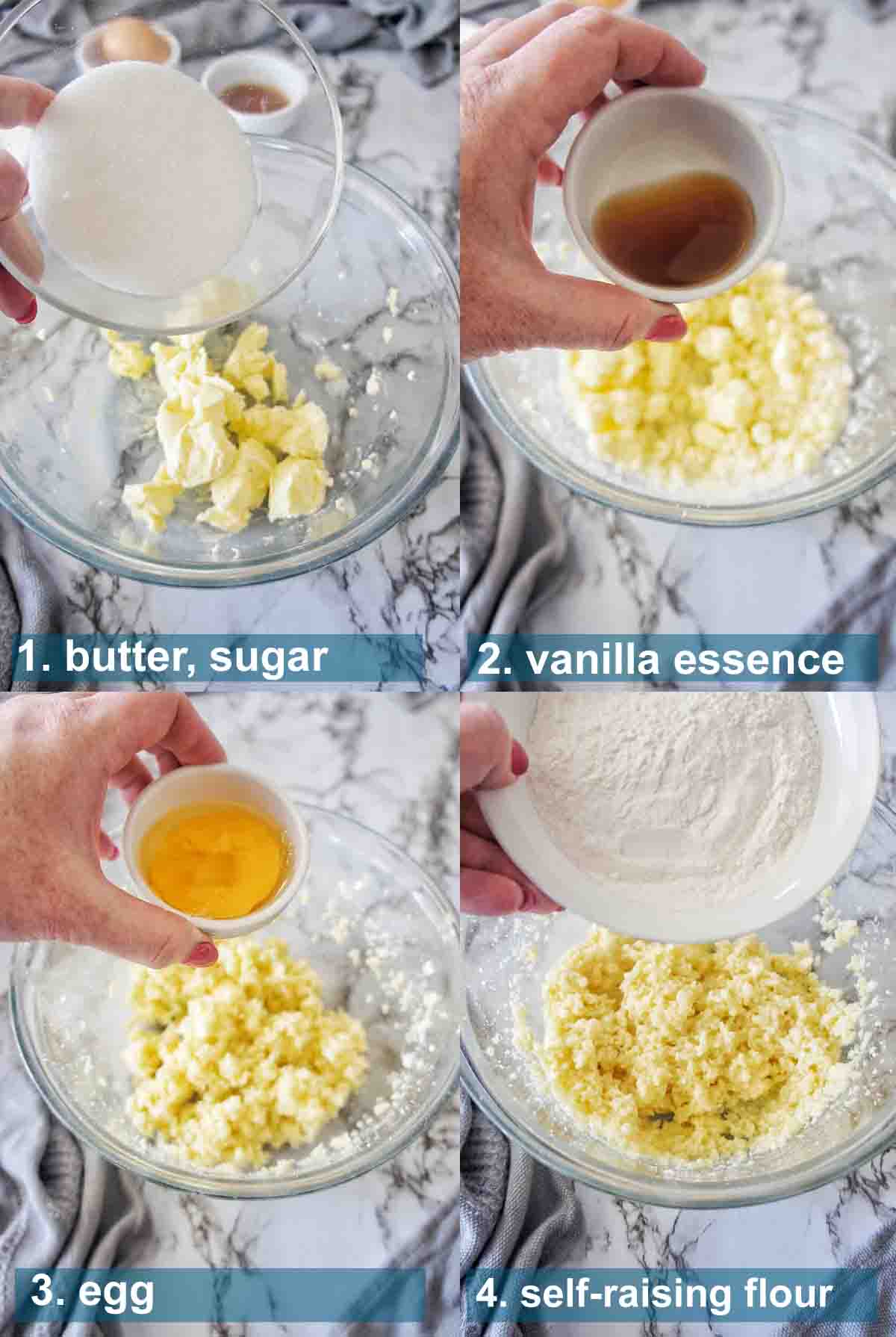 use beaters to cream the butter, then add the sugar (photo 1)
add vanilla essence (photo 2)
followed by egg (photo 3)
and then self- raising flour (photo 4)
Looking for the latest recipes on the blog? Click here!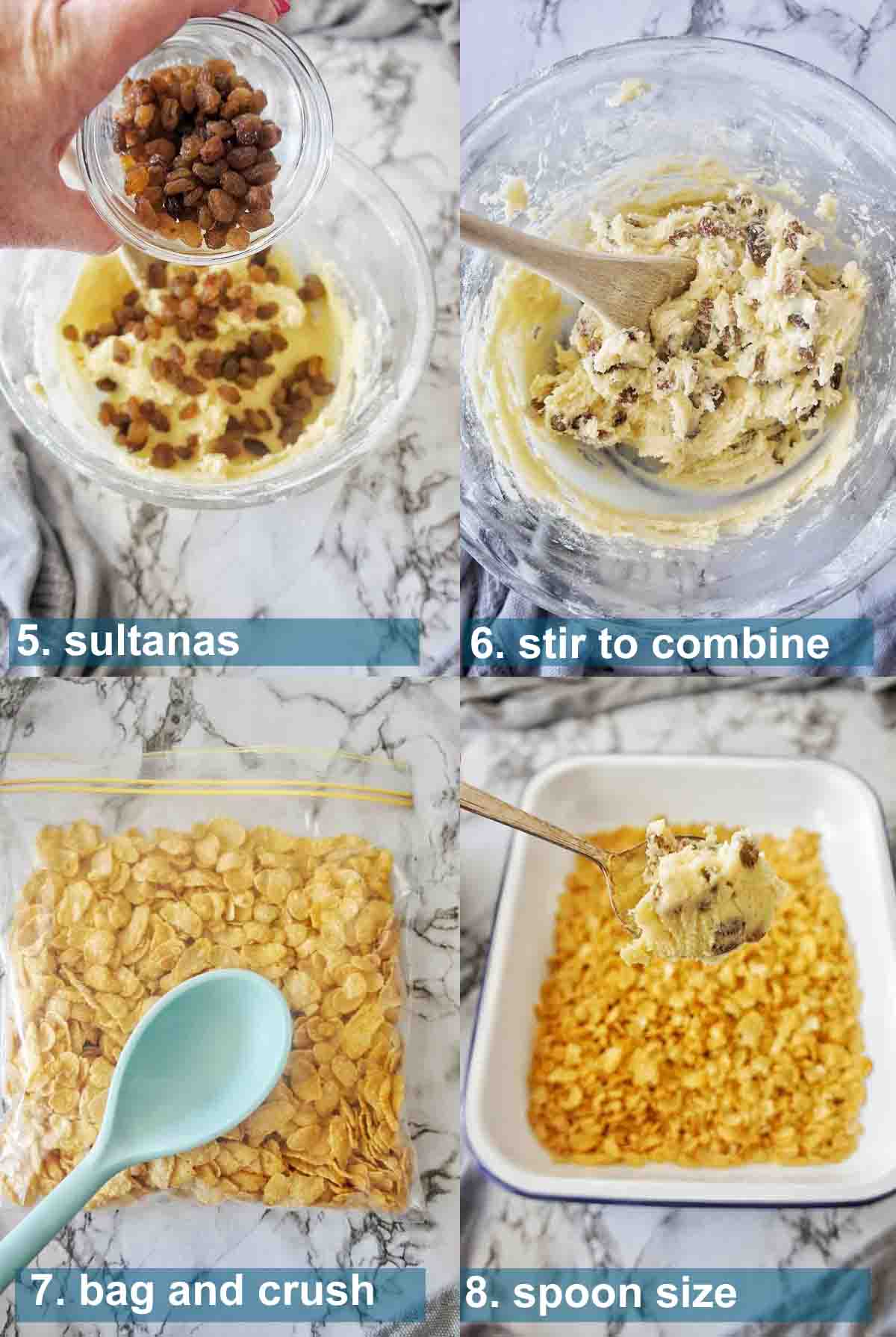 Next we need to:
add sultanas (shown in photo 5)
use a spoon to stir the ingredients together (shown in photo 6)
bag and crush your cornflakes (shown in photo 7)
use a soup spoon to portion out one by one (shown in photo 8)
This biscuit mix will be 'wet' however, it is reasonably easy to form the biscuits in your hands then transfer into the pan of cornflakes.
A soup spoon is the perfect tool to help achieve similar sizes across each of your cookies.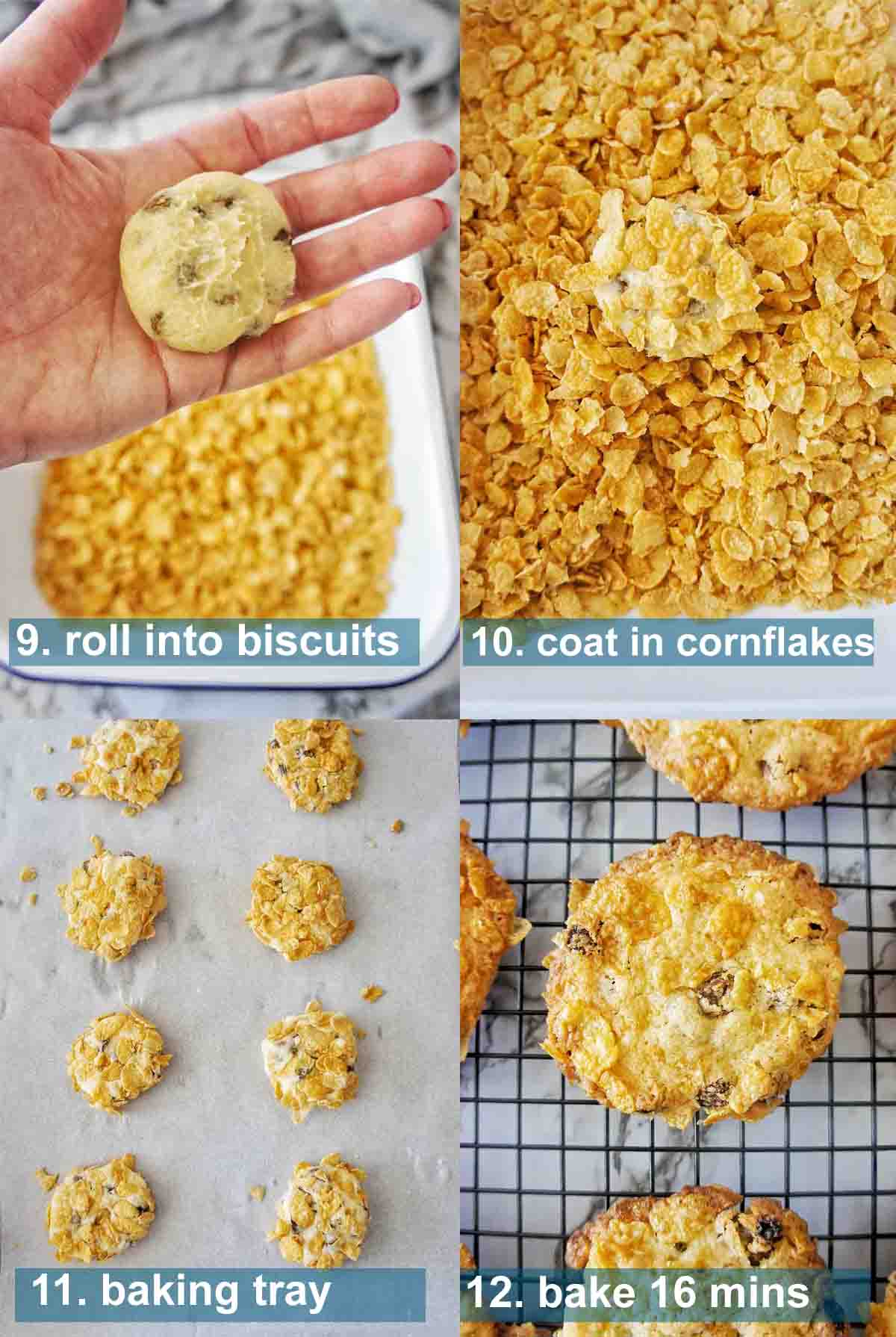 roll the batter into individual biscuits (shown in photo 9)
drop them into a tray with the cornflakes (shown in photo 10)
lay them spread out on a flat baking tray(photo 11)
oven bake for 16 mins then let cool on a baking rack (photo 12)
The most popular recipes on the blog, are right here!
The biscuits will take only 16 mins to cook, when this time is up, they might be soft to touch when gently pressed, however they are cooked and will firm up as they cool.
Once the cookies are baked, you can use an oven mit to remove them from the oven and place on a wire rack.
They need about 10 mins to cool off after baking.
Cornflake and Sultana cookies
The secret success of these cookies is the crunchy biscuit combo with soft chewy sultanas.
We made them SO many times growing up and it was always the way that we would add more and more sultanas each time we cooked them!
The sultanas give a great alternative texture to the cornflakes are a winning combination.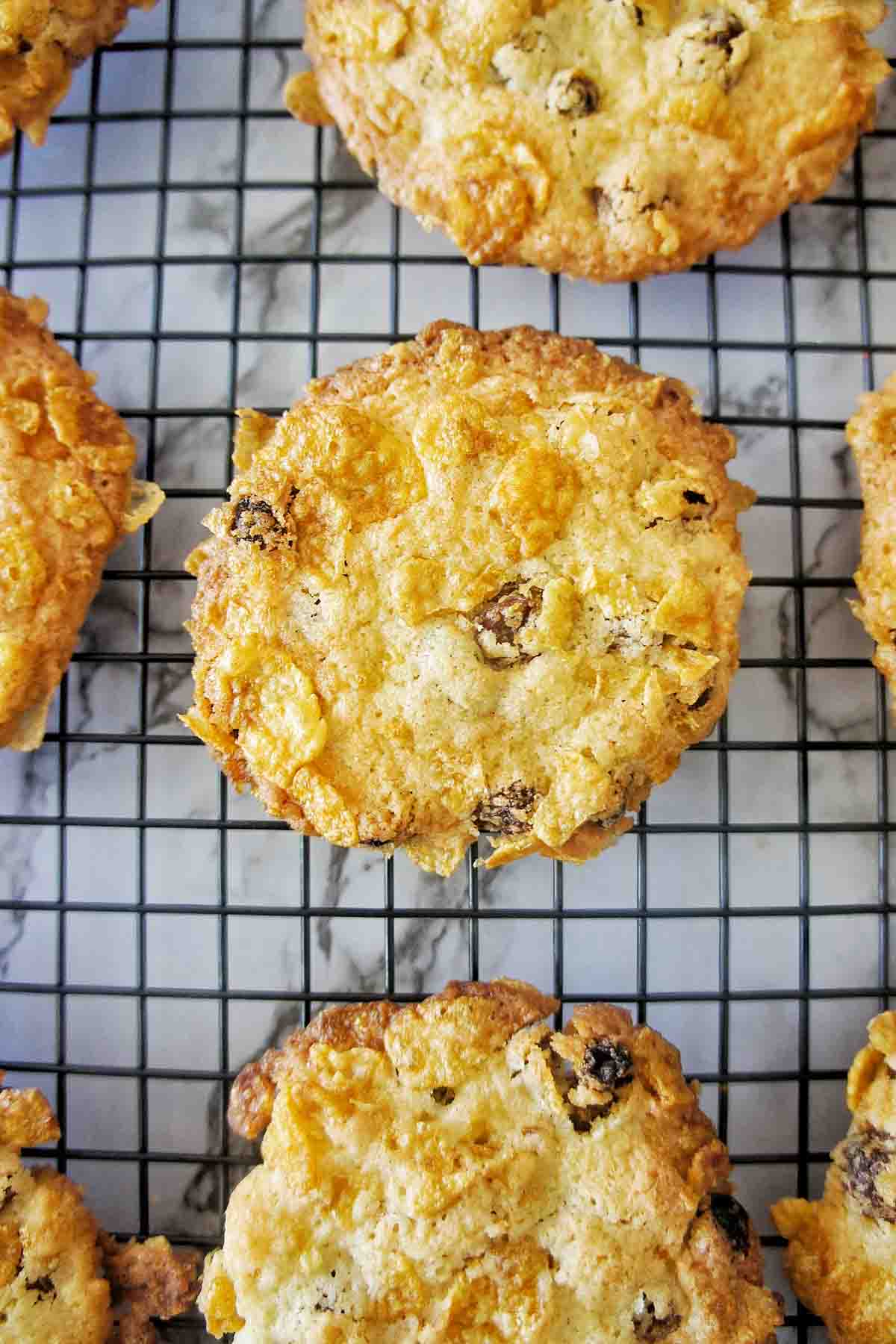 The sultanas stay nice and chewy even days after the cookies are baked! They make for a simply irresistible cookie ingredient!
Oven Baked recipes:
Getting your bake on is a fun and therapeutic way to spend time. These recipes are to further inspire you:
There is nothing better than a cup of tea and a bikkie and these cornflake biscuits take the cake!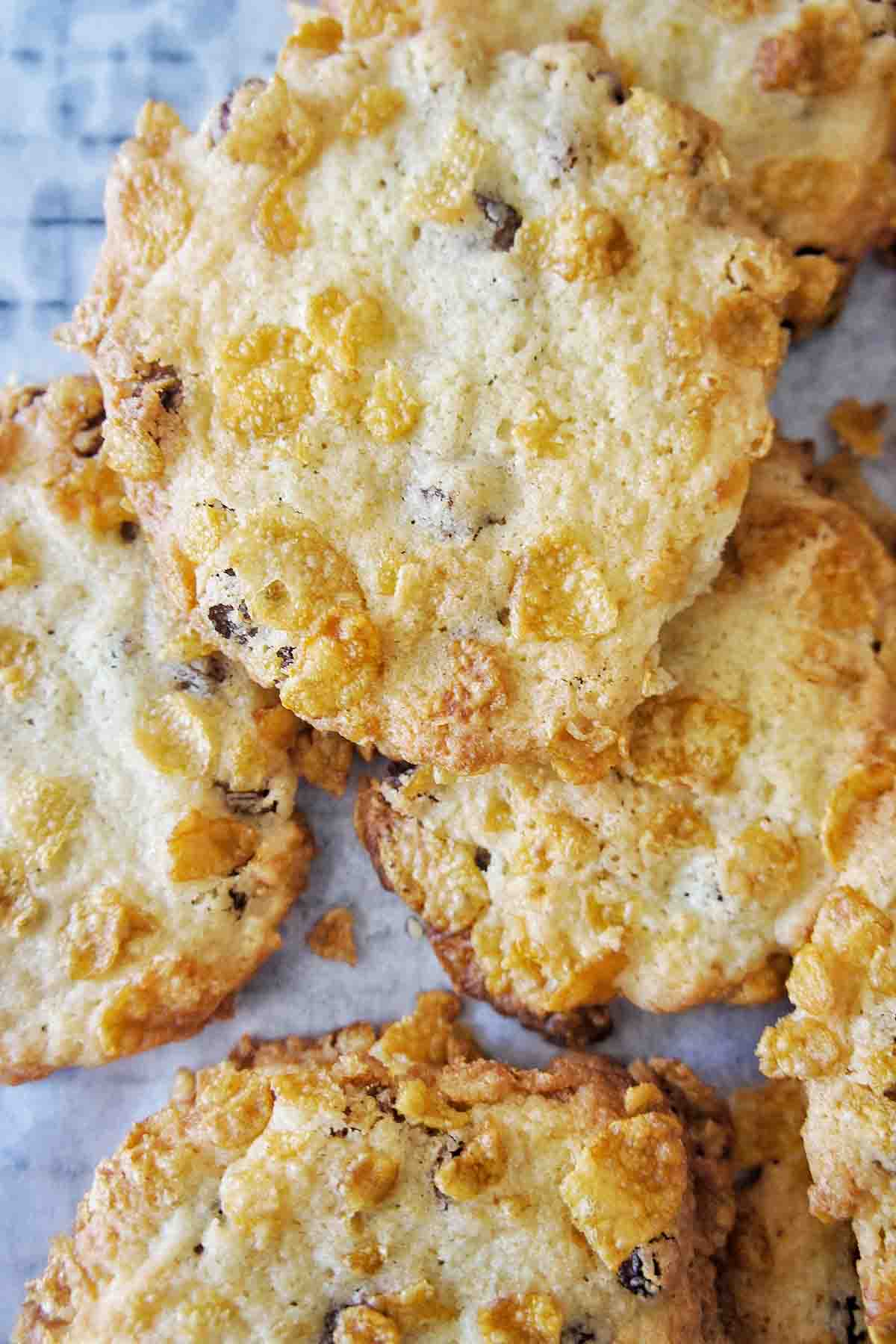 Corn Flake Biscuit quick info:
About the recipe:
we use 7 ingredients for this recipe
we use a good amount of sultanas to create chewy biscuits
you can substitute choc chips for the sultans if you wish
a flat baking tray is best as the cookies spread as they cook
FAQs about making Cornflake and Sultana Cookies
the corn flakes don't go into the ingredients, but are rolled around the outsides
the temperature is moderate
this is a kid friendly recipe
this is an EASY recipe
Here are savory slice recipes perfect for breakfast!
Cornflake Crunch Cookies Pro tips:
These additional tips are so that you can master these biscuits from scratch:
let the butter sit on the bench prior to allow it to soften (easier to beat it)
pre heat the oven to make the cook time short and fast
use 2 baking trays so you can spread the cookies out
allow the cookies to cool when remove from the oven as they will harden naturally
You can check out the most popular recipes on the blog, right here!
How long does it take to make cornflake cookies?
This is a quick and easy recipe.
It will take about 10 mins to bring the batter together and roll your biscuits in cornflakes.
It will take about 16 mins in the oven for the cookies to bake.
Once cooked, it will take approximately 5-10 mins for the cookies to cool and harden.
Find us on Facebook by clicking this link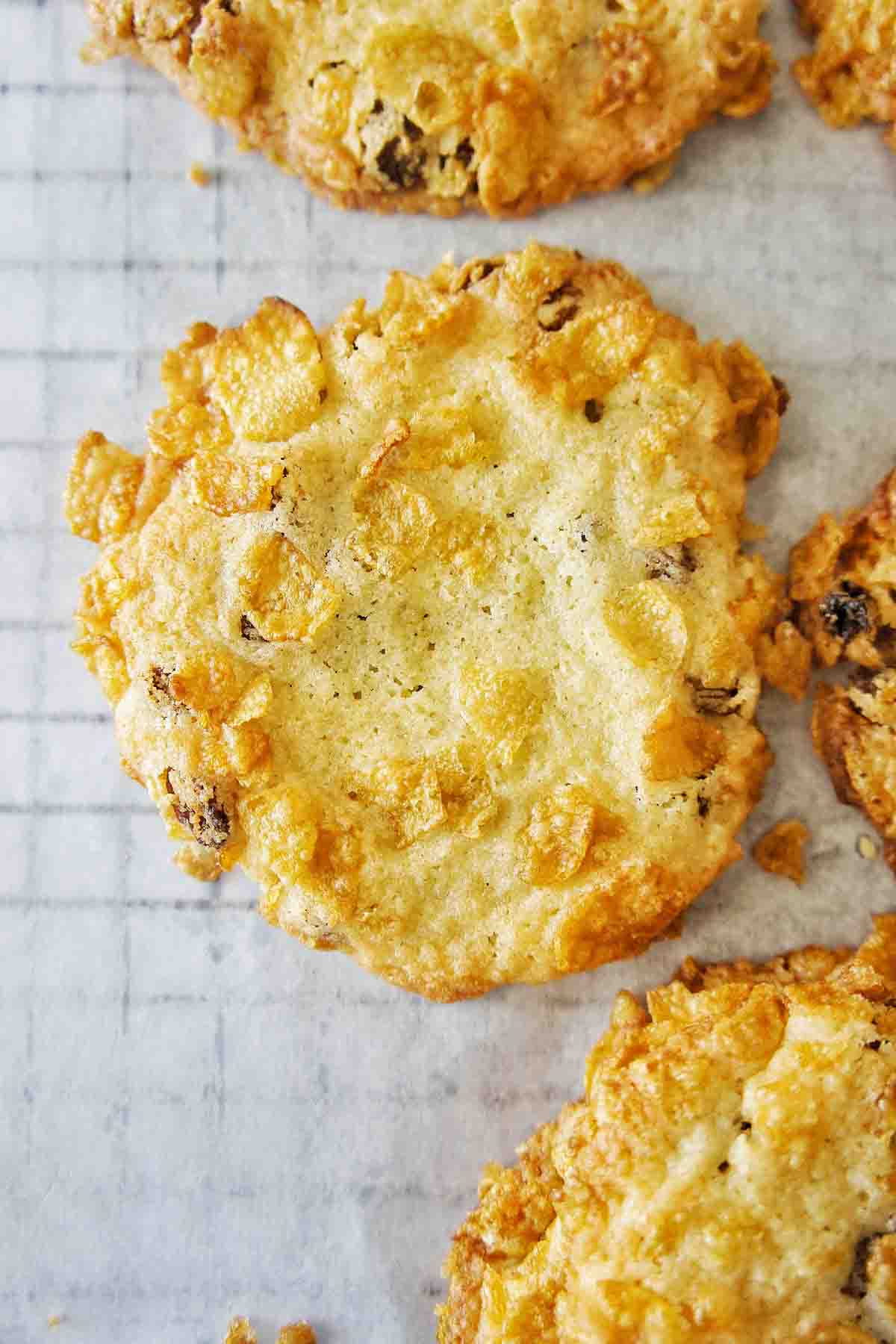 What to have with cornflake cookies?
These biscuits can be enjoyed on their own.
They do, however, accompany a glass of milk or cup of tea rather nicely and is a great way for you to make a quick afternoon tea to be enjoyed.
PIN and save this recipe for later!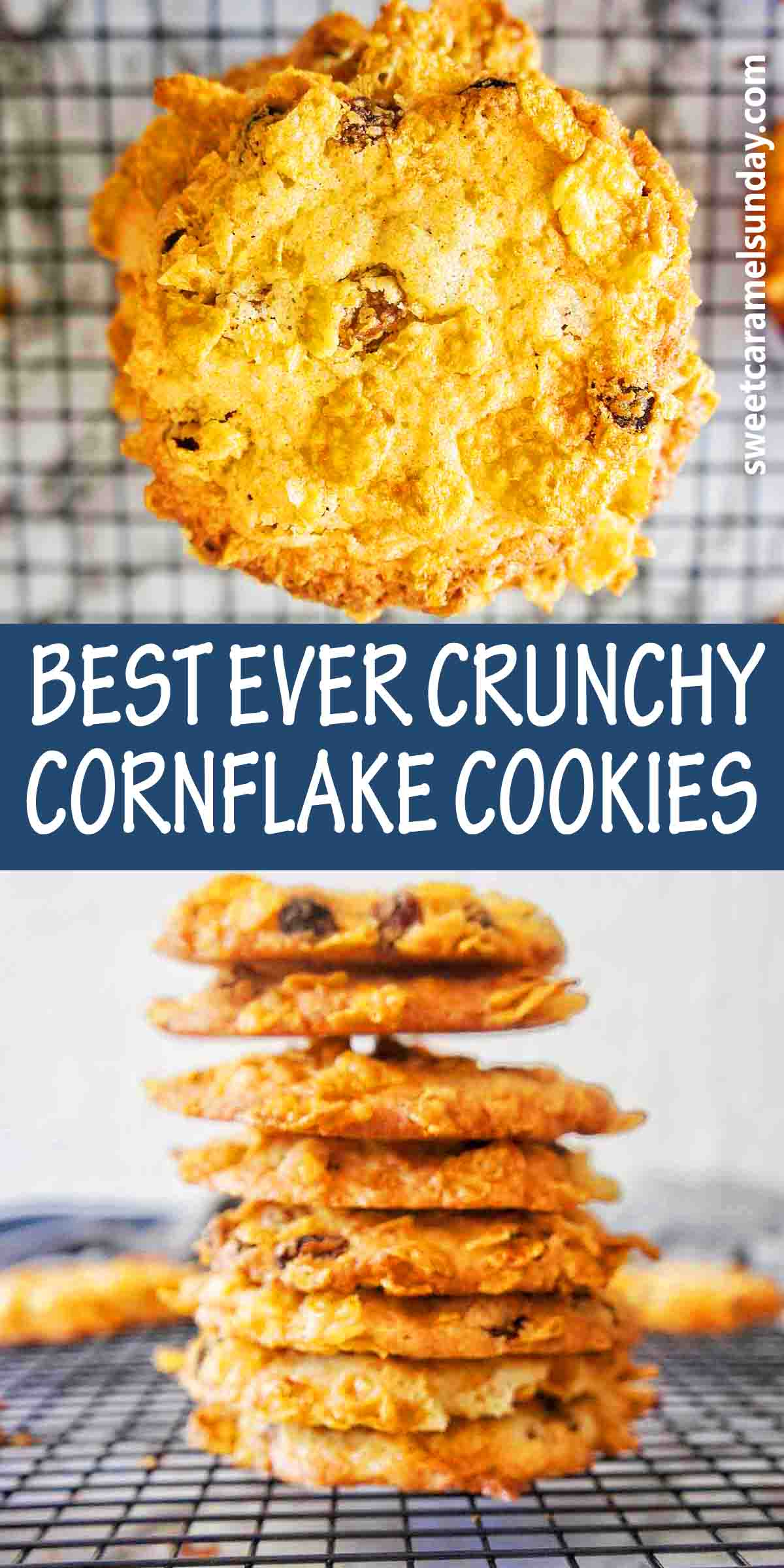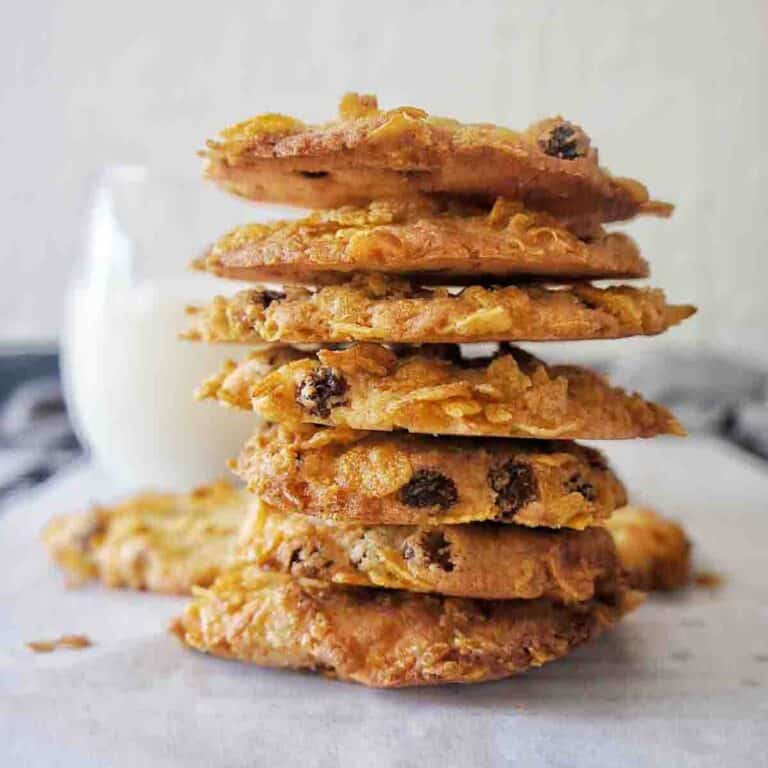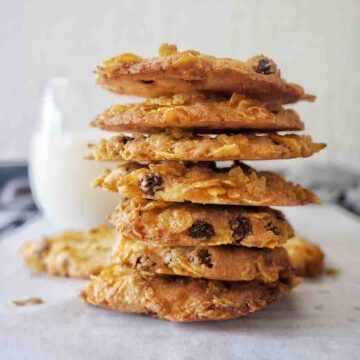 Cornflake Biscuits
Cornflake Biscuits are the crunchiest, easy cookies around! Crunchy Cornflake Cookies are a fun recipe that are quick and simply oven baked. 
Print
Rate
Equipment
Baking tray

Mixing bowl

Wooden spoon

Baking paper

Baking tray
Ingredients
Cornflake Biscuits
130

grams

butter

Note 1

½

cup

white sugar

Note 2

1

egg

1

cup

self raising flour

1

cup

sultanas

Note 3

1

tsp

vanilla essence

optional

3

cups

cornflakes

Note 4
Instructions
Cornflake Biscuits
Preheat your oven to 180°C / 350-375°F / Gas Mark 4-5

Line 2 flat baking trays with grease proof paper

Add the butter to a mixing bowl and beat till soft and fluffy Note 1

Gently pour the sugar into the butter and continue to beat (until combined).

Add vanilla essence, followed by self - raising flour.

Use a spoon to stir the ingredients together

Transfer cornflakes into a zip lock bag, seal and use a spoon to bang the bag to slightly crush the cornflakes Note 5

Use a soup spoon to portion out individual amounts of the batter and roll this into a cookie shape using the palms of your hands.

Drop the rolled cookie into the cornflakes and shake the pan, to allow the cornflakes to stick to the other side. Note 6

Lay each cookie flat on the baking tray slightly spread apart from each other Note 7

Place the baking trays into the oven one by one (middle and lower racks)

Bake the biscuits for 16 mins until slightly golden brown Note 8

Use oven mits to remove the biscuits from the oven and allow to cool on a wire rack.
Notes
Note 1 The butter will be easiest to beat if it is at room temperature. So let it sit on the bench well before making the cookies and it will be easy to cream. 
Note 2 I prefer to use white sugar rather than caster sugar for this recipe as I find the thicker grain of sugar helps to harden and set the crunch factor for the biscuits. 
Note 3 These get stirred into the mix and bring a delicious chewy texture to each bite of your cookies!
Note 4 The cornflakes are used to roll the biscuits in before they are cooked. You will find that they will stick to the batter extremely well and then simply place them onto the baking tray. 
Note 5 The reason we slightly crush the cornflakes is both because they are quite large on their own and also because it adds another layer of texture for the cornflakes to be crushed into random sized pieces. 
Note 6 If you find that shaking the baking tray doesn't allow the cookie to be fully coated in cornflakes, manually do this with your hands and slightly push the cornflakes into the biscuit batter. 
Note 7 The biscuits will flatten and spread out during the cooking time. They need to be separated from each other on the baking tray to do this otherwise they will join each other and you will have to pull them apart. 
Note 8 The biscuits once cooked (16 mins) may still look or feel soft to the touch of your finger. However, they will harden as they cool. So once the time is up, remove them and let them cool (don't try and cook further to harden as they will burn). 
Nutrition
Calories:
161
kcal
|
Carbohydrates:
24
g
|
Protein:
2
g
|
Fat:
7
g
|
Saturated Fat:
4
g
|
Cholesterol:
28
mg
|
Sodium:
102
mg
|
Potassium:
88
mg
|
Fiber:
1
g
|
Sugar:
12
g
|
Vitamin A:
312
IU
|
Vitamin C:
1
mg
|
Calcium:
9
mg
|
Iron:
2
mg
Did you make this recipe? Share on Instagram!
It makes my day when you make my recipes! Tag @sweetcaramelsunday
If you are like me, you might like to enjoy some down time baking goodies!
These biscuits are seriously crunchy with chewy sultanas making for a delicious sweet treat!
Whip up a batch and have snack time sorted for the week.
Get the kid into the kitchen and have some fun with them.
Please give me a shout if you have questions or make the recipe as I would love to hear your feedback.
Crunchy - yup, chewy - you betcha, best cookie recipe on the block -guaranteed!
Adrianne
RELATED RECIPES: