Beef Bean Pasta Bake, is a cheesy, easy recipe. It also holds a special place in my heart. Growing up, my mum used to make us Beef, Beans and Macaroni. I am not sure if that was the technical name for it, but that is what we called it. So it becomes my Beef Bean Pasta Bake recipe to share with you.
A family favourite with rich tomato passato sauce, Italian herbs, beef, bean, pasta to bake to perfection!

Beef Bean Pasta Bake for the dinner table!
It was a dish, started on the stove top with the pasta boiling away, the beef bubbling in the pan, the house fragrant like an Italian Matriarch was in the kitchen.
It is funny to look back now and realise that my favourite family dish has simple flavours, basic ingredients and an easy cooking method. You would think from all of the time I spent dreaming about it, it was heaven sent!
The tomato pasta sauce is rich, the beef bean pasta bake cheesy and the beef mince family friendly.
Let's you and I take a walk through the recipe together so I can answer your questions.
Do you have to boil pasta before baking?
I always have and have not tried to do this any other way (yet).
You will remember from the Fiesta Tuna Pasta Bake recipe, that we discussed we did have to boil the pasta 1st. That is because the sauce is a thick, creamy, cheesy sauce.
For the tomato passata sauce in this beef bean pasta bake, it is a much more traditional type of pasta sauce with a thinner consistency. I still haven't tried to recreate this as a dish with a new technique because as the saying goes 'if it ain't broke, don't fix it'.
Besides, I wouldn't really be sharing my all time favourite childhood family recipe if I was going to change the way in which I cooked it would I!!!
That being said, I also became really curious throughout this process to the notion of not cooking pasta before oven baking it.
So I referred to a most trusty source and went to google. I then searched for Jamie Oliver Pasta Bake to satisfy my curiosity that one of my favourite celebrity chefs is not using a fancy schmancy technique that I hadn't tried and didn't know about.  PHEW, I thought as I read a recipe for his Cheesy Pasta Bake with tomatoes. I spied the method to boil the pasta before placing the bake in the oven and then I carried on with my life. (If you want to view the recipe I was looking at you can do that here) Cheesy Pasta Bake.  It won't come up if you google what I told you to as in retrospect I realised I typed 'Jamie Olive Pasta Bake instead of 'Jamie Oliver Pasta Bake'  (whoops google, my bad, thanks for helping me still find it).
Can you prepare pasta bake in advance?
Yes, friends, you can!
If there was ever a dish to have up your sleeve for a friend in need, THIS IS IT!! (fist pump – it is a GOOD one!)
It is transportable, reheat-able, freezer friendly, kid friendly and busy family friendly.  (Not to mention comfort food at it's finest!) 
The best thing is you can make the dish, store it in the fridge and at dinner time heat it in the oven and serve it for a family friendly Beef Bean Pasta Bake easy recipe.
Can you freeze pasta bake once cooked?
Absolutely you can!
It is the type of leftovers that will make you the envy of the office!
It is best divide it into portions before freezing so that you can defrost and reheat smaller individual servings on the dish. Say you want to take it to work for lunch.
If you do want to freeze a whole dish of the meal (and I totally get that), then you need to remove from the freezer and let your baking dish adjust to the temperature change before putting it into the oven.
What type of pasta should I use?
In naming this dish, I intentionally chose pasta bake and not macaroni pasta bake so that you knew you could use your preferred type of pasta. Macaroni is my favourite, but penne might be yours and that is a- ok!
I recommend the following types of pasta for this recipe:
Orecchiette
Macaroni
Penne
Rigatoni
I do not recommend these types of pasta be used in this dish:
Cannelloni
Lasangne
Spaghetti
Ravioli
Tagliatte
That is because we want simple and basic textures in the dish and the orecchiette, macarino, penne and rigatoni do that. Whereas the remaining pasta types are best saved for a dish which lets them be the centre of attention.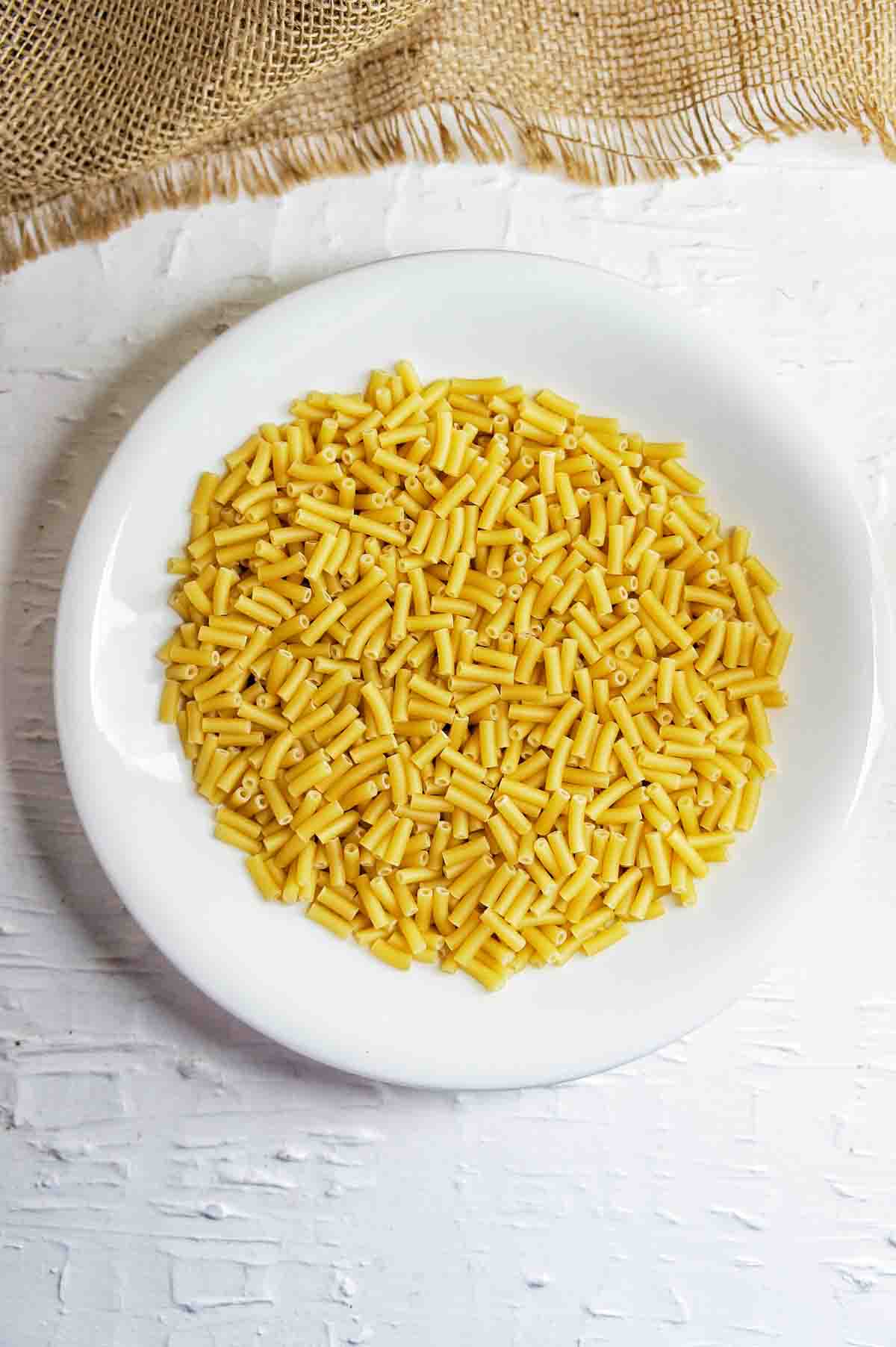 What does the Beef Bean Pasta Bake taste like?
This recipe tastes like a rich tomato, Italian inspired pasta dish! Or in other words, tasty and delicious!
If an Italian woman who learnt to cook from generation to generation were standing in your kitchen she would say 'That's Amoray!'
Pasta Bake Sauce
This is the cheapest, quick tomato pasta sauce I have ever made and it WORKS EVERY SINGLE TIME.
It is easy to prepare, simple in flavour and texture and rich in taste.
It is entirely possible that you will want to use this tomato pasta bake sauce for every other Italian dish you make. DO IT, my friend! (I am not going to hold you back!) 
Tomato passata is a rich uncooked sauce which adds a depth of flavour to our tomato pasta bake sauce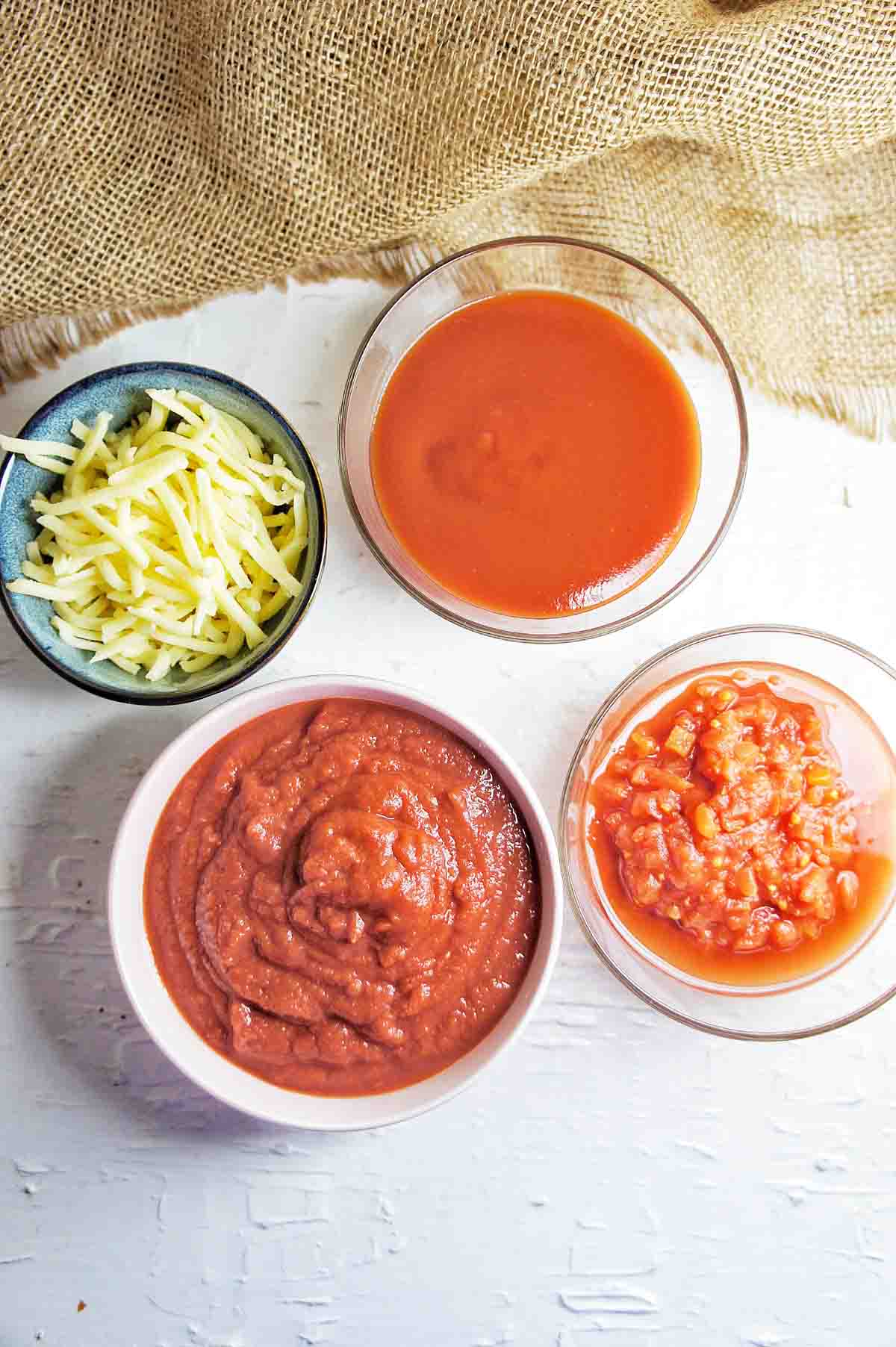 Beef Bean Pasta Bake Tomato Passata sauce thingamajig
There is no doubt many recipes that combine the above ingredients in various forms.
It can be confusing when you are talking to a friend about what turns out to the the exact same (or very similar ingredients) with vastly different names.
Take my Beef Bean Pasta Casserole for example, haha, hope let's not do that AS IT IS THE EXACT SAME THING. You say potato, I say potato, but we can be friends either way 🙂
If anyone tries your dish and asks 'was that your 'Beef Bean Pasta Bake Recipe', nod your head, then when someone else asks was that your 'Ground Beef Pasta Bake' recipe, keep nodding. It's all good. No coffee place ever writes the name 'Adrianne' on my chai lattes I should note, but I still drink them!
Your kids might like the idea of a Cheesy Mince Pasta Bake and you call tell your mum you made Beef, Beans and Macaroni!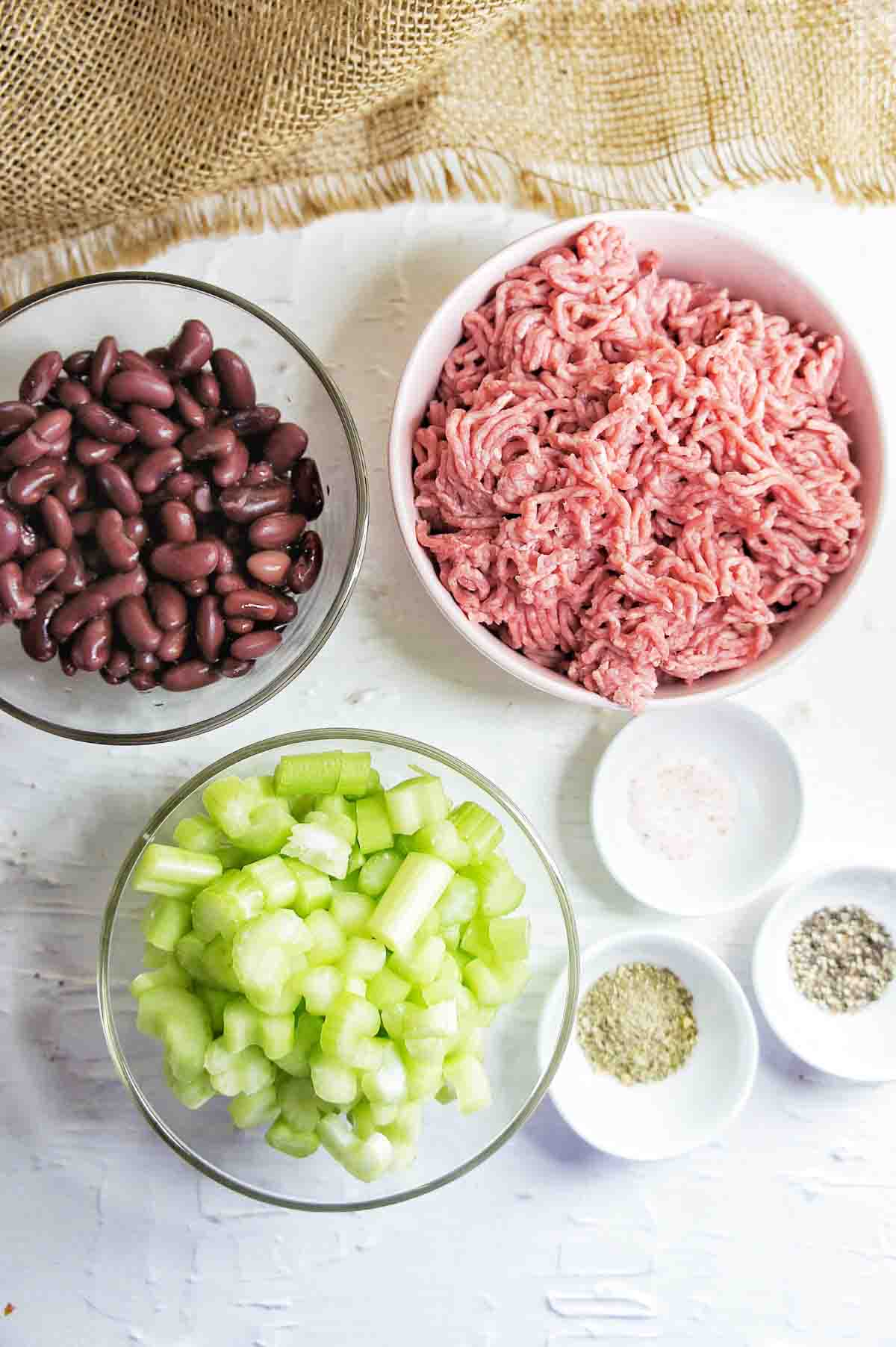 Easy Family Friendly Recipes
This is the perfect week night dinner. You can do the prepare all of the ingredients, do the cooking and have the pasta bake in the oven being kept warm on a low heat
The pasta will take less than 10 minutes to cook. The beef is about the same. Then you need only drain and rinse your red kidney beans, season with Italian herbs and spices, add some sliced celery, top the dish with a little bit of grated cheese and place it in the oven to bake.
 Kids will love this dish also as the flavours, whilst rich are simple and taste like a classic tomato pasta
A couple of other easy pasta recipes that you may want to include in your weekly meal plan are:
Family friendly meals need to be loved by all and EATEN by all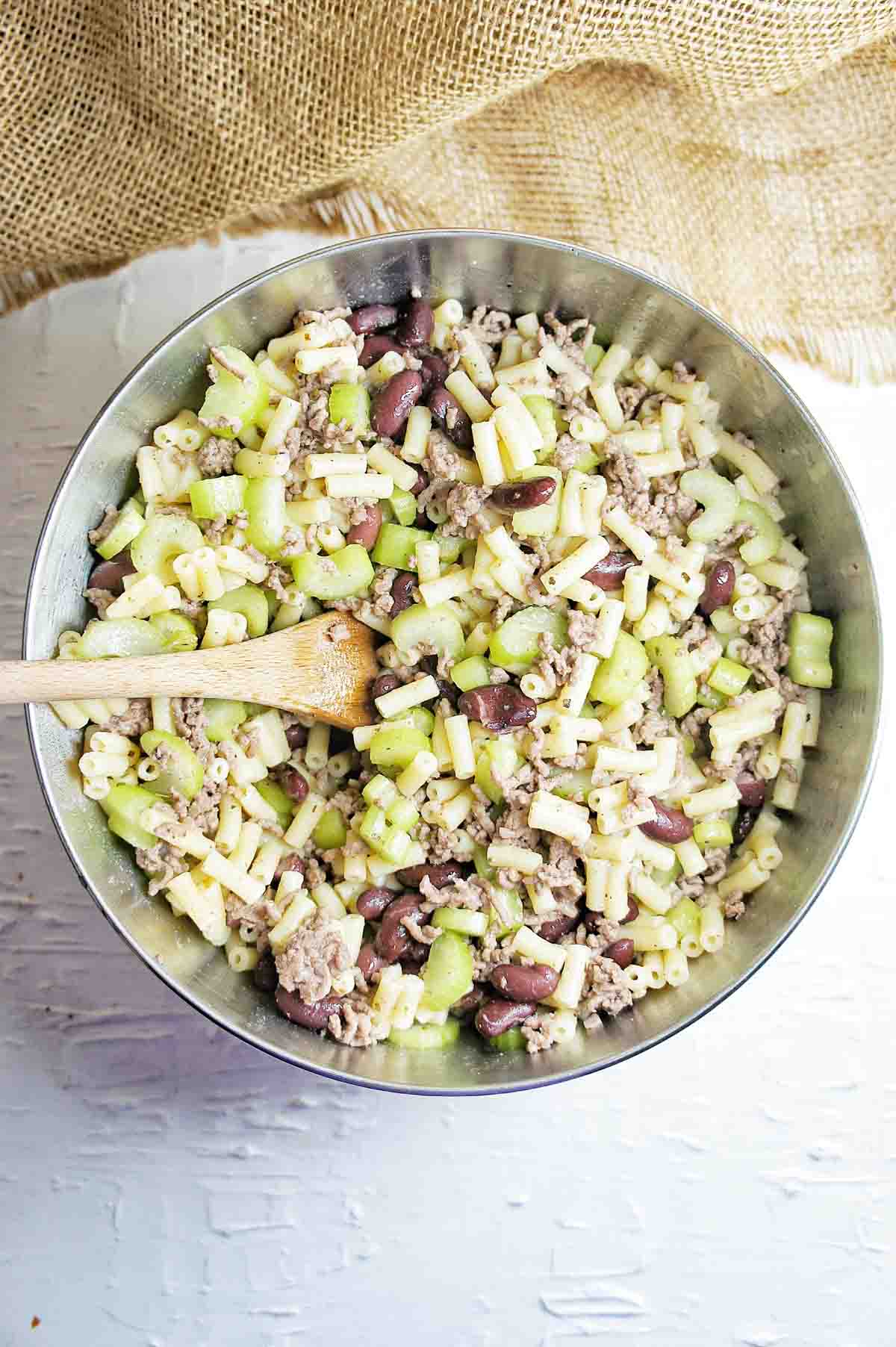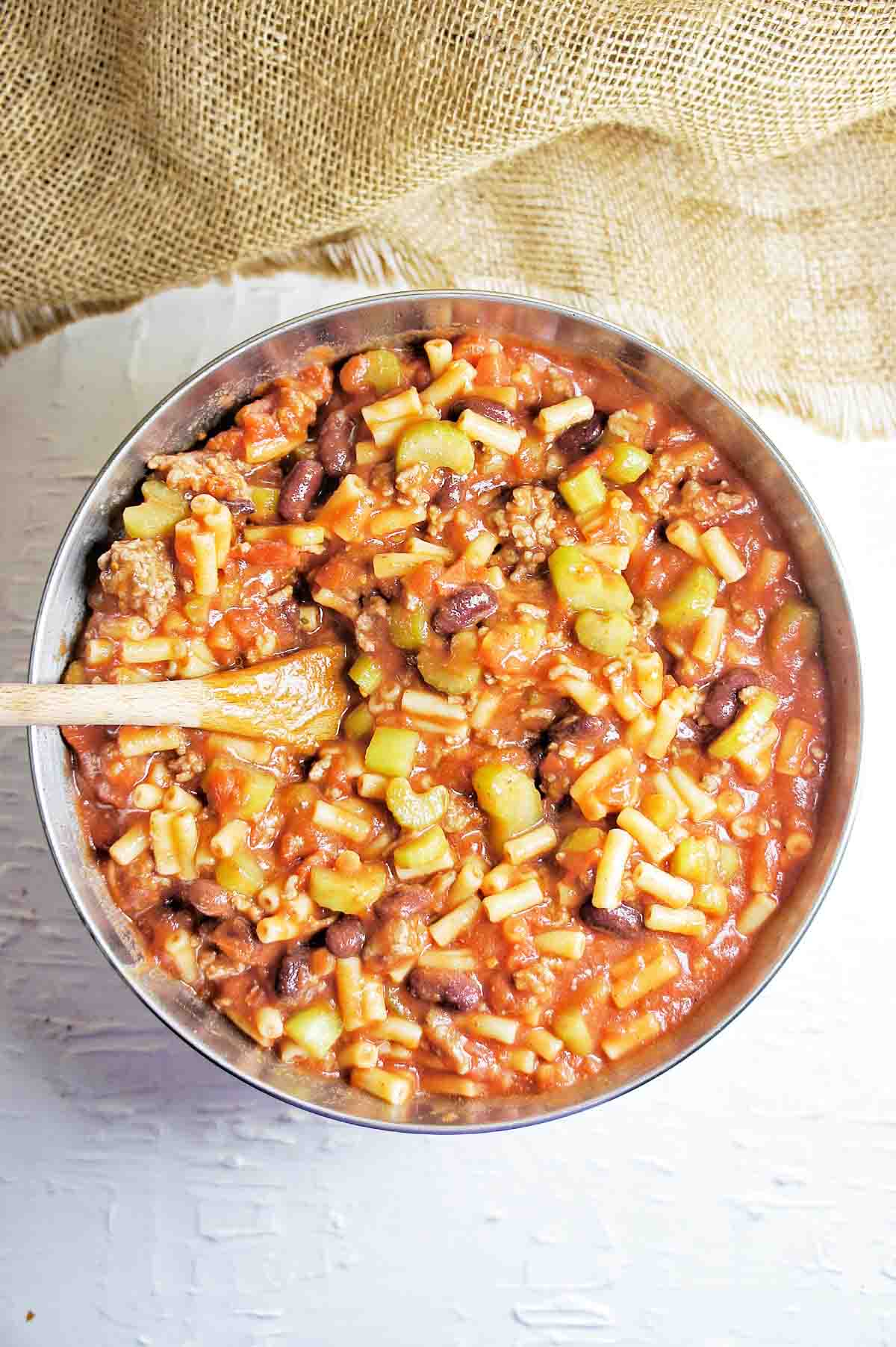 Everyone likes dinner, but everyone LOVES dessert
I understand that sometimes it can be hard to be creative on a week night. Perhaps these recipes will inspire you to give them a whirl on the weekend:
Puff Pastry Tarts are simple, easy and delicious, perfect for a quick after dinner dessert! 
About the recipe:
The

beef bean pasta bake is best fresh from the oven
Cracked pepper is a good way to add seasoning to individual portions
The pasta will cook in less than 10 minutes
The recipe is oven baked to allow the cheese to melt
The tomato passata sauce is easy and cost effective
Your quick questions answered:
The beef bean pasta bake can be frozen for a week night dinner
You can choose the pasta type you prefer for this dish
To reduce the calorie intake per serve, add chopped carrots in place of 1 cup of pasta
This dish has no chilli in it
This is an EASY dish to make
Dinner for a crowd
For our Fiesta Tuna Bake, we talked about serving it with garlic bread. For our Beef Bean Pasta Bake, to be honest. Serve it on its own.
It has:
Beef (Ground mince)
Beans (Red kidney)
Pasta (Macaroni)
Celery
Tomato passata
Crushed tomatoes
Tomato Soup
Italian herbs
Salt
Pepper
Olive oil ( to cook the beef)
I kindof think that is enough in one sitting, do you agree?
I don't ever remember us having it with anything else on the table (other than maybe a drink).  Which makes me wonder why you would need to. Carbs and beef in one dish, I reckon the only other thing that would fit if absolutely essential is some spinach leaves.
Serving suggestion for this dish is a hearty glass of your favourite red wine!
Reduce calorie intake
I have made this dish many a time, so I have some tips if you want to change it up a bit to reduce your calorie intake:
Reduce the amount of pasta
Increase the amount of celery
Add carrots
Reduce the amount of beef
Reduce the amount of cheese
Alternate options
If you like the look of my photos, but beef isn't your thing.  Then these Chicken Recipes might give you inspiration:
Beef Bean Pasta Bake
Beef Bean Pasta Bake. A family favourite with rich tomato passato sauce, Italian herbs, beef, bean, pasta to bake to perfection!


Print
Pin
Rate
Ingredients
Beef Bean Pasta Bake
500

grams

beef mince

(ground beef)

2

cups

uncooked macaroni pasta

400

grams

red kidney beans

(drained and rinsed)

1

tsp

olive oil

1/2

bunch

celery

(leafs and stems trimmed)

1

tsp

salt

1

tsp

pepper

600

grams

tomato passata

400

grams

crushed tomatoes

(plain, no herbs)

400

ml

condensed tomato soup

1

tbsp

Italian herbs

1/2

cup

grated cheese
Instructions
Beef Bean Pasta Bake
Preheat oven to 200°c/400°F,gas 6

Spray a baking dish with cooking oil (Note 3)

Bring a medium saucepan to the boil, add a dash of olive oil, the macaroni (pasta) and cook to packet instructions (usually 8 mins) Then drain and set aside.

At the same time add a splash of olive oil to a frying pan, bring to a medium heat, add the beef mince, season with salt and pepper, Italian herbs and cook until browned, reduce heat

Add the red kidney beans and the celery to the beef mixture, stir all ingredients until well combined.

Slice celery into thin pieces

Pour the tomato passata, condensed tomato soup, crushed tomatoes onto the browned beef.

Sprinkled grated cheese over the dish sparingly and oven bake the pasta dish until the cheese melts (approximately 10-15 mins)

Garnish with parsley (Note 4)
Notes
Note 1: There is room for error in over cooking the pasta. If in doubt, have it be a little under not over. ie Also cooking it to the packet directions will help. It will then cook further in the oven. (Have a few little taste testers of it along the way to get it to your liking). 
Note 2: One thing I have changed slightly in the recipe is that I no longer slab over a great wad of cheese like we did growing up. These days, I lower the amount I use and spread it out more (it's good for the hips) 
Note 3: Don't worry about lining the dish with alfoil or baking paper. They would break apart and you would have mouthfuls of it each spoon you took of the dish. The oil is plenty to stop the sticking (trust me, I hate cleaning at the best of times. Well, to be honest, I hate cleaning always, haha, but TRUE!). 
Note 4: I can never manage to grow parsley for too long before it frazzles, so I use dried herbs which work perfectly well! 
I use mozzarella cheese as it is stringy and melts well. Any regular grated cheese will do fine though as it more cost effective for the family budget. 
This makes a large size meal. I am being conservative in saying 6, it could well feed 8 adults.  I used 2 small baking dishes, you can also use 1 large one. The sizes I use are: Small baker: 28 x 17.5 x 5 cm (shown in the photos) or Large baker: 33 x 22.5 x 5 cm. 
Nutrition
Calories:
578
kcal
|
Carbohydrates:
66
g
|
Protein:
31
g
|
Fat:
22
g
|
Saturated Fat:
9
g
|
Cholesterol:
69
mg
|
Sodium:
876
mg
|
Potassium:
1609
mg
|
Fiber:
10
g
|
Sugar:
15
g
|
Vitamin A:
1040
IU
|
Vitamin C:
26.2
mg
|
Calcium:
172
mg
|
Iron:
7.5
mg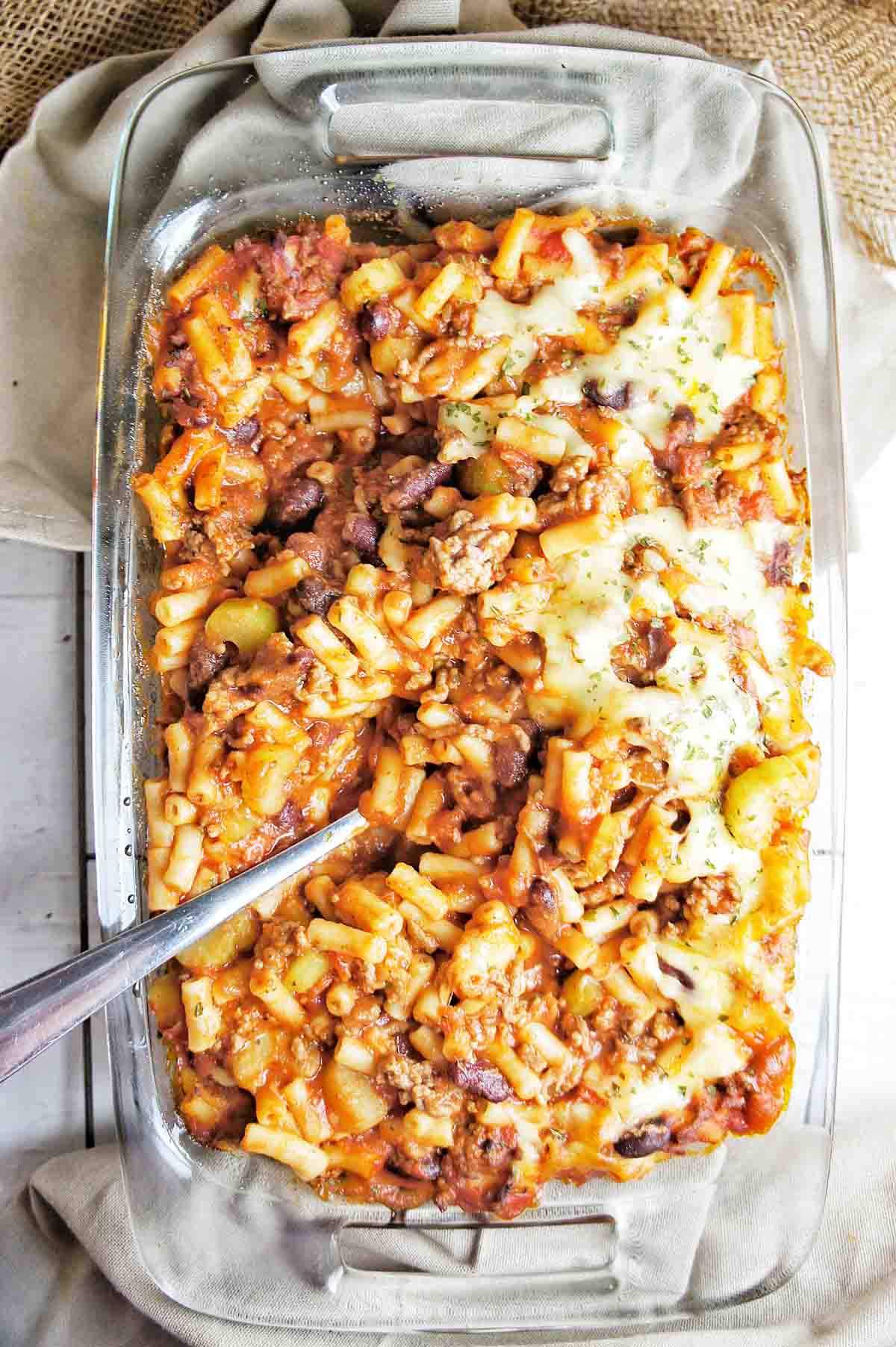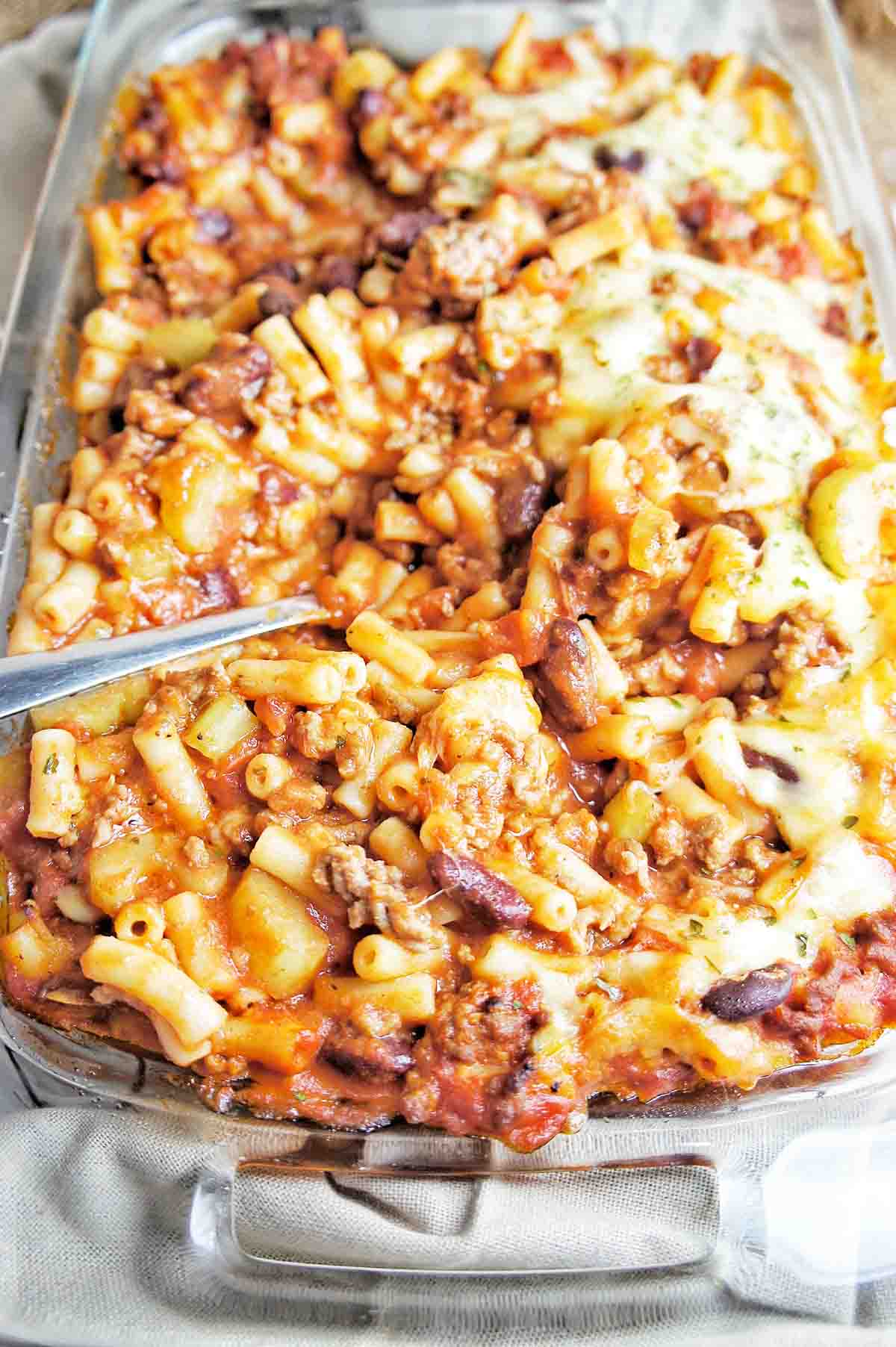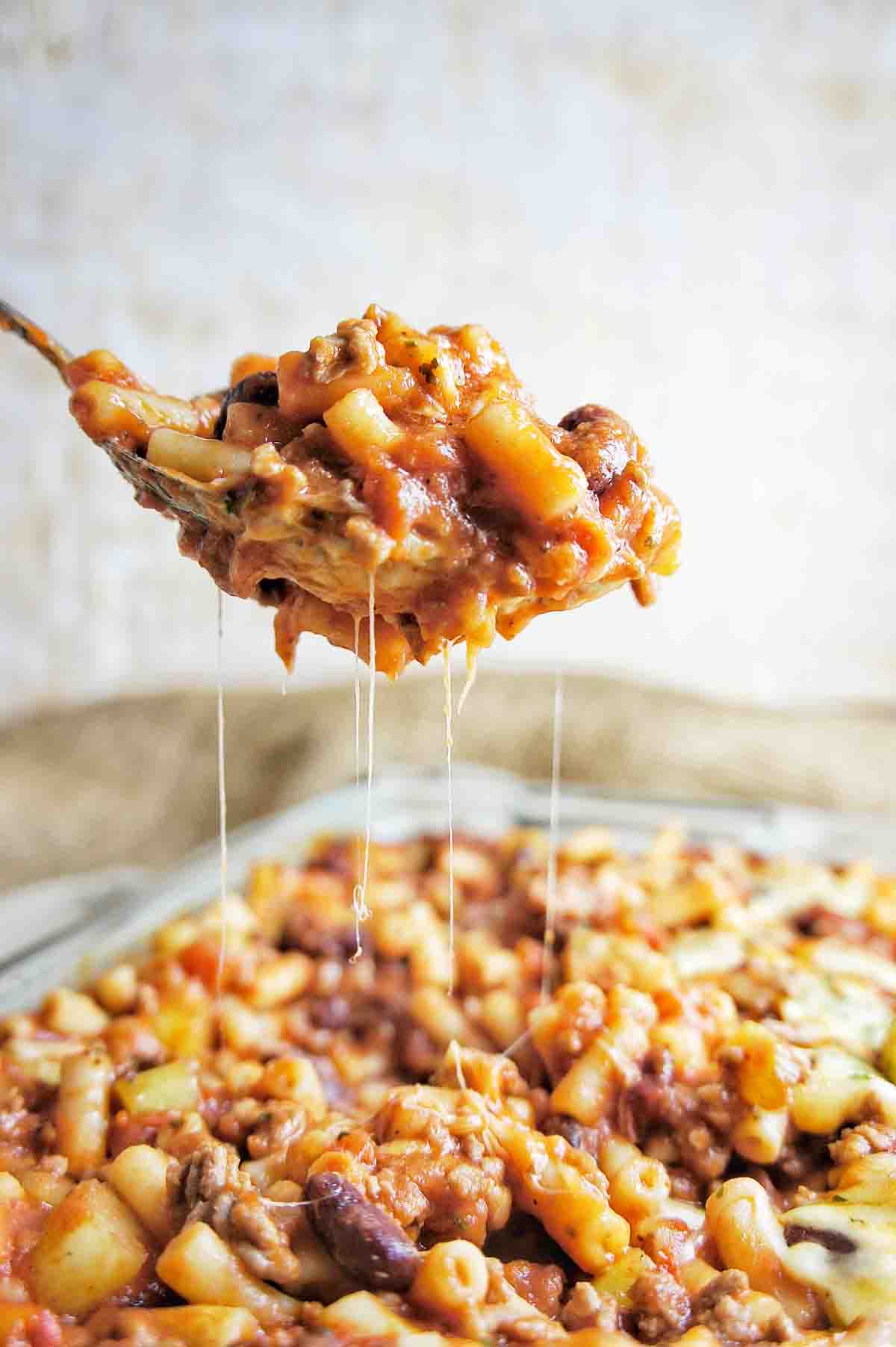 Modern Cookery – Busy Families
If you love the sound of this recipe and you want to make more dishes like this that are easy, quick and delicious. Then have a look at my Fiesta Tuna Pasta Bake, (recipe is here).
Or you could have a look at my Pimped Chicken Drumsticks  which is a good recipe to prepare on a Sunday so the start to your week just involves, reheating and eating!!
I totally understand that time needs to always be of the essence in our lives. 🙂
Show me your dishes!
I get a great thrill from seeing the recipes from the blog being recreated by the readers. I also love hearing from you and sharing my passion for food and cooking.
Thank-you, thank-you, thank-you!
Food Blogging brings me happiness as I get to share my recipes with you (and no longer spam my friends with food pics!!).
If this is your 1st time on Sweet Caramel Sunday, welcome! It is my intention that you love the recipes and drool all over the computer when you are looking at the pics.
Adrianne xx
P.S. Give me a shout of you have any questions!
My top 3 recipes on the blog ranked by readers are:
Crispy Chicken BLT Salad (recipe is here)
Orange Cacao Bliss Balls (recipe is here)
Vegan Brown Rice Noodles (recipe is here)
My personal favourite recipe on the blog is: