Sweet Chilli Chicken Thighs are succulent, juicy and tender. This one pan recipe is perfect any night of the week and gets sweet and sticky Winner Winner Chicken Dinner on the table in 20 mins!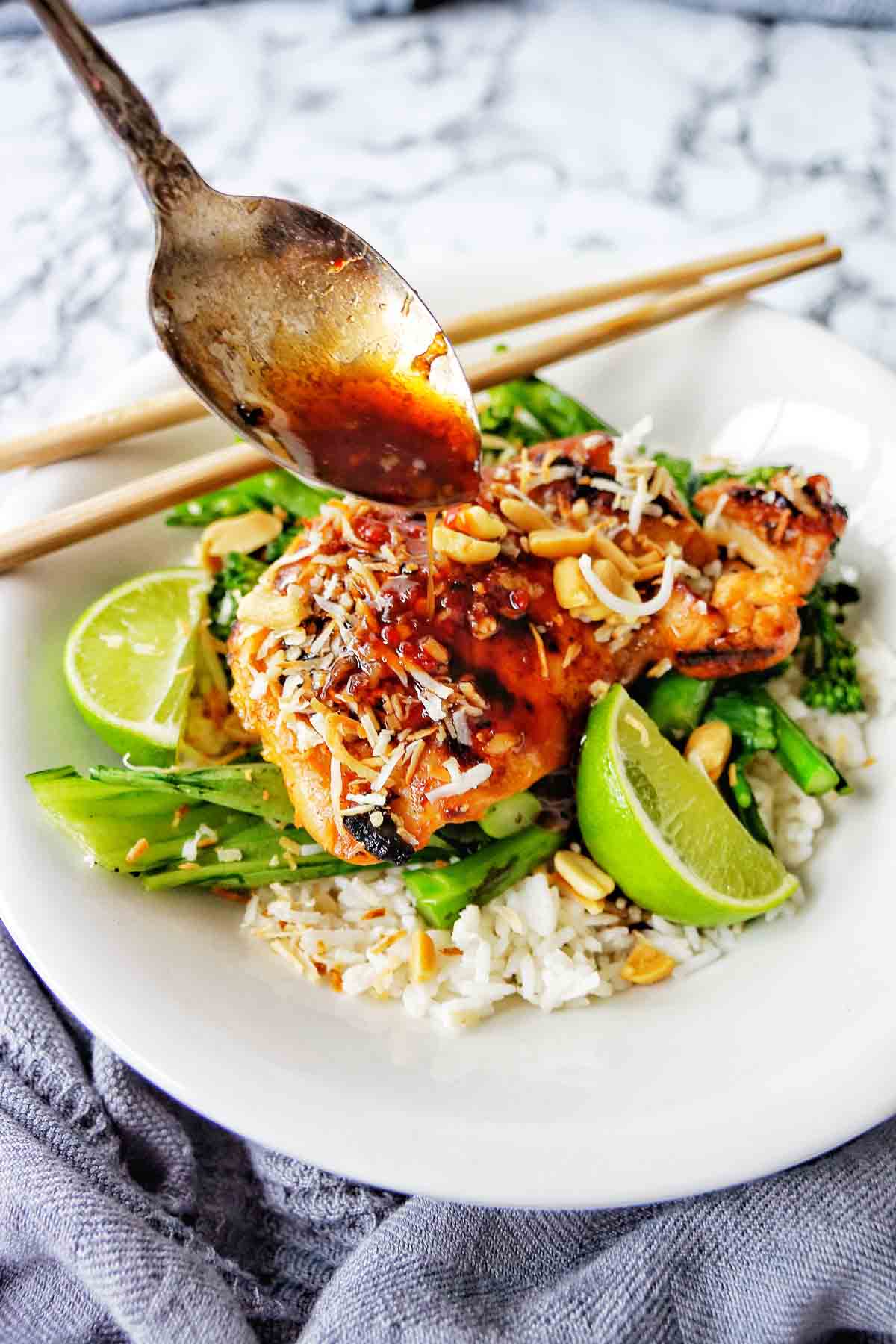 Recipes like our Creamy Garlic Chicken Thighs and Italian Herb Chicken Thighs show us that chicken thighs are an easy dinner option!
This recipe uses a simple combination of ingredients to make a sweet and sticky coating for the chicken. You can also drizzle some over the cooked chicken!
BROWSE BY:
Chicken recipes Popular recipes Pasta recipes
For a zesty fresh dinner try the Mexican Lime Chicken thighs recipe!
What eat Sweet Chilli Sauce with?
Sweet Chilli Sauce is a versatile ingredients with a number of serving options!
You can use it as a dipping sauce like with our Coconut Prawns.
Use in a noodle salad for dressing or in a sweet and sticky marinade like this recipe.
Sticky Sweet Chilli Chicken Thighs ingredients
The ingredients for this recipe are simple and easy to find at the local shops. They are set out in the photo below so you can see exactly what you need: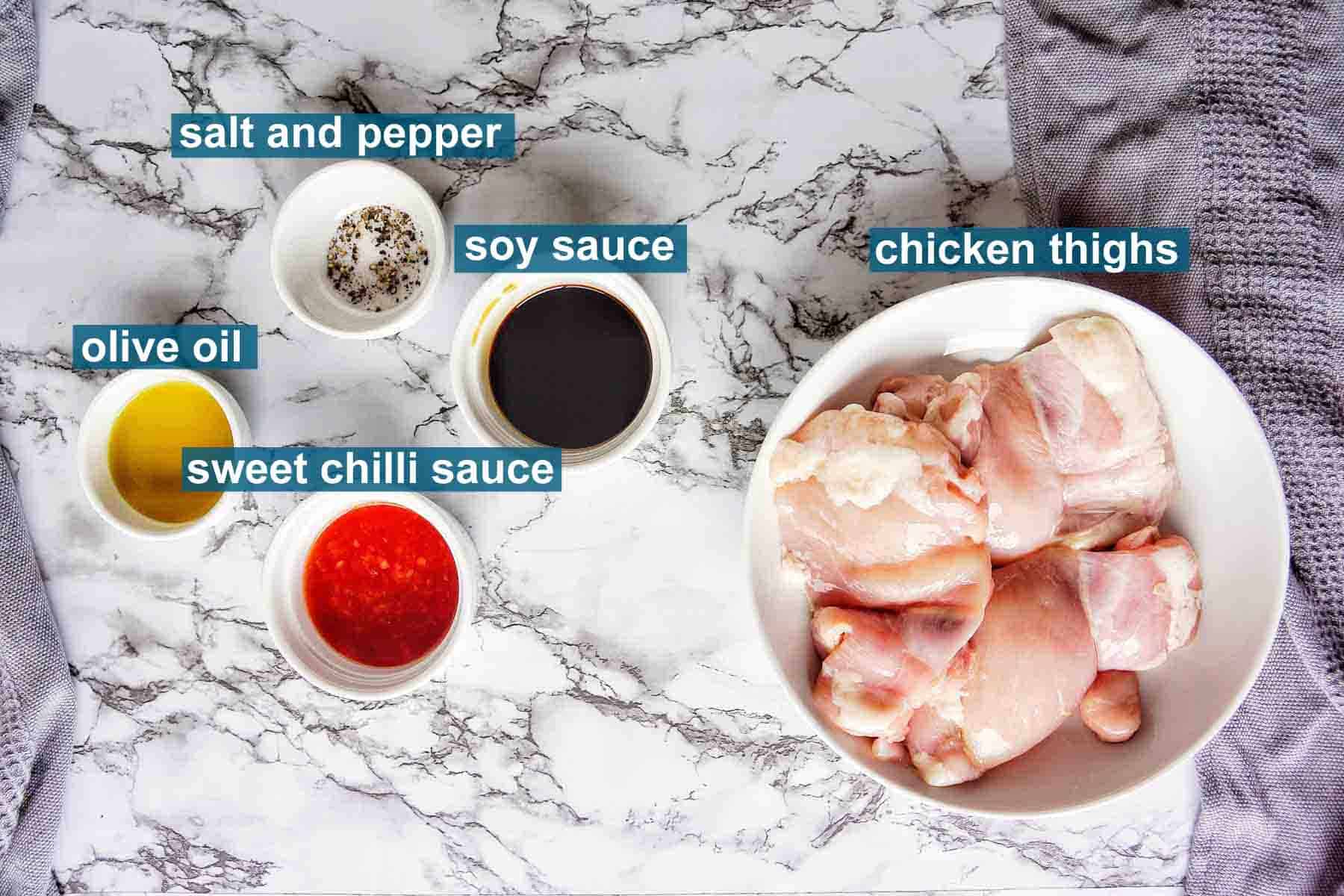 As you can see, we have:
chicken thighs
sweet chilli sauce
soy sauce
olive oil
salt
pepper
I use skinless, boneless chicken thighs for this recipe and the marinade will cover up to 4 chicken thighs!
How to make Sweet Chilli Chicken Thighs
The photos below are the easy step by step instructions you need to bring this dish together: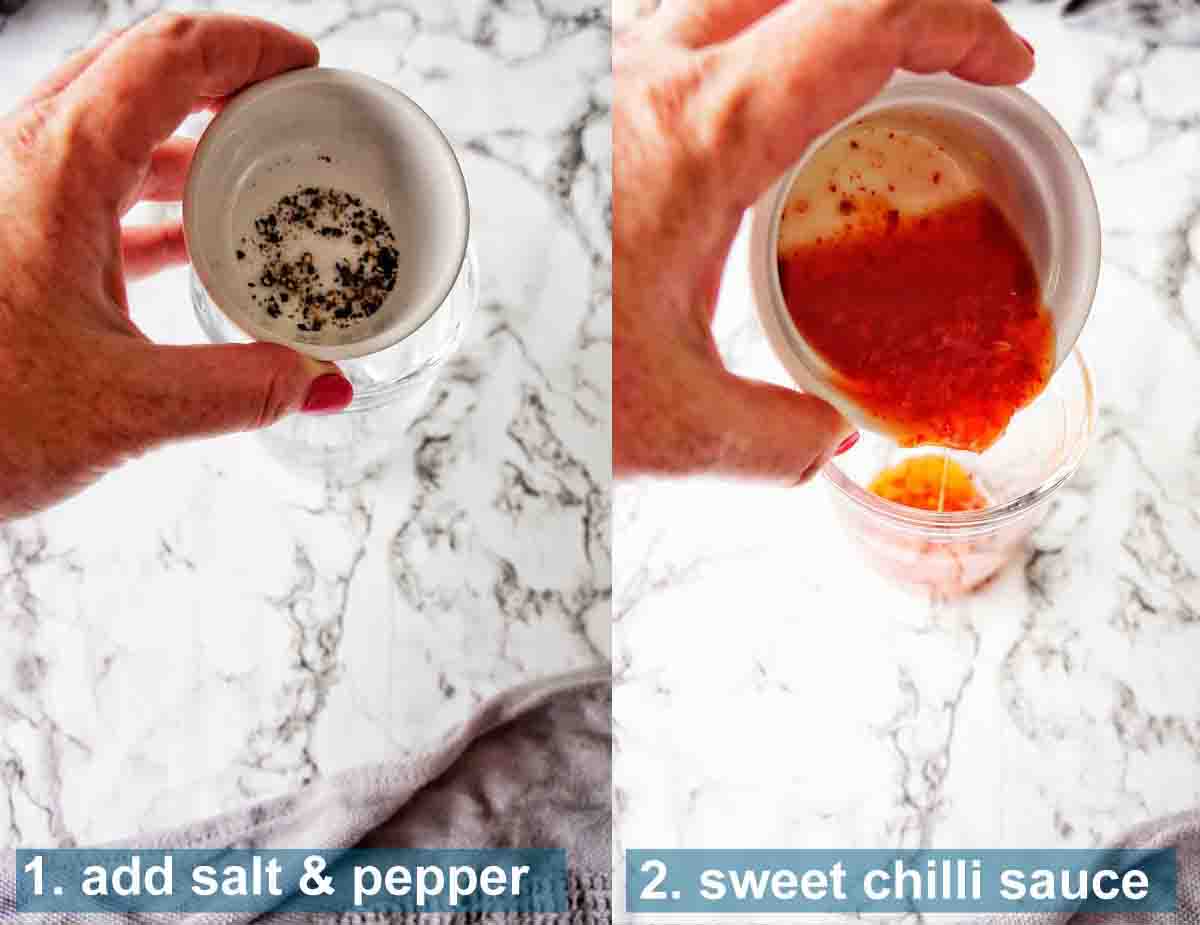 Sweet Chilli Chicken Marinade
We start by making the marinade for the chicken.
Add salt and pepper to a small glass or jug(Photo 1)
Pour in sweet chilli sauce (Photo 2)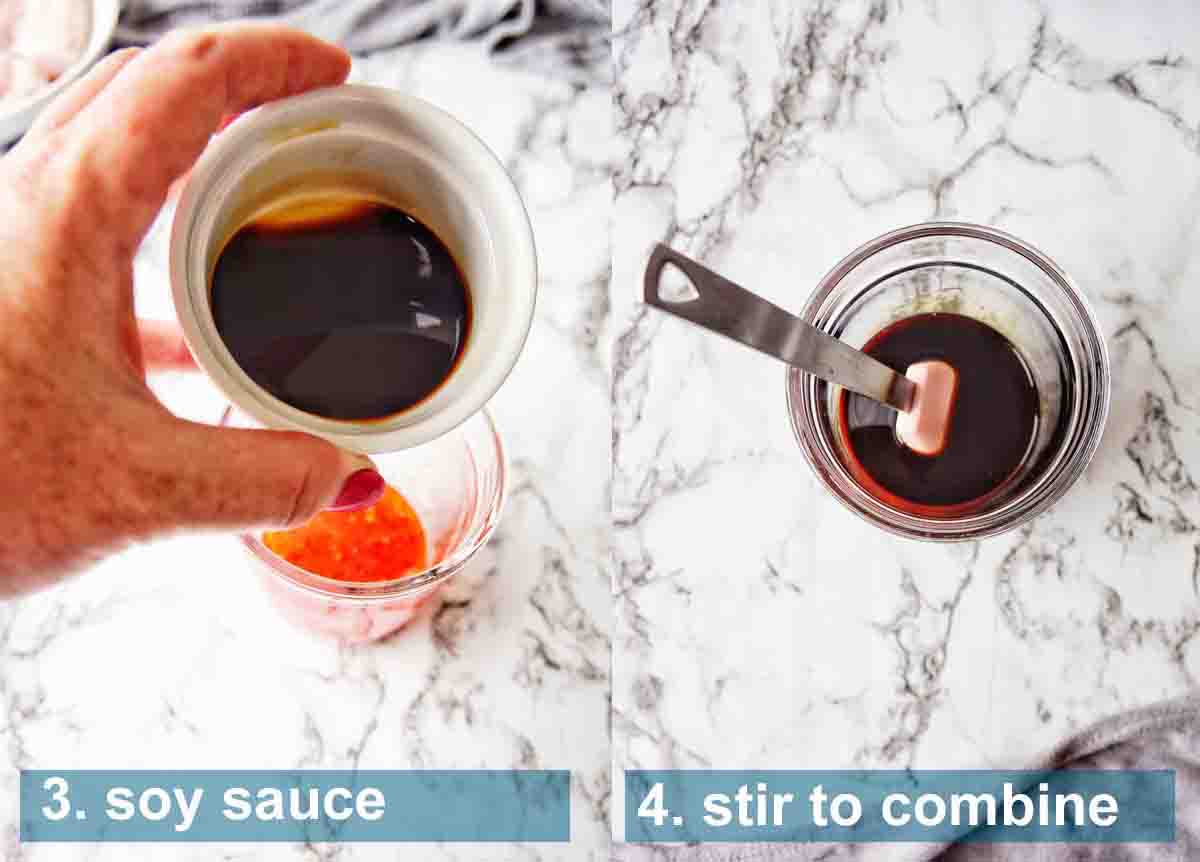 Add soy sauce (Photo 3)
Stir to combine (Photo 4)
If you want to use some of the marinade for sauce to drizzle over the chicken, simply reserve a couple of spoonfuls and set aside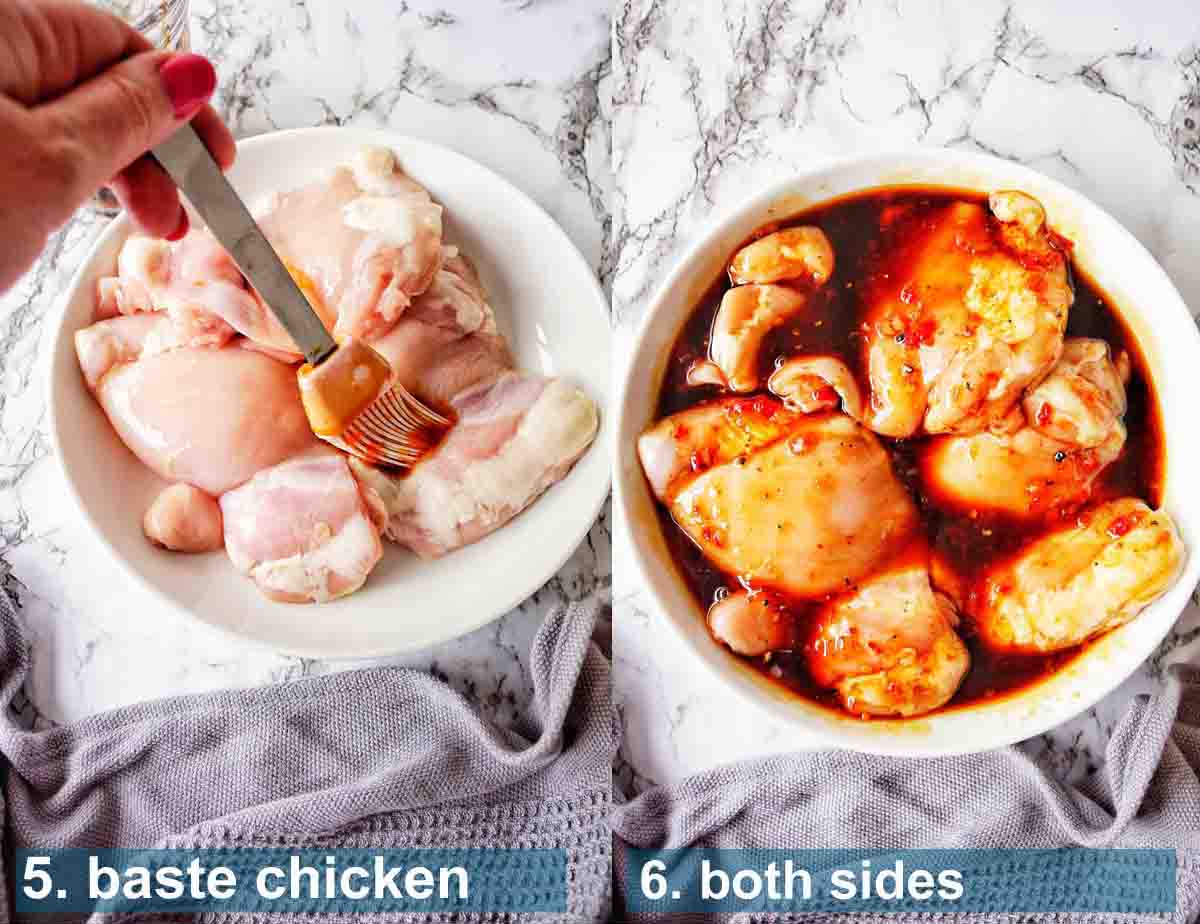 Baste the chicken with the marinade (Photo 5)
Do one side to begin, then flip to the other side (Photo 6)
I find it easy to use a pastry brush to coat the chicken as it does a great job of getting a thick even coverage.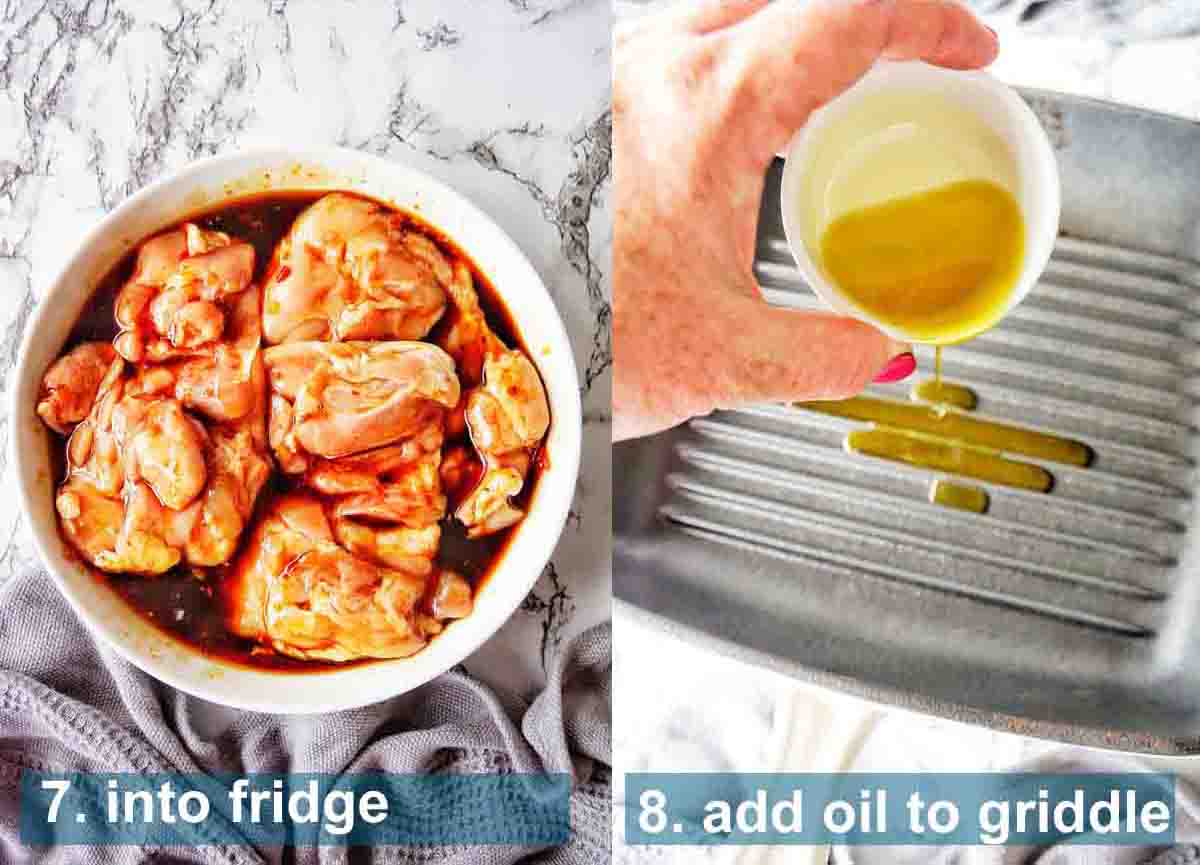 The chicken can be marinated anywhere from 5 mins to overnight. If you are in a hurry, it is fine to coat the chicken, then cook straight away.
Place the marinated chicken into the fridge (Photo 7)
Season griddle, skillet or fry pan with oil (Photo 8)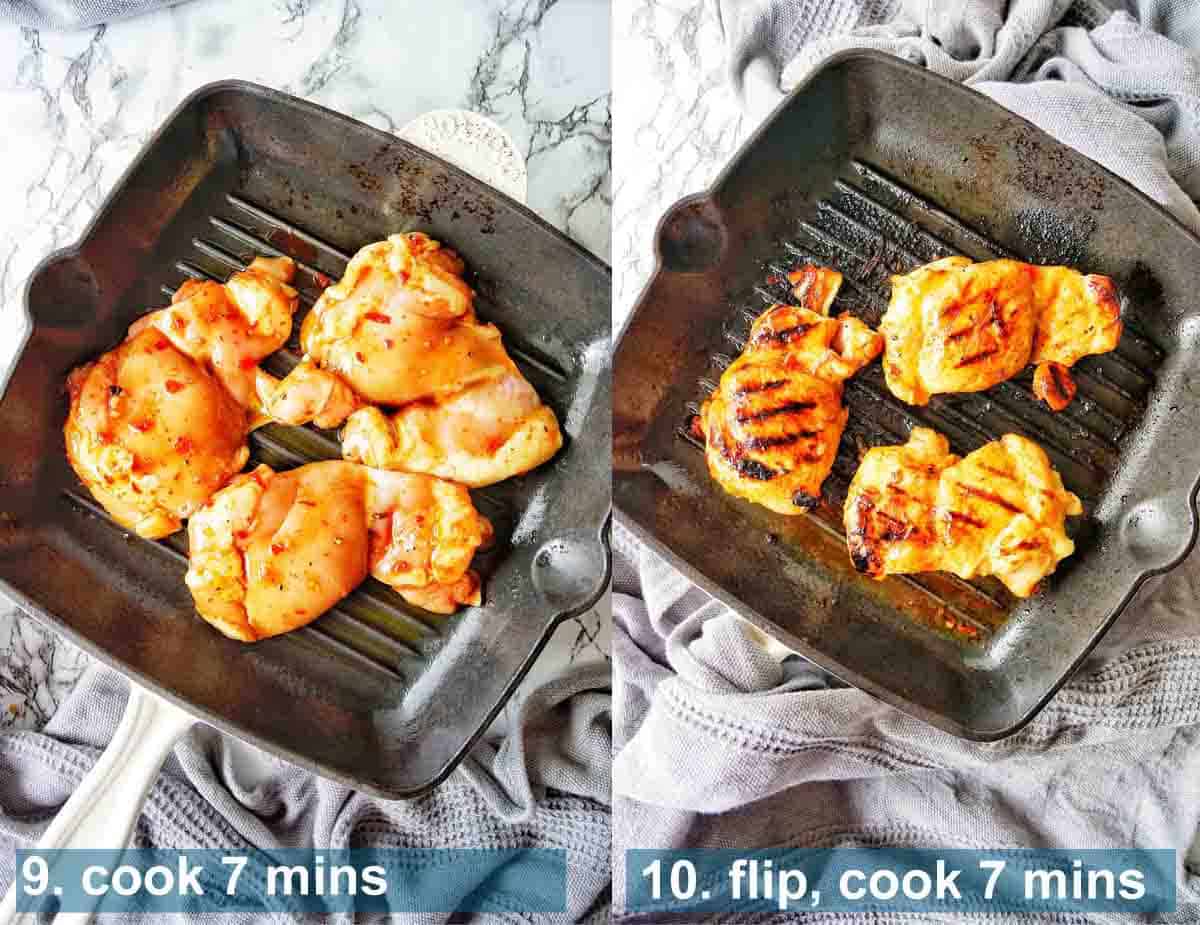 Cook the chicken thighs for 7 mins (Photo 9)
Flip and do the other side for the same (Photo 10)
You can use your tongs and flip the chicken as it is cooking more often (hear the sizzle!), this will also help it not to stick.
The chicken will be cooked when the juices run clear, so test it to ensure it is cooked (around the 14 minute mark). There should be no pink flesh and no pink juice.
The chicken will also need to rest for a couple of minutes after it is cook, so turn the heat off and let it sit for a couple of minutes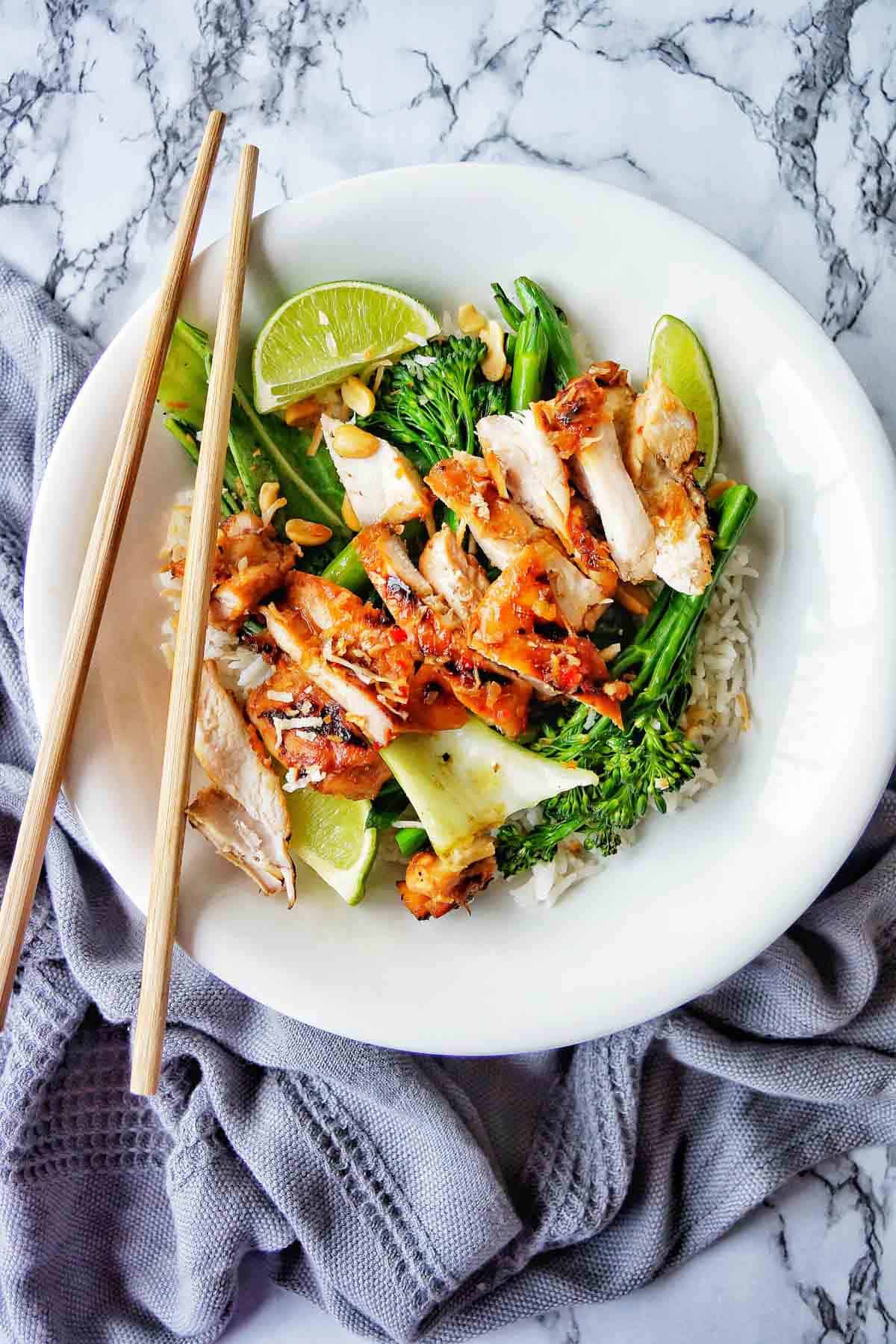 Sweet Sticky Chicken Thighs recipe quick info:
About the recipe:
there is 5 total ingredients for this recipe!
the oil is used on the pan, not in the marinade
portion size is 1 chicken thigh per person
we use skinless boneless chicken thighs
FAQs about Chicken with Sweet Chilli Sauce
this is a simple recipe that comes together easily
the marinade uses only 4 ingredients
marinade time can be short or long
use a griddle to get the grill marks on the chicken
Your quick questions answered:
the olive oil seasons and helps the chicken not stick to the pan
I serve this with coconut rice made in the microwave
the recipe takes approx 20-25 mins
This is an EASY recipe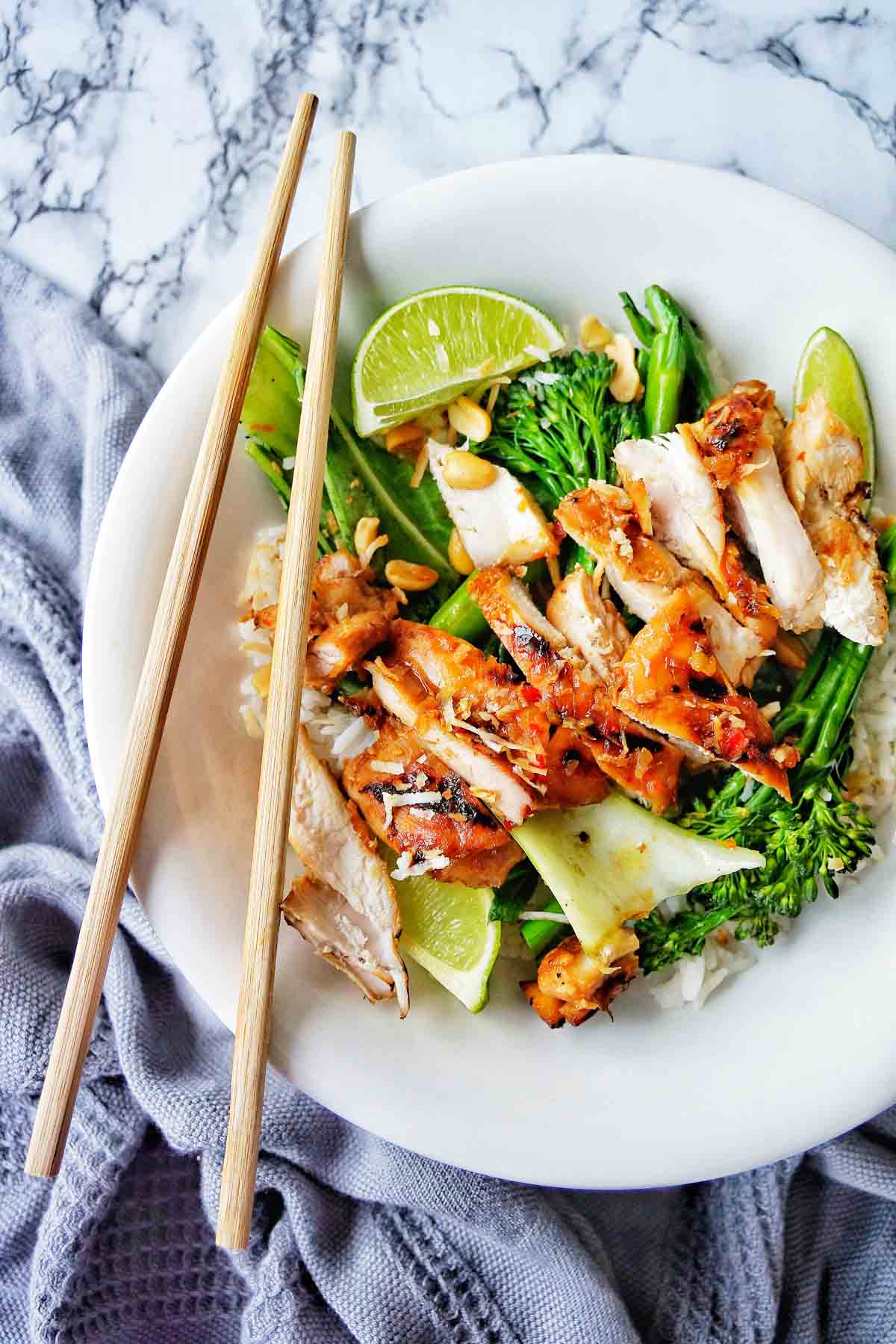 What to serve with Sweet Chilli Chicken Thighs?
There is an unlimited amount of serving ideas that you can do with this recipe.
Try:
adding the chicken to a pizza
chicken salad
chicken sandwich
grilled chicken toastie
If you want a meal out of it, I often serve with coconut rice, steamed greens, toasted coconut and roasted nuts. Oh and a couple of lime wedges for fresh zingy-ness!
Expert tips:
These tips are to help you master this recipe from the 1st time you make it:
make the marinade as the 1st step
you can cook the chicken straight away without refrigerating once marinated, however, ensure it is brushed over the chicken (so it sticks) and not poured straight into the pan (it will be burn quickly and be very hard to clean the pan!)
ensure pan is well seasoned with oil so chicken won't stick to it (Important!!)
serve with rice and greens
freeze this recipe for easy meals on week nights
If you love succulent juicy chicken thighs, try the Honey Mustard Chicken Thighs, Mexican Lime Chicken Thighs or make take out at home with the Chicken Noodle Stir Fry!
Find us on Facebook right here!
Chicken recipes
Chicken is easy to cook, works well with other flavours and economical to purchase!
Here are some further recipes to try: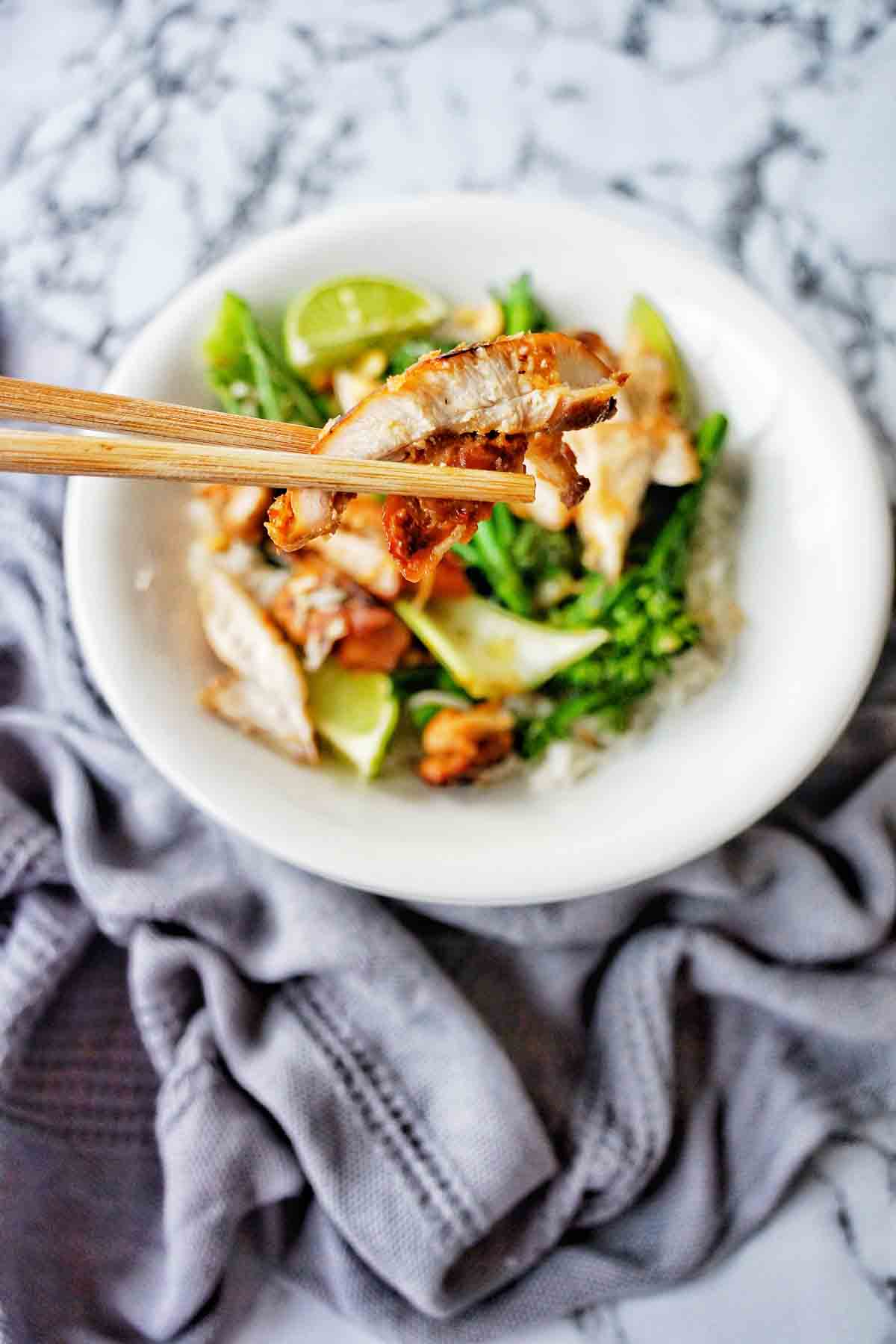 Toast some coconut but 2-3 mins and sprinkle over the top with some roasted nuts and fresh lime juice!
PIN and save this recipe for later!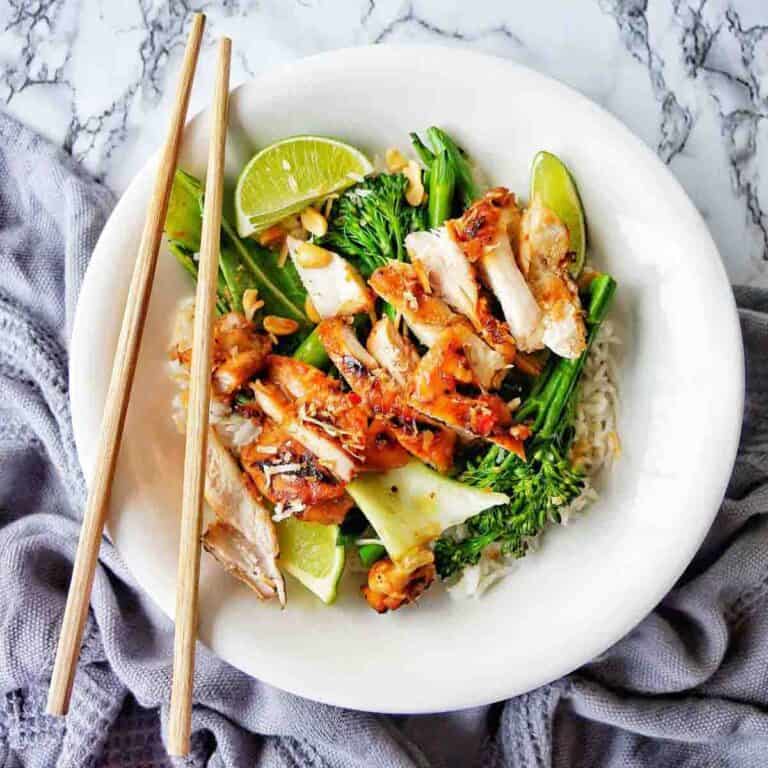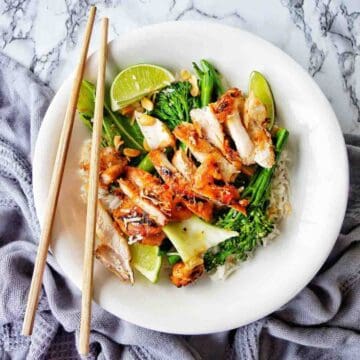 Sweet Chilli Lime Chicken Thighs
Sweet Chilli Chicken thighs are succulent, juicy and tender! This recipe uses a very basic marinade to get Winner Winner Chicken Dinner on the table in 20 mins!
Print
Rate
Ingredients
Sweet Chilli Chicken Thighs
3-4

skinless boneless chicken thighs

⅓

cup

sweet chilli sauce

¼

cup

soy sauce

½

tsp

salt

1

tbsp

olive oil
Instructions
Sweet Chilli Lime Chicken Thighs
Make the marinade by combining sweet chilli sauce, soy sauce, salt and pepper in a small jug

Add chicken thighs to a bowl and use a pastry brush to coat both sides with the chicken marinade, place on fridge for 10 or more minutes

Season griddle with olive oil, use tongs to place into pan and grill at a medium heat for 7 mins each side. Note *

Turn heat off, rest for 1-2 mins then serve with rice and greens
Notes
Note * You can use your tongs and flip the thighs before the 7 minutes (helps them not stick to the pan), but you will still need to cook them for 7 minues or 14 minutes in total. I like to rotate them a few times during that period, hear the sizzle and see the griddle marks form! 
Nutrition
Calories:
184
kcal
|
Carbohydrates:
11
g
|
Protein:
18
g
|
Fat:
7
g
|
Saturated Fat:
1
g
|
Cholesterol:
81
mg
|
Sodium:
1389
mg
|
Potassium:
238
mg
|
Fiber:
1
g
|
Sugar:
10
g
|
Vitamin A:
20
IU
|
Calcium:
11
mg
|
Iron:
1
mg
Did you make this recipe? Share on Instagram!
It makes my day when you make my recipes! Tag @sweetcaramelsunday
Winner Winner Chicken Dinner
When time is of the essence and you want a quick, simple recipe, let this one be at the forefront of your mind!
The succulent juicy chicken is soft, tender and delicious.
Please give me a shout if you have questions or make the recipe as I would love to hear your feedback.
Sweet, sticky, finger licking chicken that is simple and easy to prepare, I've got you covered my friends.
This recipe is makes dinner a breeze, you are going to love it!
Adrianne x
RELATED RECIPES: