Slow Cooker Pumpkin Soup is THE BEST ever easy pumpkin soup recipe you can make!! Prep your veggies, throw everything in the Slow Cooker and get your soup spoon ready!

Winter foods like our Spinach and Ricotta Lasagne and Slow Cooker Spaghetti Bolognese make cooking dinner at home SO EASY!!
If vegetarian soups are your thing, you may like to also try the Slow Cooker Mushroom Soup.
Learn how to make Pumpkin soup full of flavour from scratch in your Slow Cooker!
This soup recipe is healthy, packed with vegetables and perfect for dunking crispy toasted bread into.
Home cooking doesn't get any easier than whipping up a delicious soup like our Meatball Tomato Soup, Taco Soup with Black Beans or Potato and Leek Soup. For something heartier, try the Easy Chunky Beef Stew.
What's for dinner? These recipes are!
How do you make Pumpkin Soup in your Slow Cooker from scratch?
To make pumpkin soup in your Slow Cooker we need to start by prepping our vegetables.
Slow Cooking soup gives you your time back, set and forget whilst your dinner cooks itself.
Then we add our prepped veggies and our remaining ingredients including stock to our Crock pot Bowl. We save the cream till the soup is cooked and stir that in after we have blended our roasted veggies.
Slow Cooker Pumpkin Soup ingredients
Everything you need to make this pumpkin soup is shown in the photo below. You can use this as your shopping list at the store!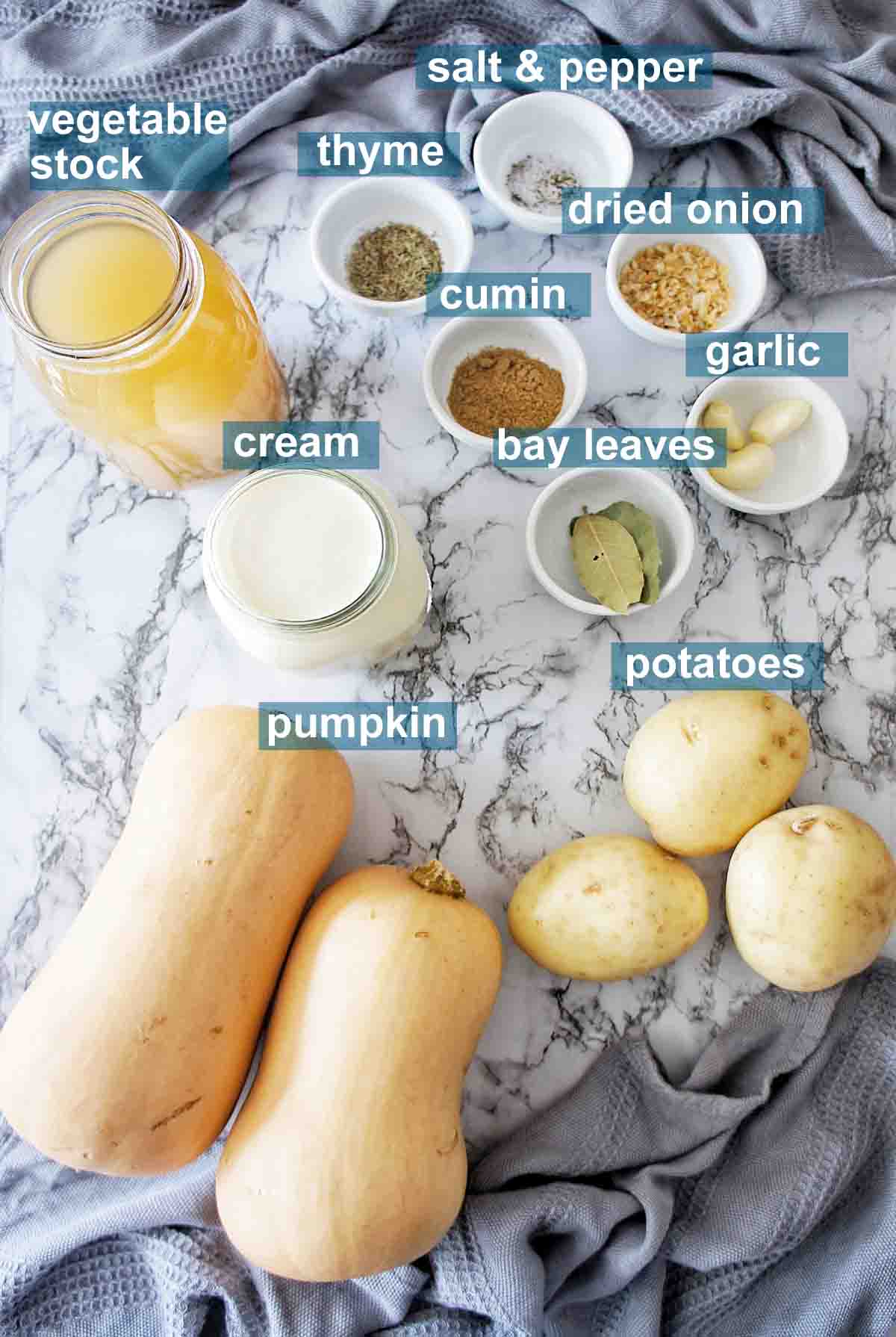 As you can see we need:
pumpkin (butternut squash)
potatoes
vegetable stock
cream
thyme
cumin
bay leaves
dried onion (saves time peeling one!)
garlic
salt and pepper
This easy pumpkin soup recipe is vegetarian, healthy and tastes just as good as your Grandma's!
Healthy Pumpkin Soup recipe
This soup is LOADED with pumpkin and it has some yummy potatoes in it too!
We add a little cream at the end to make it a creamy dreamy pumpkin soup, but if you want an even healthier option, than you can omit the cream or substitue coconut cream for a thai style twist on a traditional favourite!
Our Slow Cooker let's us do 'hands free' cooking and we grab our stick blender to blitz it all up at the end.
BROWSE BY:
Comfort Food Family Favourites Soup recipes
Step by Step Slow Cooker Pumpkin Soup
The steps we need to take are shown in the photos below. They are all super easy!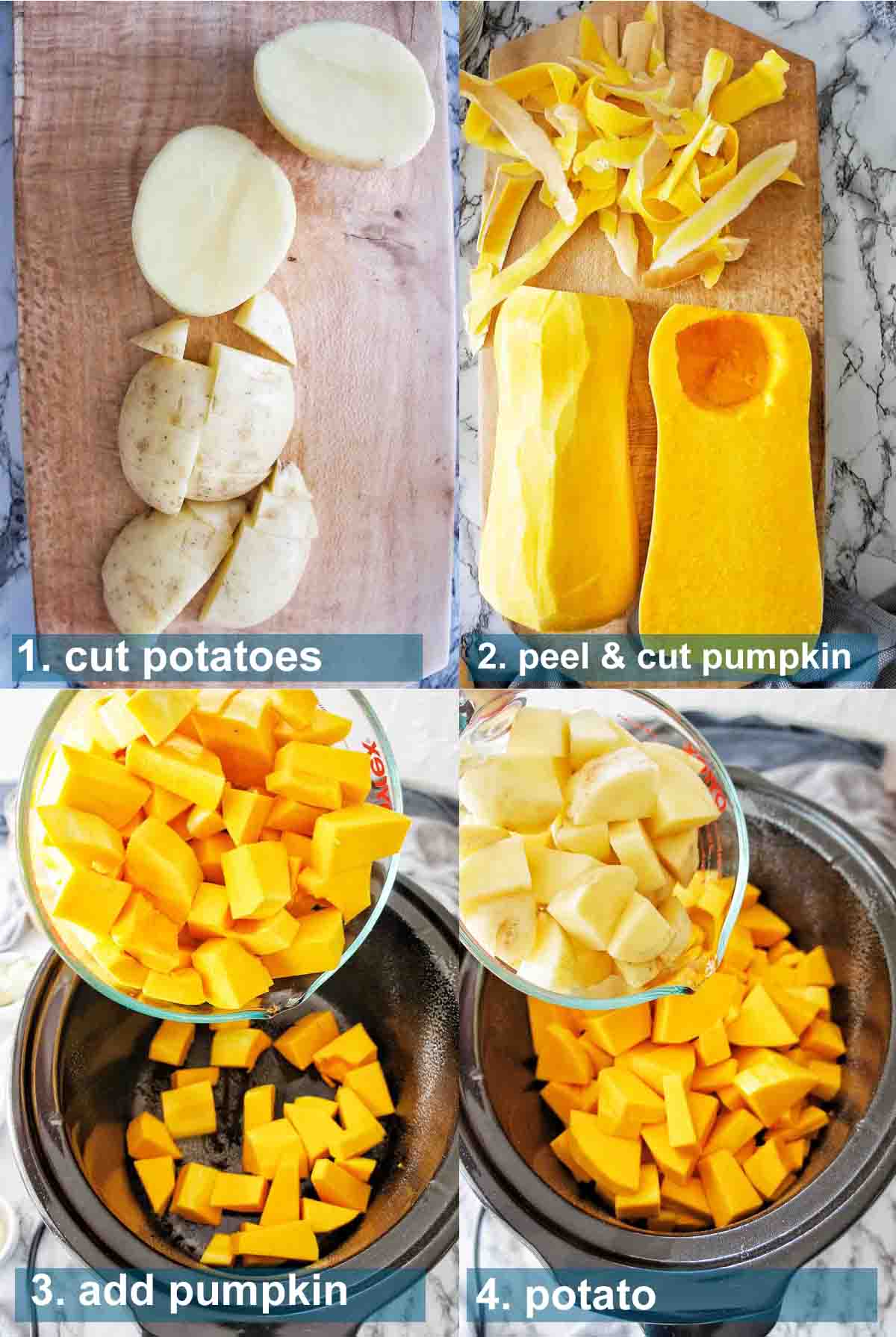 cut your potatoes (keep the skin on) (photo 1)
peel your pumpkin and cut into chunky pieces (photo 2)
add pumpkin pieces to slow cooker (photo 3)
add potato cubes to slow cooker (photo 4)
Looking for the latest recipes on the blog? Click here!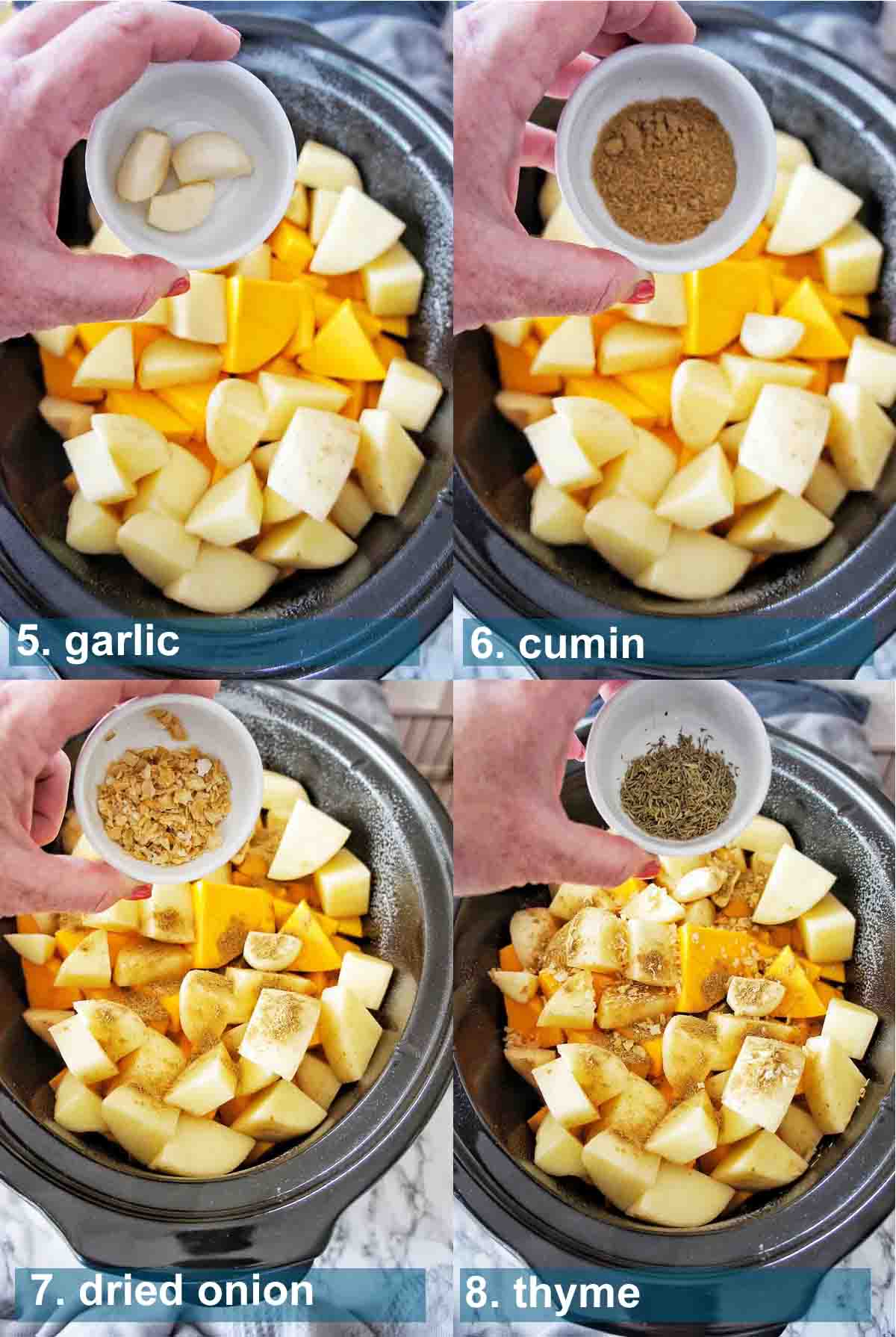 Next we need to:
add cumin (shown in photo 5)
garlic bulbs with end cut off (shown in photo 6)
dried onion (shown in photo 7)
add thyme (shown in photo 8)
The high volume of pumpkin and potato is to give us a healthy, thick soup texture!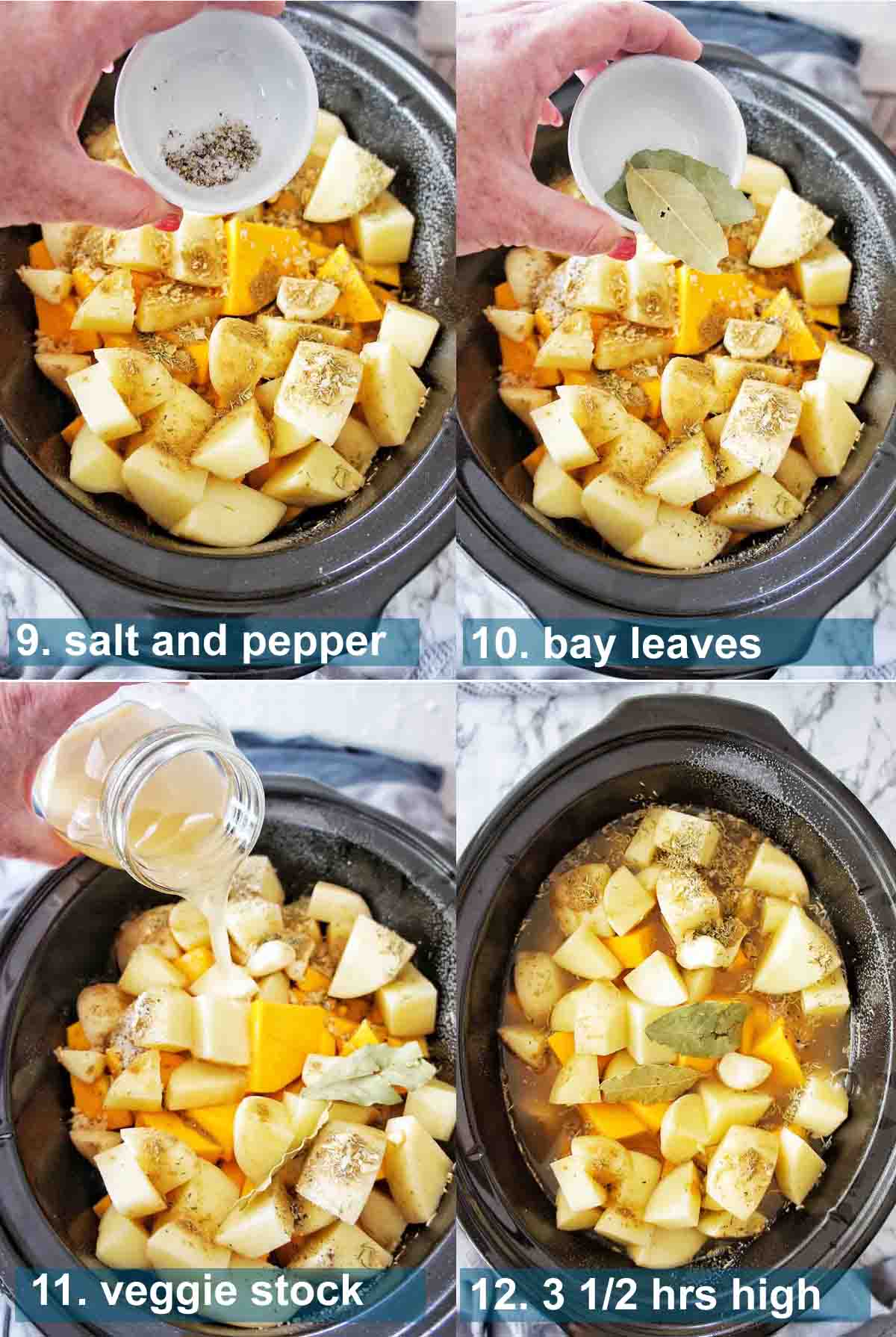 add salt and pepper (shown in photo 9)
bay leaves (shown in photo 10)
vegetable stock (shown in photo 11)
put the lid on and cook for 3 - 4hrs high or 6 - 8 hrs on low (shown in photo 12)
You can check out the most popular recipes on the blog, right here!
Once our veggies are cooked (3 hrs) you can turn the slow cooker off, keep the lid on an allow the soup to cool down.
This is because the next step we need to do is blitz our soup and that is often easier if it is less hot in case there is splash from the bowl. The additional time with the lid on will continue to cook and soften the veggies.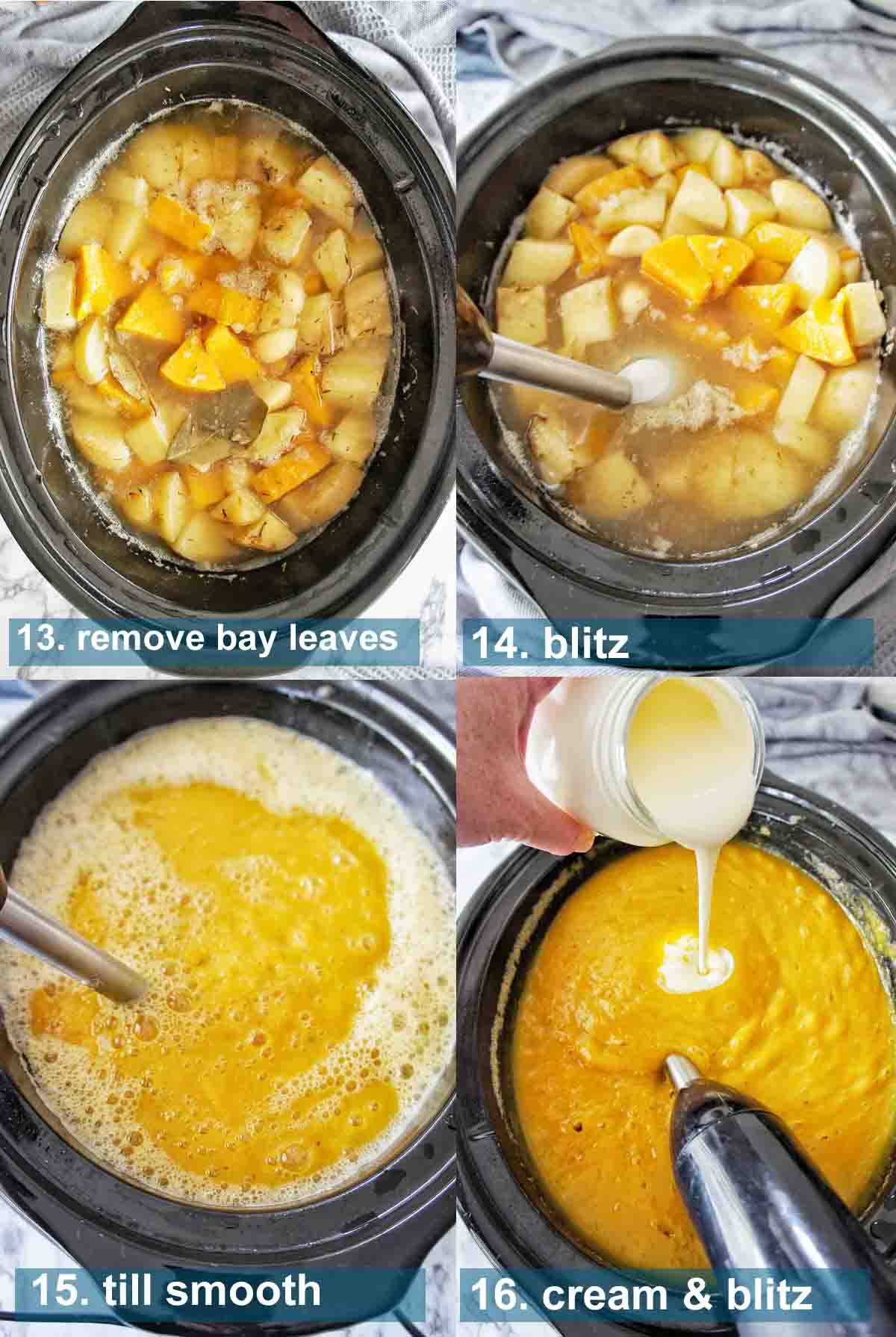 remove the bay leaves and discard (photo 13)
use stick blender to blitz till smooth (photo 14)
keep the blender vertical and use a figure 8 to get to all the veggies (photo 15)
add your cream and blitz to combine (photo 16)
BEST EVER Pumpkin Soup
These photos are to give you an idea about what your soup will look like before you cook it and after it is cooked!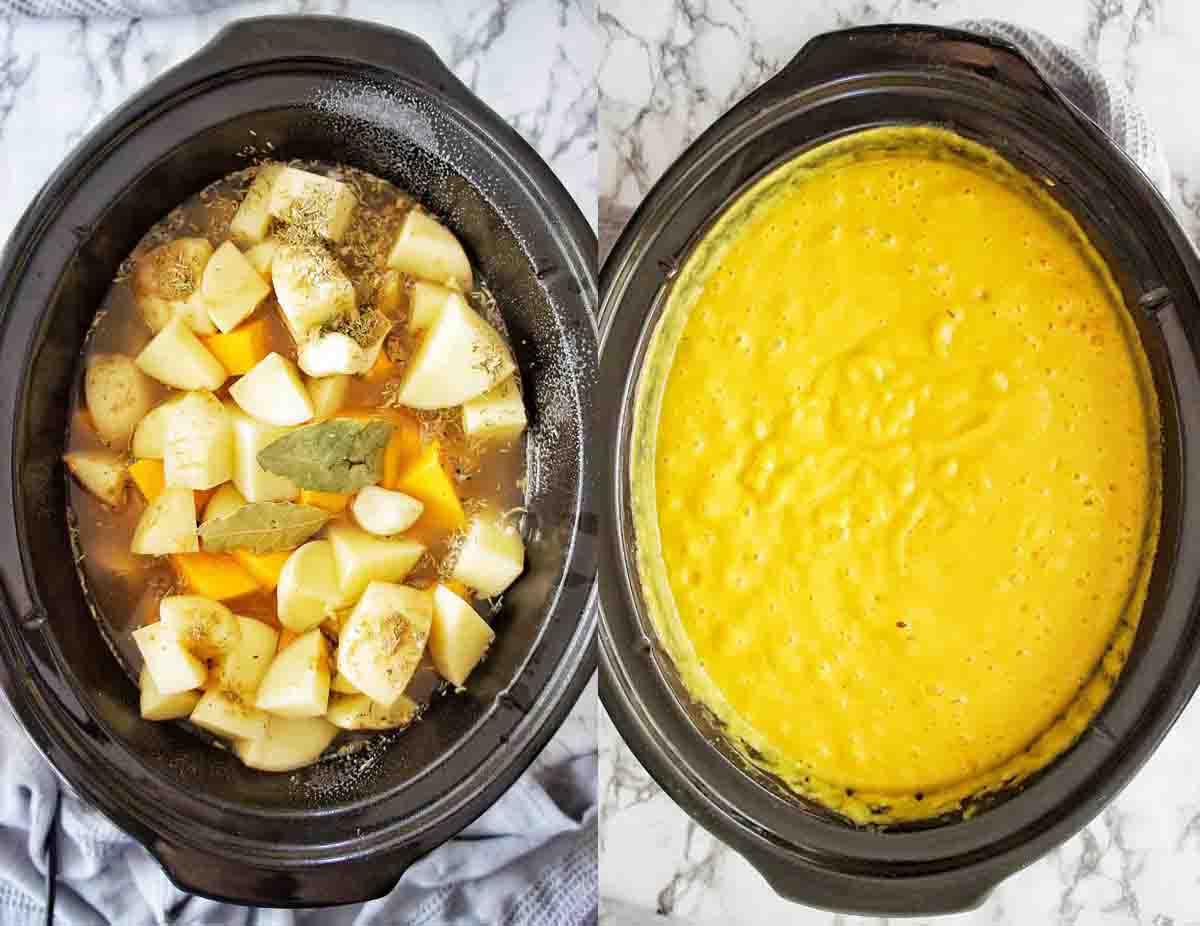 Once the soup is cooked, you have a few serving options. Try a sprinkle of cracked pepper, some freshly chopped parsley and toasted bread for dunking!! Is it bread for the soup or dip for the bread, both will work!
If Slow Cooking is your favourite way to spend time in (or out) of the kitchen, you might like:
Serve your soup in bowls with bread on the side and a little cream swirl on top!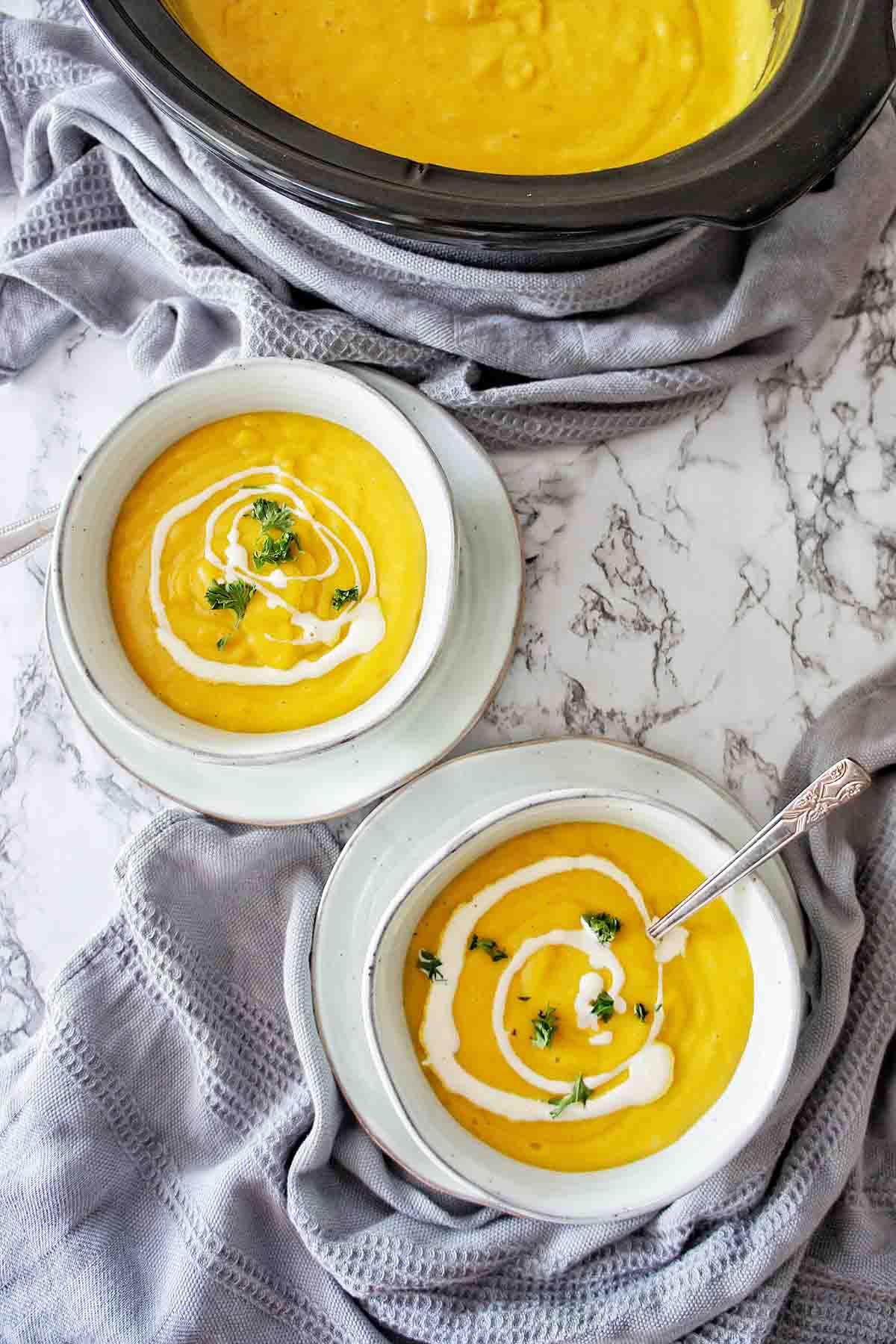 Slow Cooker Pumpkin Soup quick info:
About the recipe:
this is a vegetarian recipe
we use 10 cups of pumpkin pieces (2 small butternut pumpkins)
as well as 2 cups potato pieces (can use sweet potato)
my Slow Cooker is 5 litres (shown in the photos)
FAQs about cooking Pumpkin Soup in the Slow Cooker
out of habit I spray the bowl with cooking oil, but this is optional due to liquid volume
the herbs, salt, pepper and vegetable stock adds great flavour to the pumpkin soup
this is a freezer friendly recipe
also a family friendly recipe
this is an EASY recipe
Here are Soup and Stew recipes to make winter warmer!
Slow Cooker Pro tips:
These additional tips are so that you can master Pumpkin Soup in your Slow Cooker from scratch:
start by prepping your pumpkin and potatoes, it is the only 'hard work' step of the recipe
don't take the lid off the Slow Cooker for at least 3 hrs (high), 6 hrs (low)
allow the soup to cool down a little or somewhat before blending
if using a non stick blender, allow soup to cool completely before blending
You can check out the most popular recipes on the blog, right here!
Can I freeze Pumpkin Soup?
Yes! This is a perfect recipe to freeze.
Allow the soup to cool and then portion it out into zip lock bags. Seal, then lay flat in the freezer. To defrost simply remove from the freeze, allow to naturally defrost and reheat for 3-4 mins until fully warmed through.
Find us on Facebook by clicking this link
Toasted turkish bread is my favourite for dunking in soups! Spray a little with cooking oil and toast in the oven for dunking into your soup!
The texture of the soup is thick, creamy, dreamy and utterly irresistible!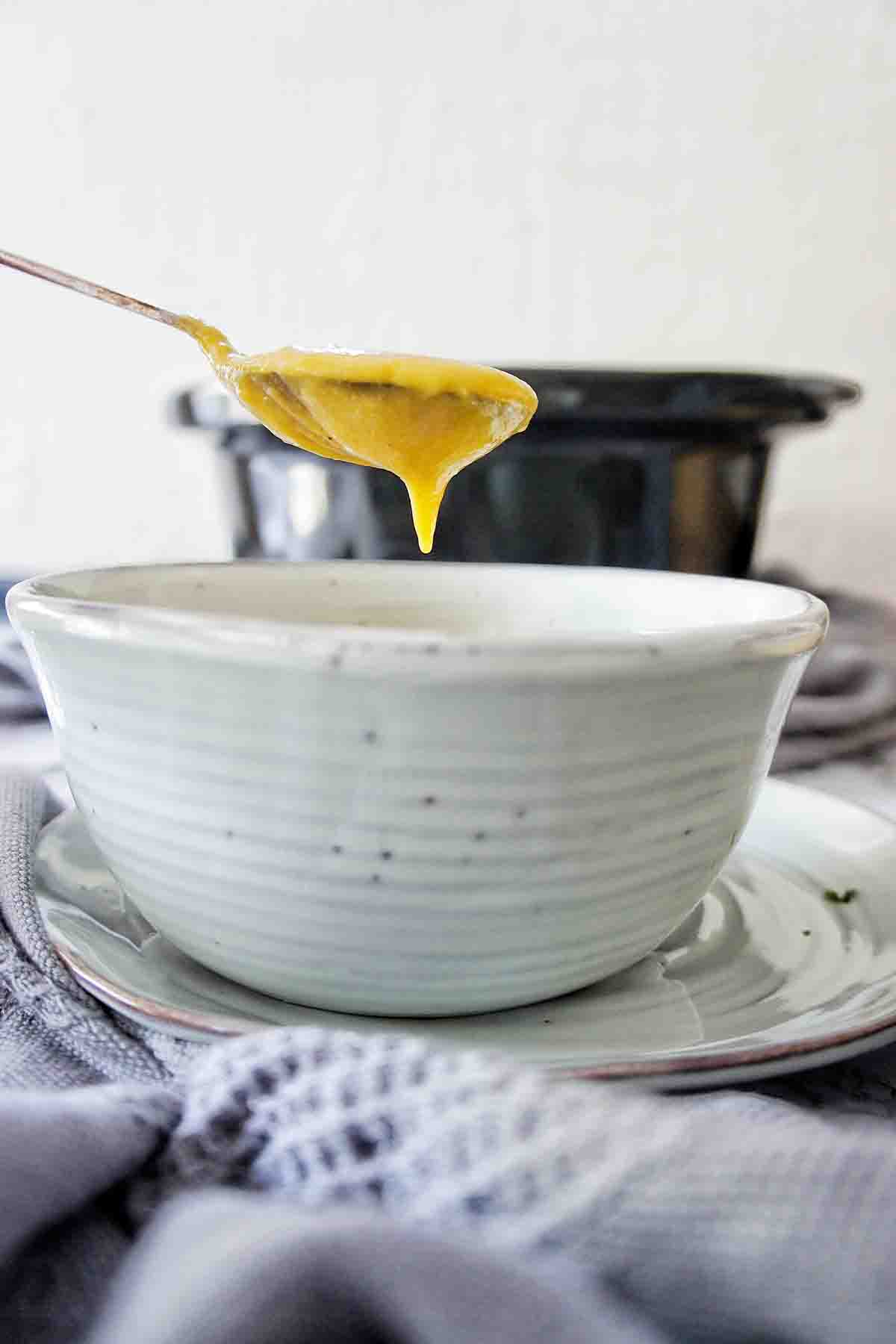 PIN and save this recipe for later!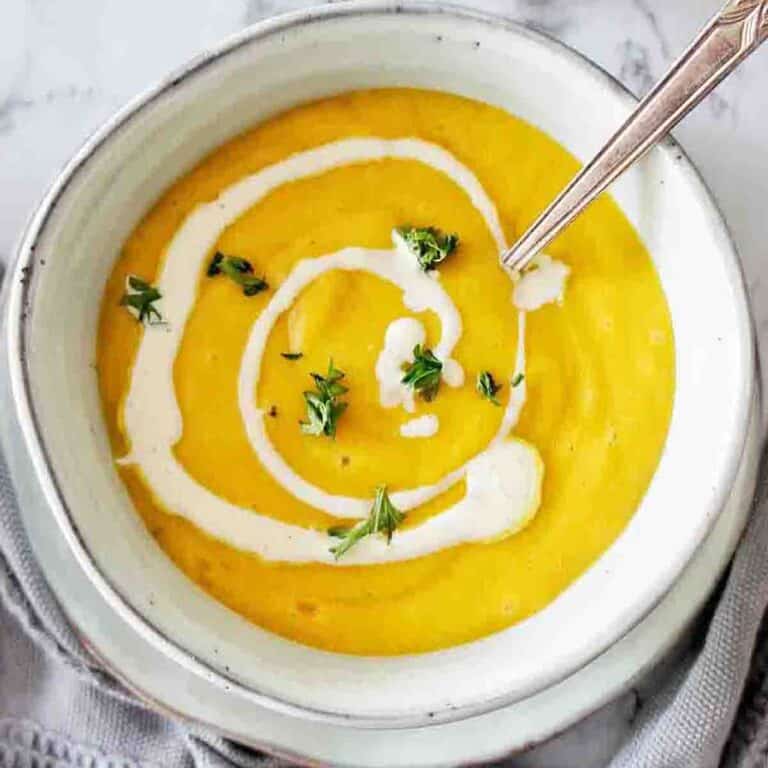 Slow Cooker Pumpkin Soup
Slow Cooker Pumpkin Soup is THE BEST ever pumpkin soup you can make!! Prep your veggies, throw everything in the Slow Cooker and get your soup spoon ready!
Print
Rate
Ingredients
Slow Cooker Pumpkin Soup
10

cups

pumpkin

Note 1

2

cups

potato

Note 2

1 ½

litres

vegetable stock

3

cloves

garlic

peeled with end cut off

½

tbs

thyme

dried

1

tbs

cumin

Note 3

2

bay leaves

1

tbs

dried onion

400

ml

cream

salt and pepper

to taste
Instructions
Slow Cooker Pumpkin Soup
Use a knife and chopping board to cut your potatoes into chunky pieces

Use a spoon, a peeler, a knife and a chopping board to peel your pumpkin, scoop the seeds out and cut into chunky pieces

Spray your Slow Cooker bowl with cooking spray

Add pumpkin to the Slow Cooker bowl

Followed by potato pieces

Then add garlic bulbs, cumin, dried onion, thyme, salt and pepper, bay leaves and vegetable stock.

Cook for 3 hours on high heat (lid on) or 6 hrs low heat (lid on)

Once cooked, turn Slow Cooker off, leave lid on and allow to start to cool

After 1 hr, remove lid, discard bay leaves and use a stick blender (vertically) to blend the soup Note 4

Pour in cream, blend again till mixed in consistently

Serve with toasted bread, cracked pepper, cream swirls and parsley
Video
Notes
Note 1 I use Butternut Pumpkin (also known as Butternut Squash). 2 smaller pumpkins produce about 10 cups of pumpkin when peeled and chopped
Note 2 I use 2-3 washed potatoes. You can substitute Sweet Potato here if you like. 
Note 3 If you worry that this will be too strong, use 1 tsp. It adds great flavour and blends in well
Note 4 Vertically is easiest with the stick blender to minimise liquid splashing out. I use a technique of a figure 8 movement with the blender to ensure all pumpkin and potatoes is blended and the soup texture is consistently smooth. If you have a lid on smoothie type blender, most of these require the soup mix to be fully cooled before adding it to your blender. 
Nutrition
Calories:
344
kcal
|
Carbohydrates:
28
g
|
Protein:
5
g
|
Fat:
25
g
|
Saturated Fat:
15
g
|
Cholesterol:
91
mg
|
Sodium:
35
mg
|
Potassium:
1039
mg
|
Fiber:
3
g
|
Sugar:
6
g
|
Vitamin A:
17479
IU
|
Vitamin C:
34
mg
|
Calcium:
109
mg
|
Iron:
3
mg
Did you make this recipe? Share on Instagram!
It makes my day when you make my recipes! Tag @sweetcaramelsunday
Winter is the perfect time to get to know your Slow Cooker and what it can do for you!
Make your dinner fuss free and simple!
Please give me a shout if you have questions or make the recipe as I would love to hear your feedback.
Creamy Pumpkin Soup, crispy toasted bread, cracked pepper, soup spoon, I've got you covered!
Adrianne
RELATED RECIPES: