Honey Soy Garlic Stir-fry is knocking our socks off tonight! This is a delicious stir fry recipe that you will want to make every week.
With an easy homemade honey soy sauce recipe you will love everything about this dish. The taste, the texture and the smell.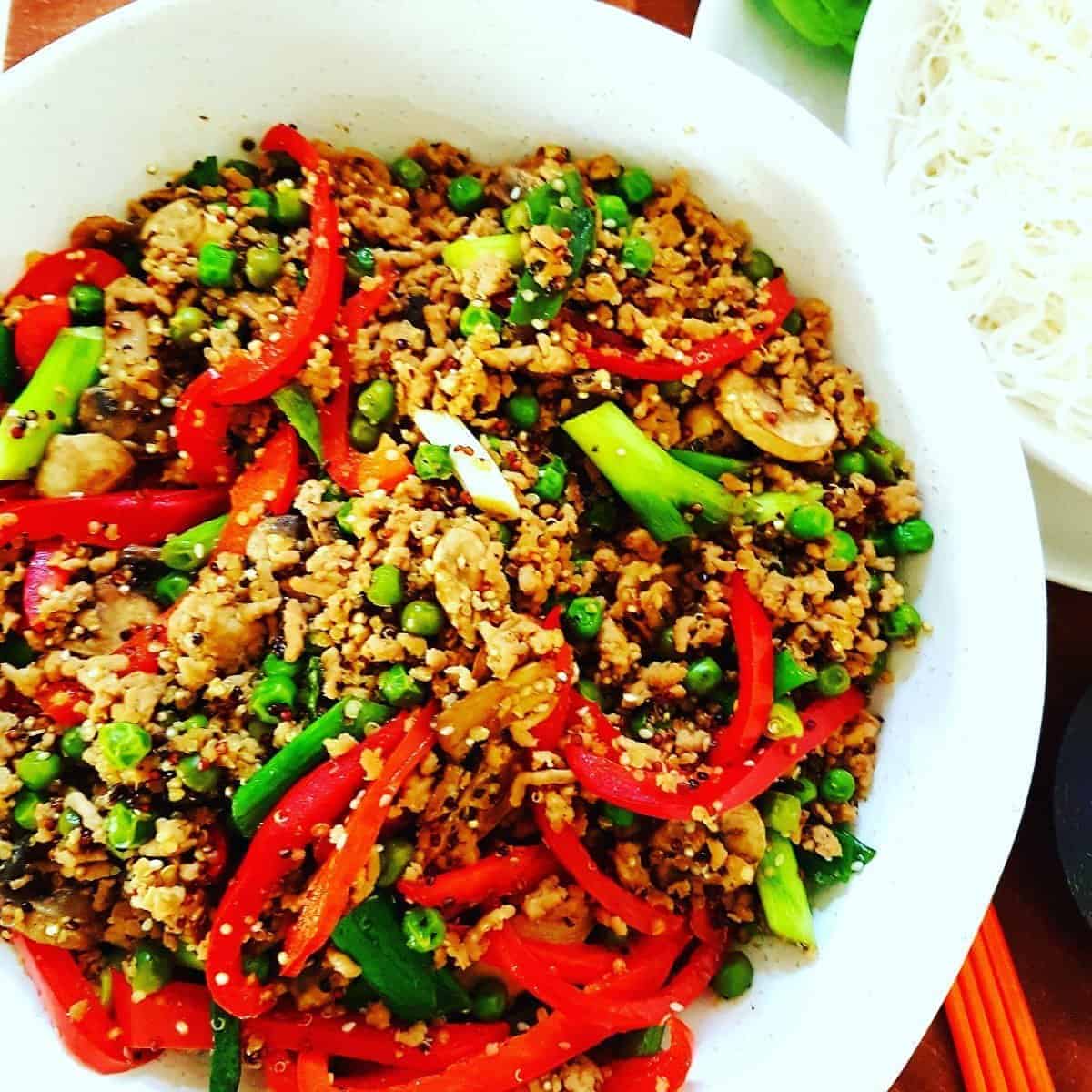 How do you make honey garlic stir-fry?
To make honey garlic stir-fry you need to prep your veggies and get your wok out. Wok cooking is the best for stir-frys as the heat is hot and fast.
How to make stir-fry sauce?
To make the honey soy garlic stir-fry sauce we need to combine a few ingredients.
Ingredients for the sauce are:
soy sauce
hoisin sauce
honey
We simply mix these ingredients together, then pour the sauce into the wok so that the meat and veggies can cook in it. It is so easy!
Are stir fried vegetables healthy?
One of the best things about stir-frys is that that vegetables are healthy and you can pack lots of them in.
For variety in colour and texture, you can experiment with different vegetables. Try using pops of colour for visual effect.
I love using shallots and capsicum in stir-frys as you don't have to peel either of them, making them super quick to prepare.
What do stir-frys consist of?
Stir-frys consist of meat and veggies all thrown into the wok or pan and cooked together.
Usually they are tossed in a homemade sauce to give the meat and veggies lots of flavour.
Stir-frys are so enjoyable to make! I find them, quick, easy and delicious.
A few years ago, I bought a wok and during the warmer months love spending sometime thinking about which veggies I want to have and what sauce combination.
The last few I have made, I have also added some cooked quinoa. I think this really adds texture and bulks the meal up a bit especially if I am not planning on using rice to serve it with.
Can I freeze stir fry?
Another great thing I find is that it freezes very well.This means I can make a dish on the weekend, portion it out into meals and then freeze so that for week nights. For me, it is perfect so that when I get home and go to yoga I can have dinner ready when I get back at the touch of a button.
Sometimes I will put some vermicelli noodles with the dish or rice, or just greens depending on what I am feeling like at the time. Whilst I am not opposed to a frozen meal as we all know time is sometimes against us, I would much prefer it to be something I have cooked than someone else's cooking (knowing exactly what is in it).
How to prepare vegetables for stir-fry?
My advice to anyone cooking a stir-fry is to prep everything before cooking. That way the actual cook time will be super fast and you won't have to adjust the heat too much during the process. Sometimes I use a wok, other times I use a frypan on the stove, both work well.
The benefit of the wok is that all of the ingredients will cook quickly to a uniform consistency, whereas if you use a frypan, you have to allow for a less even heat. That can make different veggies cook at different speeds (a problem you don't have with the wok). But then I guess the downside to the wok is extra cupboard space, bench space and can't go through the dishwasher (I'm not a fan of cleaning up, never have been and never will, give me a dishwasher everyday and I will do my best to stock it to the top, shoving everything I can into it). I make no apologies for this, we are all good at some things, bad at others, cleaning in the kitchen is not my strong point or my forte (nor is carving poultry, but I persist regardless, hoping one day I will get there).
Stir-fry cooking made easy
What you will see for this dish is that I got everything and I mean everything ready that I knew I would need. This is the best process for quick and easy cooking. You don't want to have to stand at the cupboard and bob up and down whilst looking for the salt whilst the garlic is burning the pot till it is black (the dishwasher doesn't get that kindof mess off things be warned!).
There is a restaurant I love going to called Mongolian BBQ. It is not fancy, but it serves amazing food. You get to have lots of veggies, thinly sliced meat, lots of Asian flavours in the sauces and best thing is that they cook it for you whilst you watch. You literally fill your bowl with everything you think you can eat, put all of the sauces in and hand it over, one of my all time favourite dining experiences. I think because it reminds me of the time I lived in Japan where we would often have Korean BBQ for dinner or on the weekends, I reminisce.
Anyhoo, here is my Honey Soy Garlic Stir-fry recipe, I hope you love it and let me know what you think.
If you make this recipe and want to upload a photo (I would love to see) you can do that via the pin on my recipes board >> Sweet Caramel Sunday Recipes board  >> Pinterest
Eat your heart out xx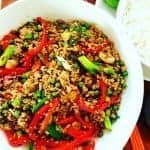 Ingredients
1 tablespoon peanut oil

1 tablespoon garlic, minced

1 tablespoon ginger, minced

500 grams pork and veal mince

2 tablespoons soy sauce

1 tablespoon hoisin sauce

1 tablespoon honey

1 tablespoon sesame seeds, toasted

salt and pepper to season

2 cups peas, thawed

2 red capsicums, thinly sliced

½ bunch shallots, chopped

2 cups mushrooms, sliced

1 cup quinoa, cooked

4 bunches vermicelli noodles
Instructions
Cook the quinoa to begin with. Take ½ cup of the dry grain and boil on the stove top in one cup of water, until the liquid is absorbed, then set aside.
Start by turning the wok up to cooking heat (medium to high setting) and add the oil
Follow this with the garlic and ginger, then add the mince to the wok, then season this with salt and pepper
Cook the meat thoroughly, ensure there are no clumps and no pink bits visible
Add the peas, mushrooms, soy, hoisin, and stir continuously
Add the capsicum, quinoa, honey, sesame seeds and shallots, stir to combine, then turn wok off
Put 4 bunches of vermicelli noodles into a heat proof bowl and cover with boiling water, leave for 2 minutes, stirring with a fork to separate the noodles
Serve with fresh spinach leaves, vermicelli and crushed peanuts
Notes
*Tricolour or white quinoa, either will do, whatever you have on hand.
*Toast the sesame seeds in the microwave before starting to cook, start with a minute and work up till nicely brown to ensure you don't overcook ie don't start with 3 minutes and then smell that you have burnt them and then realise you should have started with a lower time. I have done this many a time and learnt from these experiences not to overcook my nuts.
*There is a video of how to make this stir-fry on my instagram feed, you can get to it by clicking on one of the images to the right of this page in the insta gallery.