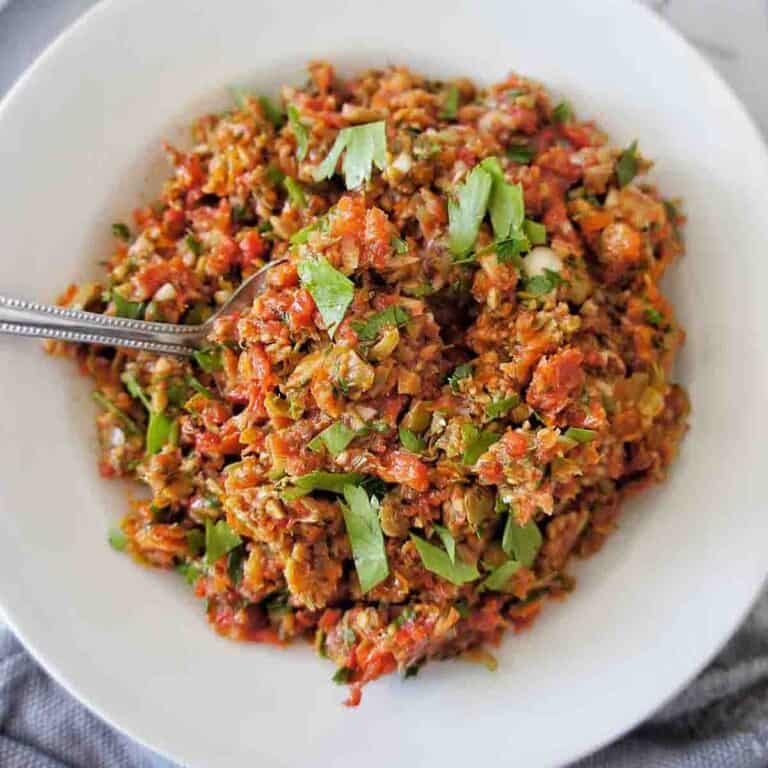 Print Recipe
Sun-dried Tomato Tapenade Recipe
Sun-dried Tomato Tapenade recipe that will blow your mind!  With olives, capers, garlic and sun-dried tomatoes, this homemade tapenade is delicious!
270

grams

sun-dried tomatoes

Note 1

⅓

cup

oil

Note 2

½

cup

flat leaf parsley

Note 3

3

cloves

garlic

skins removed

½

cup

stuffed green olives

Note 4

1

tablespoon

lemon juice

Note 5

4

anchovies

drained

⅓

cup

capers

drained

toast points

to serve
Add sun-dried tomatoes, olives, anchovies, capers, garlic, parsley, lemon juice and oil to the bowl of a food processor.

Serve with toast points. Note 7
Note 1 If you purchase your Sun-dried tomatoes in a jar, we are going to drain but keep the oil from the jar. The recipe uses ⅓ cup reserved oil from the jar. However, if you purchase your sun-dried tomatoes without the oil, you can use olive oil instead. You will find that you can get either Sun-dried or Semi dried tomatoes. The jars are very similar and it is only a keen eye that can see the difference especially if you grab it, throw it in your trolley and head to the check out. Never fear, both will be perfect for the recipe, so don't loose a minutes sleep over it!
Note 2 This is reserved from the jar of sun-dried tomatoes talked about above. It has GREAT flavour and will enhance the tapenade delightfully. 
Note 3 You can use curly leaf parsley if you have/grow/prefer, both work well and bring great flavour. 
Note 4 The olives I am referred to here are the stuffed green olives that have the red colour in the middle. You can also use pitted green olives. 
Note 5 An Australian tablespoon measures 20ml, slightly more than an American one. 
Note 6 This keeps our texture chunky is much better for tapenade than mushy!
Note 7 Toast points are super easy to make! Simply cut the 4 crusts off a slice of bread, put the bread in half on the diagonal, place on a lined baking tray and spray with cooking oil. Cook in a moderate oven for approximately 10 mins or till toast points are browned and crispy! 1 slice of bread will produce 2 toast points. 
Calories:
152
kcal
|
Carbohydrates:
16
g
|
Protein:
4
g
|
Fat:
9
g
|
Saturated Fat:
1
g
|
Cholesterol:
1
mg
|
Sodium:
337
mg
|
Potassium:
952
mg
|
Fiber:
4
g
|
Sugar:
10
g
|
Vitamin A:
523
IU
|
Vitamin C:
16
mg
|
Calcium:
44
mg
|
Iron:
3
mg