Super Food Ice-cream Sprinkles are on Sweet Caramel Sunday!!
Who wants some SUPER FOOD ICE CREAM SPRINKLES!!!! And now that I have your attention.......Happy Friday everyone!!
I wasn't sure that I was going to get a chance to post a recipe for you guys tonight as I am heading out, but I realised I had just enough time before I did to do just that. So tonight, I have for you.......Super Food Ice Cream Sprinkles!!
Adulting can suck at times and you think back to when you were a kid and life seemed so grand and that anything was possible.
Then you start working full time and paying bills and the perks of adult life seem to out way childhood at times. With this recipe I wanted to recreate some of those fun times from our youth, but do it, in a modern way with a recipe for grown ups.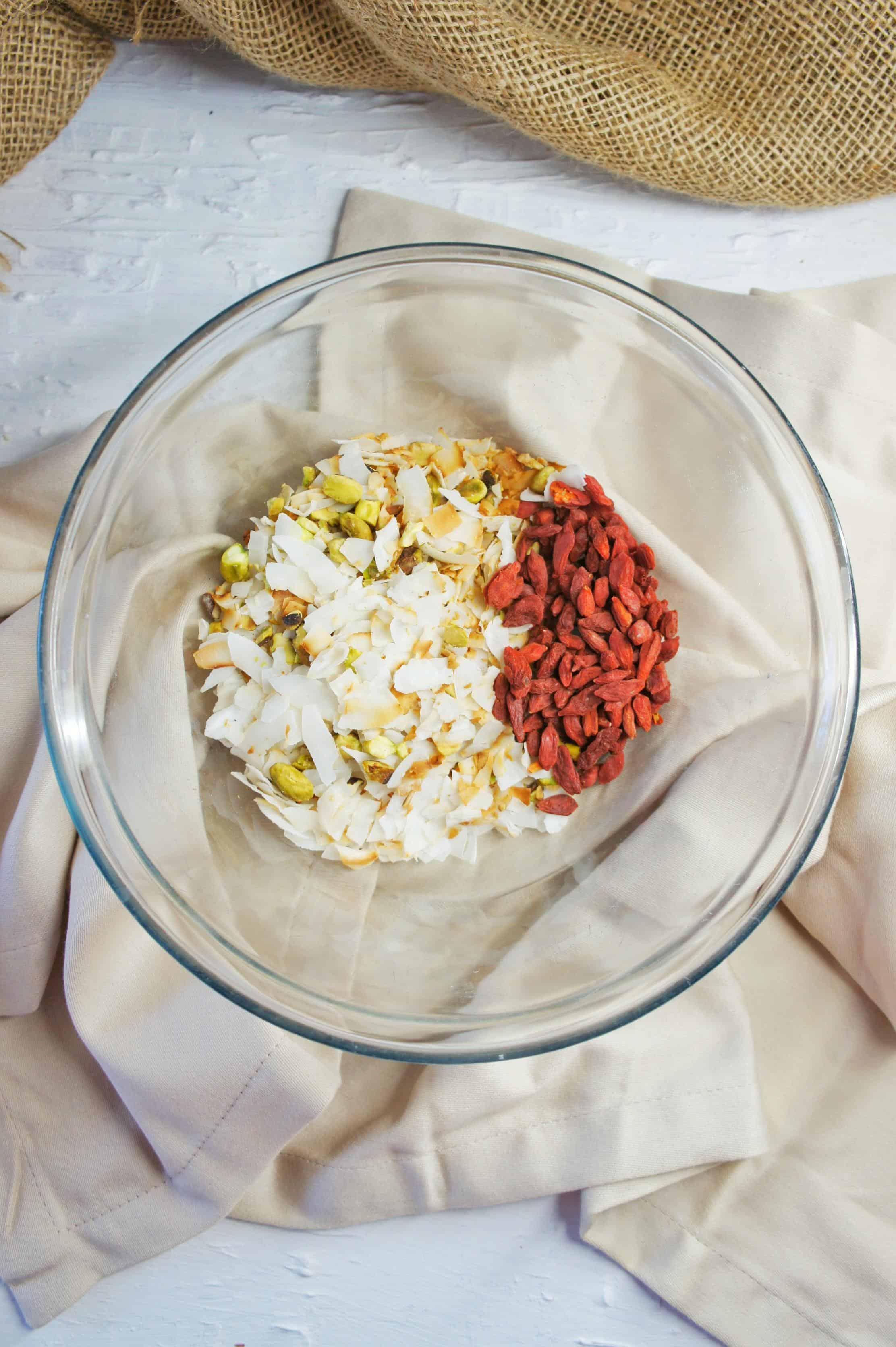 Reminiscing on childhood
I am sure that you can remember about a million recipes you would have had as a kid that had sprinkles on it. Be it Fairy Floss, ice creams, cakes or donuts, the possibilities seemed endless. Well, why not bring back some of those good times with some Super Food Sprinkles for adults.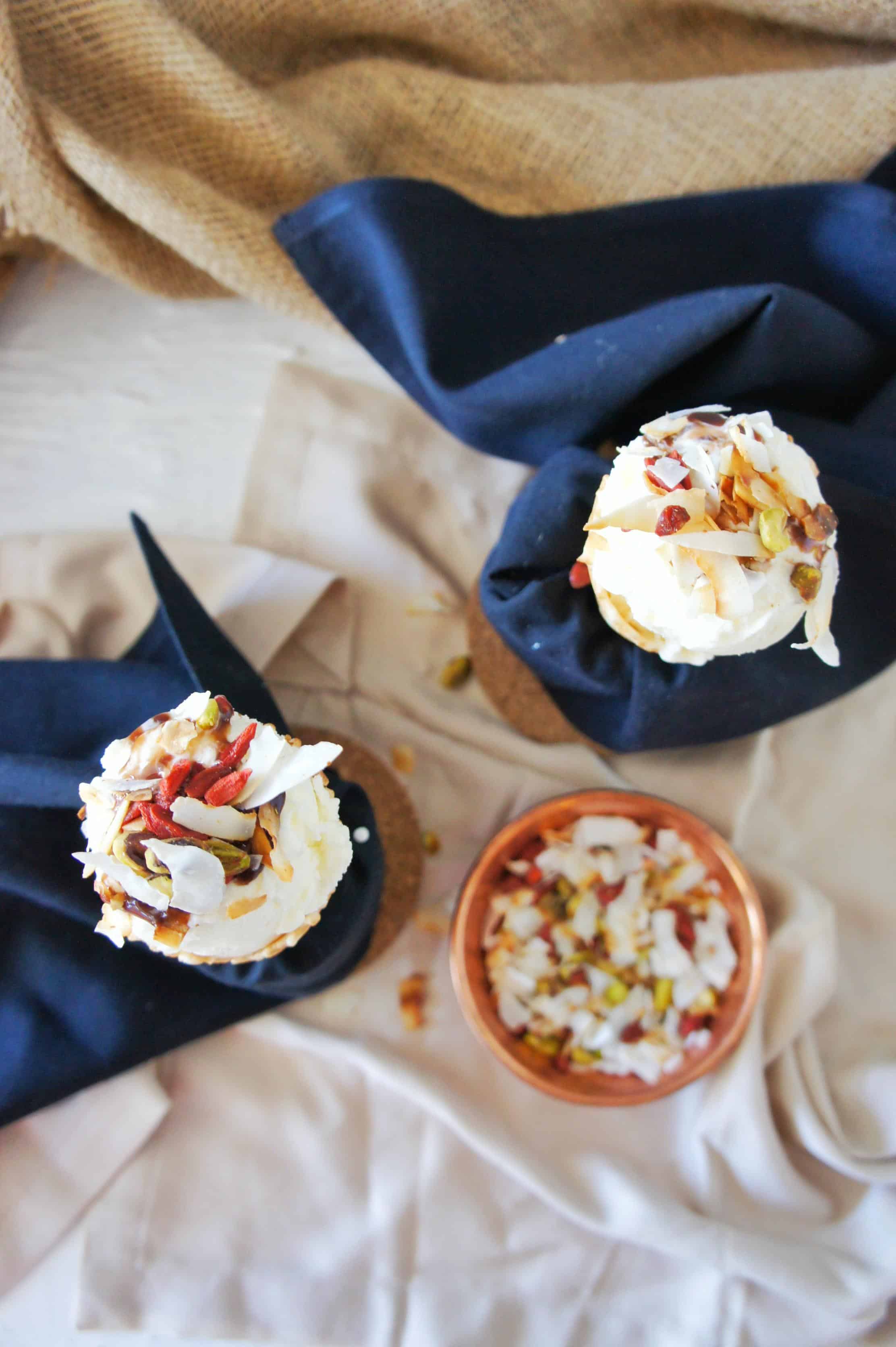 Origins of this recipe
If you follow my blog, you will know that I recently posted a recipe for a Super Easy Dark Chocolate Bark, but if you didn't know that, you can grab that recipe right here.  For that I used a combination of shaved coconut, pistachios and goji berries. The texture and crunch of that dish was awesome and I knew that I could use the idea for other desserts as well.
I wanted my Super Food Sprinkles to have colour and bite to them and I think you will be delighted to know that these little rippers do!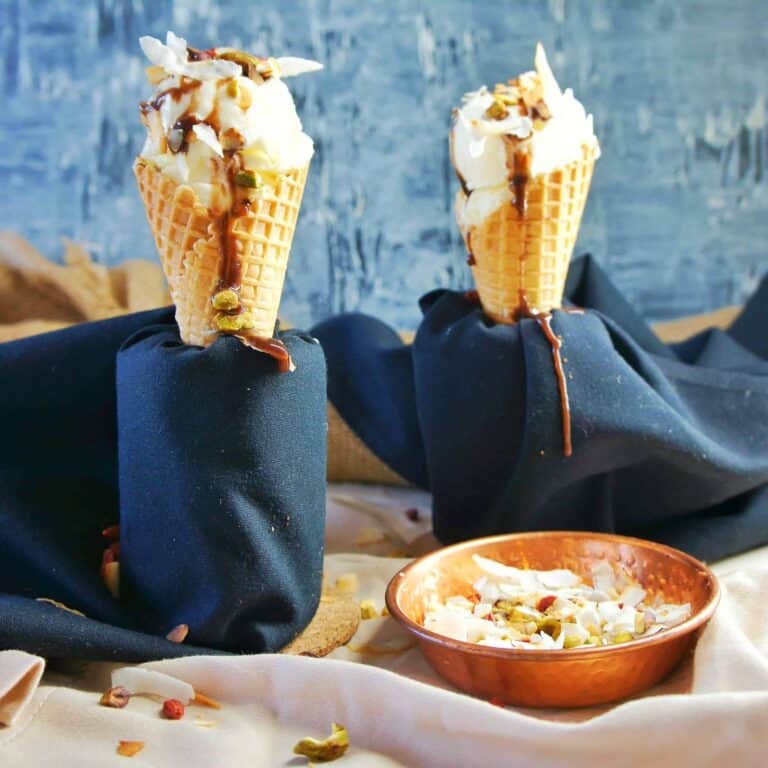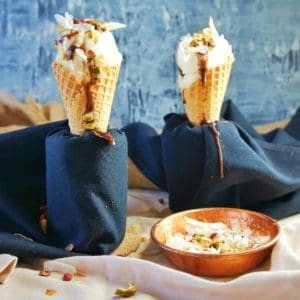 Super Food Ice Cream Sprinkles
If you are after a modern way to jazz up your ice cream and desserts, you will love this recipe. Combining SUPER FOODS, to create a colourful and crunchy topping which has many uses.
Print
Rate
Ingredients
1

cup

coconut

shaved and dried

¼

cup

pistachios

¼

cup

goji berries

vanilla ice cream

waffle cones

chocolate sauce
Instructions
Place pistachios in a zip lock bag, seal, then use a spoon to smash into smaller pieces

Place coconut and pistachios into non stick fry plan and toast for 5 mins or until lightly browned

Add toasted mix to the goji berries and stir to combine

Scoop vanilla ice cream into waffle cones, top with chocolate sauce and garnish with Super Food Sprinkles
Notes
The coconut and pistachios will burn very quickly, so keep an eye on them and you will be right! 
The sprinkles will keep in a zip lock bag in the fridge for at least a week so you can sprinkle them on all of your desserts! 
Nutrition
Serving:
0
g
|
Calories:
45
kcal
|
Carbohydrates:
2
g
|
Protein:
0
g
|
Fat:
4
g
|
Saturated Fat:
2
g
|
Cholesterol:
0
mg
|
Sodium:
1
mg
|
Potassium:
59
mg
|
Fiber:
1
g
|
Sugar:
0
g
|
Vitamin A:
15
IU
|
Vitamin C:
0.4
mg
|
Calcium:
4
mg
|
Iron:
0.3
mg
Did you make this recipe? Share on Instagram!
It makes my day when you make my recipes! Tag @sweetcaramelsunday
This recipe is straightforward but with great results and is very versatile for other ideas that might spring to mind also.
Hope you have all had a great week, didn't it fly by!!
Adrianne x (from cold and wet rainy QLD today! No sunshine or blue skies, which is quite odd for the Sunshine state!)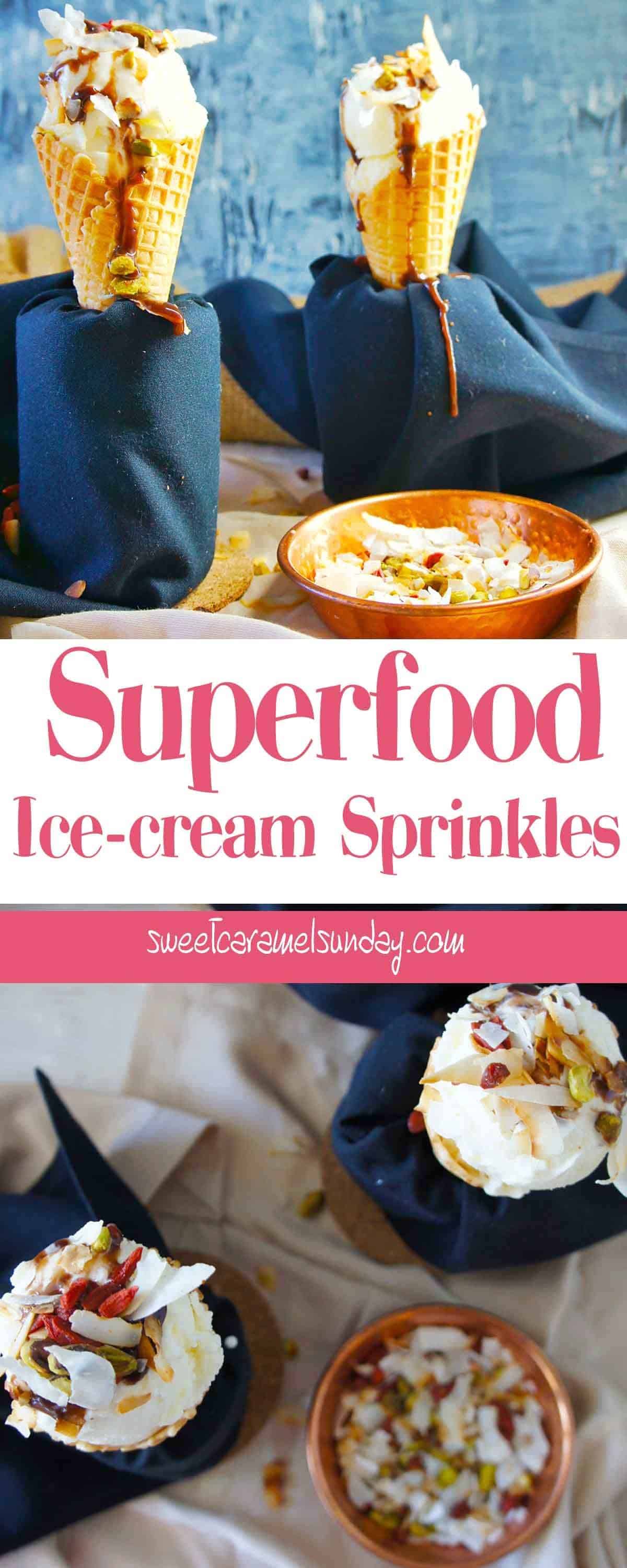 Recipe suggestions
Ok, now for some more bright ideas................let's stick on the dessert topic for now.......starting with my Super Easy 4 Ingredient Rocky Road and that recipe can be found here.
Or if you would like a dessert which includes fruit, this Blueberry and banana crepes…..recipe is also a good fit and you can grab that recipe right here.
Or if you prefer Strawberries, don't worry, I have you covered there too, here is my Strawberry Crepes recipe and they are SO good, I promise your whole family will love them. You can whip up a big batch for breakfast one weekend!
And for one more dessert idea………………this one is dairy free!!!  It is a thick and rich Chocolate Mousse, you will find that recipe right here!
And if ALL else fails, let me spark your enthusiasm with some dinner ideas if you want to be sure to balance out your treat versus non treat food intake for the week…………..you might be interested in checking out is this Vegan Brown Rice Noodles and that super delicious recipe is here.
If you are not vegan or vego, you might like this make Pad Thai instead of getting take out and this recipe is a fabulous go to for authentic tasting Thai at home (or you could substitute tofu for the chicken mince and give it a vegan twist) is here.
If, however, you are not after dinner recipe ideas, but are open to trying something new, than I can highly recommend my Beetroot Powder Smoothie and that recipe can be found here.
So, I am off to do some of that pampering I told you about, look out world here I come! Have a great rest of your weekend!
Let me know if you give this dish a shout, I would love to know what you think. If you share a picture on instagram use the hashtag #sweetcaramelsunday I would love to check it out xx
P.S If you love food and want to start your own blog, I have written a Step by step guide to starting your own blog and you can get that here.
P.P.S And if you want to up your Food photography, I book I highly recommend is The Food Photography Book by Nagi from RecipeTin Eats.