Satay Chicken Noodles all packed into a bowl is what you want right now. This dish is packed with flavour and vegetables.
I could eat this satay chicken meatball bowl with noodles every night of the week!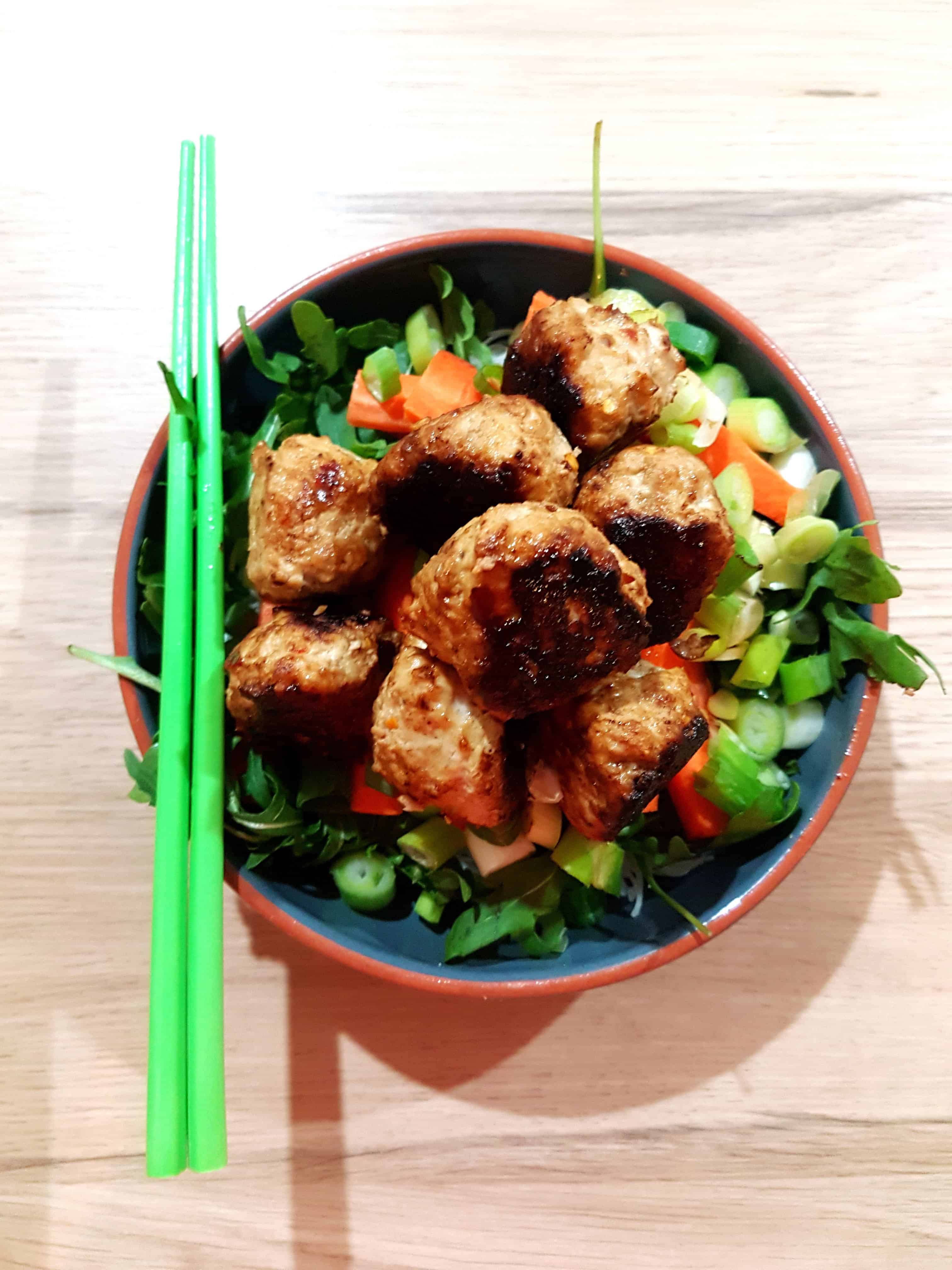 How to make satay chicken noodles
I feel like I haven't done a post in a while, as I had holidays and then getting back to work and yoga has kept me really busy so things have been hectic in Brisvegas. But, inspired from my Satay Pork Noodle Bowl of last week, I decided to do a different take on it this week and I was very happy with the results. I definitely haven't been eating as much meat over the last few years and sometimes I will look for options other than red meat for example turkey, chicken or pork. In making this meal this week, I knew the flavours I wanted to created and to have a good balance of protein and veggies.
Working full time often means things get busy! Coming home, doing some exercise, then also going to yoga and then home again from that and wanting a quicker option for dinner that doesn't take long to prepare but sill has nutritional value and taste. I don't get take away very often as I like to know what goes into my meals and I enjoy cooking so prefer to do it myself than have someone do it for me most meals, however, I do feel the desire to be able to prepare something which doesn't take forever at times depending on how busy and tired I am. I had a flu shot this week and a really long 1 ½ yoga workshop yesterday (which was awesome) but those things also make me realise how good it is to then balance out my time with a home cooked but not too long slaved in the kitchen meal.
Can you freeze satay chicken noodles
With this dish, the most time consuming thing is making the meatballs and cooking them, however after that is done then the rest of it is quick and easy. If you can make the meatballs on the weekend, you can freeze and reheat them during the week for when you don't have as much time.
I like to put lots of spices into the mince mixture as well as seasoning it really well and the time spent doing that is worth it as you bite into them and can a really tasty combination of flavours.
Enjoy xx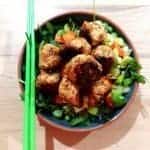 Ingredients
500 grams chicken mince

¼ cup satay sauce

1 ½ tablespoons minced garlic

1 tablespoon cardamon powder

1 tablespoon chilli flakes

125g vermicelli noodles

2 handfuls rocket leaves

3 shallots, thinly sliced

1 carrot, peeled and sliced

salt (to season)

pepper (to season)
Instructions
Add mince to medium sized bowl and season well with salt and pepper
Add garlic, cardamon and chilli flakes and stir to combine
Add the satay sauce and stir through
Place a sheet of baking paper on a tray and roll the mix into small meatballs
Put a splash of olive oil into a frypan and turn onto a medium heat
Add the meatballs and cook for 4 mins each side, turning and moving the fry pan to get the balls to cook on all sides
Turn the frying pan off and place the meatballs onto paper towel to rest
Place the vermicelli noodles into a heatproof bowl and pour enough boiling water over to cover them, use a fork to separate, leave for 3 minutes
Rinse the water from the noodles and portion them out into 2 serving bowls
Start to top the noodles with the rocket, carrot and shallots
Top with the meatballs and sprinkle peanuts on top (optional, not shown in my last pic)
Use additional satay sauce as a dressing