Roast Chicken and Gravy makes for a delicious Sunday night chicken dinner! Succulent, juicy chicken and a delicious saucy gravy makes this an easy family favourite recipe!
Serve your chicken with our skin on roast potatoes or our horseradish mashed potatoes to make a complete meal!
Our Ground Beef Casserole and this roast chicken and gravy have to be 2 of my all time favorite dishes to make.
Am doing a little bit of back tracking here, as I made this meal last weekend but am only blogging about it now.
I was looking for a quick and easy well balanced meal with one criteria,  I wanted to be able to practise my 'pour shot'.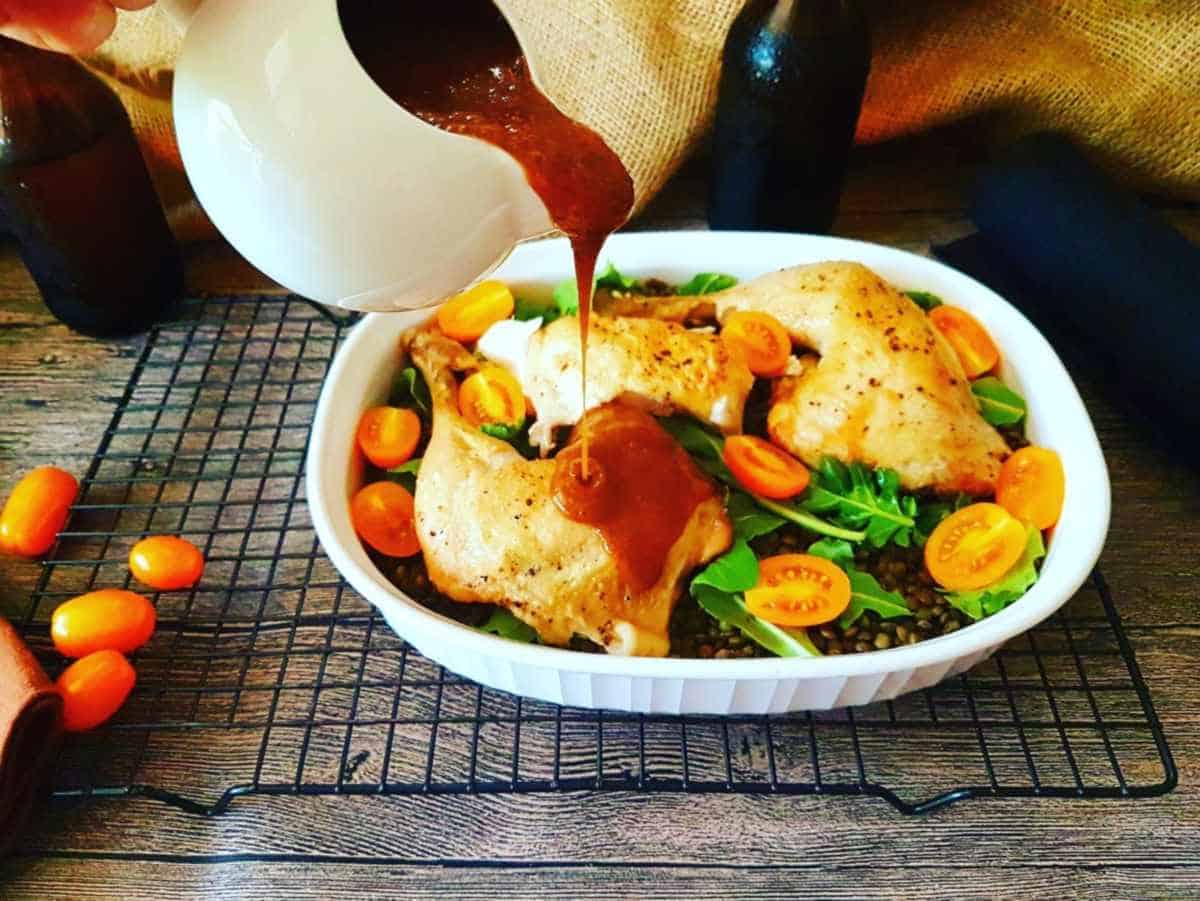 Playing with food
I have joined a food photography group this year and am learning lots of tips and tricks. I had recently done some Blueberry and custard pancakes and was happy with my pouring technique in them. I then had to wrack my brain to think about other liquids I could find to pour over my food!!
Chicken and gravy sprang to mind and I knew if I made the dish ½ my week's food prep would be done.
I seem to have this problem though when even though I have cooked in advance for the week, I sit at work dreaming about what I am going to cook next. But I also don't want to have to wait a whole other week to do more cooking.
Whilst I am not a huge fan of a massive mid week cook up to the point where it is going to take ages to clean up after.  I still like unwinding from work by prepping a meal and spending some time in the kitchen.
Chicken and gravy is one of those meals, we all know and love. We all had it cooked for us growing up and no doubt it was one of the 1st recipes we learnt to cook as we grew older!
The good thing about this dish is that it is simple. There is nothing fancy going on with the chicken. It is very basic, oil, salt and pepper, even butterflying it by removing the backbone is a straightforward task with a pair of kitchen scissors.
The lentils are a matter of boiling water, and then I added some rocket and tomatoes, but-a bing and done. The gravy was from a tin, simply mixed with water with a weeny bit of corn starch to make it thicker.
Whilst I am a fan of a store bought roast chicken, I love making my own as you get to spend time preparing it and the house smells fantastic during this time.
It is also nice to take time to prepare the meal, however, when I have purchased a pre-cooked cook, I always feel pressured to eat it straight away before it goes cold.
Any hoo, super simple meal that would keep a family feed and happy and is a go to on the nights when you just don't feel like working too hard to get the dish done.

Sides to serve with roast chicken and gravy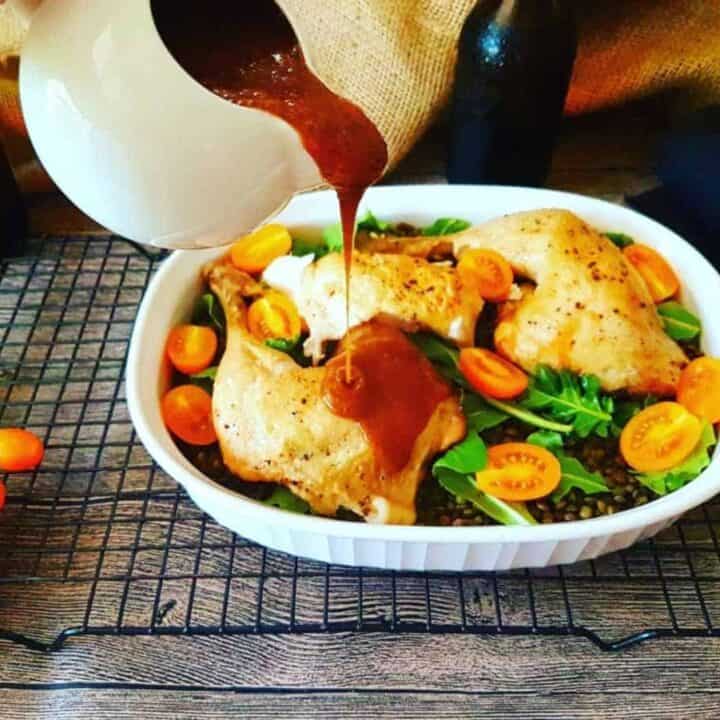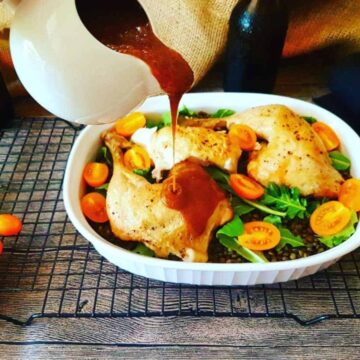 Roast Chicken and Gravy
Roast Chicken and Gravy is on Sweet Caramel Sunday! Delicious roast chicken, fresh from the oven with a thick and flavorsome gravy makes for a delicious family meal!

Print
Rate
Ingredients
Roast Chicken and Gravy
1

chicken

free range

1

tbsp

olive oil

1

tsp

salt

1

tsp

pepper

¼

cup

gravy powder

2

tbs

corn starch

375

grams

french style lentils

150

grams

rocket

250

grams

grape tomatoes
Instructions
Roast Chicken and Gravy
Preheat your oven to 180 degrees F 82.2 degrees C. Line a baking tray with paper


Butterfly the chicken, by turning it over on a chopping board and cutting down either side of the backbone with kitchen scissors, discard the bone.


Place chicken onto wire rack in baking tray, brush with olive oil and season with salt and pepper, bake in oven for 50-60 minutes or until the liquid runs clear

Mix gravy powder with water in small sauce pan and add corn starch


Cook lentils according to the packet directions


Serve with rocket and tomatoes

Notes
I butterfly my chicken and then roast it in an oven pan, which I don't cover with alfoil.
 I used to always do a roast in an oven bag, but I much prefer roasting this way now, as I think you get better results and it is easy to test a bit to see if it is done (plus the oven bag doesn't melt or stick to the chicken, which I know has happened once or twice to me in my cooking days.
Nutrition
Calories:
614
kcal
|
Carbohydrates:
44
g
|
Protein:
47
g
|
Fat:
26
g
|
Saturated Fat:
7
g
|
Cholesterol:
115
mg
|
Sodium:
641
mg
|
Potassium:
517
mg
|
Fiber:
16
g
|
Sugar:
2
g
|
Vitamin A:
1340
IU
|
Vitamin C:
16.9
mg
|
Calcium:
115
mg
|
Iron:
7.7
mg
Did you make this recipe? Share on Instagram!
It makes my day when you make my recipes! Tag @sweetcaramelsunday
If chicken recipes are your thing then you will find some more inspiration in these delicious dishes: