Pina Colada Smoothie is on Sweet Caramel Sunday! With simple ingredients and step by step instructions, you will be able to make this delicious smoothie easily!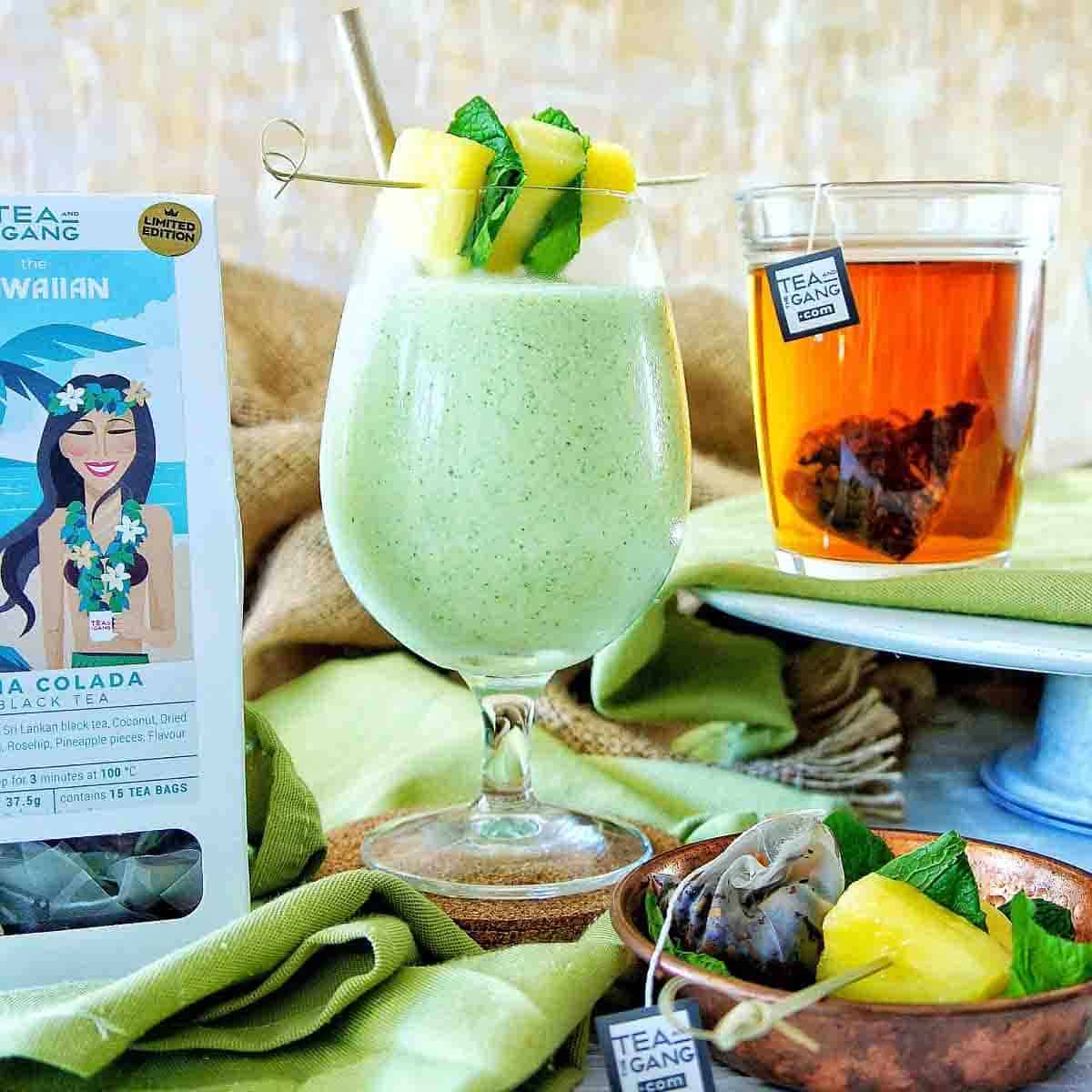 What is a Pina Colada Smoothie?
Hey, hey guys!! I have an awesome new recipe that I am super excited to share with you today. Have you heard of Tea And The Gang, if not, you can check out their awesome rang of teas right here. I love their style and graphics and I am sure you will too.
Today's recipe features one of their beautiful teas.I know we all like to knock back a cocktail or 2 here and there. Especially as we approach the festive season BUT, and there is always a but…it is especially important to stay hydrated and refreshed during this time and that is where this Pina Colada Smoothie comes into play.
For this recipe, I wanted to take you away for a break from day to day life. To give you a sense of fun and adventure and create a space where you could breathe deeps sighs of relaxation (la, la la!).
How to Make a Pina Colada Smoothie?
The combination of the Pina Colada Brewed Black Tea, with the frozen pineapple chucks, coconut chips, coconut milk and fresh mint will really allow you to let your hair down.
The best thing about the recipe is also that is is SO easy.
You throw all of the ingredients into your blender jug and moments later you will be dreaming of desert islands and feeling the sand beneath your feet. The wind will be in your hair and you won't know yourself!
I brewed the tea for this to start with as I know it is a big no no for my blender to have hot liquids in it.
So that is step one and by the time, you have sorted the other ingredients and got your hula skirt on, you will be ready to blitz it all together.
Pina Colada Tips and Tricks
About the recipe:
It is a quick recipe, you can whip it up in less than 20 minites
It is best made at the time of serving
The coconut milk can be from a tin and does not need to be cold
The tea is best brewed, left to cool and then added to the mix
To answer your questions:
This is a non alcoholic drink
It is best made with frozen pineapple and coconut chips and fresh mint
A blender is the best way to make the drink
This is an EASY drink to pull together (and can be enjoyed by all ages!)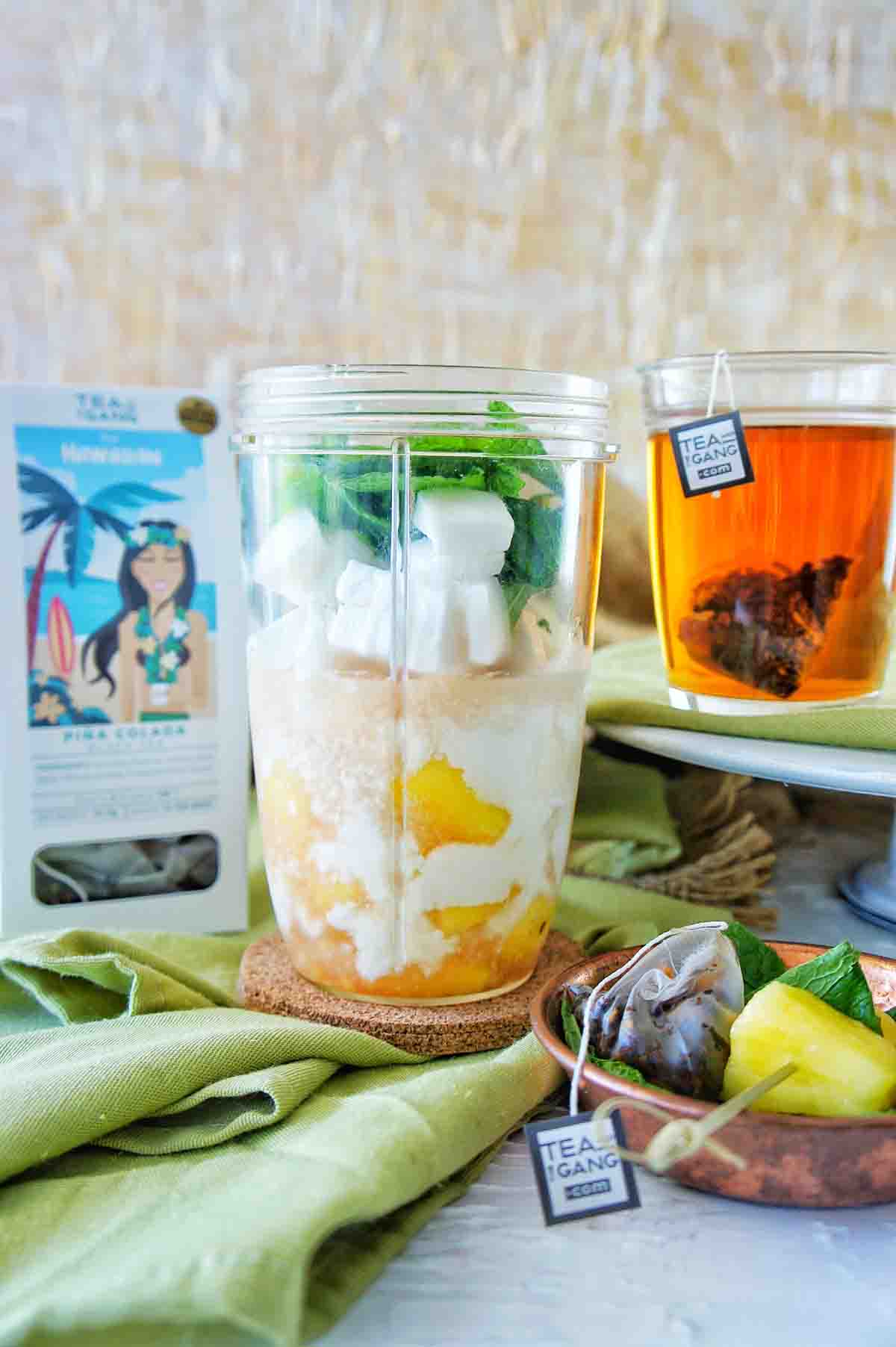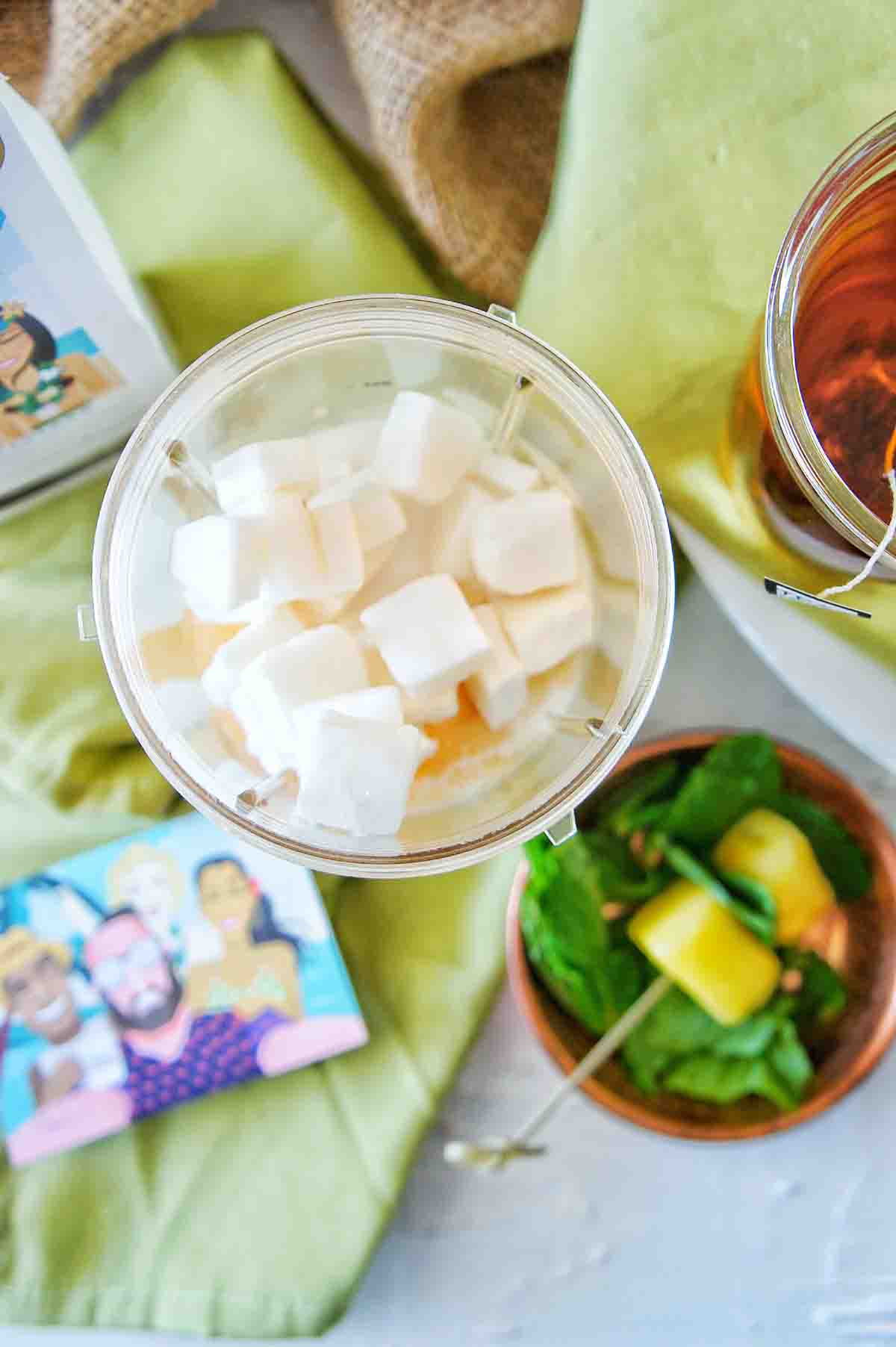 Ingredients for Pina Colada Smoothie
You buy both the frozen pineapple pieces and coconut chips in the frozen section of the supermarket. I got the mint fresh from the fruit shop (I have grown it in the past, but QLD heat obliterates most herbs unless you have a greenhouse).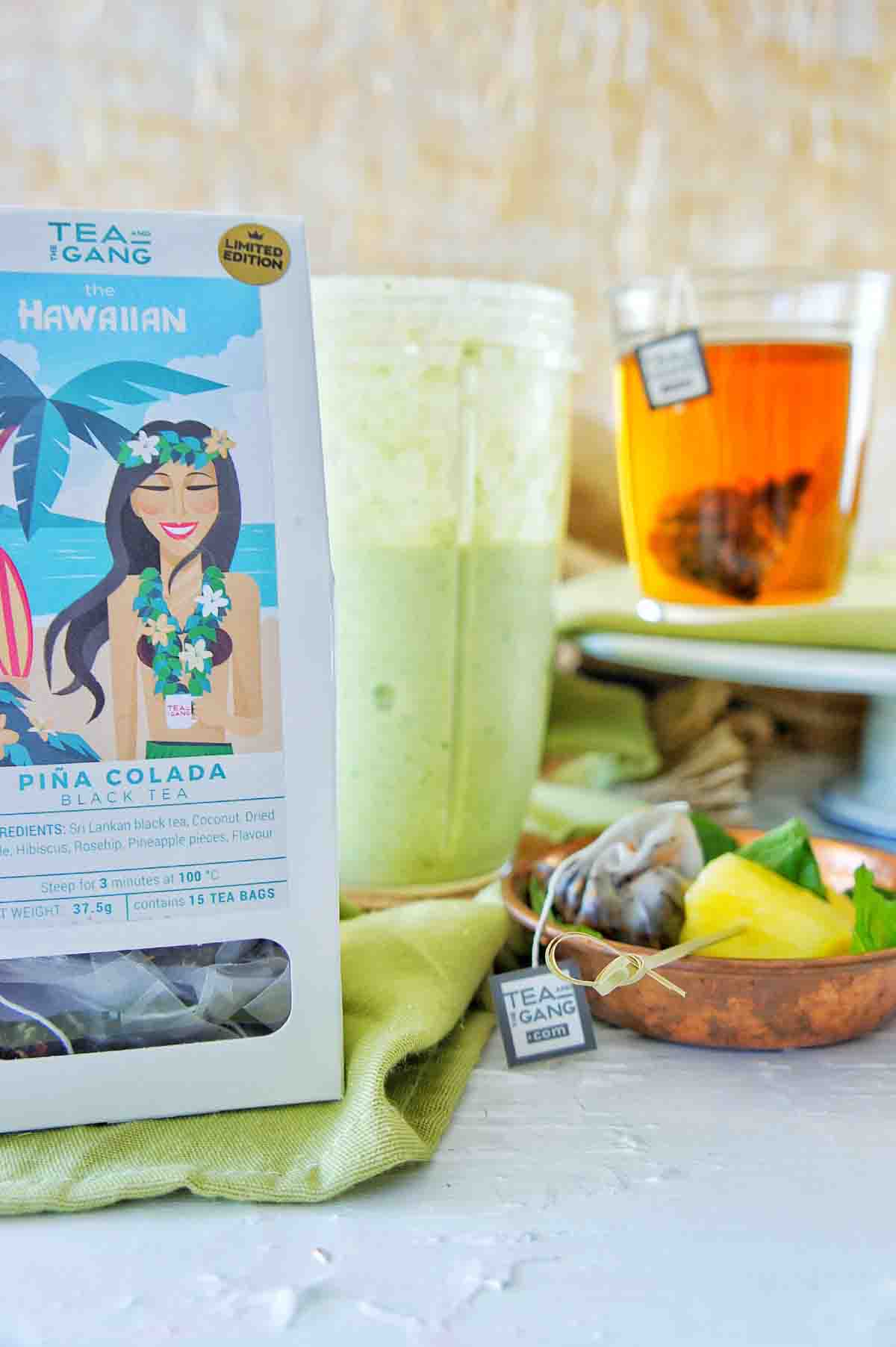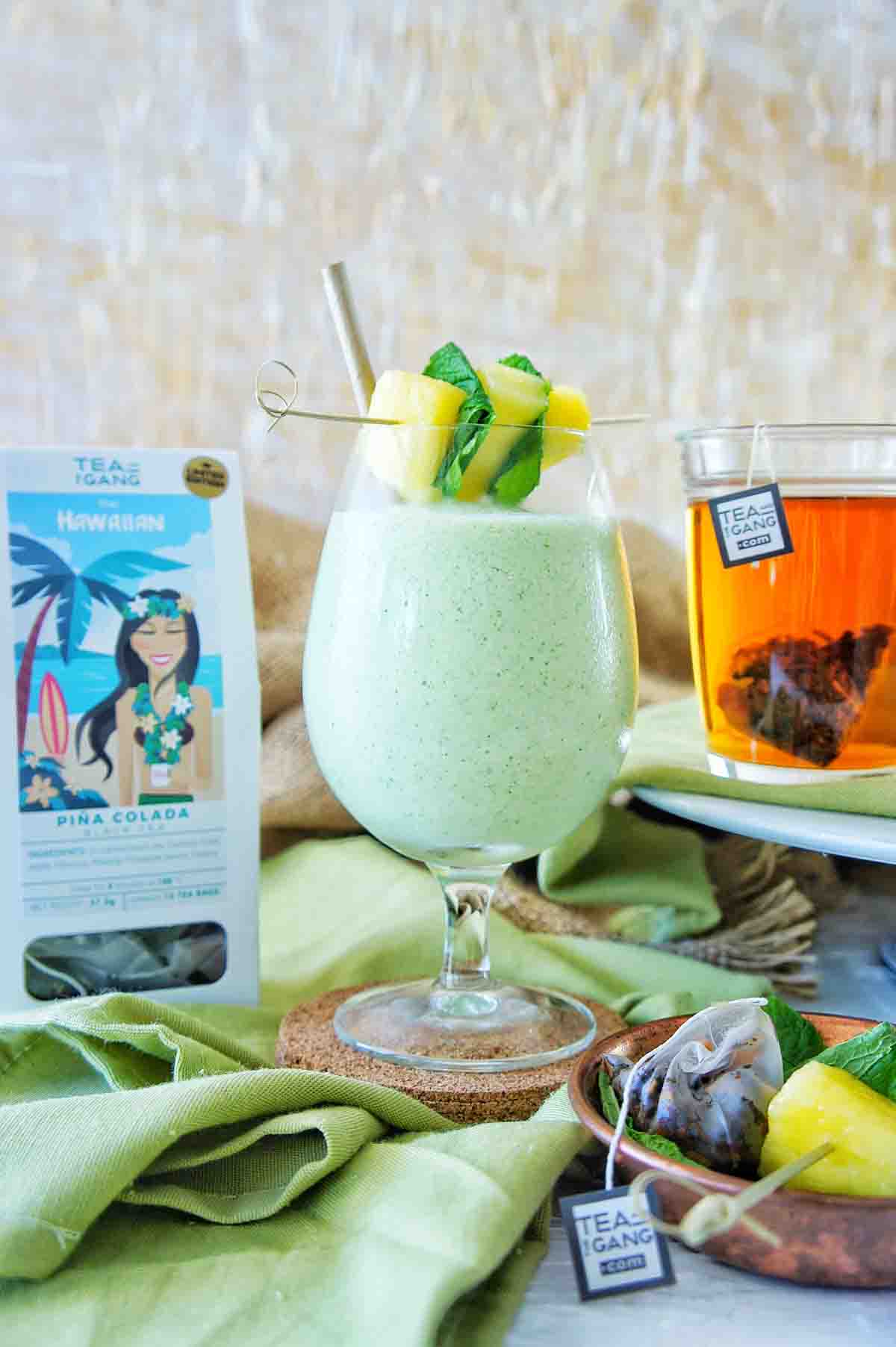 As for the mint, it really can be done to taste. I find it refreshing and a great flavour in this combination of ingredients. If you are not as big a fan, I would recommend, using a few leaves, torn apart and put in the mix, then taste the drink and add more if you like.
You will definitely not miss the booze in this recipe. You honestly don't need it. Maybe this can be your 'morning after' drink instead of your the 'night of' drink.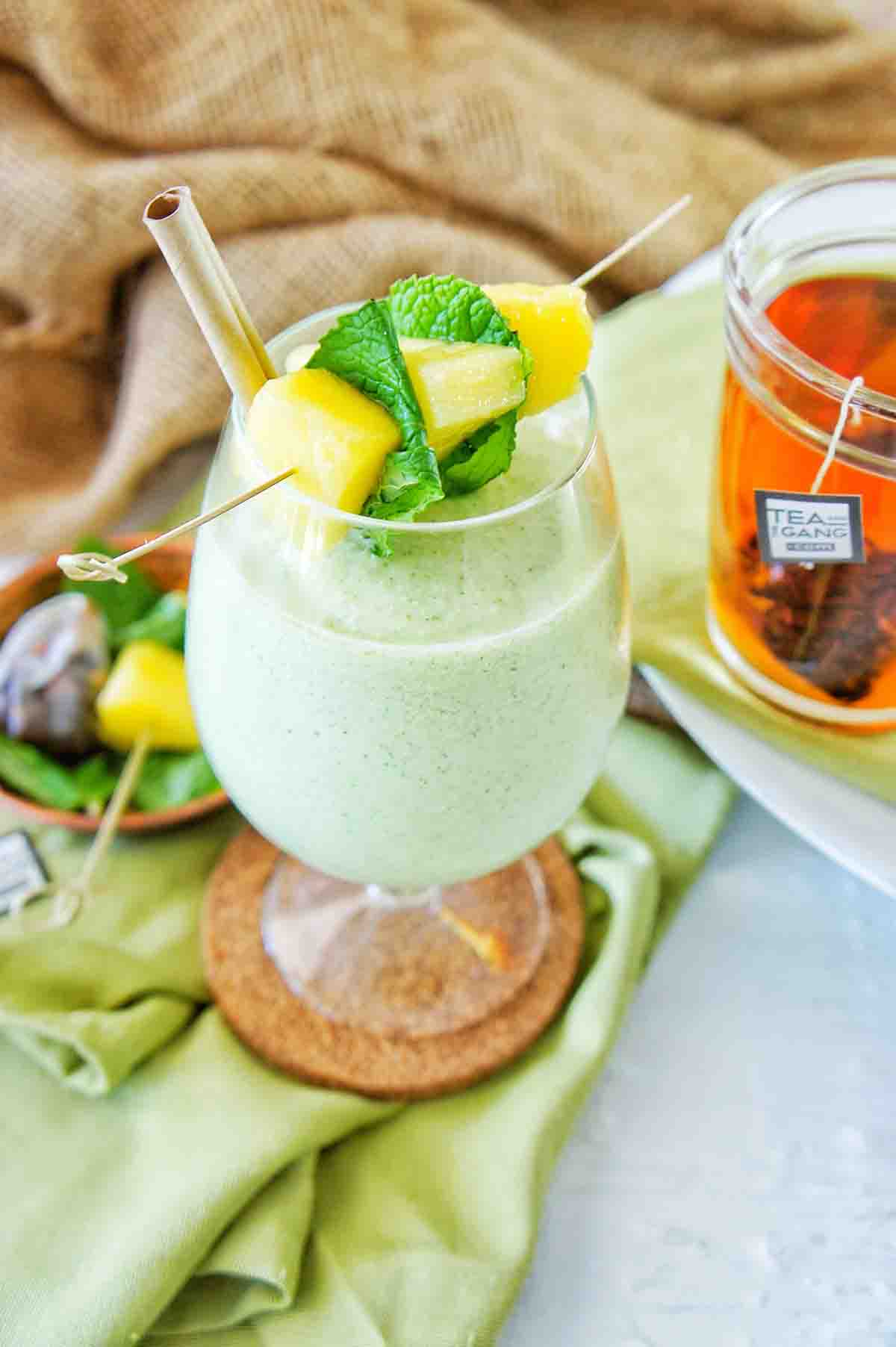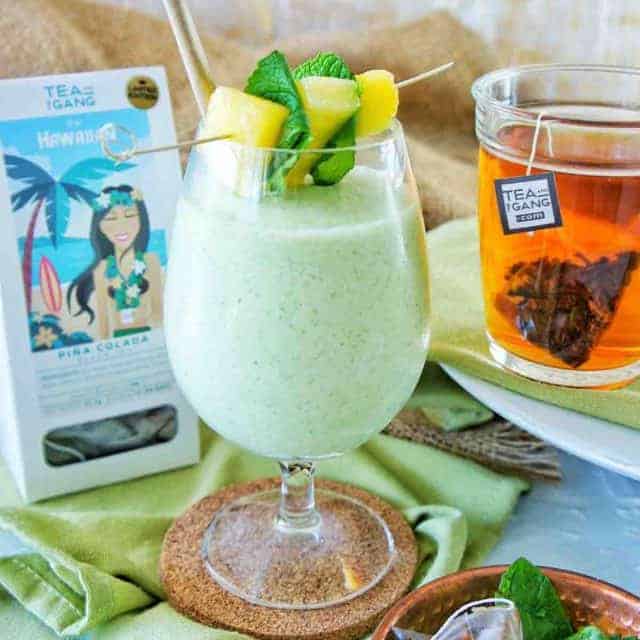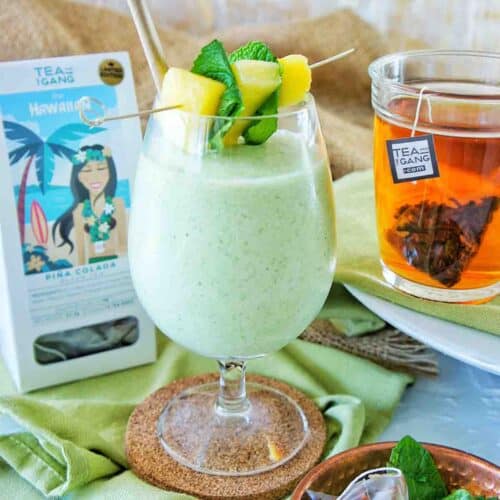 Pina Colada Smoothie
Pina Colada Smoothie is on Sweet Caramel Sunday! With simple ingredients and step by step instructions, you will be able to make this smoothie today!
Print
Rate
Ingredients
Pina Colada Smoothie
2

bags

pina colada black tea

(tea and the gang)

2

cups

frozen pineapple

2

cups

frozen coconut chunks

1

cup

coconut milk
Instructions
Pina Colada Smoothie
Boil the kettle, place 2 tea bags into a large tea mug and pour hot water in to brew tea

Combine frozen pineapple, coconut chunks and coconut milk into a blender jug

When tea is cool, add to the jug and blitz all ingredients to combine
Notes
Ensure tea is cool before adding to the blender jug 
Add the mint to taste, more mint will provide a stronger more refreshing flavour and your drink will be greener. Less mint and you will have more of a coconut flavour and your drink will be whiter. 
Some stores will call the coconut chips and some will call them chunks - if you go to the freezer section, you will find them either way.
TEA INGREDIENTS: Sri Lankan black tea, Coconut, Dried apple, Hibiscus, Rosehip, Pineapple pieces, Natural flavouring. (Contains Caffeine)
Nutrition
Serving:
0
g
|
Calories:
728
kcal
|
Carbohydrates:
97
g
|
Protein:
5
g
|
Fat:
38
g
|
Saturated Fat:
34
g
|
Cholesterol:
0
mg
|
Sodium:
187
mg
|
Potassium:
950
mg
|
Fiber:
7
g
|
Sugar:
80
g
|
Vitamin A:
285
IU
|
Vitamin C:
54.4
mg
|
Calcium:
111
mg
|
Iron:
5.3
mg
Did you make this recipe? Share on Instagram!
It makes my day when you make my recipes! Tag @sweetcaramelsunday
Further Recipe Inspiration
Before you head off, I am going to suggest 2 other super refreshing recipes you can find on the blog…
I think they will whet your appetite for more!
A big thanks to my friends At Tea And The Gang for allowing me the pleasure of working with this beautiful tea and from me to you, Aloha Hawaii x
Adrianne
P.S. This is my favourite quote from their site:
We cannot offer personal designed blends for individuals but it's safe to say you are a character and you are very welcome to the gang!