Start your day with a Mixed Berry Smoothie with yoghurt!
If you want to jump out of bed and fly through the day then a delicious berry smoothie with yoghurt mixed in is the way to go.

Oat recipes like our Fruit Crumble are easy, delicious and perfect for when you are hangry!
Smoothie recipes with greek yoghurt
Remember just the other day when we were talking about winter smoothie ideas such as my Raspberry Oat Smoothie recipe. Well, I have another bright and colourful idea which you will love and that is with this Mixed Berry Oat Smoothie.
The best thing about this smoothie is that it is easy to make and the 2nd thing is that it tastes delicious!
As you can see from the photo below, you grab your blender jug and throw in all of the ingredients that you need. Then you blend it and you are out the door!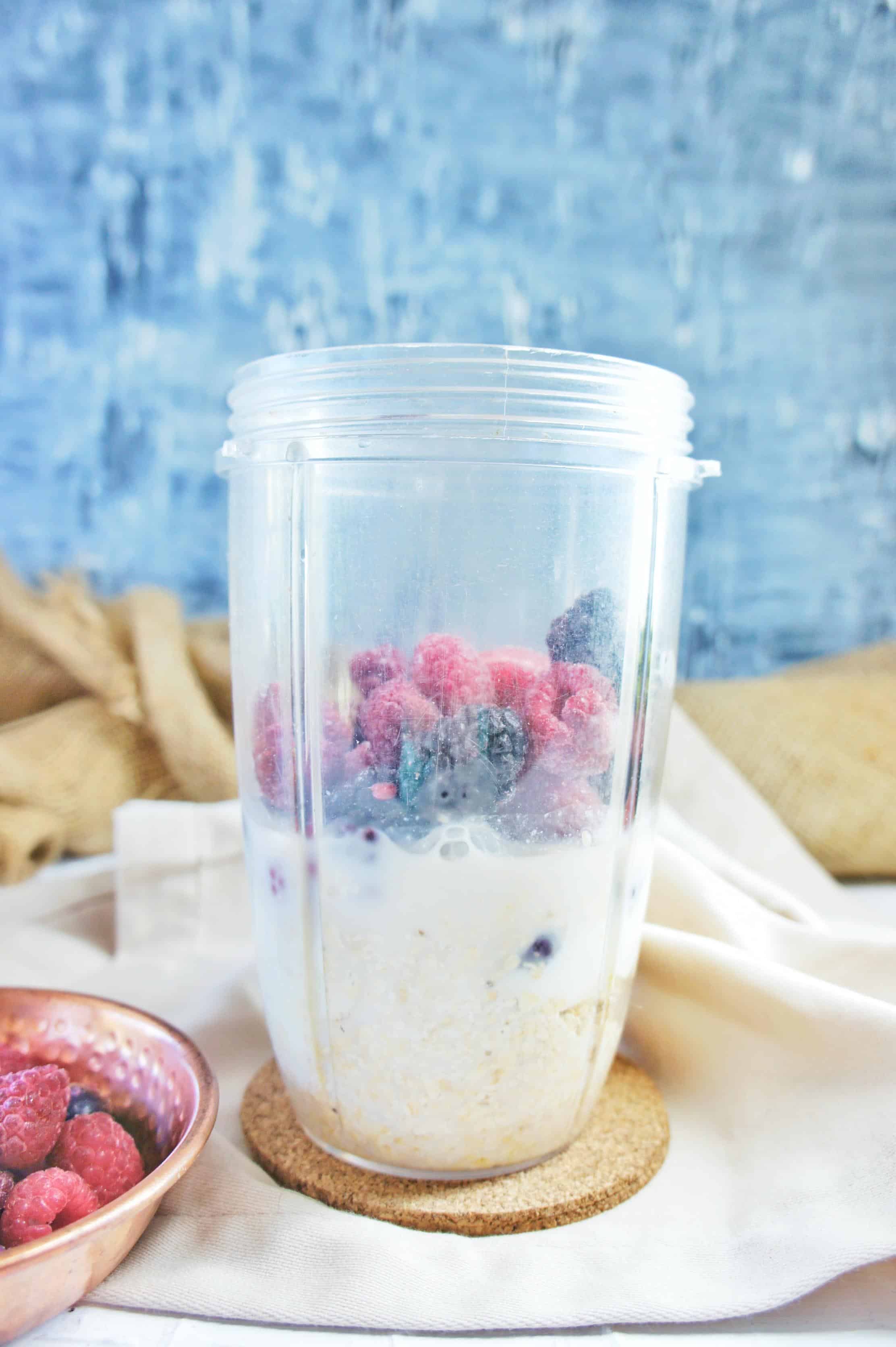 Smoothies with oatmeal
We Aussies call Oatmeal 'Oats'. We tend to shorten a lot of things as opposed to calling them by their full name. I know my friends in America and Canada more often call this 'Oatmeal'. But here in the Sunshine state, we just stick to 'oats'.
There are the rolled or the quick variety and a trusty source tells me it is the rolled variety we should stick to as they are less processed than the 'quick oats'.
For this Berry Smoothie with yoghurt, you can add your oats and yoghurt the night before you plan to drink it. Just put them in your blender jug with a lid on it in the fridge. The next morning add your mixed berries, yoghurt and almond milk and just like that, you are done!
Grab this one for an on the go breakfast as you head out the door. It is packed with antioxidants!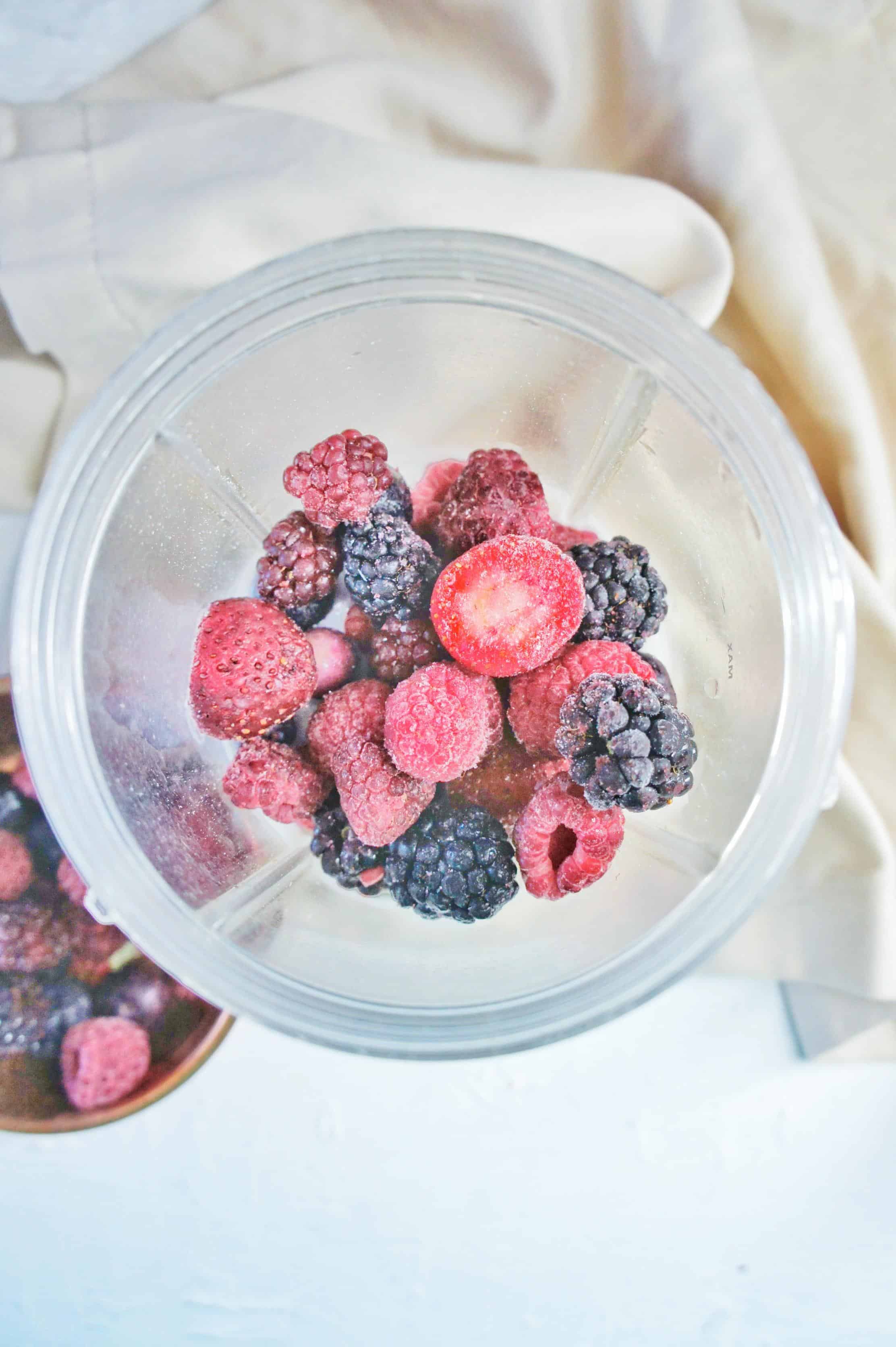 Healthy Blueberry Smoothie
I find this type of smoothie, will keep you full from breakky (affectionate Aussie slang) till lunch and you will be less likely to snack on other foods.
I have rushed last minute many times in my day to grab something from a servo on the way to work. That results in really limited options like sugary drinks or juices that tick a box but not fill my stomach.
With a little bit of food prep for this one, you will manage to grab it and go each day.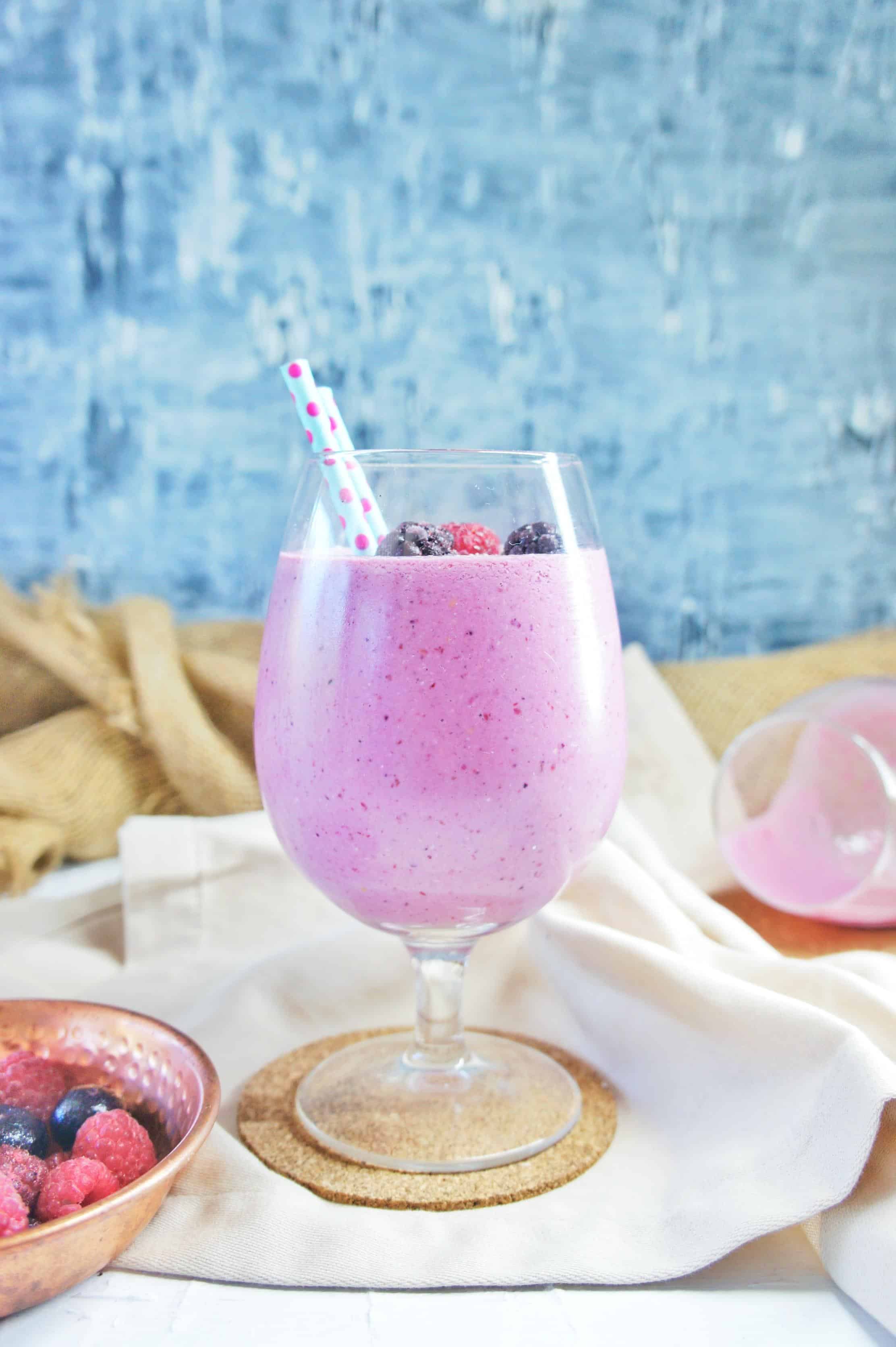 Pretty Healthy Berry Breakfast Smoothie
Doesn't it look oh so pretty too!!
I remember saying to you recently sometimes you can accidentally throw a few things into a smoothie jug and walk away with a brown ooey gooey liquid, but trust me, I have tried this combo many, many times and IT WORKS!
It is also nice to change it up a bit from the regular Green Smoothie.
I am a huge green smoothie fan, but even that gets boring of you have it everyday!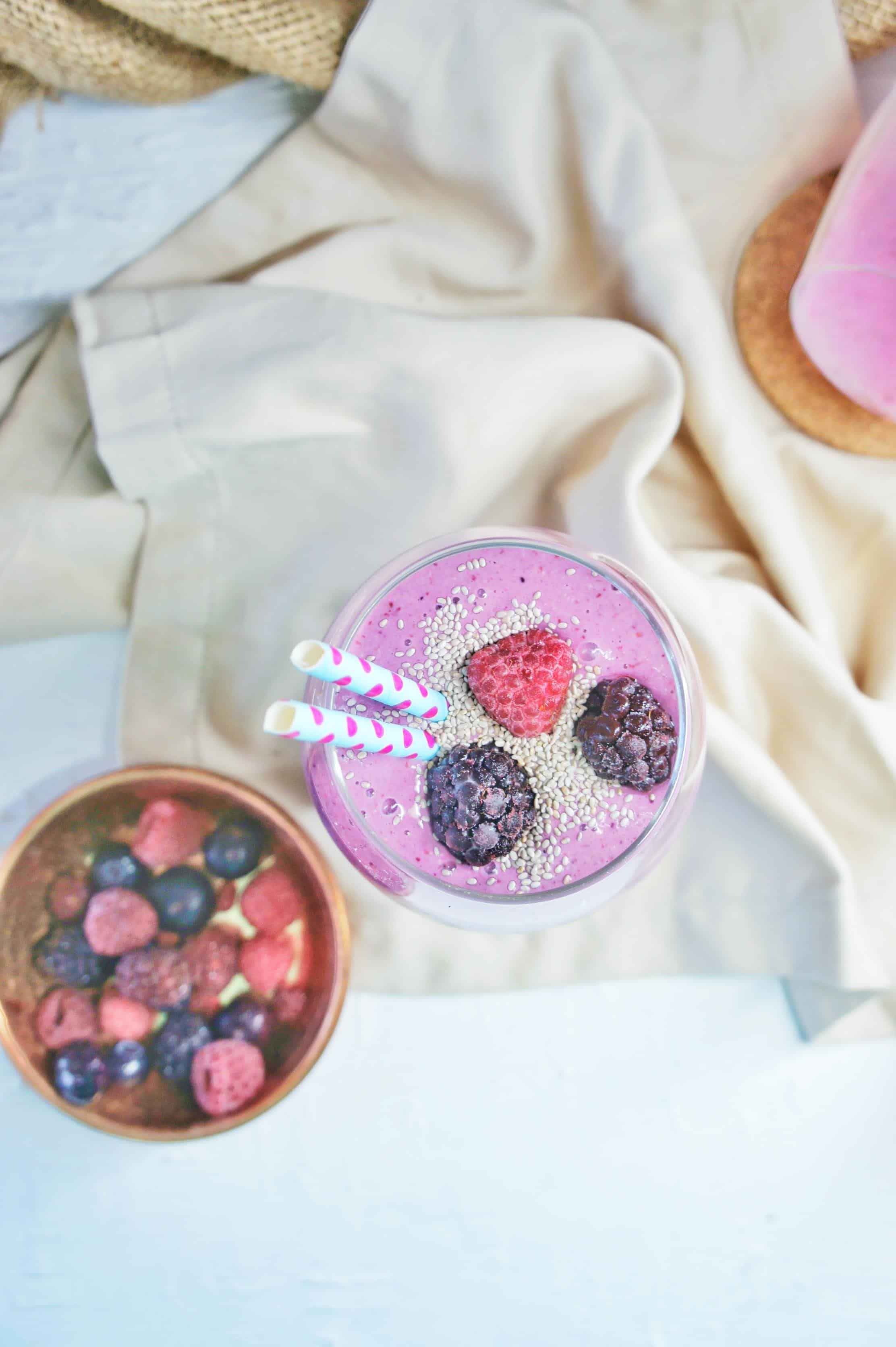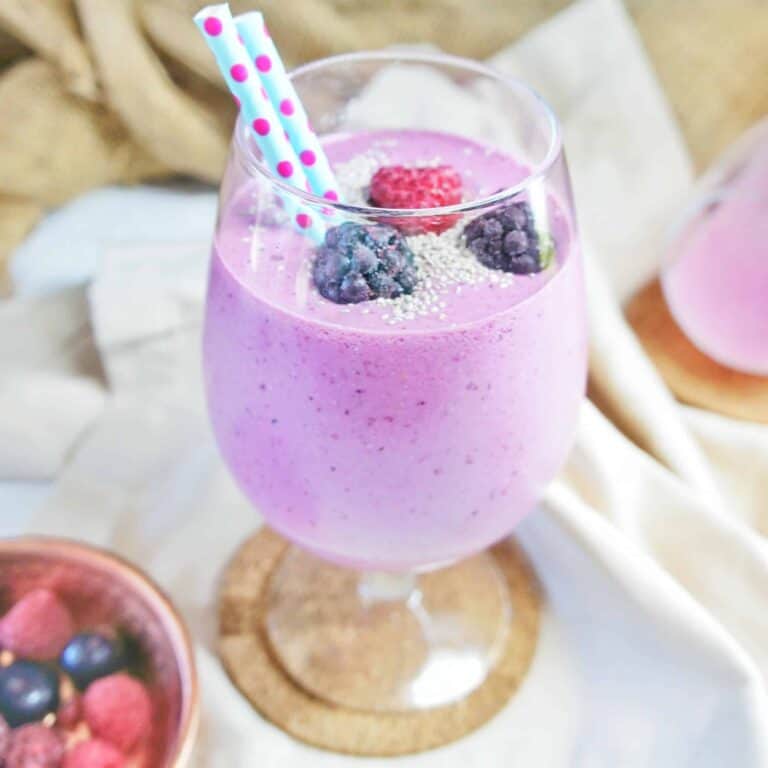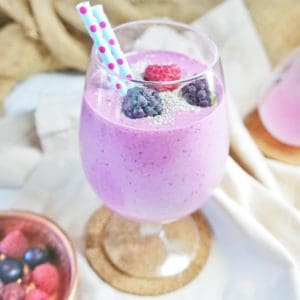 Mixed Berry Smoothie with yoghurt (VIDEO)
Start your day with a Mixed Berry Smoothie with yoghurt! Want to jump out of bed and fly through the day? Then berry smoothie with yoghurt is the way to go. 
Print
Rate
Ingredients
½

cup

oats

rolled oats, not quick oats

1

cup

frozen mixed berry variety

½

cup

almond milk

coconut if you prefer

½

cup

greek yoghurt

1

tsp

chia seeds
Instructions
Add all ingredients to your blender jug

Top with additional mixed berries and chia seeds (optional)
Video
Notes
I have done this post with pictures as a 1 person serve, but split it if you wish. It just won't be a meal, rather a drink instead. 
You can buy a mixed bag of frozen berries from the freezer aisle of the grocery store.
Keep a few of the frozen berries to put on top of your finished drink 
Add some Chia seeds if you wish 
Nutrition
Calories:
385
kcal
|
Carbohydrates:
71
g
|
Protein:
12
g
|
Fat:
6
g
|
Saturated Fat:
0
g
|
Cholesterol:
2
mg
|
Sodium:
238
mg
|
Potassium:
467
mg
|
Fiber:
10
g
|
Sugar:
36
g
|
Vitamin A:
70
IU
|
Vitamin C:
4.7
mg
|
Calcium:
395
mg
|
Iron:
2.3
mg
Did you make this recipe? Share on Instagram!
It makes my day when you make my recipes! Tag @sweetcaramelsunday
Smoothie Recipes with Greek Yoghurt
As you are no doubt going to try this smoothie and LOVE it, I thought I would share a few more of my favourites with you for further inspiration.
They recipes are ones that you can have with or without greek yoghurt. You might find in the cooler months, you want to add yoghurt and oats. This is a great idea!
If however, you want a breakfast bowl type recipe then my Raspberry Chia Pudding ticks that box. With a smoothie mix and a chia pudding, it is an idea you will want to add to your cookbook.
I'm going to have to go now.....Tonks has come into the room and he is doing EVERYTHING in his power to distract me and get me to concentrate on him instead (love him and his purfect personality)
Adrianne x
P.S I honestly took 10,000 photos of Tonks to get one to show you what I am talking about and they were all bad. He is practising his Jackie Tran moves and action shots are not my forte. Nevertheless, here is the best one I got. You can check out more of his sweet face at: Tonksandco