Haloumi and Greens with Fried egg is for breakfast!!
If there is a better breakfast than pan fried haloumi and a fried egg, I don't know what it is!
Breakfast on a weekend is one of my favourite meals. There is not the rush of the working morning and I like to take more time to prepare my meal and sit and enjoy it, as opposed to the usual drink green smoothie somewhere between leaving home and arriving at my desk for work. I have over the years, enjoyed many breakfasts out and my favourite places are the more modern ones. This days every recipe I read is packed with greens and 'super' stuff. I totally understand this as a big breakfast laden with white toast and butter doesn't really serve any of us very well. On the other hand, a nice big serving of greens always kicks the day of in a good fashion and fuels the tanks that will be needed to get everything done that always consists of a weekend.
Finding inspiration
My inspiration for this dish came from time spent leafing through Coles and Woolies magazines, which I love doing when I have a chance and also drooling over other people's Instagram feeds which one can spend hours doing.
I find this doesn't need a 'sauce' as I make the egg with a runny centre and use that gooey yolk as a replacement, however, I would recommend a green pesto if more sauce were required.
It is sunny and a beautiful day so far in Brisvegas. I was up super early for no specific reason, so I went for a walk and am now sitting on the verandah drinking a chai with almond milk. If I had all the time in the world today, I would read the 10 thousand books I have from the library, but I know as it always does, the day will fly by and unfortunately it is not possible to get them all read at the same time.
Enjoy your Sunday, it will be a long time before another one comes round again – sad but true!
Enjoy!! xx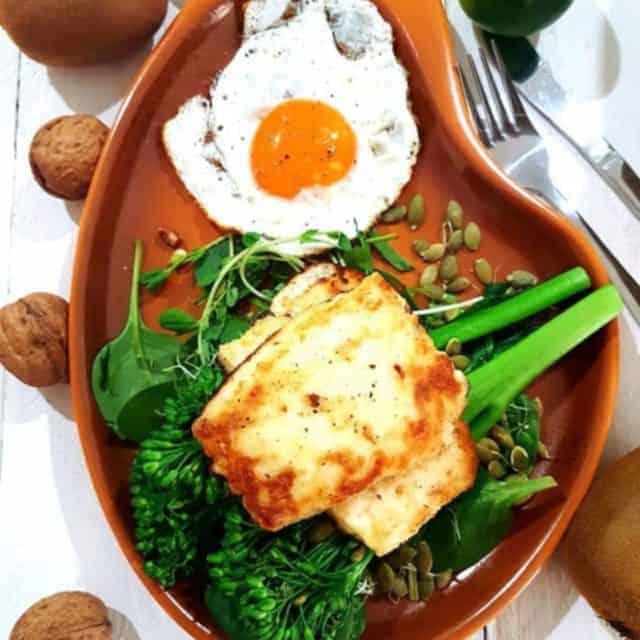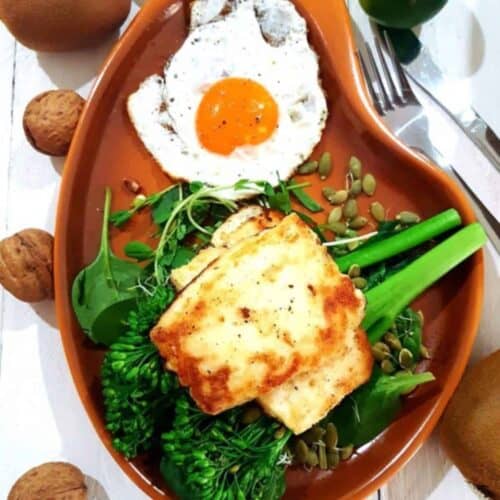 Haloumi and Greens with Fried Egg
Haloumi and Greens with Fried egg is for breakfast!! If there is a better breakfast than pan fried haloumi and a fried egg, I don't know what it is!
Print
Rate
Ingredients
Haloumi and Greens with Fried Egg
1

tbsp

olive oil

4

broccolini stems

1

cup

spinach leaves

2

tbsp

mung beans

2

tbsp

alfalfa

2

tbsp

sprouts

250

grams

haloumi

2

eggs

1

tbsp

flour

1

tsp

salt

1

tsp

pepper
Instructions
Haloumi and Greens with Fried Egg
Dust a small plate with the flour and coat each sides of the haloumi


Put a splash of olive oil into a medium sized fry pan and cook haloumi for approx. 4 mins each side, or until nice and golden looking


In a saucepan, boil water, season with salt and when at boiling point, add broccolini, cook for 3 minutes, or until a vibrant green


Toast pumpkin seeds in microwave for approximately 1 minute


Arrange spinach, mung beans, alfalfa and sprouts on your serving plates and top with toasted pumpkin seeds


Take haloumi out of pan and set aside


Fry eggs in pan until white are cooked but yolk is still runny


Add cooked broccolini and eggs to plate


Reheat haloumi to hot, then place on top of greens

Notes
Nuts cook really quickly in the microwave, so be careful not to overheat, instead start with a minute and then repeat if not all toasted. 
The broccolini will also cook quickly, best to not overdo it so that the stem is still crunchy. If in doubt, turn heat off at point of doubt and let sit in hot water for another minute or so. 
Nutrition
Calories:
584
kcal
|
Carbohydrates:
13
g
|
Protein:
37
g
|
Fat:
42
g
|
Saturated Fat:
23
g
|
Cholesterol:
163
mg
|
Sodium:
2739
mg
|
Potassium:
306
mg
|
Fiber:
2
g
|
Sugar:
1
g
|
Vitamin A:
1645
IU
|
Vitamin C:
4.9
mg
|
Calcium:
1307
mg
|
Iron:
2.3
mg
Did you make this recipe? Share on Instagram!
It makes my day when you make my recipes! Tag @sweetcaramelsunday