How good is a refreshing cocktail on a Saturday evening? I find that a drink like this makes time slow down. You can still enjoy the alcohol content but the thirst quenching satisfaction of the combination of flavours takes that time and space to a different level.
This punch is super easy to make – I recommend good quality ginger beer and don't substitute it for ginger ale, it just doesn't taste the same.
A few glasses of this punch and you will be chillin and mellow and wondering what stress actually is!!
Cheers!!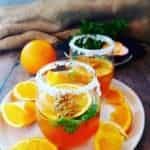 Ingredients
Bottle of prosecco sparkling

Bottle of ginger beer

Bitters

Fresh passionfruit seeds

Fresh orange slices

Fresh mint to garnish

Sugar for glass rims
Instructions
Dip tops of glasses into a small bowl with water, then coat rim with sugar
Add ice cubes and orange slices
In a carafe add ginger beer, prosecco and bitters to taste and stir
Pour into cocktail glasses