Easy Garlic Noodles are insanely delicious at the same time as being one of the quickest recipes you can make! This garlic noodles recipe delivers taste, texture and is cheap as to make!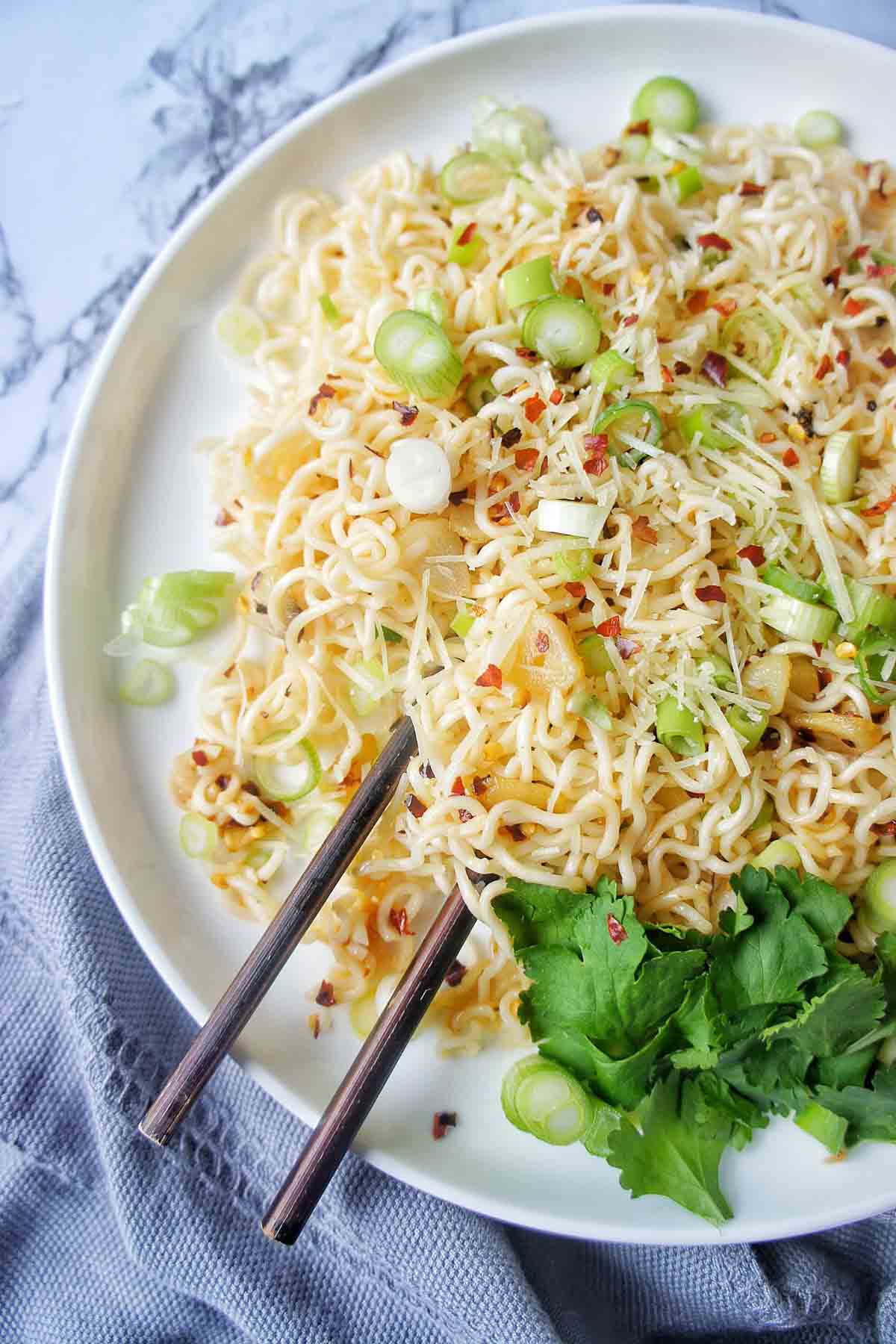 Noodle recipes like the Chicken Noodle Stir Fry, Chicken Noodle Bowl and Yellow Curry Noodle Bowl allow you to eat Asian style food at home.
The Hung Over Noodles, Ginger Scallion Noodles and Chorizo Noodles recipes are all quick and easy!
Easy noodle recipes with few ingredients is the idea here and it helps that it is SO delicious!
Garlic Noodles pack a punch but won't empty your wallet, you will only need loose change!
Remember the Garlic Spaghetti recipe we made recently and how insanely delicious it was? Well, this is the simply irresistible noodle version of that dish!
BROWSE BY:
Asian Food Noodle recipes Quick and Easy
For vegetarian ideas, check out the Meatless Monday Vegan Noodles, the Vegan Brown Rice Noodles or the Tofu Fried Noodle Salad recipe.
How to you make garlic noodles from scratch?
Garlic Noodles are made by frying the garlic (and chilli) in peanut oil for approx 5 mins.
We then also cook our noodles and when ready, add them to the garlic, oil and chilli.
Next we combine our cooked noodles with our garlic combo, stir, add some sesame oil, as well as a little reserved noodle water, then we garnish with greens and cheesy parmesan!
What to add to plain noodles?
This dish is simple, yet packed with flavour.
We add garlic, peanut oil, chilli, green onions, coriander and sesame oil to the plain noodles.
If you want to add protein, try any of the following:
pork
chicken
shrimp
cashews
peanuts
Garlic Noodle ingredients
The ingredients for this recipe are simple and easy to find at the local shops. They are set out in the photo below so you can see exactly what you need: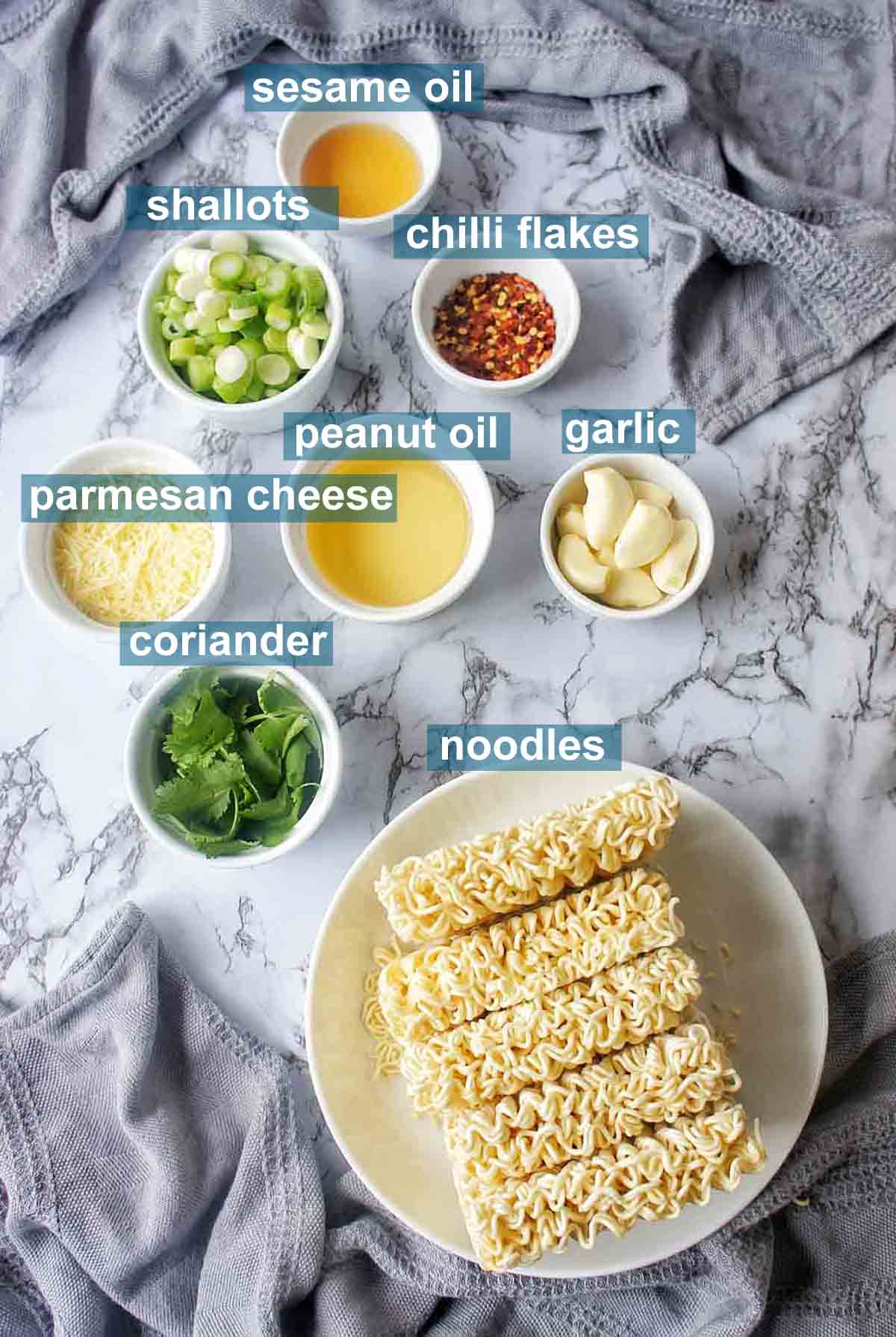 As you can see, we have:
garlic
noodles
peanut oil
chilli flakes
sesame oil
parmesan cheese
shallots (green onions) or can use parsley
coriander (cilantro)
Garlic is really the hero of this dish, simply remove the skin to start the prep for it!
How to make garlic noodles recipe
The photos below are the easy step by step instructions you need to bring this dish together: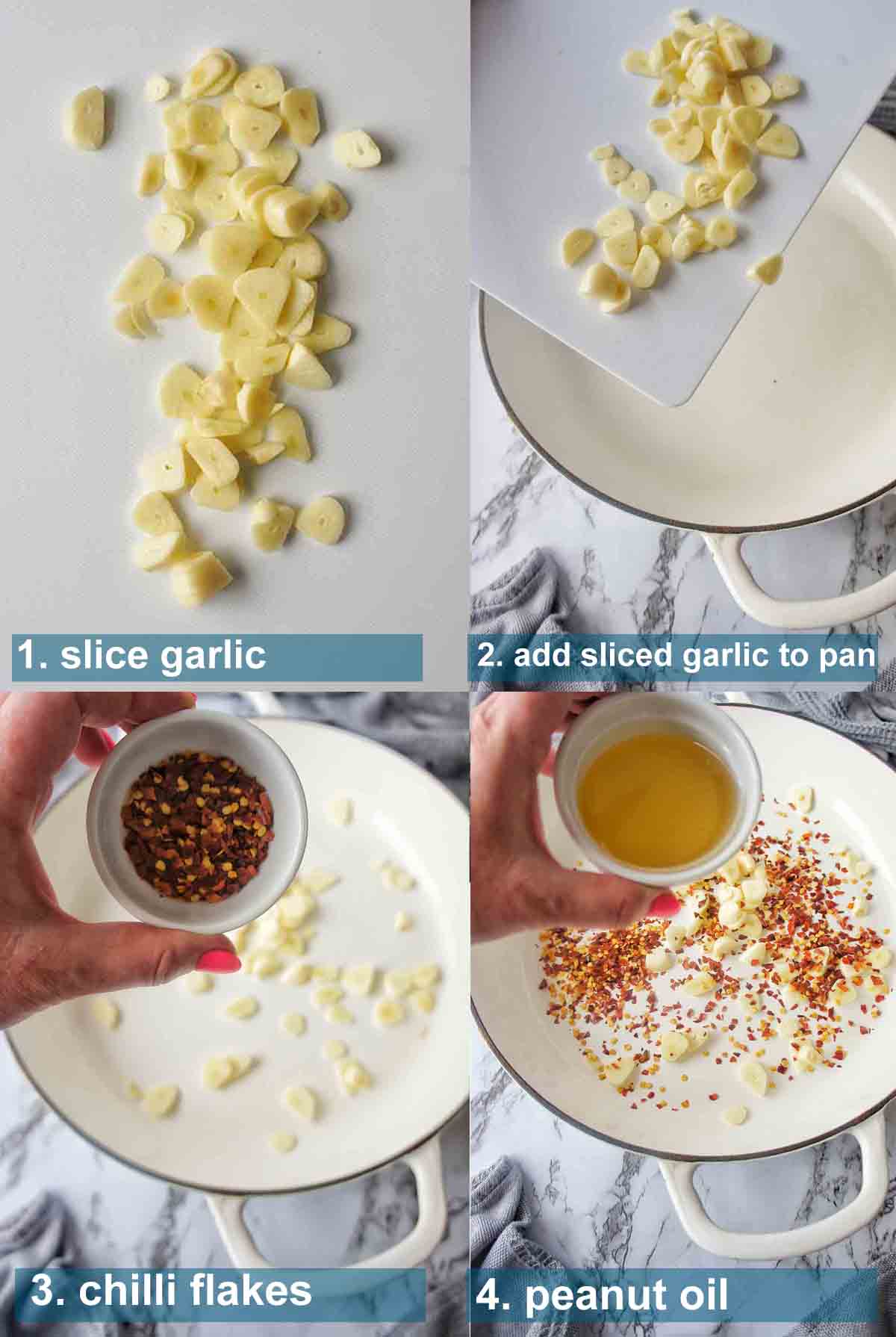 Use a sharp knife to slice the garlic into thin pieces (Photo 1)
add garlic to skillet (Photo 2)
then add chilli flakes (Photo 3)
and peanut oil (Photo 4)
Peanut oil is more commonly used in Asian Style cooking than olive oil (more commonly used in Italian Cooking).
Once those 4 steps are complete, we are well on our way to garlic noodle heaven (yup, there is such a place!!)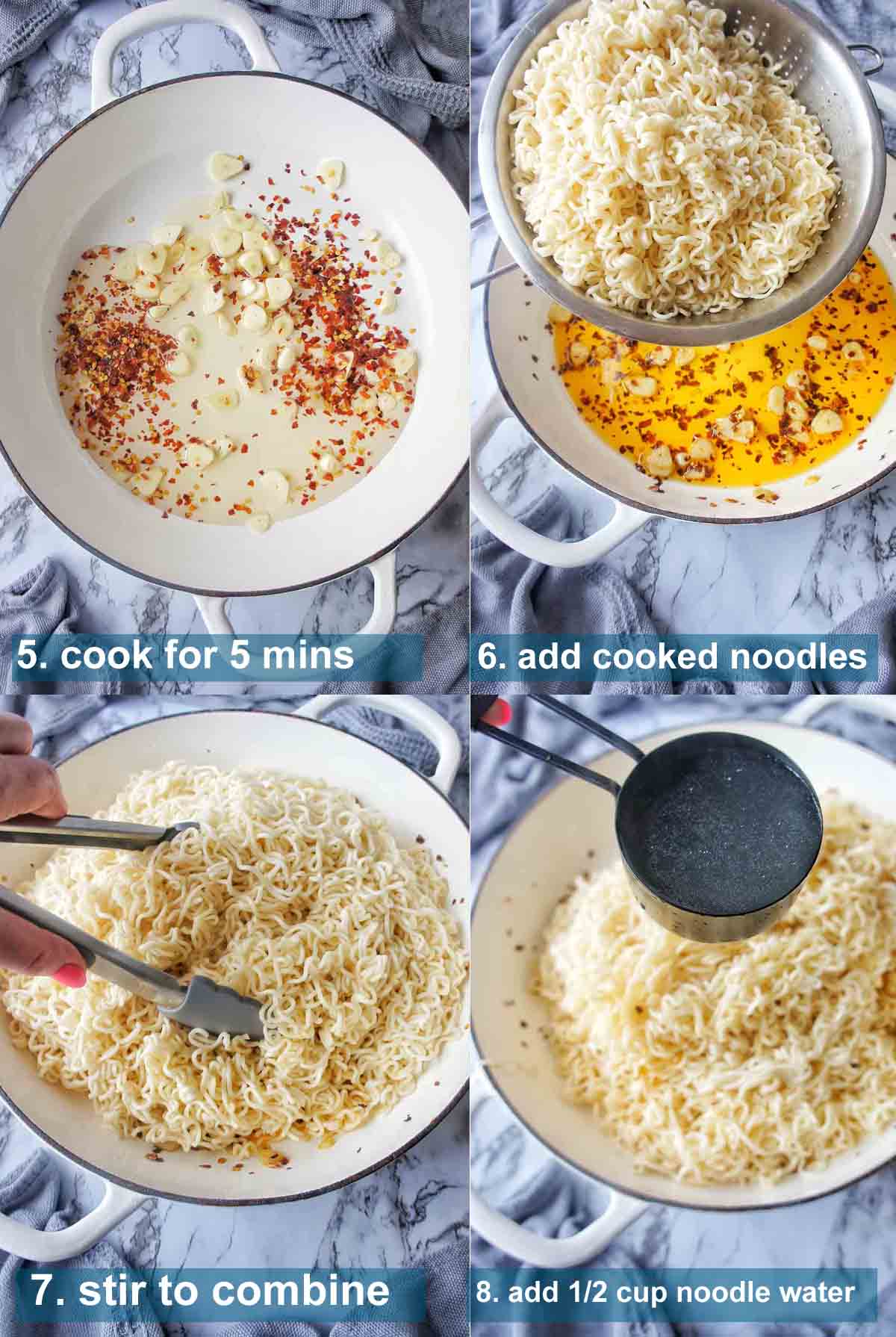 Easy Garlic Noodles method
cook the sliced garlic and chilli flakes for 5 mins (Photo 5)
cook the noodles, drain (reserve ½ cup of water) and add to pan (Photo 6)
stir to combine (Photo 7)
add ½ cup noodle water to the pan (Photo 8)
The garlic and chilli will take a little longer to cook in the peanut oil than if we were using olive oil. It will turn white then golden brown/clear when ready.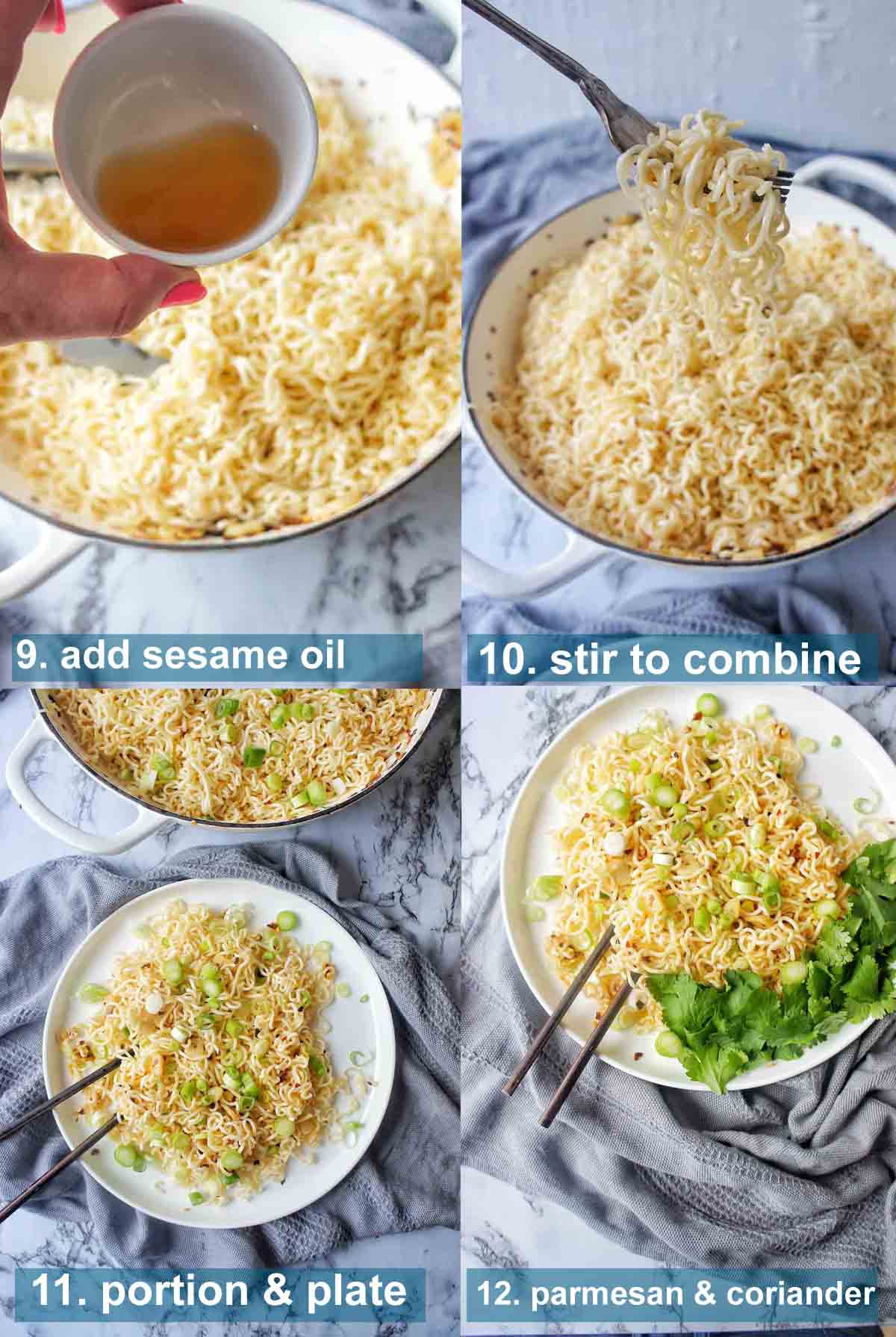 drizzle in the sesame oil (Photo 9)
stir to combine (Photo 10)
portion and plate the noodles (Photo 11)
garnish with parmesan, coriander and green onions (Photo 12)
If you prefer to cook the green onions, add them to the dish towards the end stages of the garlic and chilli cook time, ie they only need 1 minute cook time!
Garlic Noodles recipe quick info:
About the recipe:
there is 8 total ingredients for this recipe!
make with your favourite type of noodles
this recipe will feed 4 people (portion size dependent)
this is a vegetarian recipe (can be vegan without the parmesan cheese)
FAQs about Garlic Noodles
this is an easy recipe with basic ingredients
the chilli flakes add a touch of heat but are not too spicy
instant noodles, 2 minute noodles, ramen noodles, dried noodles will all work!
the peanut and sesame oil deliver aromatic fragrances as the dish is cooking
Your quick questions answered:
as the garlic cooks it becomes soft and tender
the chilli flakes can burn if the heat is too high or they are cooked too long
substitute parsley for the green onions if you like (or for the coriander)
the recipe takes less than 15 mins
This is an EASY recipe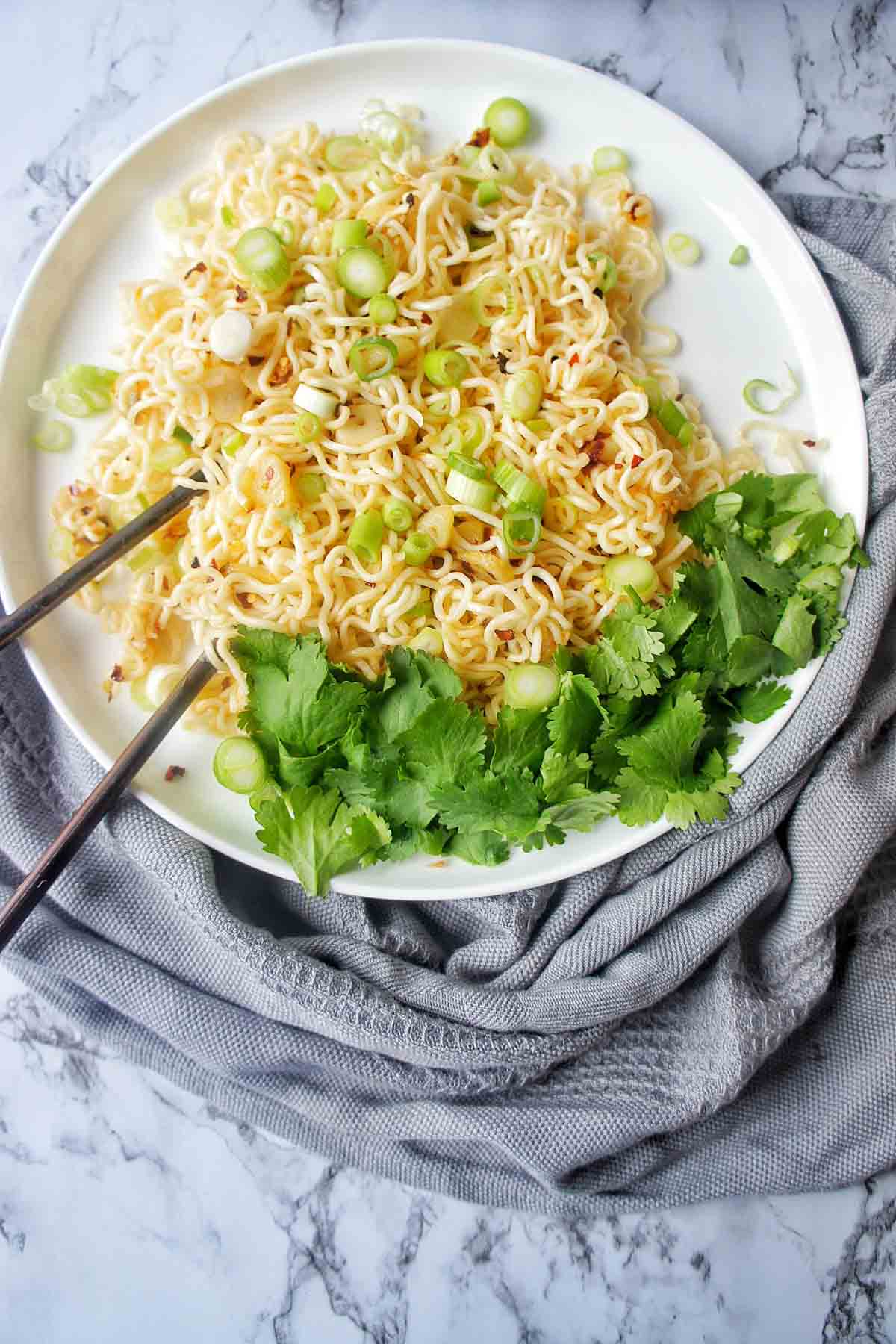 Expert tips:
These tips are to help you master this recipe from the 1st time you make it:
either boil the water and cook the noodles in that OR boil the kettle and pour the boiling water over the noodles
add a tbs of soy or fish sauce for extra zing!
choose to either cook the shallots (green onions) or add raw as a garnish!
parmesan cheese is optional (dish is vegan without it)
switch out the coriander and serve with parsley!
Try the recipe as is or add a protein like shrimp, chicken or pork the next time you make the recipe!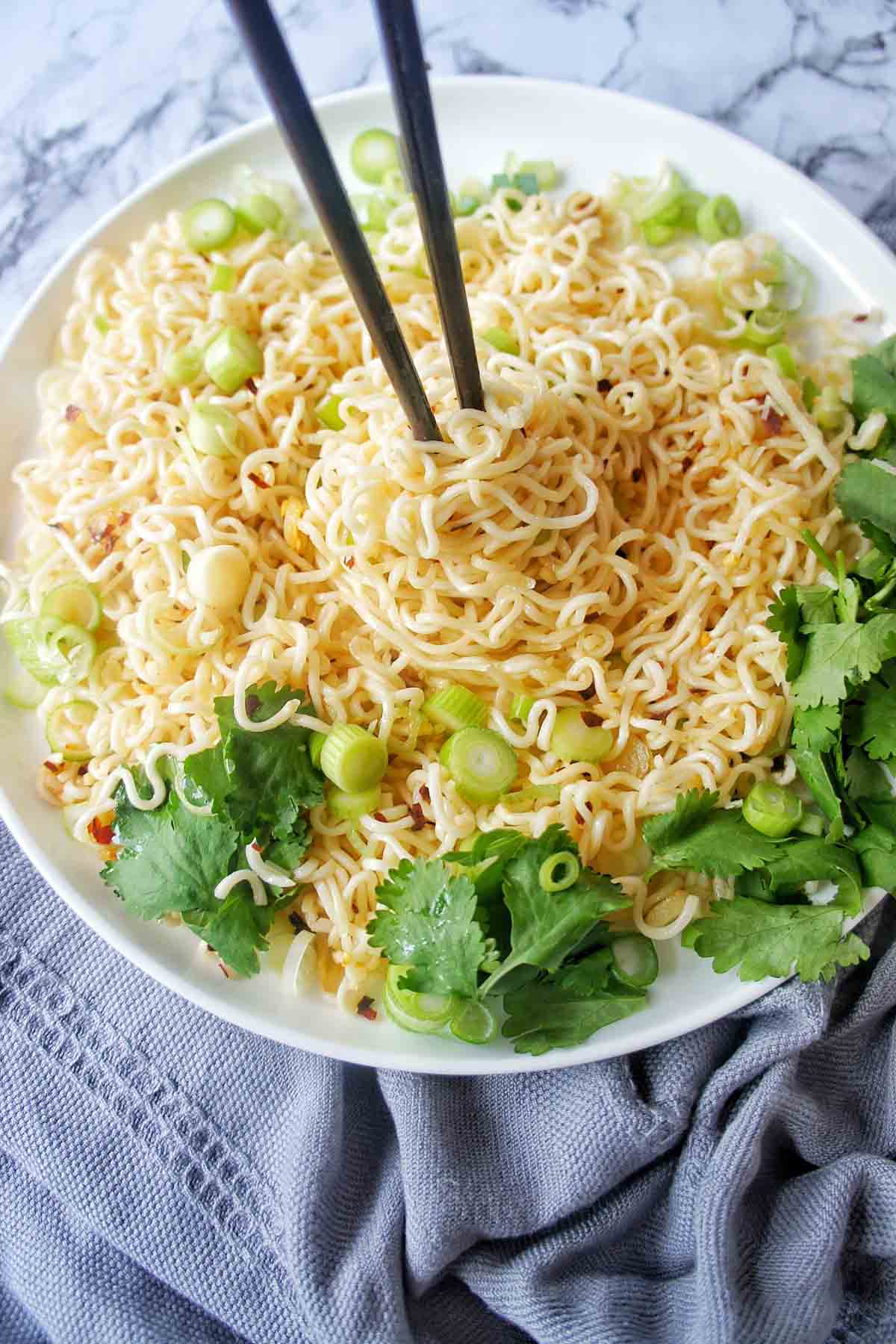 Find us on Facebook right here!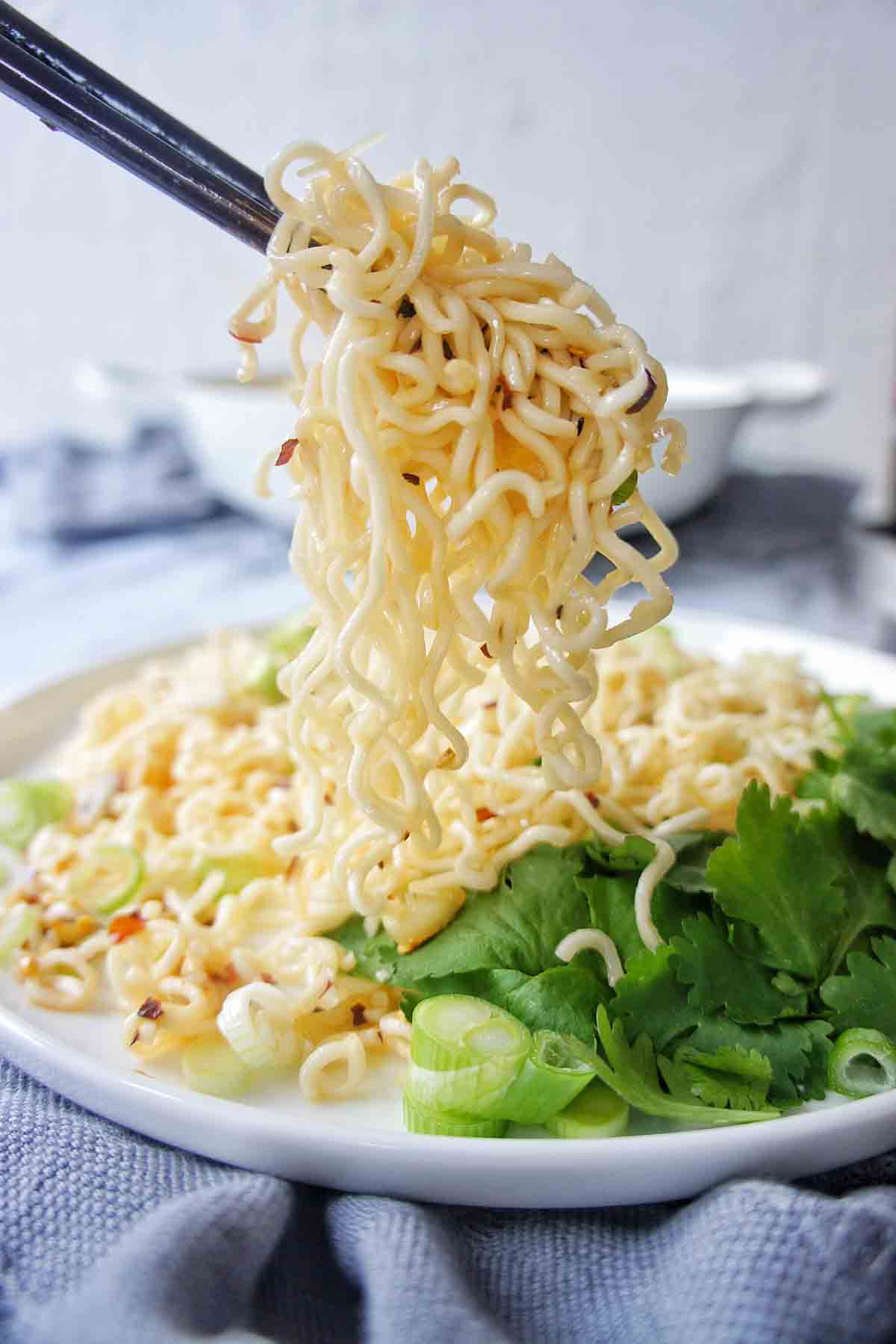 This dish takes instant noodles to the next level but remains fuss free, easy and seriously SENSATIONAL!!
This recipe will become your weeknight, want to cook, don't want that process to take forever signature dish!
Spaghetti noodle recipes
If noodles and pasta are your jam, these spaghetti recipes can be twirled around your fork anytime:
2 minute noodles no longer have to have packet seasoning and dried bits of stuff. We add the flavour and texture to this dish to give it the oomph la la!! (I just made that up, I know it is suppossed to be oh lala, but there is more oomph that oh in these so, so good noodles! )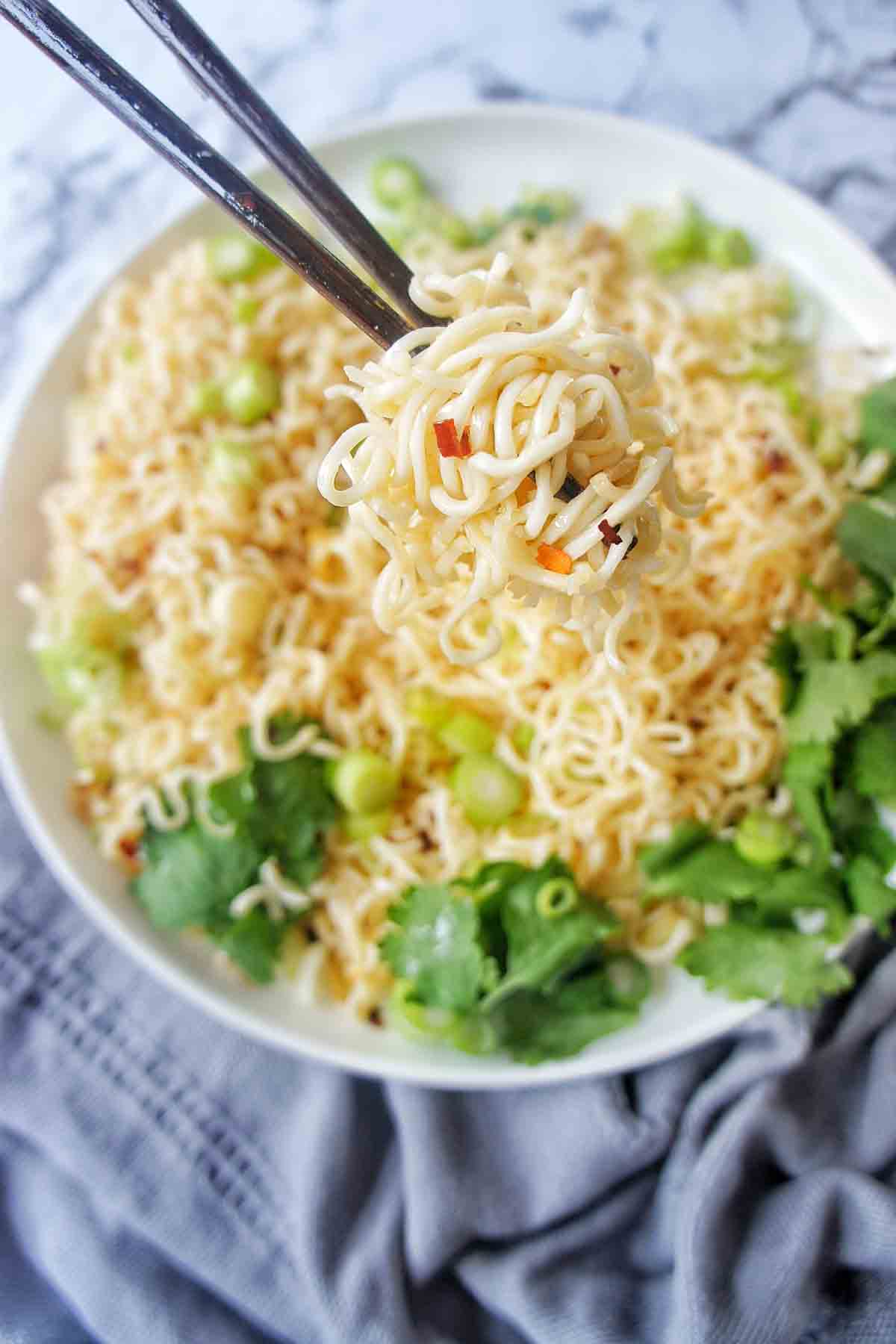 PIN and save this recipe for later!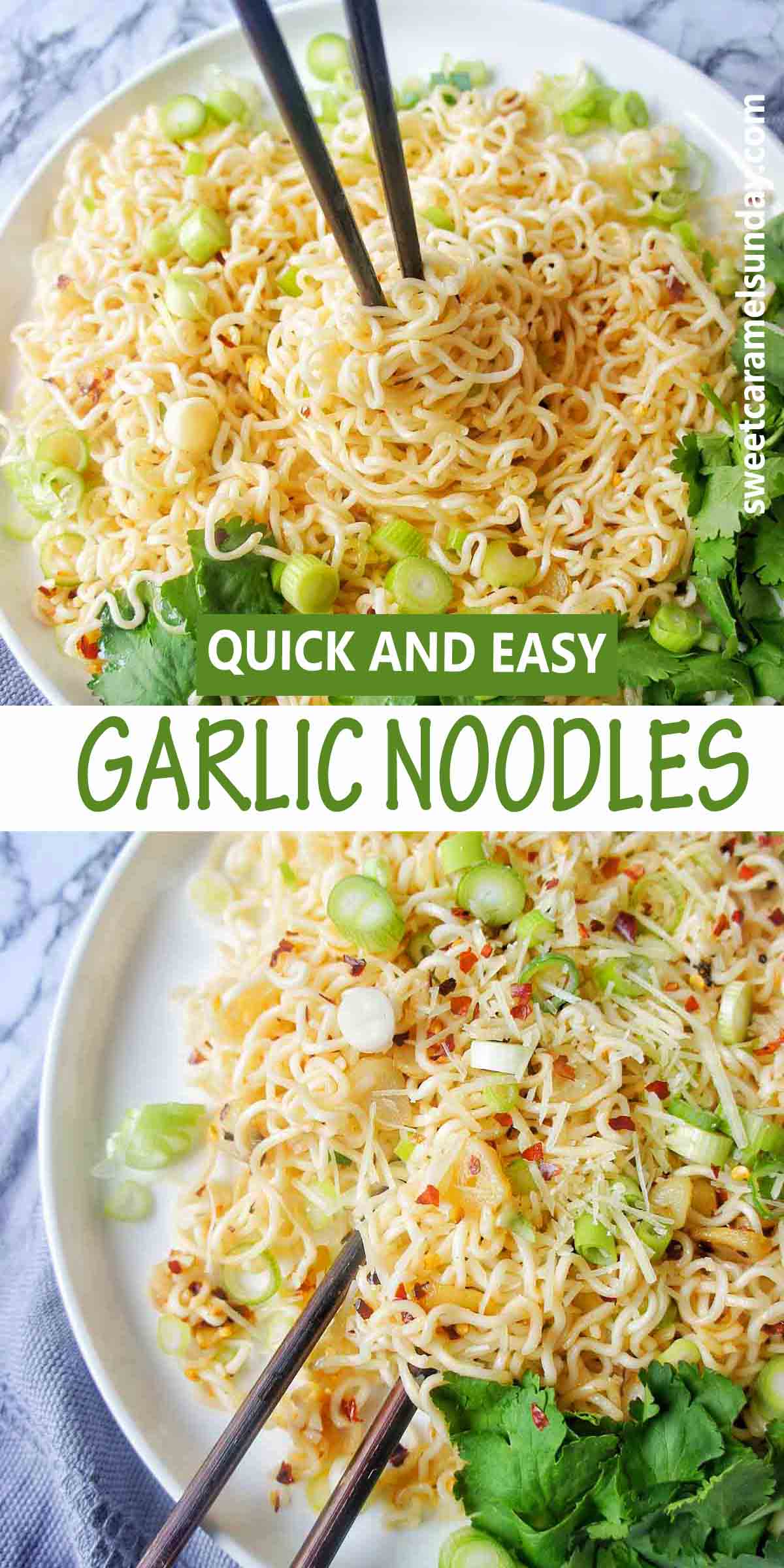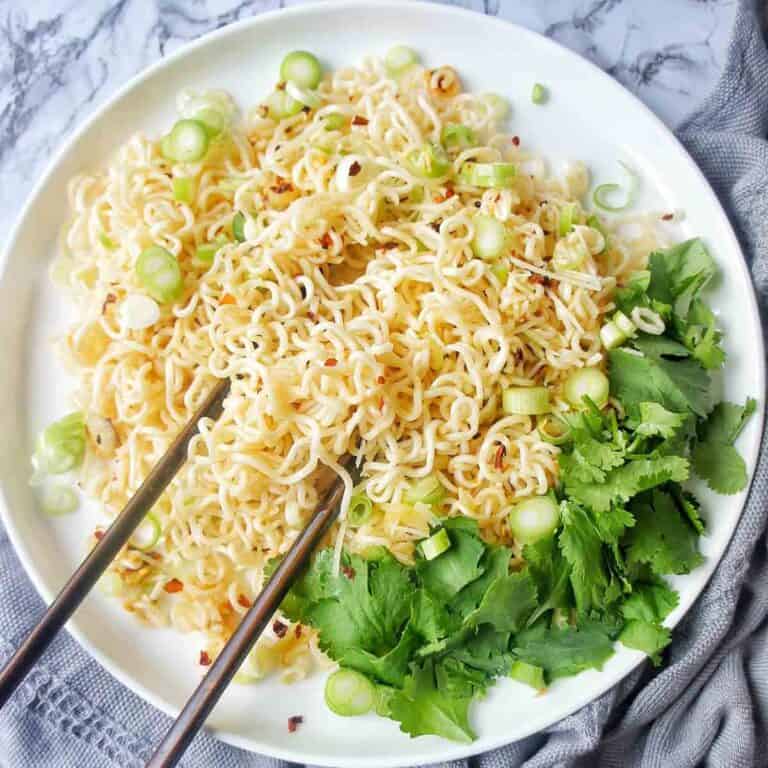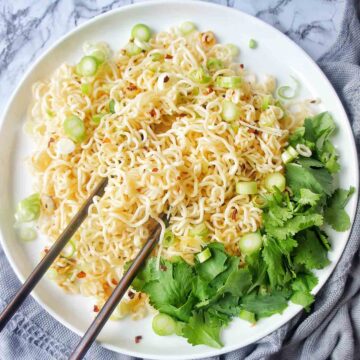 Garlic Noodles
Easy Garlic Noodles are insanely delicious as well as quick! This garlic noodles recipe has taste, texture and is cheap make! 
Print
Rate
Ingredients
Easy Garlic Noodles
5

72 grams

instant noodles

Note 1

8

cloves

garlic

skins peeled, Note 2

½

cup

peanut oil

1

tbs

sesame oil

1

tbs

chilli flakes

½

cup

shallots

green onions (approx 3) Note 3

½

cup

parmesan cheese

coriander

to garnish (optional)
Instructions
Easy Garlic Noodles
Bring a medium size saucepan to the boil, add noodles and cook according to packet instructions. Drain and reserve ½ cup of the noodle water.

Add peanut oil, sliced garlic and chilli flakes to a medium sized flat bottom sauce pan. cook for approx 5 mins, stirring occasionally.

Add cooked noodles to the cooked garlic, pour in reserved noodle water, drizzle over sesame oil and stir to combine.

Portion and plate noodles, garnish with green onions, coriander and parmesan.
Notes
Note 1 I use 5 packets of 72 gram instant (2 minute) noodles. You can use your favourite noodles. We don't use the seasoning or packet of dried ingredients, rather, just the noodles. 
Note 2 I don't recommend using minced garlic. It is all squishy and you loose the 'garlic texture'. For this dish, it is worth it to take the extra couple of mins, a sharp knife and finely slice your garlic! 
Note 3 You can either add the shallots (green onions) in the final few moments of the cook time for the garlic and chilli or raw at the end as garnish. Some people won't like the taste of raw green onions (shallots) as it can be bitter and harsh. Cooking the onions for a couple of mins will take away this sharpness. 
Nutrition
Calories:
360
kcal
|
Carbohydrates:
9
g
|
Protein:
6
g
|
Fat:
34
g
|
Saturated Fat:
7
g
|
Cholesterol:
9
mg
|
Sodium:
263
mg
|
Potassium:
173
mg
|
Fiber:
2
g
|
Sugar:
3
g
|
Vitamin A:
691
IU
|
Vitamin C:
4
mg
|
Calcium:
176
mg
|
Iron:
1
mg
Did you make this recipe? Share on Instagram!
It makes my day when you make my recipes! Tag @sweetcaramelsunday
Easy Noodle recipes
Are you a noodle fan or a pasta fan? You can be both if you want!!
There are nights when cooking seems so unrealistic depending on how busy your day has been. Those nights are usually also the ones where you don't want to get take out, but still prefer home cooked food.
With my quick and easy dinner recipes, I have you covered!
Please give me a shout if you have questions or make the recipe as I would love to hear your feedback.
Noodles - are the best aren't they, garlic is heavenly - don't you agree, chili garlic cheesy oily kick on our chopsticks, yup, let's do it!!
Adrianne x
RELATED RECIPES: