Easter Fudge is a super fun recipe using our slow cooker making it possibly the easiest fudge ever!! This slow cooker white chocolate fudge recipe is an easter egg recipe idea that will have you dreaming of mini egg fudge.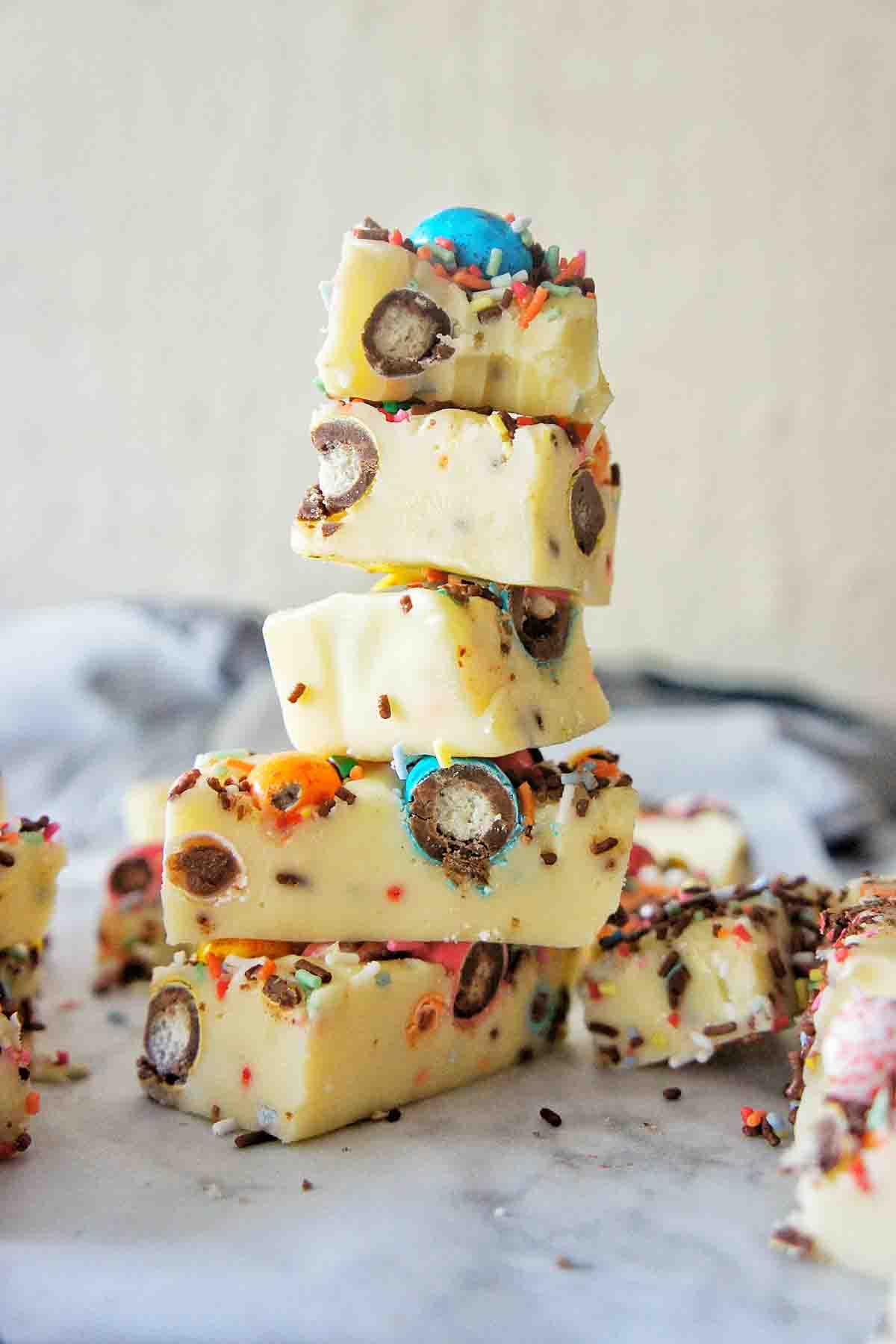 Slow Cooker Fudge is a fun way to start exploring homemade chocolate recipes. From our Chocolate Covered Strawberries, to Dark Chocolate Bark and Dark Chocolate Rocky Road your sweet tooth needs to prepare to be treated!
For something different try our Chocolate Ripple Wreath for festive occasions or the weeknight possible No Bake Chocolate Cake. If you would prefer something zesty and fresh try the Lemon Polenta Cake or Orange Polenta Cake.
This vanilla fudge recipe uses sweetened condensed milk, chocolate and butter it is very simple. Then we add mini eggs and sprinkles for fun and pops of colour.
Looking for chocolate recipes? I've got you sorted
If chocolate fudge using milk chocolate is your favourite, caramel gets your heart started or redskin fudge sounds like it would be right up your alley, check them all out in the Slow Cooker Chocolate Fudge recipe.
How to make fudge?
Fudge is an easy recipe to make! Slow Cooker fudge is the easiest ever!
We use a combination of ingredients such as chocolate, butter, sweetened condensed milk.
We mix these ingredients together as the chocolate melts, stirring to combine as we go.
Next we simply transfer the mixture into a lined slice tin and place in the fridge to set.
The fudge will take 1-3 hours to become fully hard. Once it has set, we can remove it from the fridge, pull the sides of paper up to remove from the pan and use a sharp knife to cut into pieces.
To make our fudge, in the Slow Cooker, all of the ingredients get added to the bowl with the temperature on low, lid off and we simply stir as we go!
Easter Fudge ingredients
Mini Egg Fudge ingredients are shown in the photo below. You can refer to this when you are at the shops, so you know exactly what you need to get.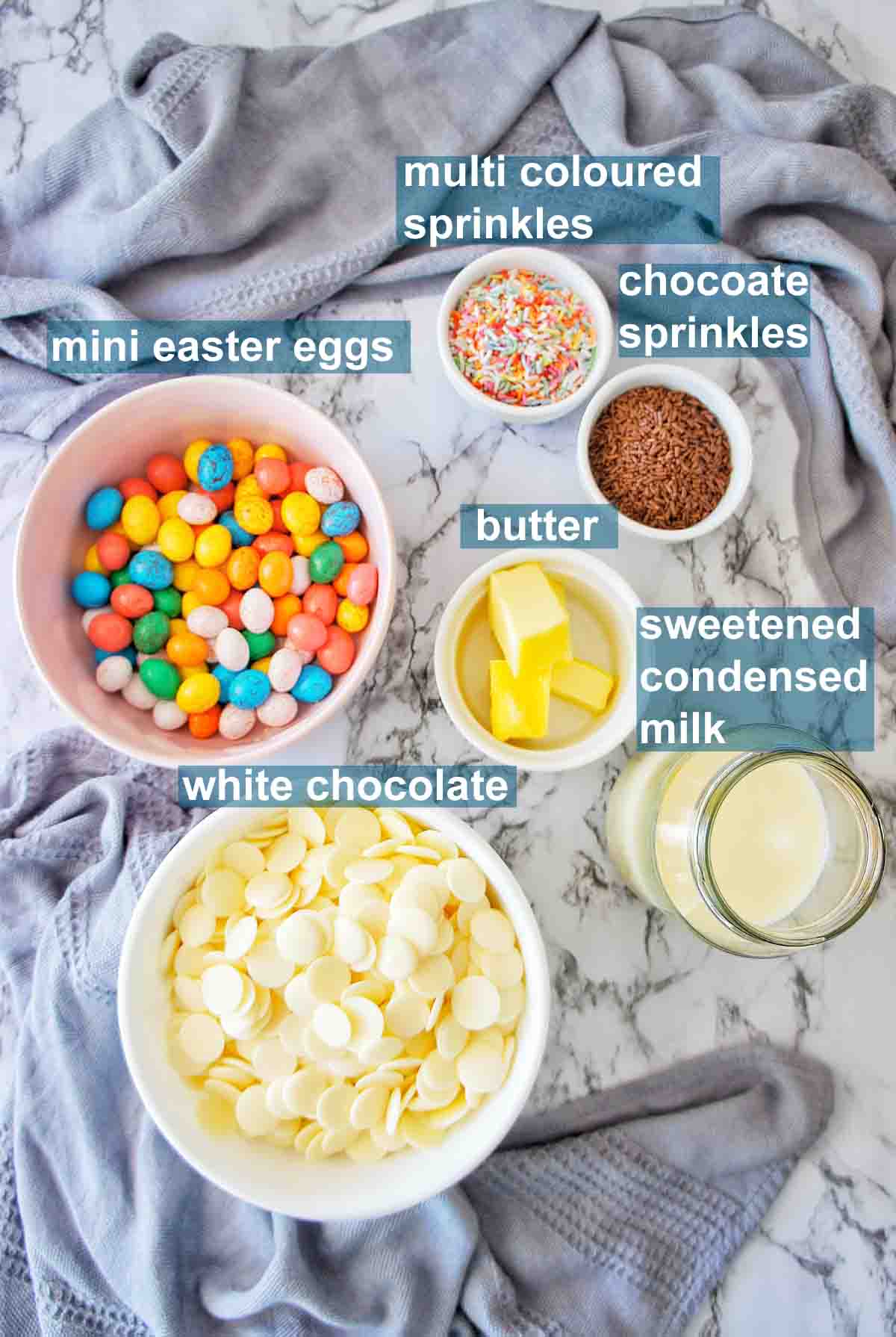 As you can see we need are:
white chocolate melts
sweetened condensed milk
butter
mini eggs (they don't have to be speckled, choose your favourite!)
sprinkles (to decorate)
BROWSE BY:
Chocolate recipes Dessert recipes Slow Cooker recipes
Slow Cooker White Chocolate Fudge step by step instructions
The steps to make this recipe are outlined in the photos below.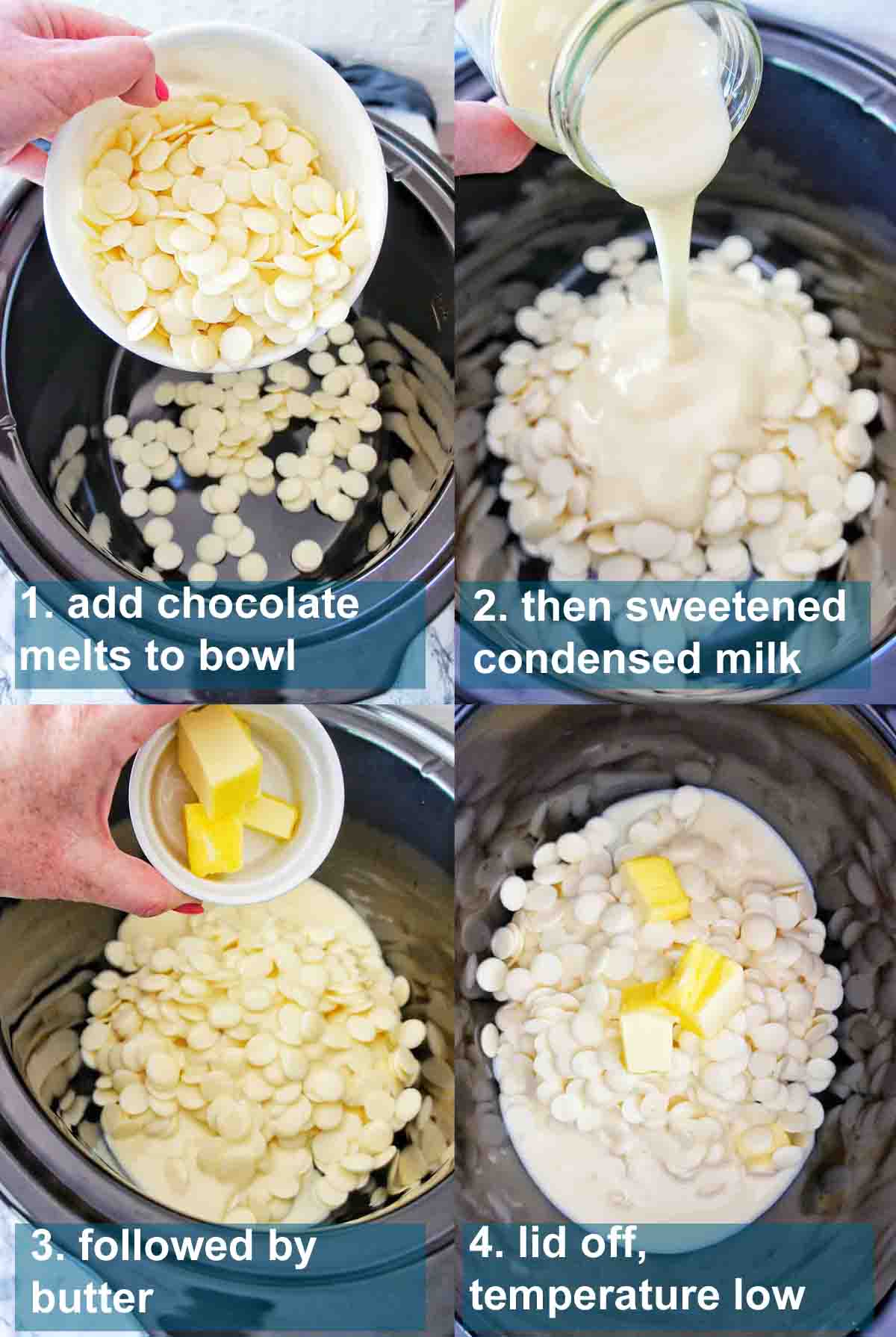 add chocolate, condensed milk and butter to slow cooker (photos 1-4)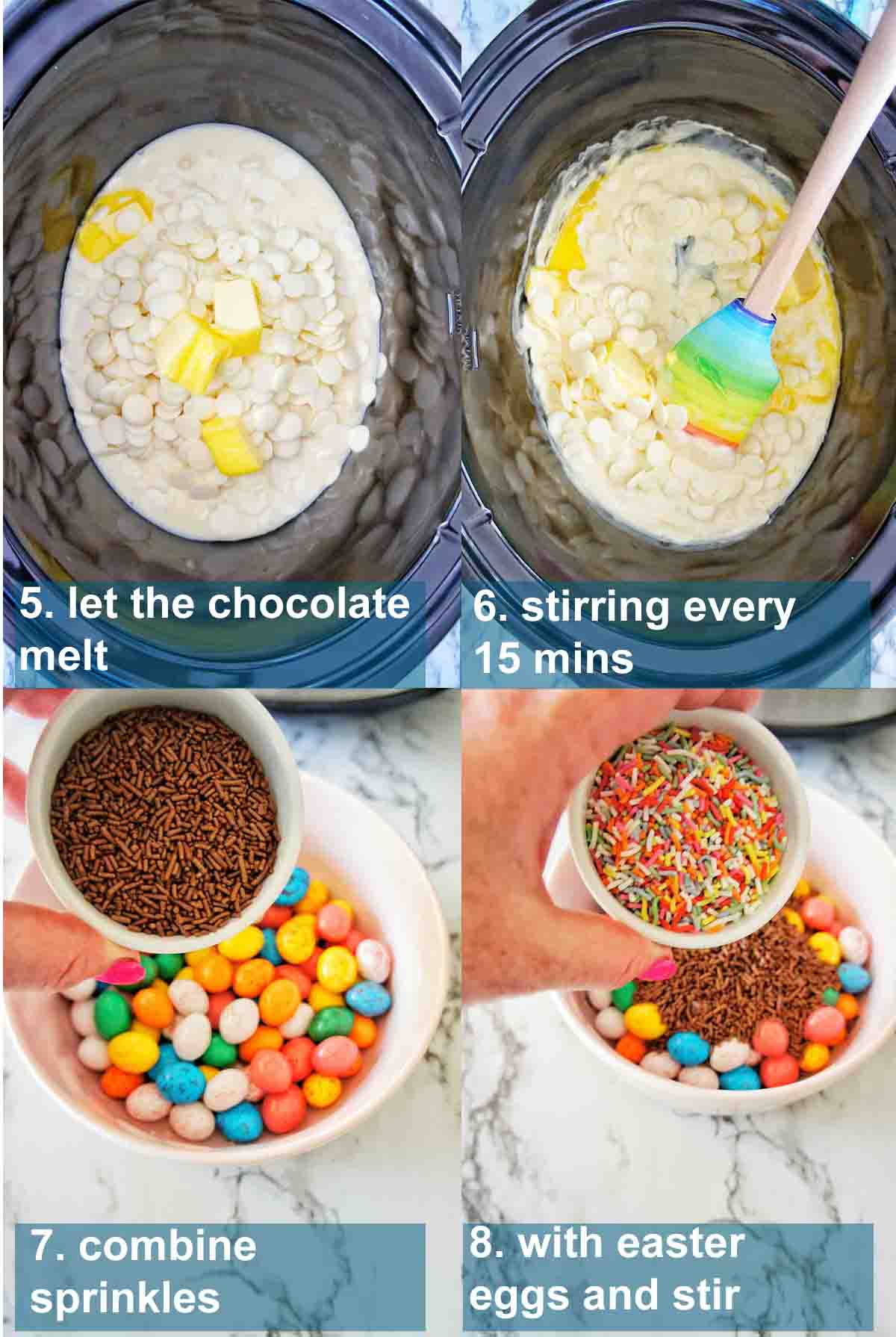 the low temperature will allow the chocolate to melt slowly (shown in photo 5)
use a spatula to mix as you go, approximately every 15 mins or so (shown in photo 6)
combine chocolate and multi-coloured sprinkles with the mini eggs (shown in photos 7 and 8)

Looking for the latest recipes on the blog? Click here!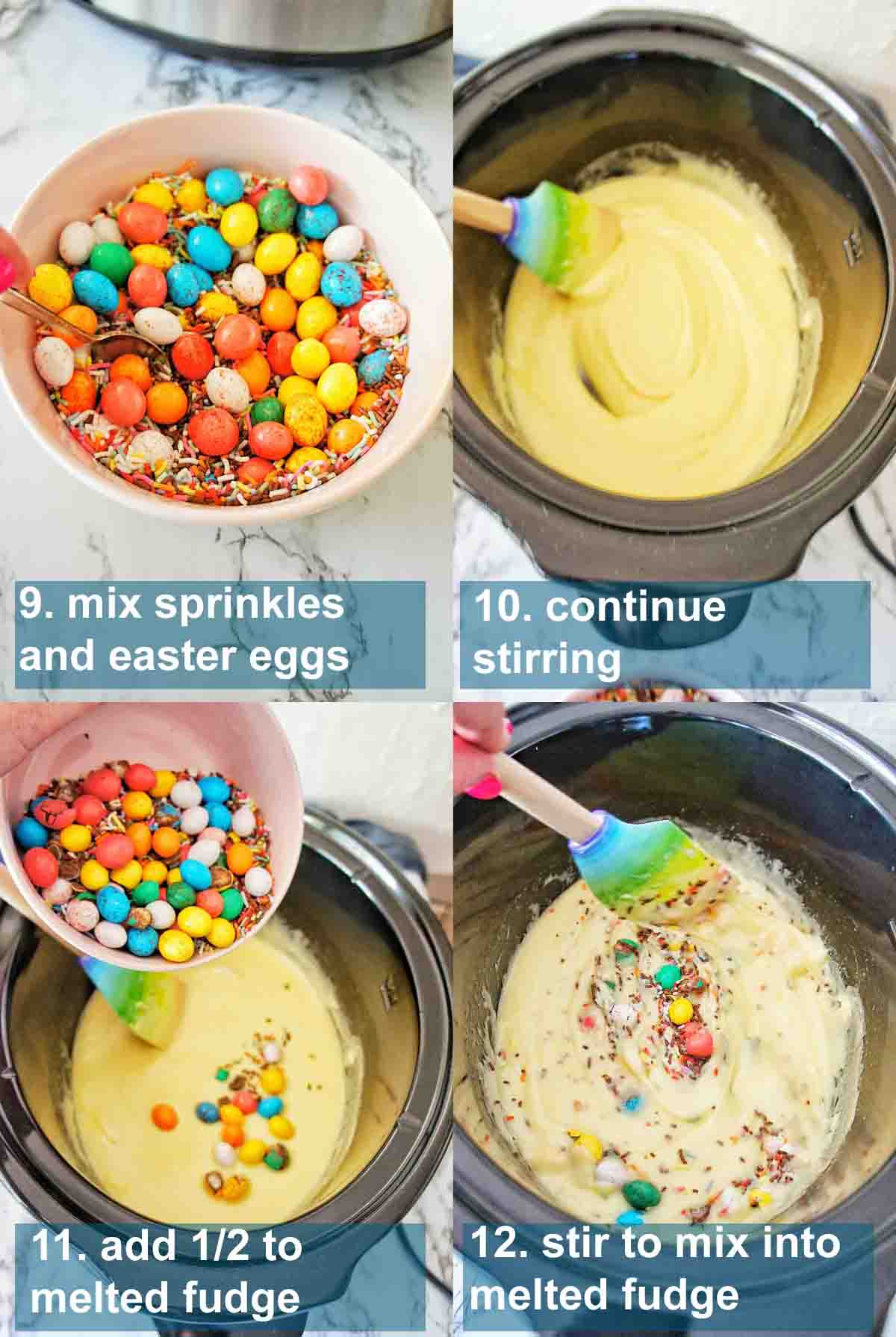 mix the candy together in a bowl (shown in photo 9)
continue to stir as the last of the chocolate melts (shown in photo 10)
pour 1/2 of your mini egg chocolate sprinkles into the slow cooker fudge (shown in photo 11)
stir to mix the eggs and sprinkles into the melted chocolate (show in photo 12)
Slow Cooking your thing? Check out all of these recipes!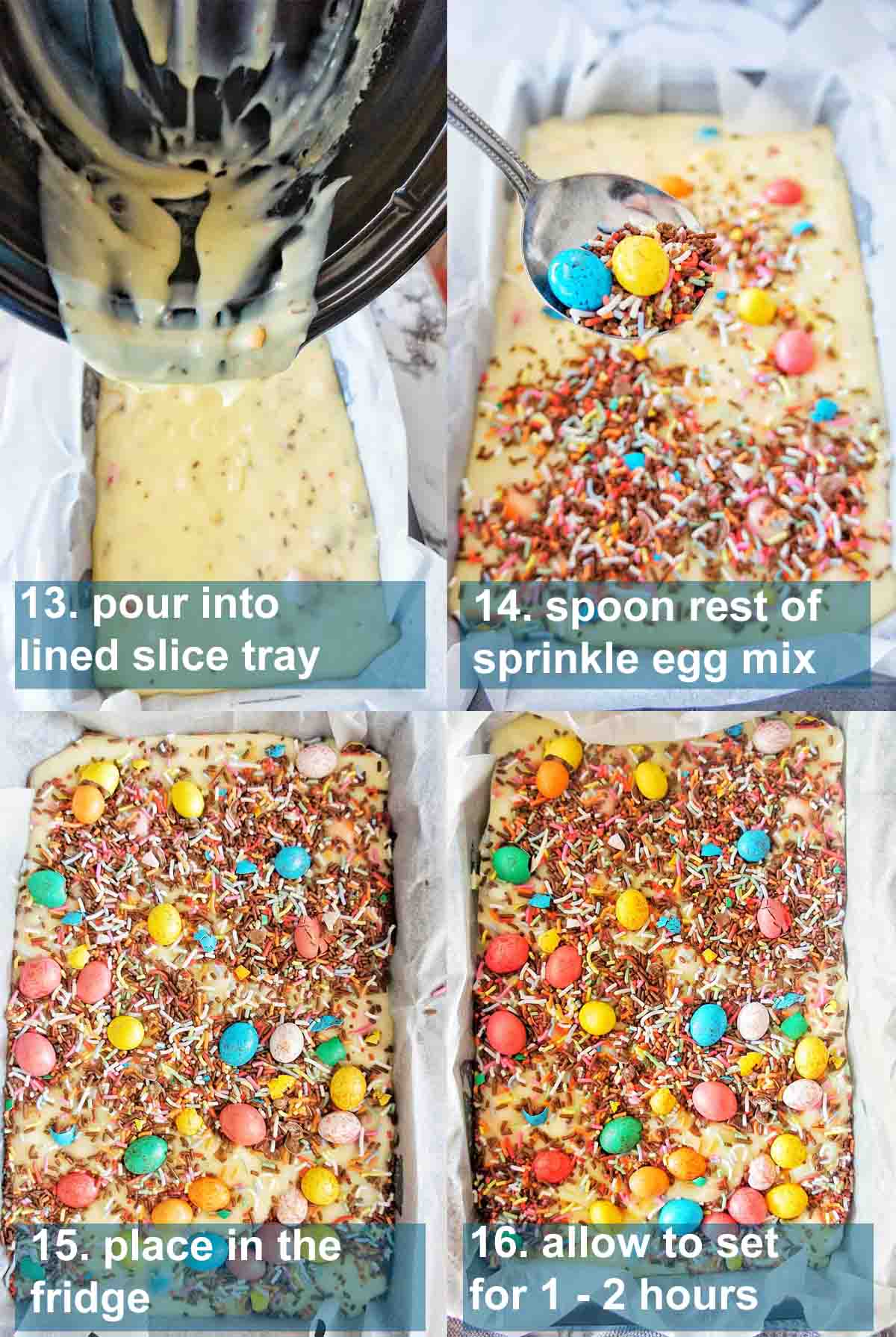 pour the melted fudge into a lined slice tray (shown in photo 13)
spoon the rest of the mini egg mix on top of the fudge (shown in photo 14)
place the fudge into the fridge to set (shown in photo 15)
allow the fudge to set for approximately 2 hrs, 1 if you are in a hurry (show in photo 16)
You can check out the most popular recipes on the blog, right here!
The fudge has a smooth texture from the fudge with crunchy, crispy texture from the mini eggs.
Easter Fudge recipe quick info:
About the recipe:
we use white chocolate melts
you can spray the slow cooker bowl with a little cooking oil
cut the fudge into bite or 2 bite sized pieces
I use crispy speckled mini eggs (cadbury mini eggs are perfect)
FAQs about making white chocolate fudge in the Crockpot
we need 500 grams chocolate
line your slice tray with baking paper so it is easy to pull out
this is a family friendly recipe
This is an EASY recipe
Here are all of the dessert recipes on the blog!
Mini Egg Chocolate Fudge Slow Cooker Pro tips:
These additional tips are so that you can master this recipe from the 1st time you make it:
use a plastic spatula which won't scratch your crockpot as you stir
sitr the melted fudge mix every 10- 15 mins as you go
hold the bowl with one tea toweled hand (it will be hot) and use your other hand to stir
have your slice tray lined and close so you are ready and can pour the fudge straight in
the fudge will start to set straight away with the heat off, work quickly for this step
the bowl of the crockpot will be heavy but it is a very quick process!
Making fudge in the slow cooker is SO fun and stress free. It will be the easiest fudge you have ever made!
You can check out the most popular recipes on the blog, right here!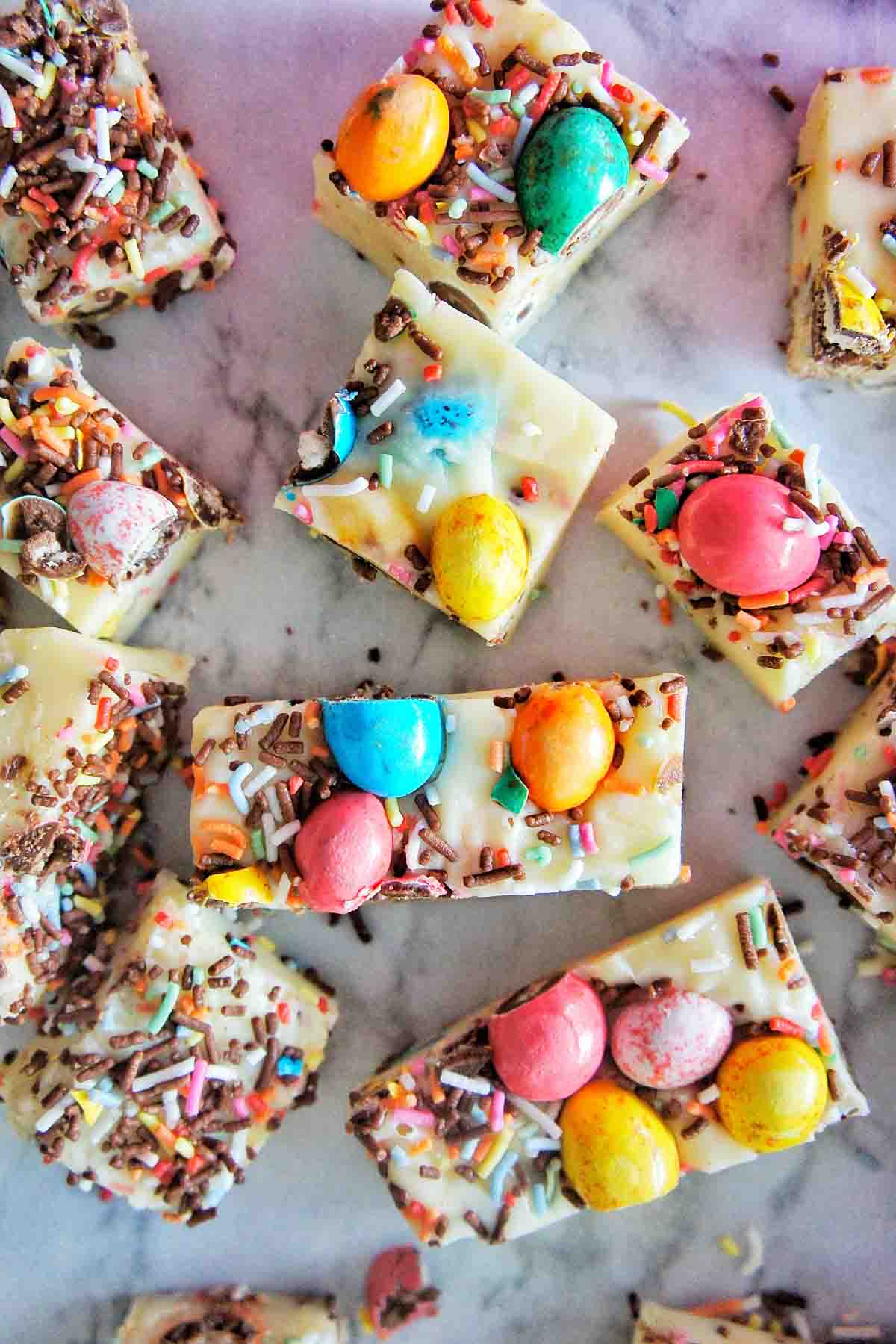 When I am mixing the mini eggs for this recipe, I crush some of them in my finger tips (or cut them in 1/2). The pattern for decorating can be random and hazard, sprinkle as your heart desires!
Find us on Facebook by clicking this link
Now that you know how to make this recipe, think of all of the flavours and varieties you can make! Be festive, creative, colourful and let your imagine do the talking!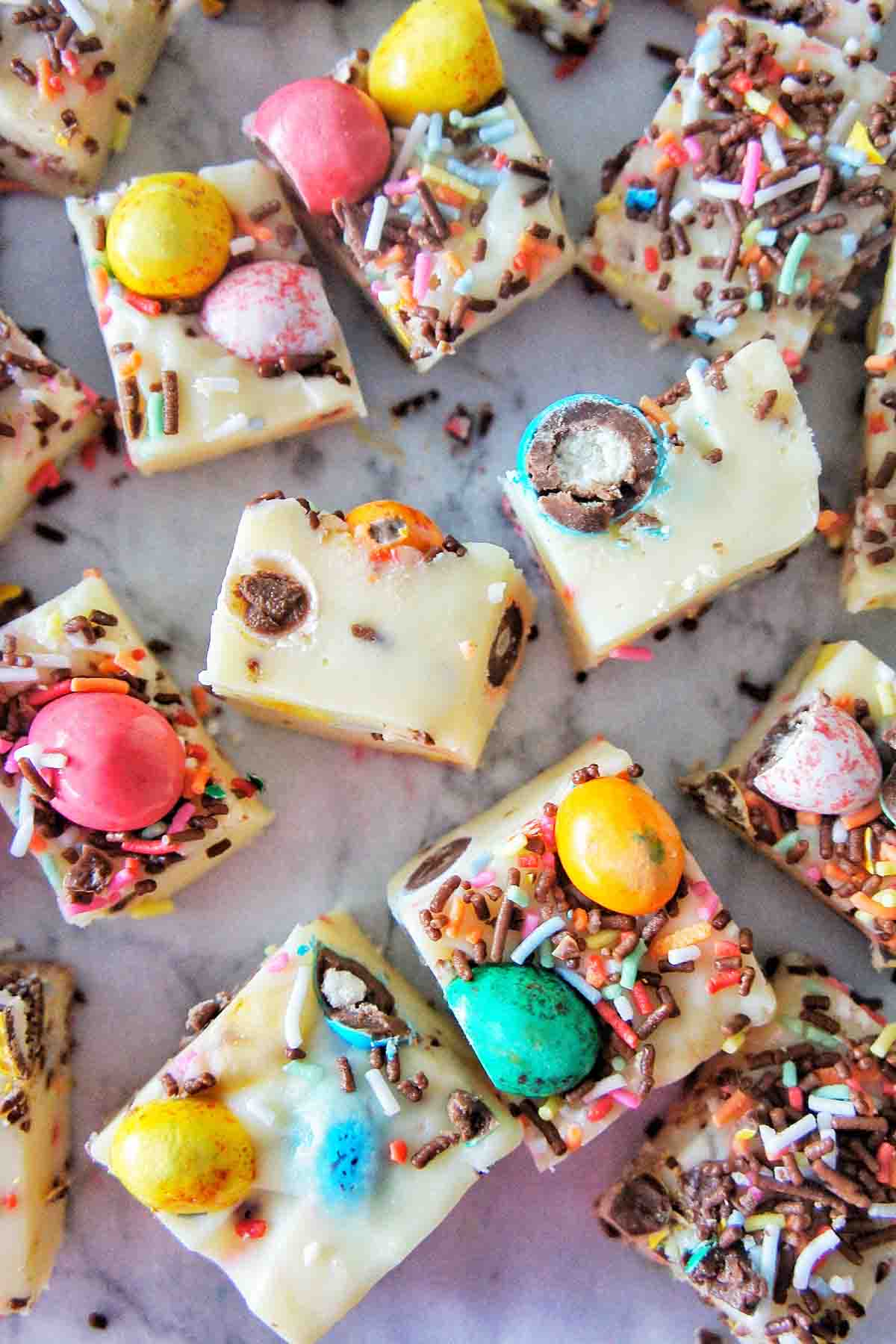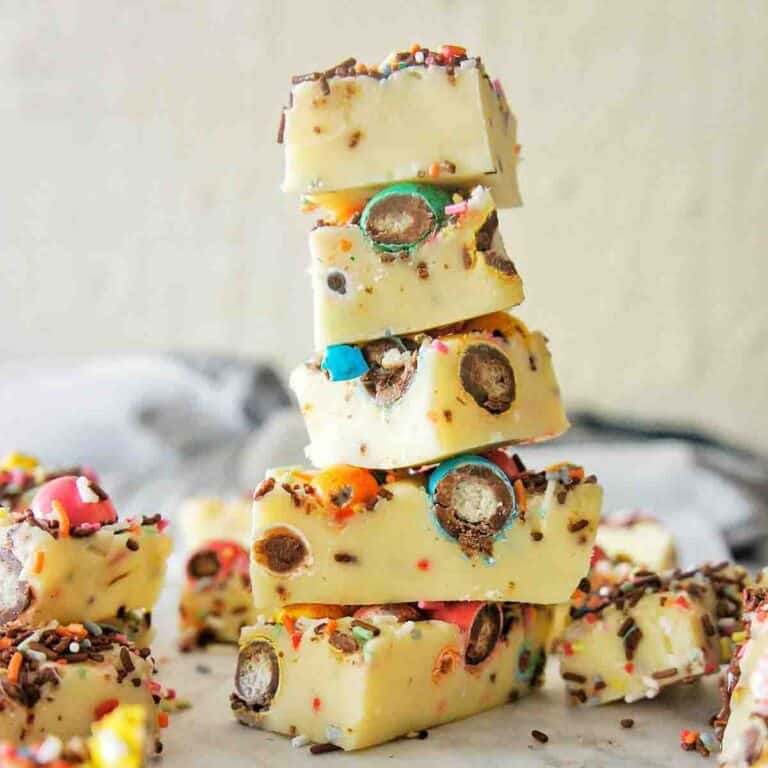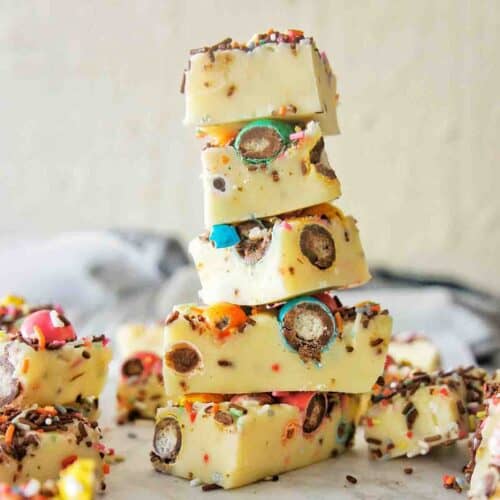 Easter Fudge
Easter Fudge is a slow cooker white chocolate fudge recipe making it possibly the easiest fudge  ever!! An easter egg recipe that is fun and easy to make!  
Print
Rate
Total Time:
3
hours
10
minutes
Equipment
Slow Cooker (Mine if 5.5 litres)

Slice tray  (My slice tray measures  (28 x 17.5 x 5 cm)

Baking paper (so it doesn't stick)

Spatula
Ingredients
Easter Fudge
500

grams

white chocolate melts

Note 1

397

grams

sweetened condensed milk

Note 2

50

grams

butter

197

grams

speckled eggs

Note 3

1/4

cup

multi coloured sprinkles

See note 3 above

1/4

cup

chocolate sprinkles

See note 3 above
Instructions
Easter Fudge
Line a slice tray with baking paper  (My slice tray measures  (28 x 17.5 x 5 cm)

Turn your Slow Cooker on to a low temperature

Add white chocolate melts,sweetened condensed milk and butter

Stir every 15 mins for a 1 hr period

Turn the heat to warm (or off if you don't have a warm setting)

Stir through 1/2 of your mini egg sprinkle mix into the melted fudge

Pour your fudge into your slice tray

Decorate the top of the fudge with the remining 1/2 of the mini egg sprinkle mix.

Place in the fridge to set for at least 2 hrs

Remove from fridge, pull sides of paper from tray to remove. Then use a sharp knife to cut fudge into small pieces.
Video
Notes
Note 1 if you prefer to make Dark or Milk Chocolate Fudge, simply switch out the milk chocolate for your favourite. Keep the measurement and rest of the ingredients the same. 
Note 2 This is simply 1 normal sized tin of sweetened condensed milk as is from the store. It will be with the powdered or packaged milks. 
Note 3 This measurement is for 1 packet for speckled eggs. You can get any brand and they will be about the same. To make our fudge economical instead of using more of these chocolate eggs, we add some coloured and chocolate sprinkles. You can use whichever sprinkles you already have at home as to not purchase additional ingredients. The idea is also about different colours and textures. Cadbury mini eggs are hugely popular in Australia, but there is also a wide variety of other brands which are similar. I am using M and M crispy speckled eggs as the packet was slightly bigger than other ones available. Don't worry if your packet is a little more or less. For this as we add it at the end it is about the colour, the fun and the creativity. The amount won't change the taste of the fudge as that is set in our 3 basic fudge ingredients (ie chocolate, sweetened condensed milk and butter). 
Did you make this recipe? Share on Instagram!
It makes my day when you make my recipes! Tag @sweetcaramelsunday
You know that if you haven't got a slow cooker, I am trying more and more to get you to buy one with my recipes. Haha, just kidding!
If is a super fun and easy way to cook and there is no stress the same way there is when you are trying to melt chocolate on the stove or microwave. Those methods both produce delicious results as well, but they are possibly not the easiest fudge recipes you will ever make.
Please give me a shout if you have questions or make the recipe and want to give feedback.
I said this not too long ago, but I wish you well and slow cook on my friends.
Adrianne xx
RELATED RECIPES:
Slow Cooker Fudge Dark Chocolate Rocky Road Chocolate Granola Bark
Baking recipes Chocolate recipes Dessert recipes Slow Cooker recipes Sweet recipes