Choc Berry Slice is for dessert on Sweet Caramel Sunday! With simple ingredients and step by step instructions, you will be able to make this dish tonight!
I would like to thank my friends from Tea And The Gang for allowing me to work with their beautiful teas again.
You may remember recently that I shared my recipe for my Pina Colada Smoothie using one of their relaxing black teas. You can find that recipe right here should you wish to create it and I recommend you do as quite frankly it is simply beautiful!
For today's recipe, I have worked with their The Matchmaker - Fruit Cupid Herbal tea.
This is a delicious, caffeine free tea, which will have you day dreaming of love, romance and happiness.
The combination of flavours works beautifully either hot or cold and you will LOVE this recipe.
I wanted to really honour the ingredients in the tea with a focus on the strawberry in the tea mix.
I am not sure if you have come across freeze dried strawberries before, but if you haven't, you need to try them STAT. They are so decadent and a little indulgent and they are the perfect treat to reward yourself for getting through this thing called life.
About the recipe:
This is a moderately complicated recipe, so leave enough time to whip it up
It will keep in the freezer in a sealed container for up to 2 months
You don't need big portion sizes to enjoy each piece of slice
The tea is best brewed, left to cool and then added to the mix
To answer your questions:
This recipe is for a raw slice
It takes time to preapare and you need to let the nuts soak in the tea for at least 2 hours
A small slice tin is perfect and will result in a thick slice
The toppings can be dense or sparse depending on your budget and textural preference
One of the things I love about this recipe is the dense base that you have to squish into place. It just makes you feel as if you are doing the right thing by your body and putting the right things in there!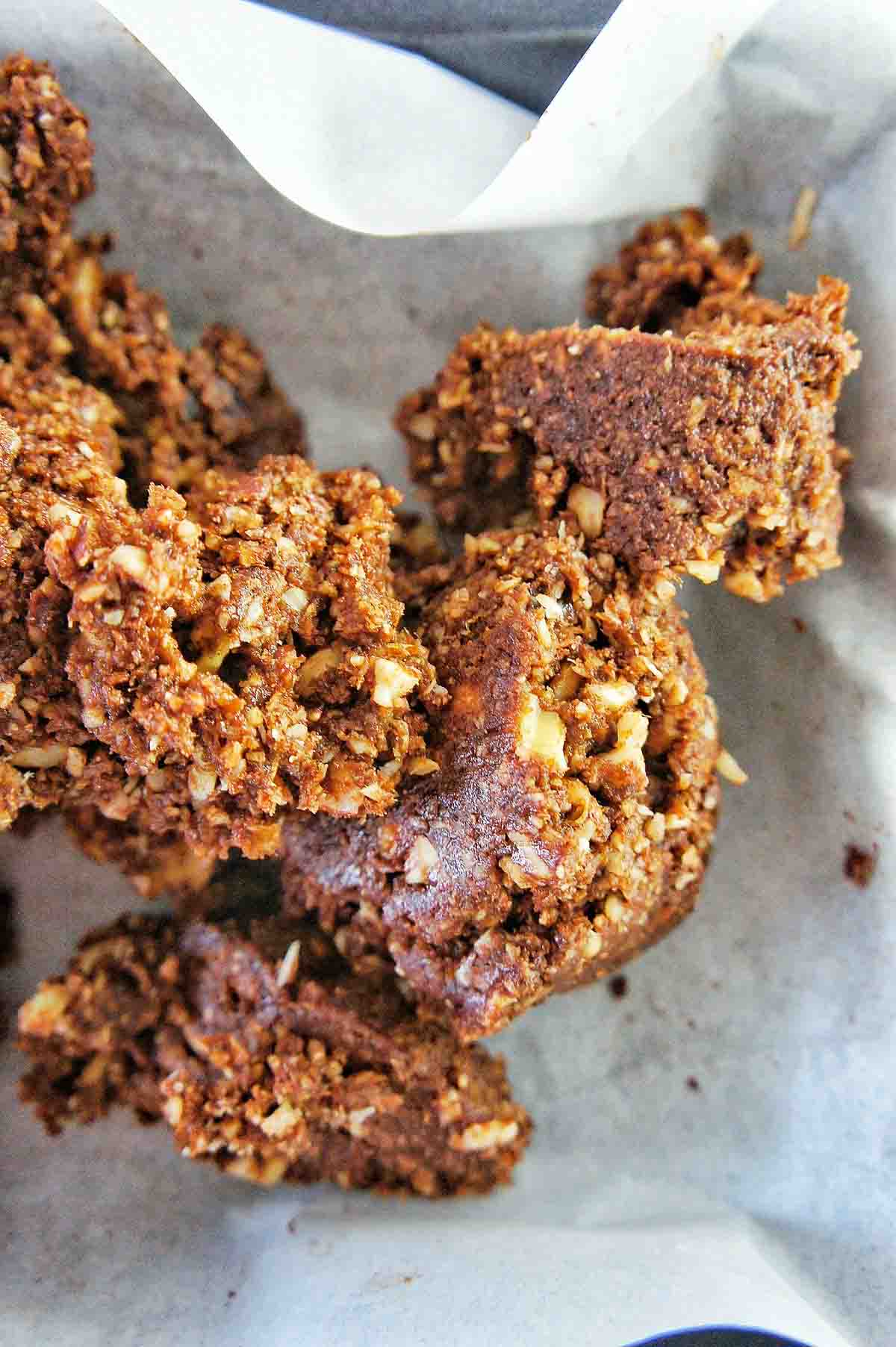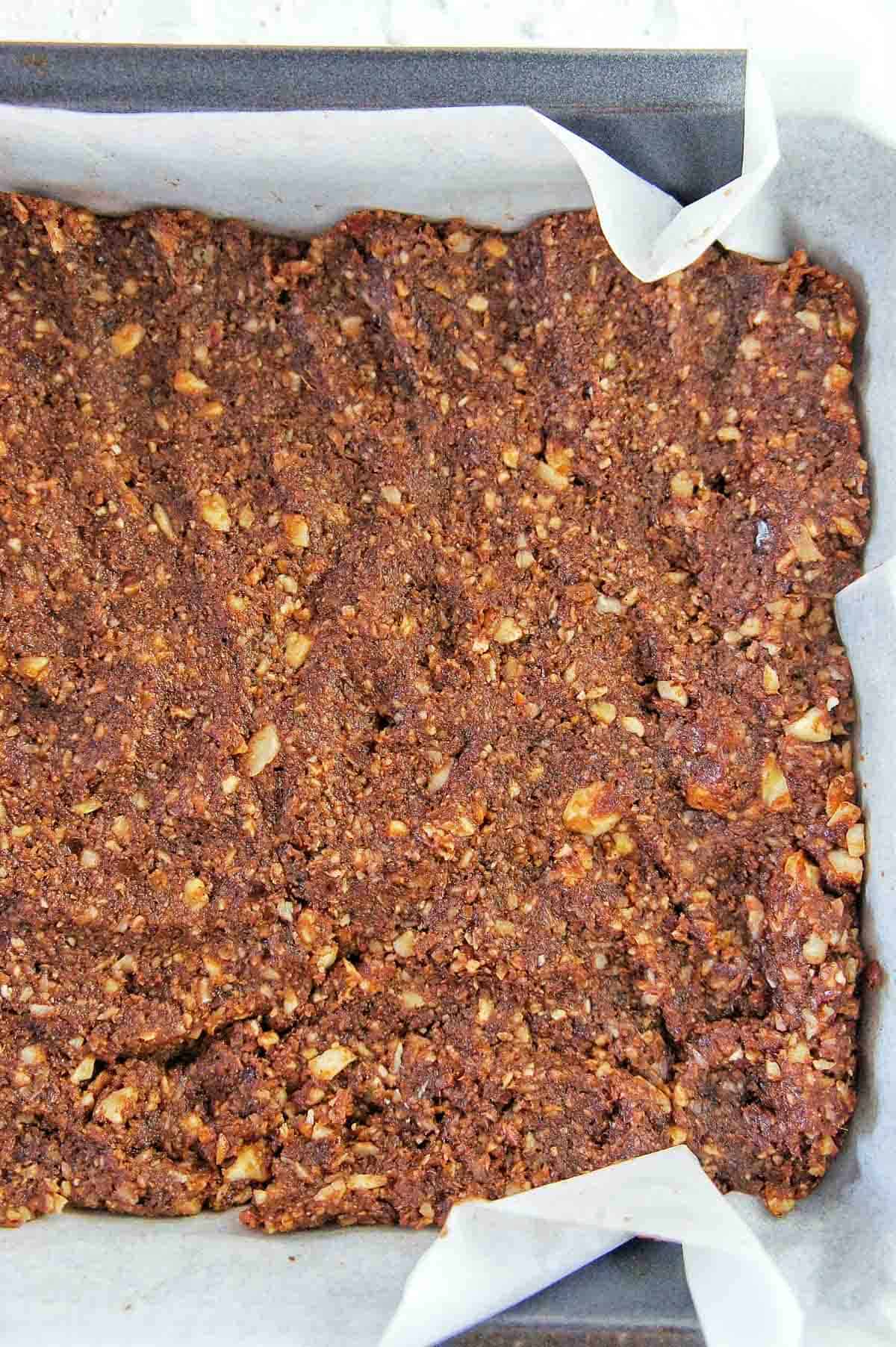 You also get to enjoy the texture of the ingredients and the contrast between the 3 layers of the slice (the crunchy topping is indeed a layer with its own life!)
This is where the beautiful flavour of the tea comes into play. You brew 2 cups and then pour it over your nuts. These need to then soak for at least 2 hours (I transferred my bowl to the fridge for this time).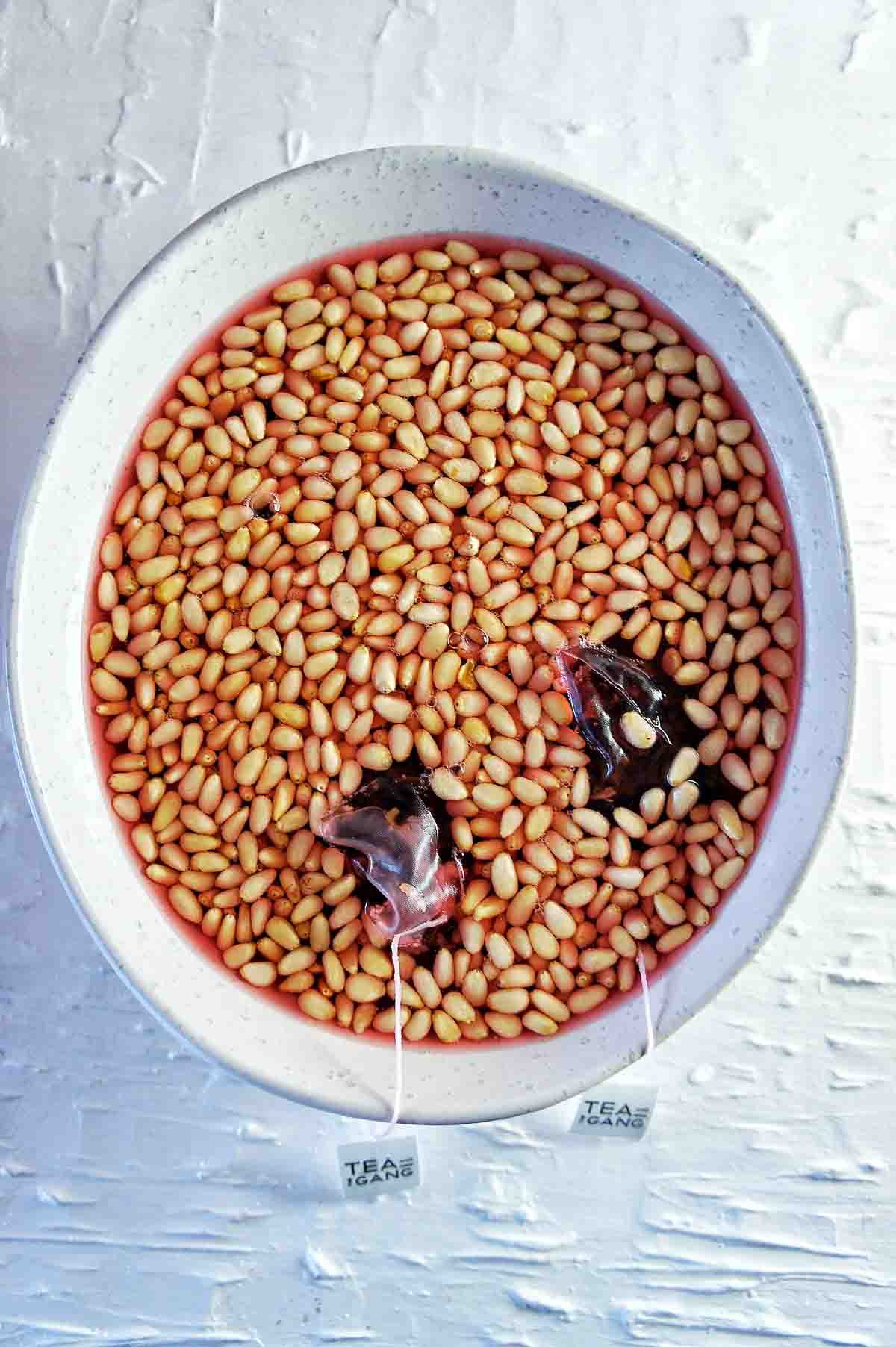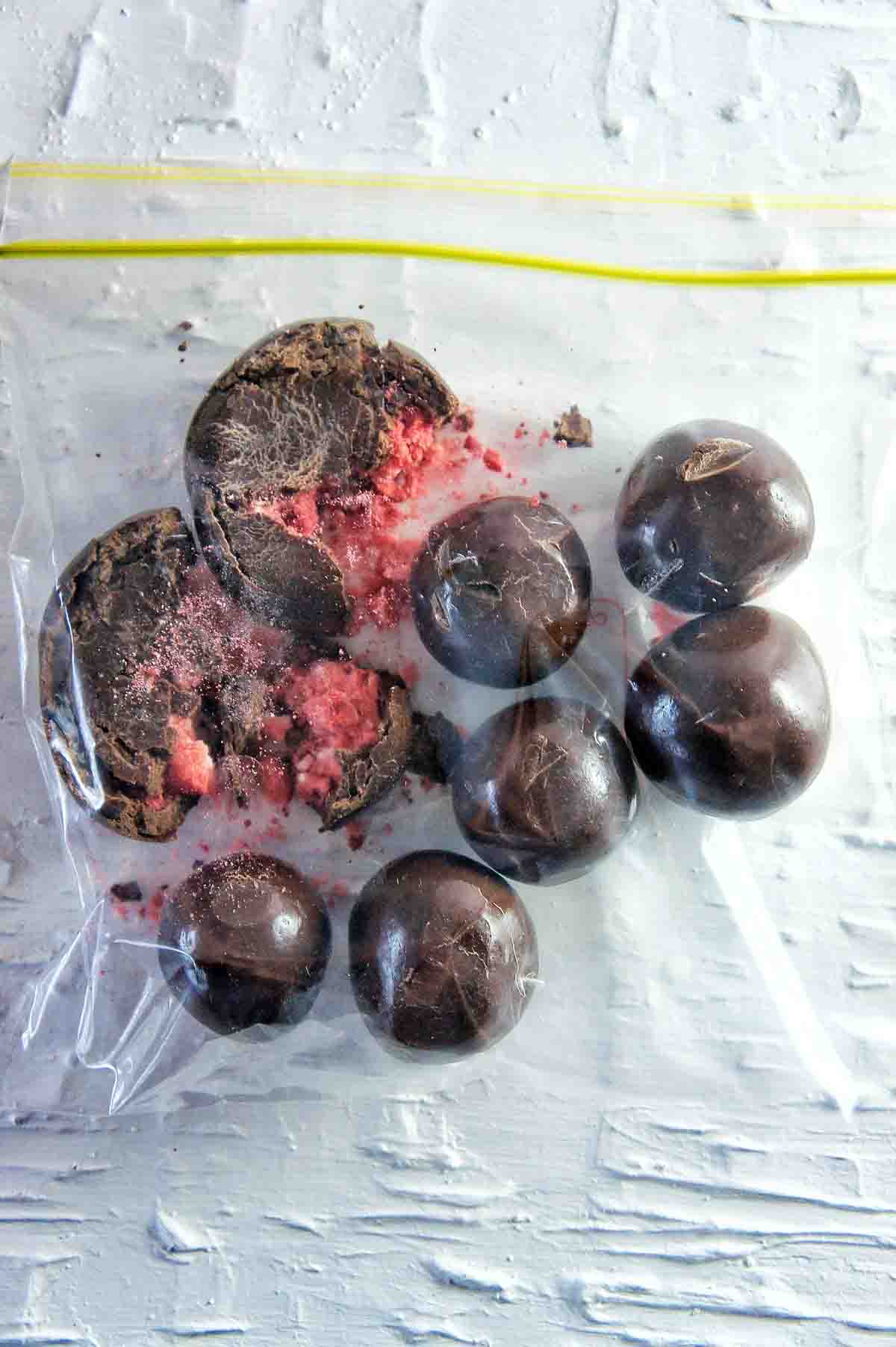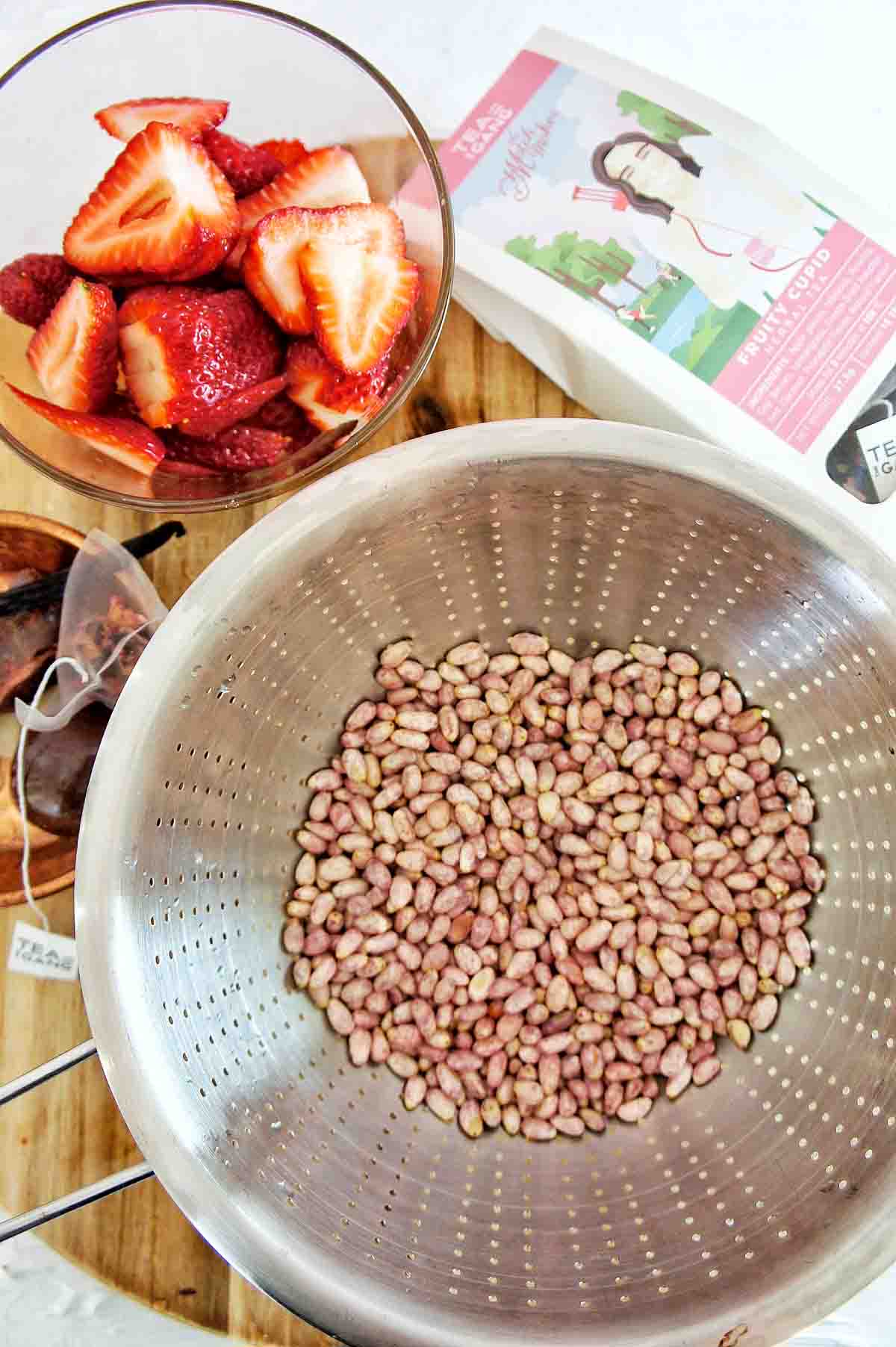 You can use this time to prepare all of the rest of your ingredients, like slicing the strawberries. But you won't need all of this time, so sit back, put the kettle on, make yourself a cup of tea and dream the time away!
You will notice that the slice really starts to come together after you have added your coconut cream layer.
Then the fun part is sprinkling the beautiful topping combination that we have selected to finish the slice off. These provide great texture, taste and visual delight!
It is amazing how different this is to your traditional chocolate slice with lots of flour, egg and butter. This is a more modern way of indulging a bit without the overindulgence!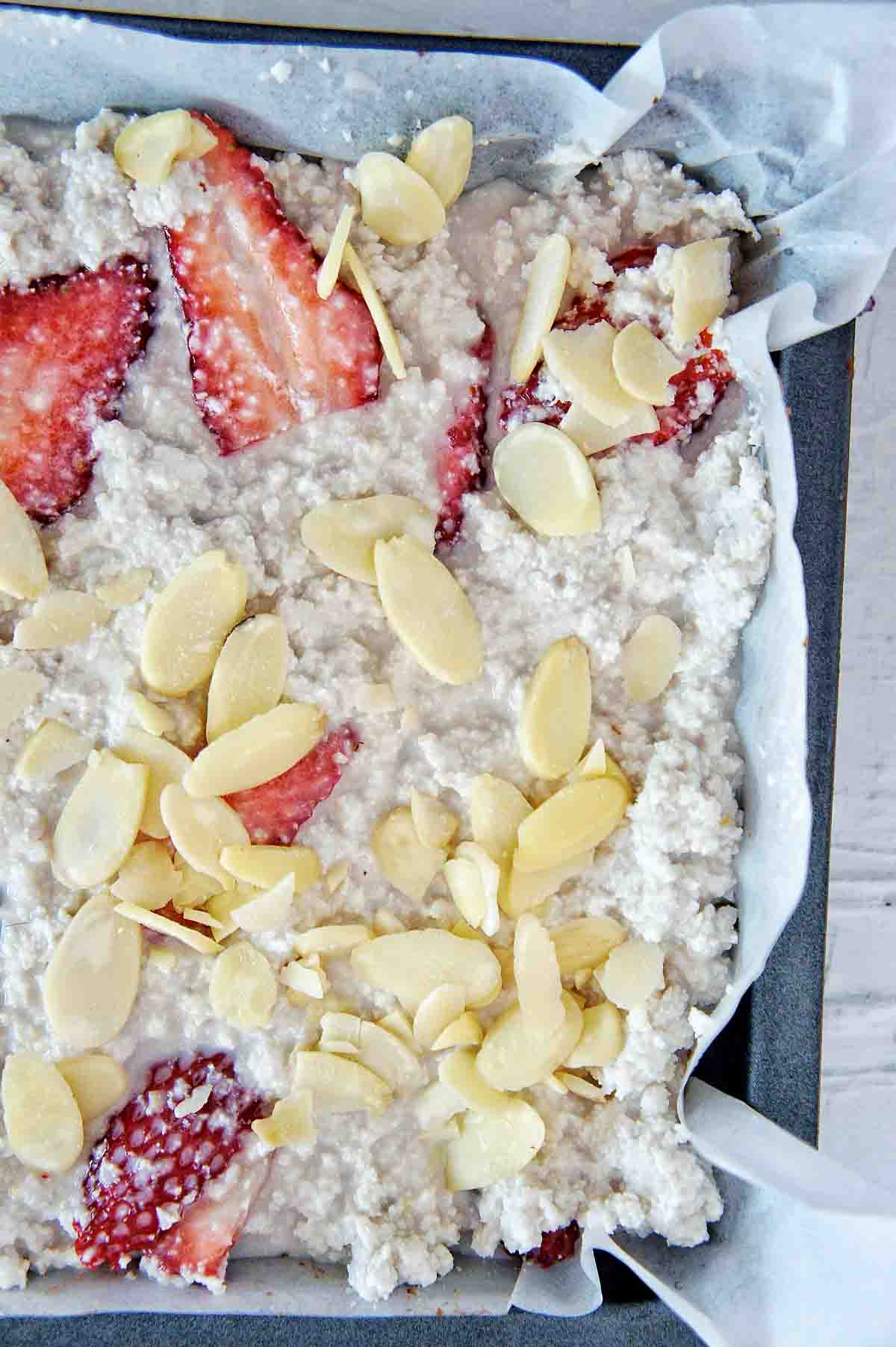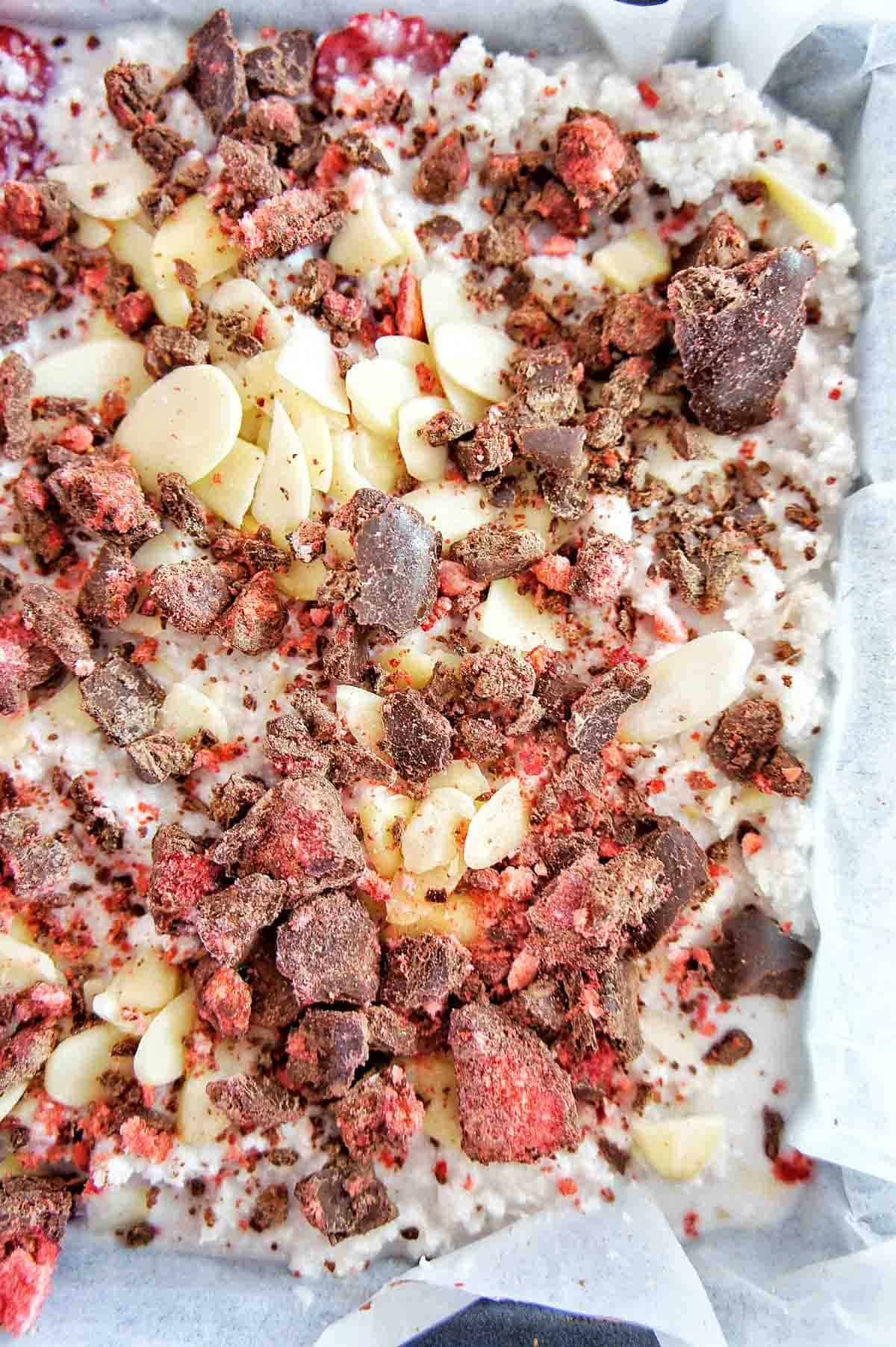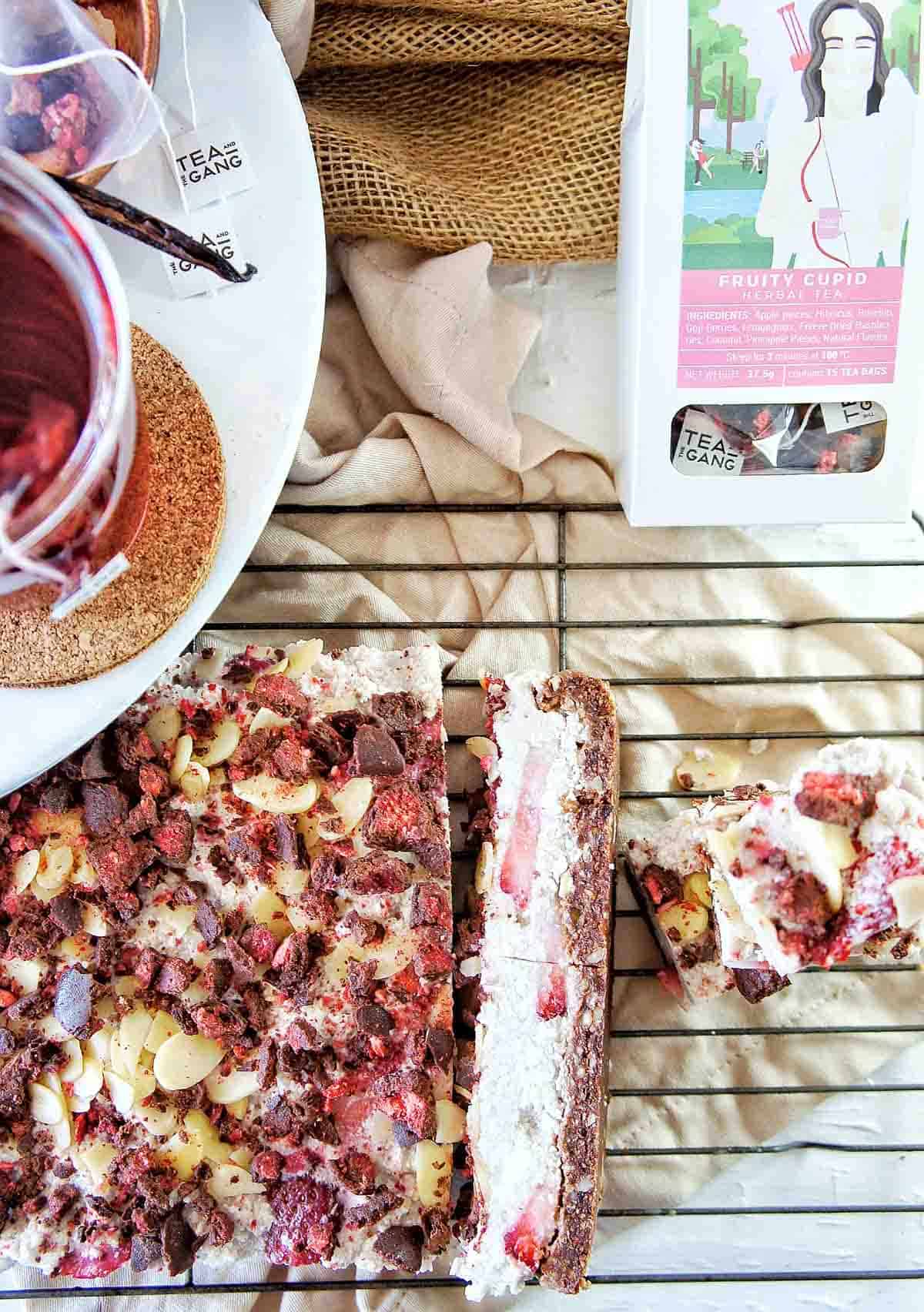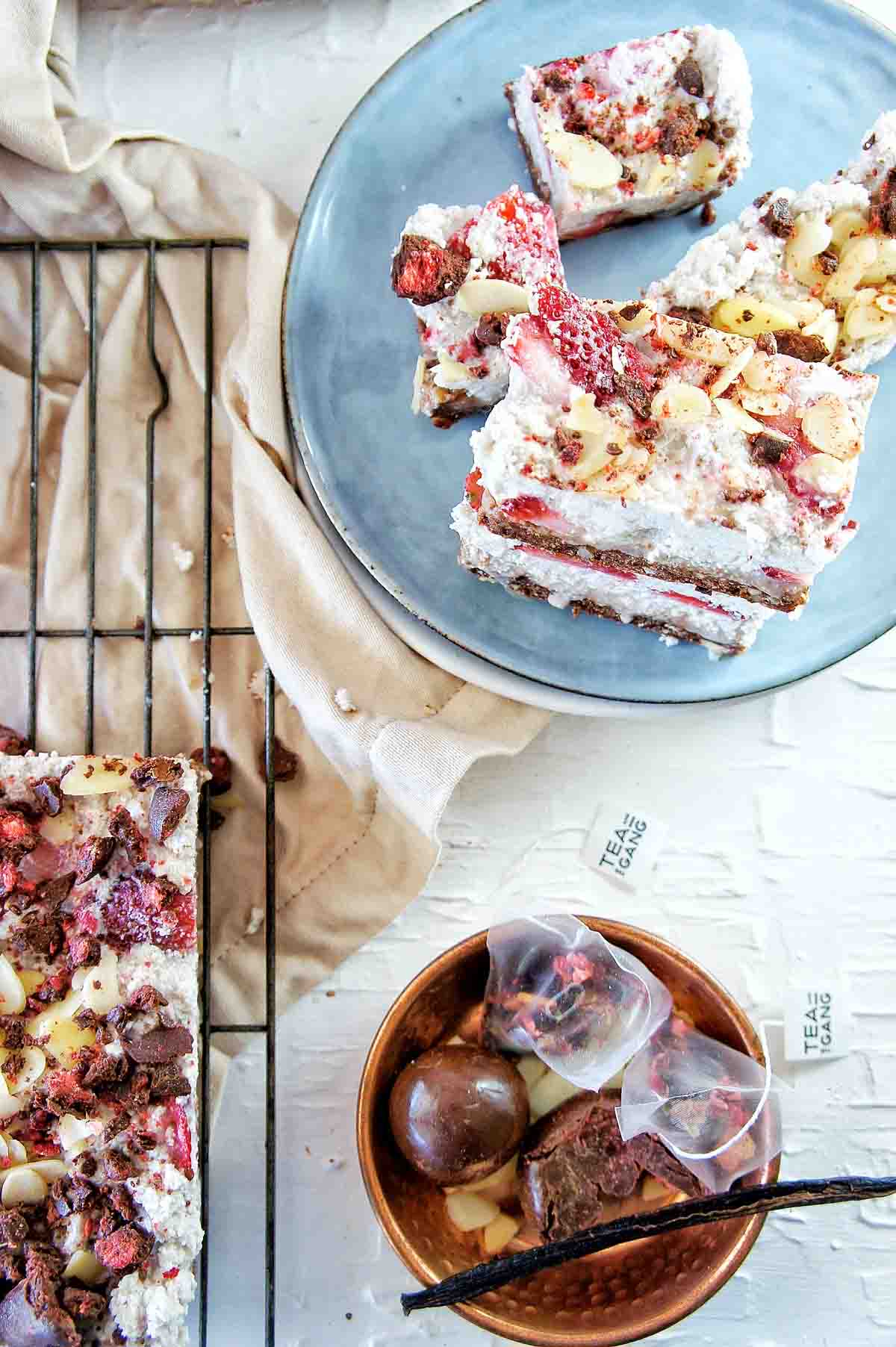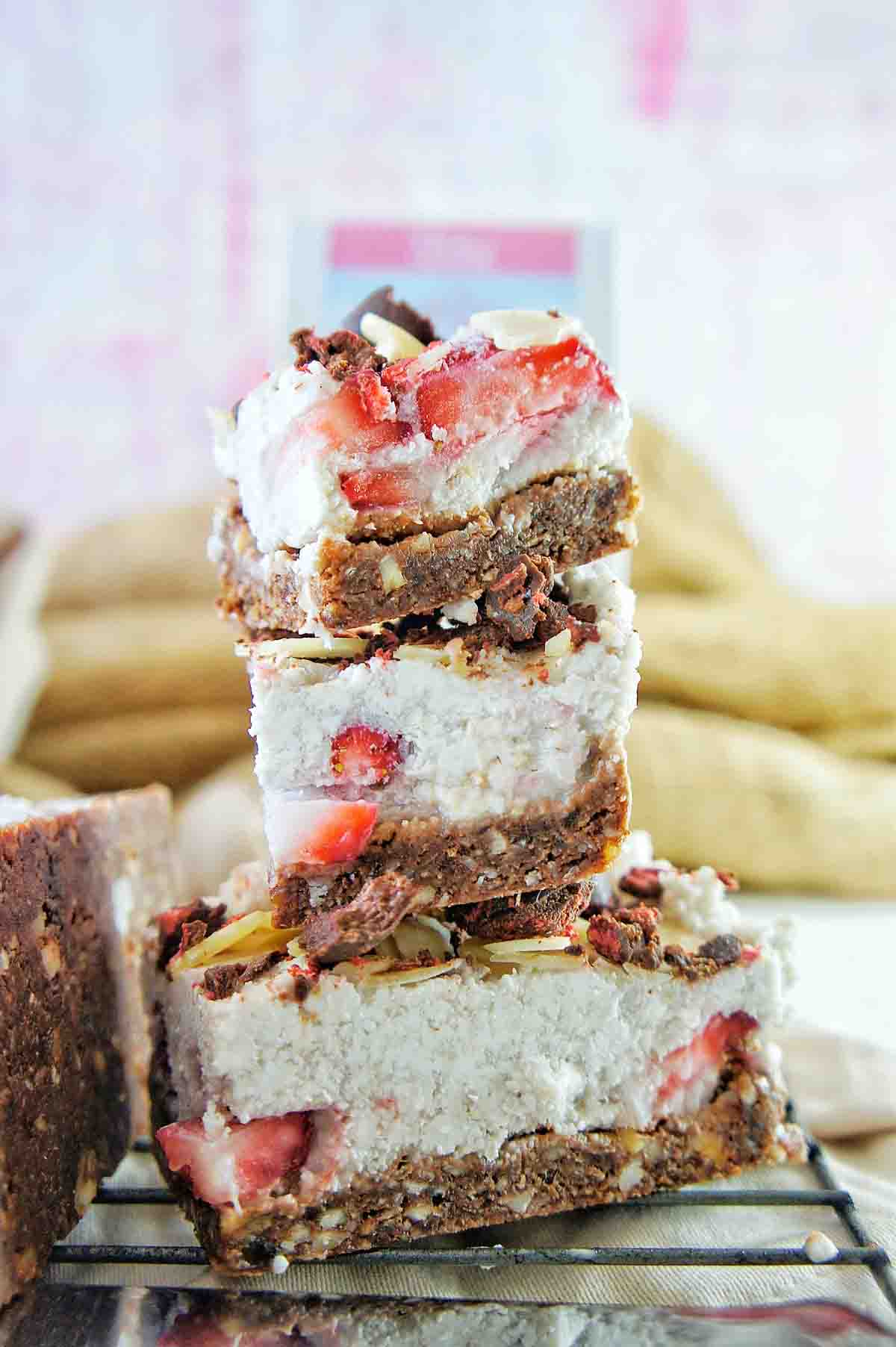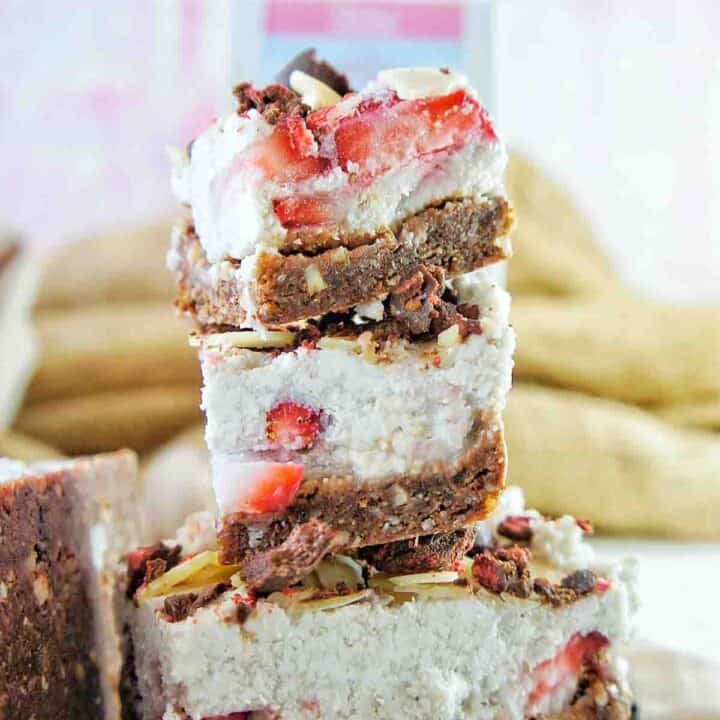 Choc Berry Slice
Choc Berry Slice is for dessert on Sweet Caramel Sunday! With simple ingredients and step by step instructions, you will be able to make this dish tonight!

Print
Rate
Ingredients
Choc Berry Slice Base
14

medjool dates

2

cups

water

1 ⅓

cup

desiccated coconut

¼

cup

cacao powder

½

tbsp

coconut oil

1

tbsp

honey

160

g

hazlenuts
Choc Berry Slice Coconut Cream Layer
2

tea bags

The Matchmaker Tea

Tea And The Gang

2

cups

water

100

grams

pine nuts

2

400ml

cans coconut cream

refridgerated

½

cup

desiccated coconut

250

g

strawberries
Choc Berry Slice Toppings Layer
8

freeze dried strawberries

⅓

cup

almonds

flaked
Instructions
Choc Berry Slice Base Method
Line a 20cm x 10cm slice tea with baking paper

Remove the pit from the dates, place in a heatproof dish and pour 2 cups of boiling water over them

Add ½ cup hazlenuts, cacao powder and coconut to the food processor and blitz to combine (it will form a fine powder)

Split a vanilla bean pod and scrap the insides into the food processor using a flat knife edge

Drain and discard water from dates. Add dates to the food processor dry mix, blitz to combine

Add remaining hazlenuts to the mix and pulse to combine

Transfer date mix onto the baking paper. Use your fingers to squish base into pan so that you have base layer. Place in freezer when done
Choc Berry Slice Coconut Cream Layer
Boil kettle, add pine nuts to a heatproof boil and add 2 The Matchmaker teabags, pour boiling water over nuts and leave sit for at least 2 hours

Brew one more teabag in a standard cup of water

Drain tea from pine nuts and discard liquid, but don't rinse nuts

Transfer pine nuts to food processor, pulse till they form a thick white paste

Take your coconut cream cans out of the fridge. Open, scoop set parts of coconut cream into food processor, discard remaining liquid in tin. Add honey to the mix and pulse to combine with pine nut paste

Add ¼ cup of tea to coconut cream mix (it will have cooled by now), drink or refridgerate the rest for a cold drink later

Add sliced strawberries to the coconut cream paste and stir gently to combine, taking care to not squish the berries

Pour coconut cream paste mix onto frozen base layer and use a spatula to smooth across to form its own layer
Choc Berry Slice Toppings Layer
Add freeze dried strawberries to a zip lock bag and use the back of a large spoon to break into smaller pieces

Sprinkle flaked almonds over coconut strawberry layer

Repeat sprinkle using freeze dried strawberry bits

Return to the freezer, it will take 2 hours to set

When ready to set, remove from freezer and use a hot knife to cut into smaller pieces
Notes
I have added the time it takes to soak the nuts in the total recipe time. This is because you need to be aware of it before you start so that you know it takes time to make this dish. 
You can use as little or as much of the toppings as you like. Some of these ingredients are expensive, so cut back on the toppings and spread it out a little thinner if you are on a tight budget. 
Medjool dates are more expensive than regular dates. They do create a thicker creamier type consistency than normal dates. However, normal dates will still work with the recipe. If using normal ones, increase to 18 dates 
You can use cocoa instead of cacao poweder if you don't have it/use it often 
Substitue agave syrup for the honey for a VEGAN alternative 
There is a difference between freeze dried strawberries (berry is dry) and chocolate covered strawberries (berry is chewy). The freeze dried ones are better for the dry, powder like texture inside 
We don't use the hazlnuts all in one go - some are blitz to a fine powder and some are chopped coarsley in the food processor to create the chunky texture for the base 
Base layer will have finger marks, this is fine, you don't need to make it too flat.
You need to put your 2 cans of coconut cream into the fridge for it to set. Preferably overnight, but if not, for at least 2 hs before using 
THE MATCHMAKER TEA ingredients: Hibiscus, Apple pieces, elderberries, raspberry pieces, strawberry pieces, blackberries, Freeze-dried strawberries, Pomegranate flowers, Blackberry leaves, Natural flavouring.
Nutrition
Serving:
0
g
|
Calories:
227
kcal
|
Carbohydrates:
26
g
|
Protein:
3
g
|
Fat:
14
g
|
Saturated Fat:
7
g
|
Cholesterol:
0
mg
|
Sodium:
8
mg
|
Potassium:
352
mg
|
Fiber:
5
g
|
Sugar:
19
g
|
Vitamin A:
35
IU
|
Vitamin C:
17.6
mg
|
Calcium:
35
mg
|
Iron:
1.5
mg
Did you make this recipe? Share on Instagram!
It makes my day when you make my recipes! Tag @sweetcaramelsunday
Thanks my friends, for letting me share this recipe with you today. I can hear you starting your engines to go out and grab the ingredients to make this slice! Haha, love your enthusiasum. Hope you enjoy it and before you go, I have 2 more recipes that I think you will love.
SWEET TREATS on Sweet Caramel Sunday:
You are welcome here anytime, I hope you know that.
Adrianne x