Chilli Lime Chicken Larb is for dinner!
Asian style flavours with some chicken mince and vermicelli noodles take this Chicken Larb in the right direction!
Finding inspiration
I have been wanting to make my cooking even more healthy lately and follow the trends I see like using super foods, like quinoa, more and more veggies and flavours that give zing and zest.
In Big W recently, a Donna Hay cooking magazine caught my eye as the front cover image of a burger with green sauce dripping from it looked to die for.
So when one of my sisters asked me what I wanted for my birthday I suggested that as I already had a picture of it I could send her and I don't usually buy things like that on a whim as you end up with too much crap everywhere and I don't like over cluttering my living space with every possible thing. So my birthday came and I received (gratefully) a copy of said magazine, which I eagerly perused and drooled over. As it was a weekend I was cooking on, I wanted to make something a little indulgent, different from the Monday – Friday, however, still within in a 'healthy choice' kind of range. Her recipe for a chicken larb caught my eye so I proceeded down that path, however, I changed the recipe to make it my own as I prefer to make things with my own selection of accompaniments and I knew in blogging about it, I didn't want to plagiarise anyone else's work (no originality in doing that!).
Before leaving my folks at the coast to come back to Brisvegas, mum and I had taken a tour of her veggies garden where she loaded my up with some lovely greens – basil, shallots, mint, chives, all good things,that I couldn't wait to add to this dish.
The recipe called for a Lime Vinaigrette which I did use this time and would use next time if in a hurry as super convenient and flavour is quite nice, however, as I like to know what is going in my foods, I think making it from scratch would be simple and easy enough.
It is so nice to be super chilled and relaxed at the moment, no stressors, putting my feet in the ocean up at Bribes and watching the sunset with mum, really makes you breathe at a slower pace, unwind and regroup all to face another week!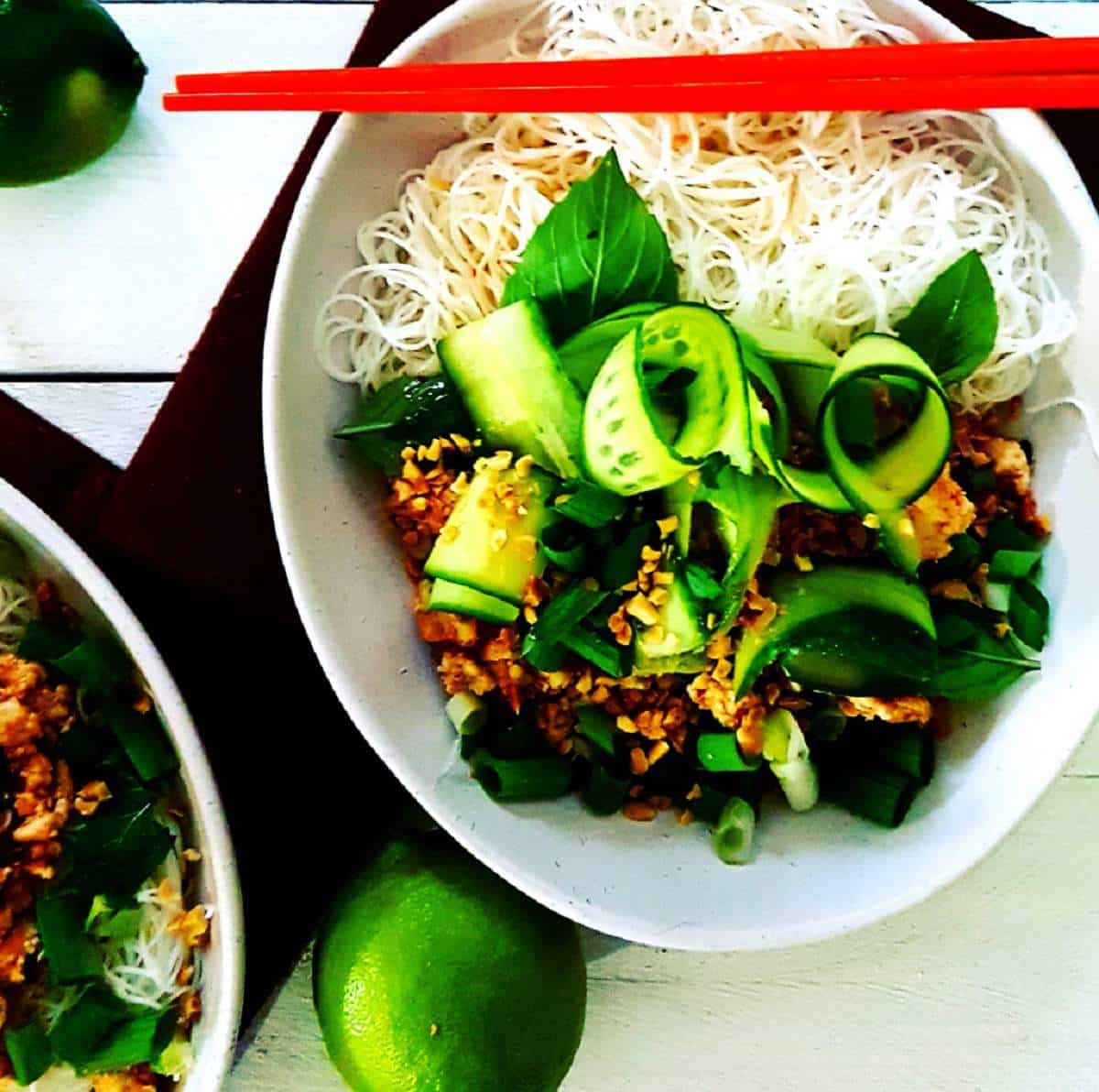 Eat your heart out xx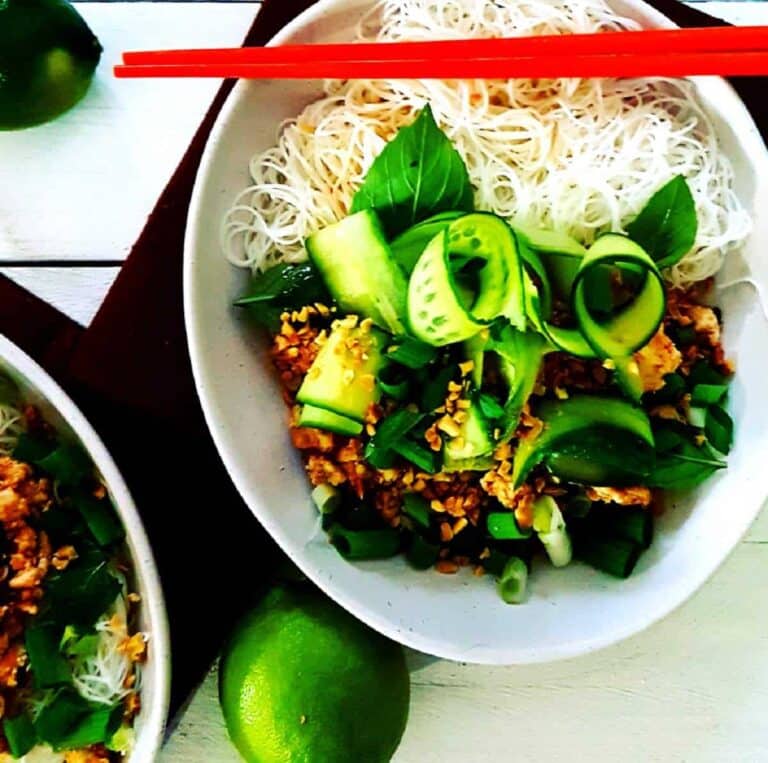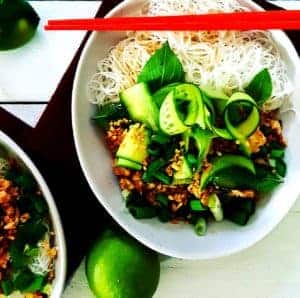 Chilli Lime Chicken Larb
Chilli Lime Chicken Larb is for dinner!Asian style flavours with some chicken mince and vermicelli noodles take this Chicken Larb in the right direction!
Print
Rate
Ingredients
Chilli Lime Chicken Larb
1

tbsp

peanut oil

1

tbsp

garlic

minced

1

tbsp

ginger

minced

500

grams

chicken mince

1/2

bunch

chives

1/2

cup

chilli lime vinaigrette

1

tbs

chilli

fresh, minced

1

tsp

salt

1

tsp

pepper

100

grams

vermicelli noodles

1

lebanese cucumber

thinly sliced

4

shallots

1/4

cup

mint leaves

1/4

cup

basil leaves
Instructions
Chilli Lime Vinaigrette Method
Heat wok and when at right temperature (hold your hand over the wok above and you will feel the hot air rising) add the oil, garlic and ginger


Add the chicken mince and start to cook, breaking up any chunks as you go with a cooking utensil


When the mince is near cooked (as there are very few pink bits left) add the vinaigrette


Add the fresh chili, continue cooking, till meat is fully done, add the chives and stir in, for no longer than about 2 minutes


Once the larb is done, prepare the noodles, by placing them in a heat proof bowl and pour enough water over them to cover, leave for about 4 minutes, use a fork to help separate


Slice the cucumber and other greens for garnishing


Rinse the vermicelli noodles, portion into serving plates and top with the larb


Add cucumber and additional garnishes, top with a drizzle more of the vinaigrette and some granulated nuts

Video
Notes
*I like using the wok for this dish as it is super speedy, stove top either gas or electricity would also be fine (ie don't go out and buy a wok just because you don't have one, there is no need for that).
Nutrition
Calories:
475
kcal
|
Carbohydrates:
31
g
|
Protein:
23
g
|
Fat:
29
g
|
Saturated Fat:
6
g
|
Cholesterol:
107
mg
|
Sodium:
665
mg
|
Potassium:
874
mg
|
Fiber:
1
g
|
Sugar:
4
g
|
Vitamin A:
335
IU
|
Vitamin C:
11.6
mg
|
Calcium:
48
mg
|
Iron:
2.3
mg
Did you make this recipe? Share on Instagram!
It makes my day when you make my recipes! Tag @sweetcaramelsunday
Recipe published in November 2017, updated in May 2019 with new recipe card (original recipe)