Chicken Meatballs are for dinner tonight. With simple ingredients and step by step instructions, you will be able to make this dish tonight! This recipe uses store bought chicken meatballs.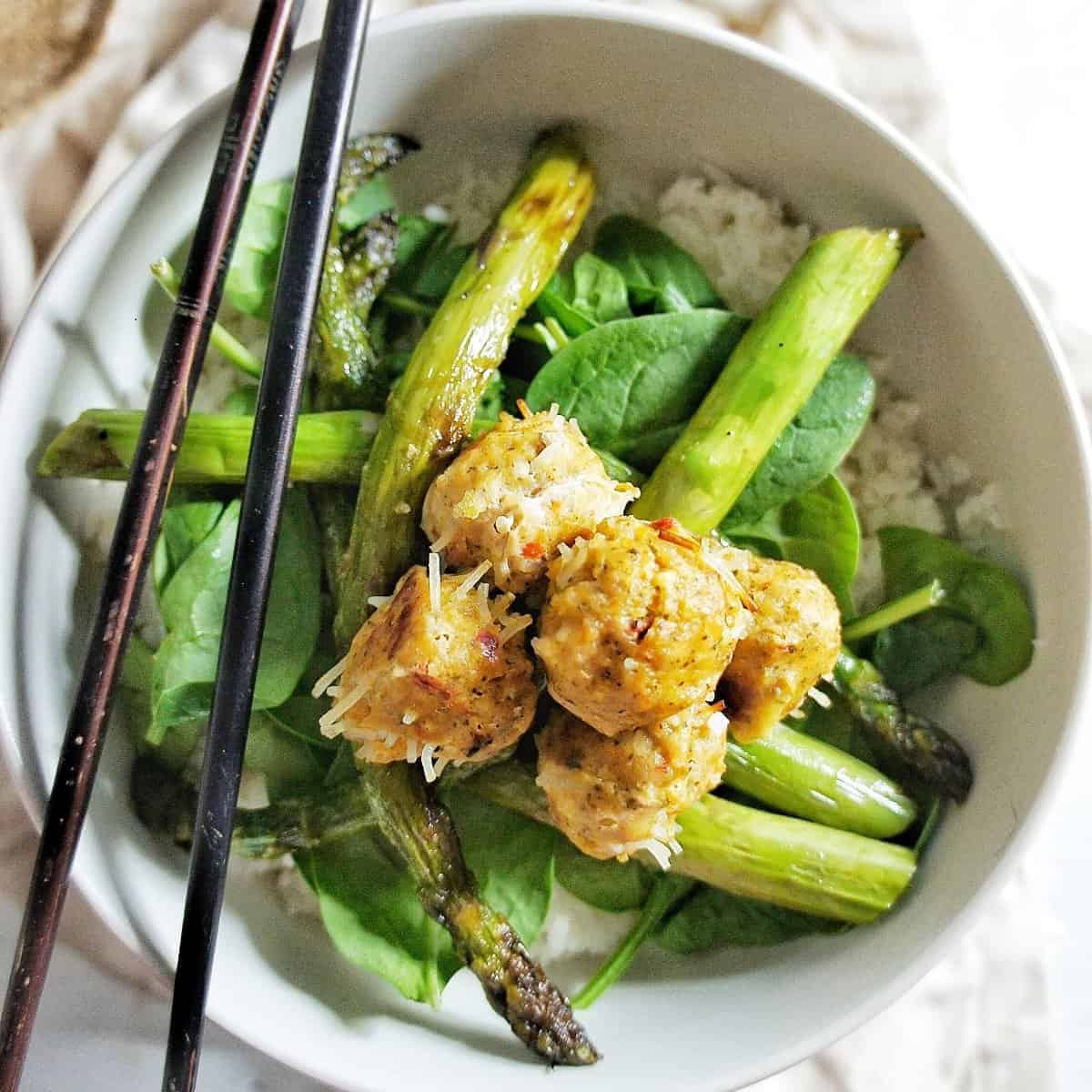 Chicken Meatballs are for dinner on Sweet Caramel Sunday!
Hey, hey guys, how are you? I have been well thanks and I am super excited to bring you this recipe today. Brisbane is very green, we have had blue skies and the heat has returned. We have VERY hot summers where you have to have a pack of zooper doopers in the fridge as a precautionary measure as to avoid heat stress.
Craving Quick and Easy Dinners
I was at work recently and craving having an Asian Fusion dish but it was a week night and for me that means 'fast cooking'. As whilst I would love to whip up laborious dishes every night we all know that is not possible. Sometimes a girl has to have a few go to recipes up her sleeve, so the take away store is driven past, dinner is on the table at a reasonable hour and one's head has hit the pillow off to dream the night away.
Usually I am loathe to buy pre-made meatballs as quite frankly, I have never bought ones that I was happy with the flavour. They are too bland for my palate and I know I can do a better job. But what I can't do a better job of is wanting something right there (or at home) and then but also putting in the time to produce that.
So I did a bit of googling as one does and I realised that my local grocery store now sells Jamie Oliver Chicken Meatballs that are RIGHT UP MY ALLEY. No joke, these are BLOODY GOOD! They have enough flavour to tick all of my desires when I want a meatball dish. I think the were a 16 pack and they are in the meat section, should you wish to find them.
About the recipe:
It is a quick and easy recipe for a busy week night
It is 'Asian Fusion' cooking, so you will get some great diverse flavours
The coconut rice is done in the microwave!
You do most of the work one night and have leftovers for the next few nights
To answer your questions:
The dish is best served HOT!
It is suitable for freezing
The meatballs can be baked or cooked in the frying pan
This is an EASY dish to pull together
In a few of my instagram posts lately I have been talking to you about how I have been making my coconut rice in the microwave....yup, uh huh. I also posted another recipe to the blog using that rice after microwave cooking, so you can check that out here. That recipe is for Honey Soy Pork Ribs and boy oh boy, they were good!
So we have our J. O. Meatballs, which we bake in the oven for an easy 25 minutes. At the same time as that our coconut rice is cooking in the microwave (almost gives a girl enough time to paint her nails whilst getting dinner ready!). Our fresh spinach leaves are ready to go. Then for our asparagus, we chargrill it, using the step by step instructions in this recipe, right here. It is for Crispy Cheesy Chargrilled Asparagus and ermagawd it tastes good. (If you really wanted to shorten prep time, I would recommend chargrilling the asparagus as per the instructions and then skipping making the Crispy Cheesy Bark).
Essentially then it is all a matter of throwing it into some bowls and you are ready to eat it!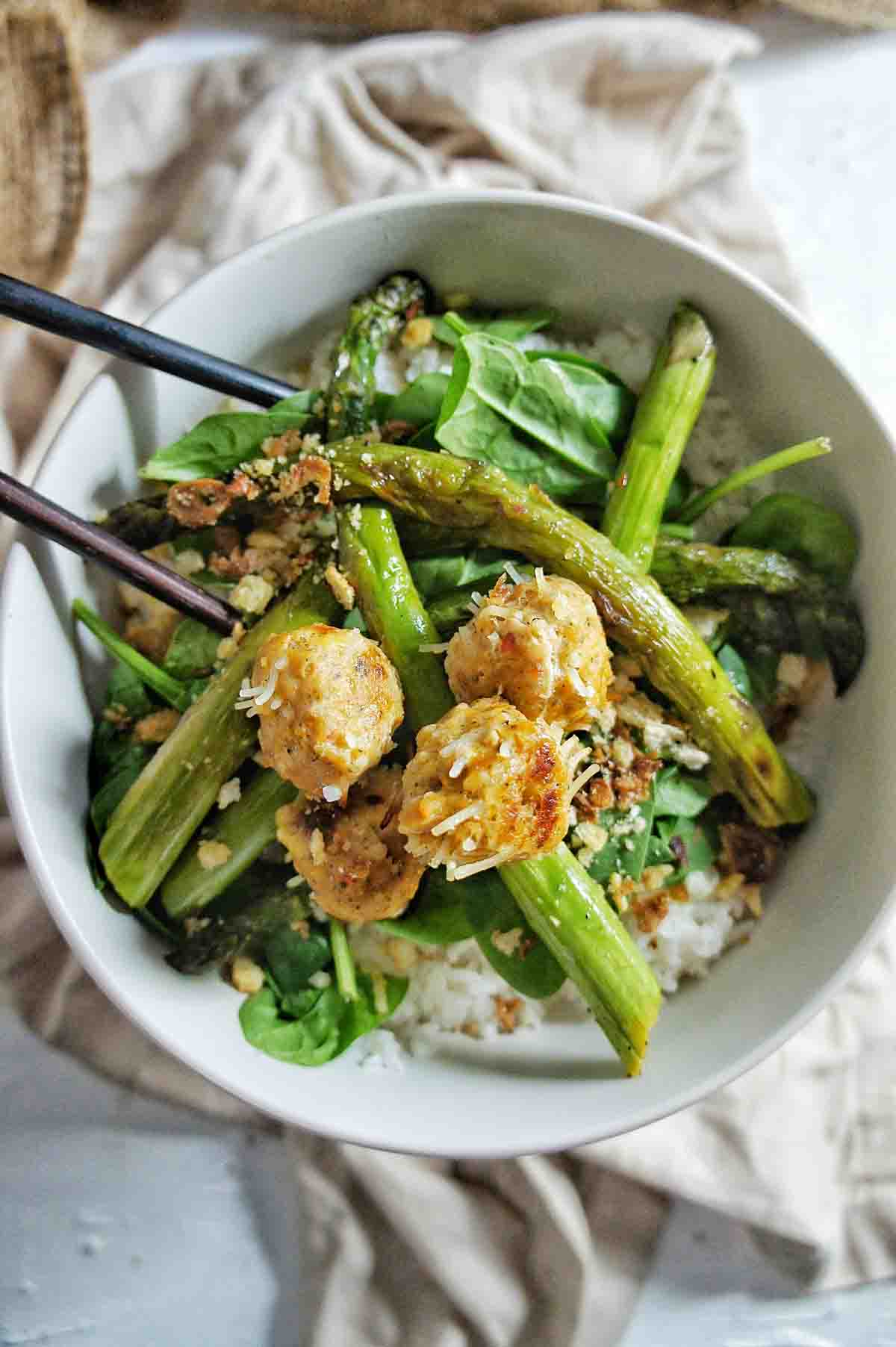 I think I ended up having a version of this dish for about 4 nights in a row and the best bit was I didn't even have to cook anymore rice!! As per the recipe, it makes a good amount of coconut rice and you can literally leave it in the fridge in the rice cooker for days at a time (you really can get your nails sorted if you think like this!)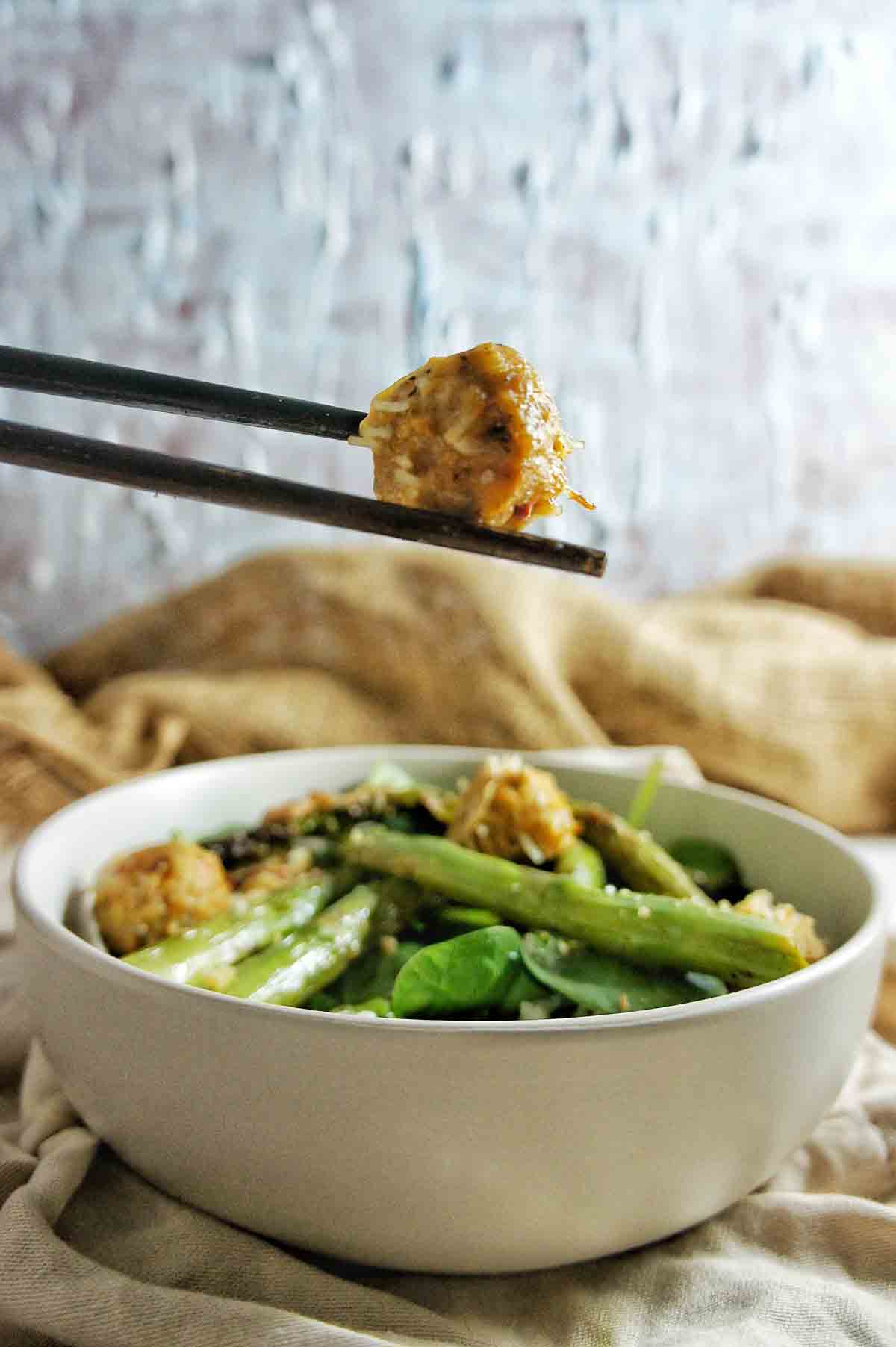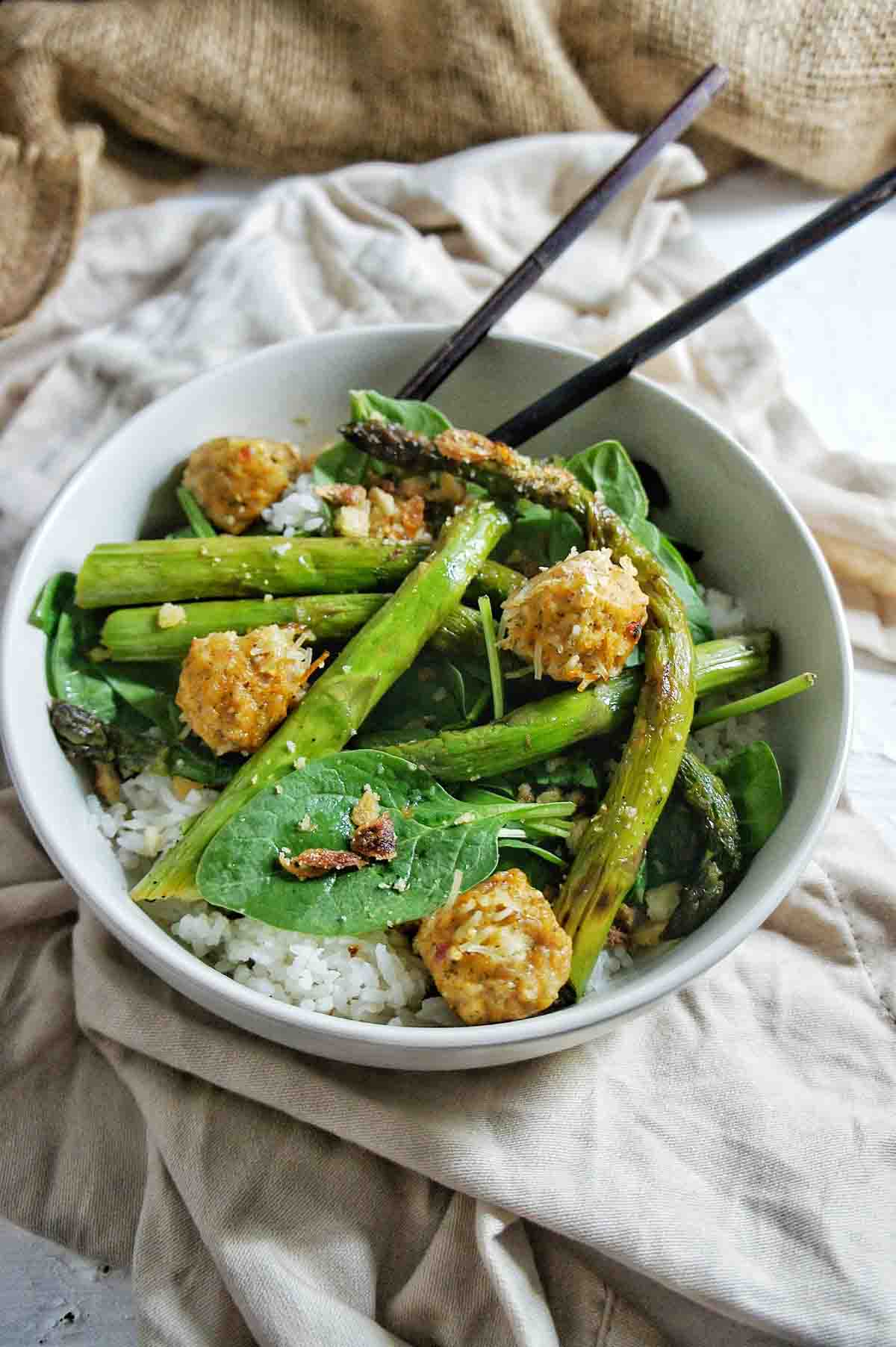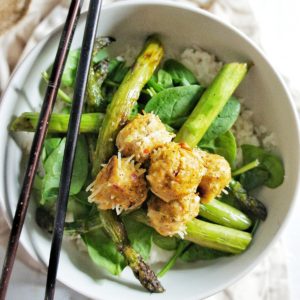 Chicken Meatballs with Coconut Rice
Chicken Meatballs are for dinner on Sweet Caramel Sunday! With simple ingredients and step by step instructions, you will be able to make this dish tonight!

Print
Rate
Ingredients
Chicken Meatballs with Coconut Rice
400

grams

Chicken Meatballs

(Free range)

2

bunches

chargrilled asparagus

see chargrilled asparagus recipe

200

grams

fresh spinach leaves
Coconut Rice
2

cups

jasmine rice

1

cup

water

1

400ml

can coconut cream
Instructions
Chicken Meatballs with Coconut Rice
Coconut Rice
Add rice, water and coconut cream to a microwave rice cooker and cook for 14 minutes.
Notes
Use a microwave cooker for your coconut rice, it is quick and easy and tastes great! 
You can buy the meatballs and freeze them, then take them out to cook (after defrosting in the fridge for a few hours).
I would not recommend freezing the dish again if you used frozen meatballs 
I have not been sponsered to do this post and I normally don't recommend products in the sense that I haven't, however, TRUST ME and get them, they are so good! 
The rice will cook perfectly during the 14 min time frame allowed, if you remove the container from the microwave straightaway you will still see some liquid - stir to combine this, don't reheat it. If you leave it for a bit longer in the microwave or on the bench, this will automatically be absorbed. But don't cook for longer as it will then be overcooked and the rice will be dry!
Ingredients in the meatballs are: Chicken (81%), Asian Style Seasoning (10%) (Breadcrumbs (Wheat Flour, Sugar, Salt, Yeast, Canola oil), Vegetables (Bell Peppers, Garlic, Onion), Herbs and Spices (Chilli (4%), Coriander, Lemongrass (0.7%), Kaffir Lime (0.6%), Turmeric, Cumin), Salt, Fish Sauce powder (Sardines), Preservative (223)), Lime Juice (5%) (contains preservative (Potassium Sorbate)), Vermicelli Noodles (Rice, Water).
Nutrition
Serving:
0
g
|
Calories:
608
kcal
|
Carbohydrates:
88
g
|
Protein:
31
g
|
Fat:
16
g
|
Saturated Fat:
5
g
|
Cholesterol:
95
mg
|
Sodium:
527
mg
|
Potassium:
839
mg
|
Fiber:
7
g
|
Sugar:
5
g
|
Vitamin A:
6390
IU
|
Vitamin C:
26.6
mg
|
Calcium:
201
mg
|
Iron:
9.1
mg
Did you make this recipe? Share on Instagram!
It makes my day when you make my recipes! Tag @sweetcaramelsunday
Further recipe inspiration
Before you duck off to the shop to buy the ingredients to make this dish, I also wanted to give you some other meal ideas.
For today, I have chosen 2 savoury and 2 sweet dishes I think you might like:
SAVOURY:
SWEET:
That's all from me for today, enjoy your weekend and talk soon.
Adrianne x
Please note: As an Amazon Associate I earn from qualifying purchases.