Chia Pudding – it is all the rage lately. Have you heard of it? It is a dessert with 2 primary ingredients, one being the chia seeds and the other being a liquid (often milk) which thickens over time to create a dessert like texture. 
Happy Friday, my friends!! It is so good to get to the end of the week and have a little down time ahead, to chill, relax and unwind. I wanted to share this recipe with you tonight as a chia pudding is something which I think creates a little bit of wonder but is so simple and easy that once you have made it once, you will wonder why you have been putting it off for so long.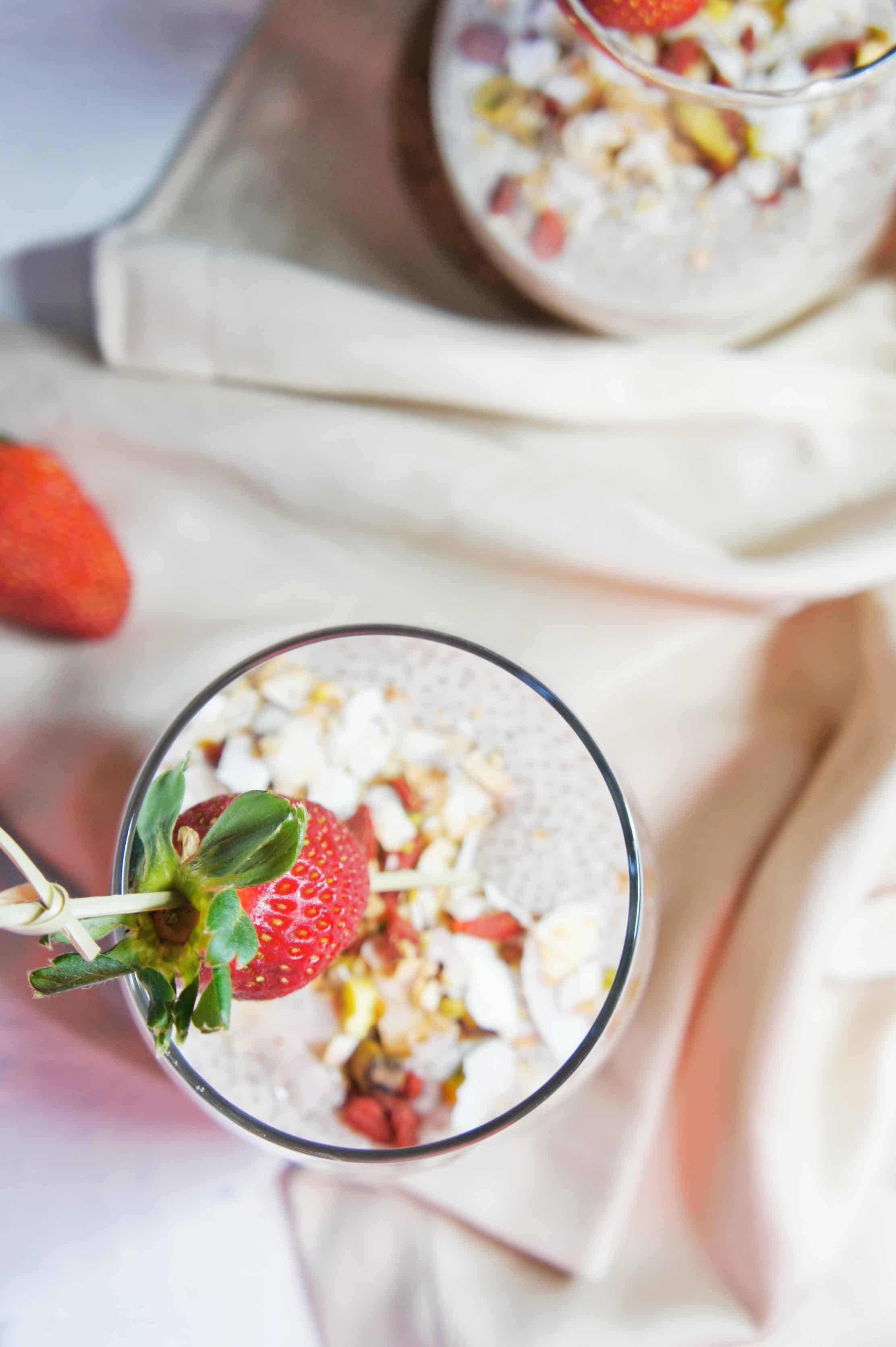 The best thing I find about chia pudding is that you can make it on a week night for the next day's breakfast or dessert later in the week. It does keep for a little while in the fridge and it is so different from other desserts that it is an option for when you want to spice things up and change up your options.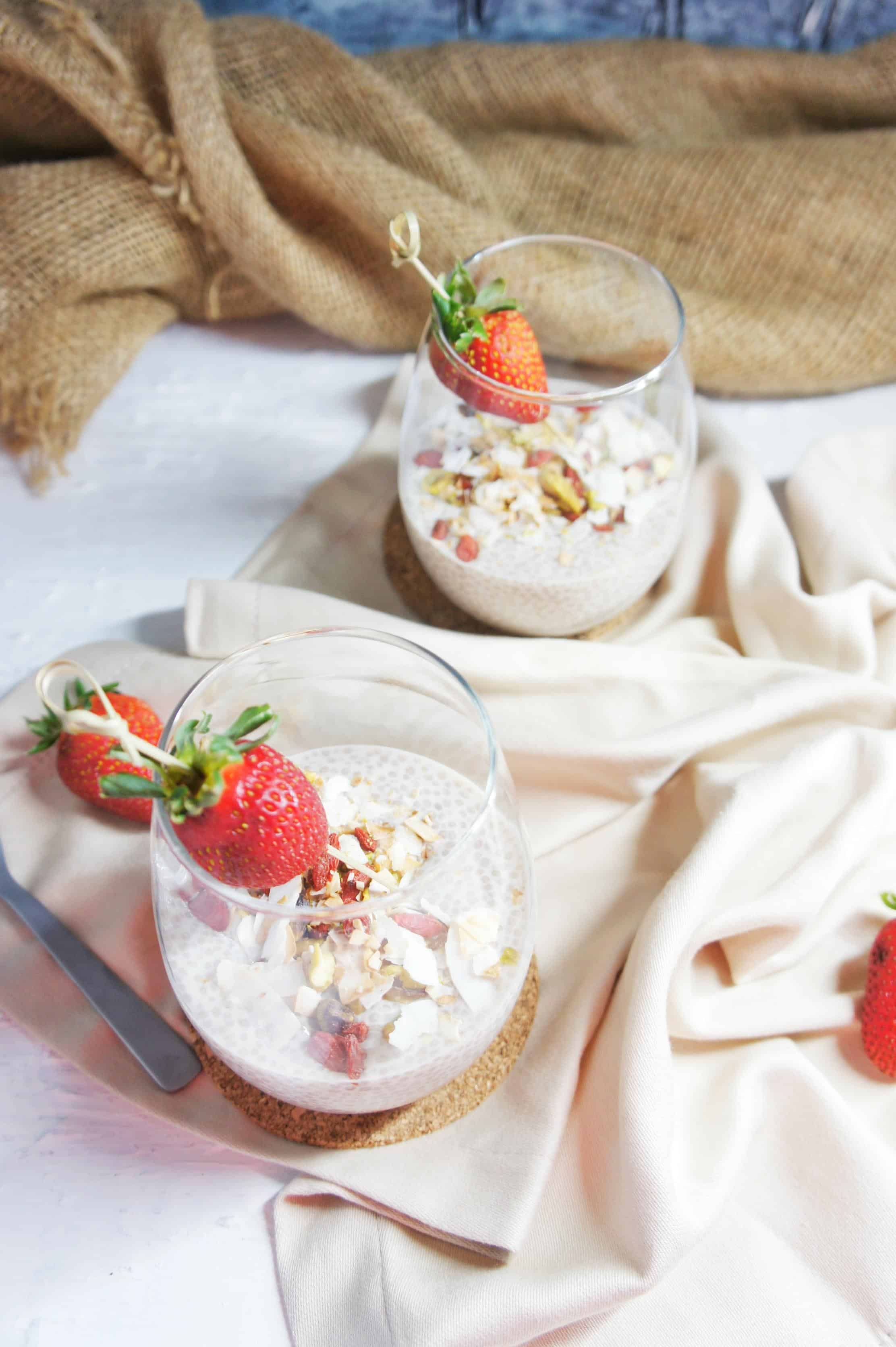 Just the other day, I shared with you a recipe for Super Food Ice Cream Sprinkles. As you know from my style of cooking and working in the kitchen, I like to use ingredients that can be used over and over to minimise wastage. So for example my recent Dark Chocolate Bark used a combination of goji berries, shaved coconut and pistachios. That recipe makes a large quantity of the sprinkles. I find that is great as you can leave the leftovers in the fridge in a zip lock bag. Then next time you are making a different snack or dessert you can grab that out and use it, the benefit being you won't have to start the recipe again from scratch.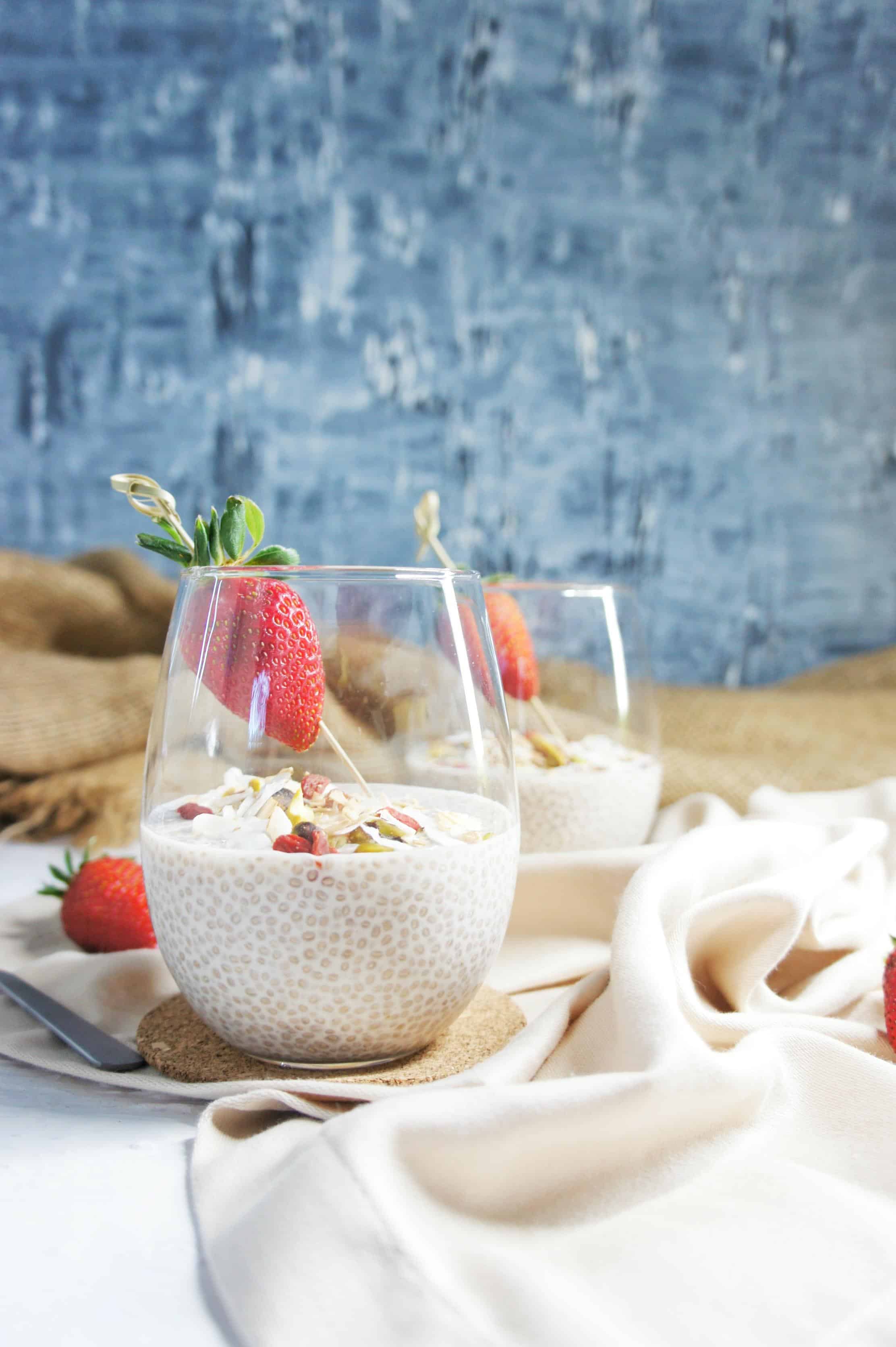 So for these chia pudding desserts, I wanted to use the leftover sprinkles (from my recent bark) and serve them with some beautiful fresh strawberries I bought. It is a simple combination of a few key elements and it works.
Don't be suprised if you start to think about Chia Puddings for breakfast, lunch and dessert……..there are literally so many possibilities, that I am sure you will begin waking from your sleep, thinking 'I've got it' and have a brainwave for a new combination that you haven't tried yet. I apologise for putting all of these ideas into your heads………..well not really as I know you will thank me for it when you try them!
Let's get to the recipe…………….
Adrianne x (cold in vegas in the mornings, but warming up throughout the day, hot choc does help ;P)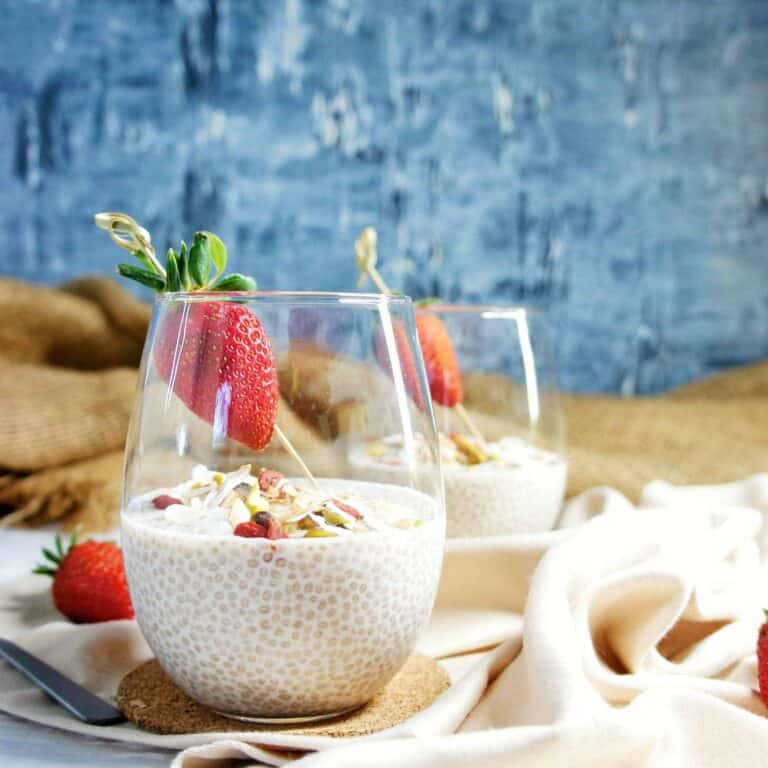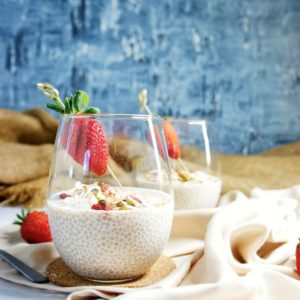 Chia Pudding
Recipe for a simple easy and delightful looking chia pudding. You can make these for breakfast or dessert and tick the 'healthy' food option for the rest of the day!
Print
Rate
Ingredients
Chia Pudding
2

cups

almond milk

or coconut milk

1/4

cup

chia seeds

any colour

1

tbsp

honey

agave syrup if you are vegan

1

tsp

vanilla essence

more if you want it sweeter tasting
Superfood Sprinkles
1

cup

coconut

shaved and dried

1/4

cup

pistachios

1/4

cup

goji berries
Instructions
Pour the Almond Milk into a glass bowl. Add the Chia seeds and stir for 5 minutes. Ensure that all of the seeds are thoroughly mixed in with the milk.

Add the honey and vanilla essence to the milk mix and stir to combine, then cover with glad wrap and refrigerate over night

Place the pistachios in a zip lock bag, seal, then bang with a spoon to break into smaller pieces.

Place the coconut and pistachios into a non stick fry pan, toast, till the coconut is light brown

Add the goji berries to a small bowl. When cool, add the coconut and nut mix to bowl and stir to combine
To Serve
Portion out the chia pudding into 2 glasses, garnish with Superfood Sprinkles and fresh strawberries
Notes
The quantity here will make a decent amount of the sprinkles. Store the leftovers in a zip lock bag in the fridge to have on hand when needed.
There are all types of consistencies for chia puddings. This one is not as thick as a mousse. Its texture is closer to that of a milk shake. 
To make a thicker pudding, add more chia seeds before leaving overnight. 
VEGAN option: omit the honey and use agave syrup instead 
Sweeter option - add more of the honey/agave and or vanilla essence 
Nutrition
Calories:
404
kcal
|
Carbohydrates:
29
g
|
Protein:
9
g
|
Fat:
29
g
|
Saturated Fat:
13
g
|
Cholesterol:
0
mg
|
Sodium:
337
mg
|
Potassium:
386
mg
|
Fiber:
13
g
|
Sugar:
12
g
|
Vitamin A:
65
IU
|
Vitamin C:
2.1
mg
|
Calcium:
456
mg
|
Iron:
3.2
mg
Did you make this recipe? Share on Instagram!
It makes my day when you make my recipes! Tag @sweetcaramelsunday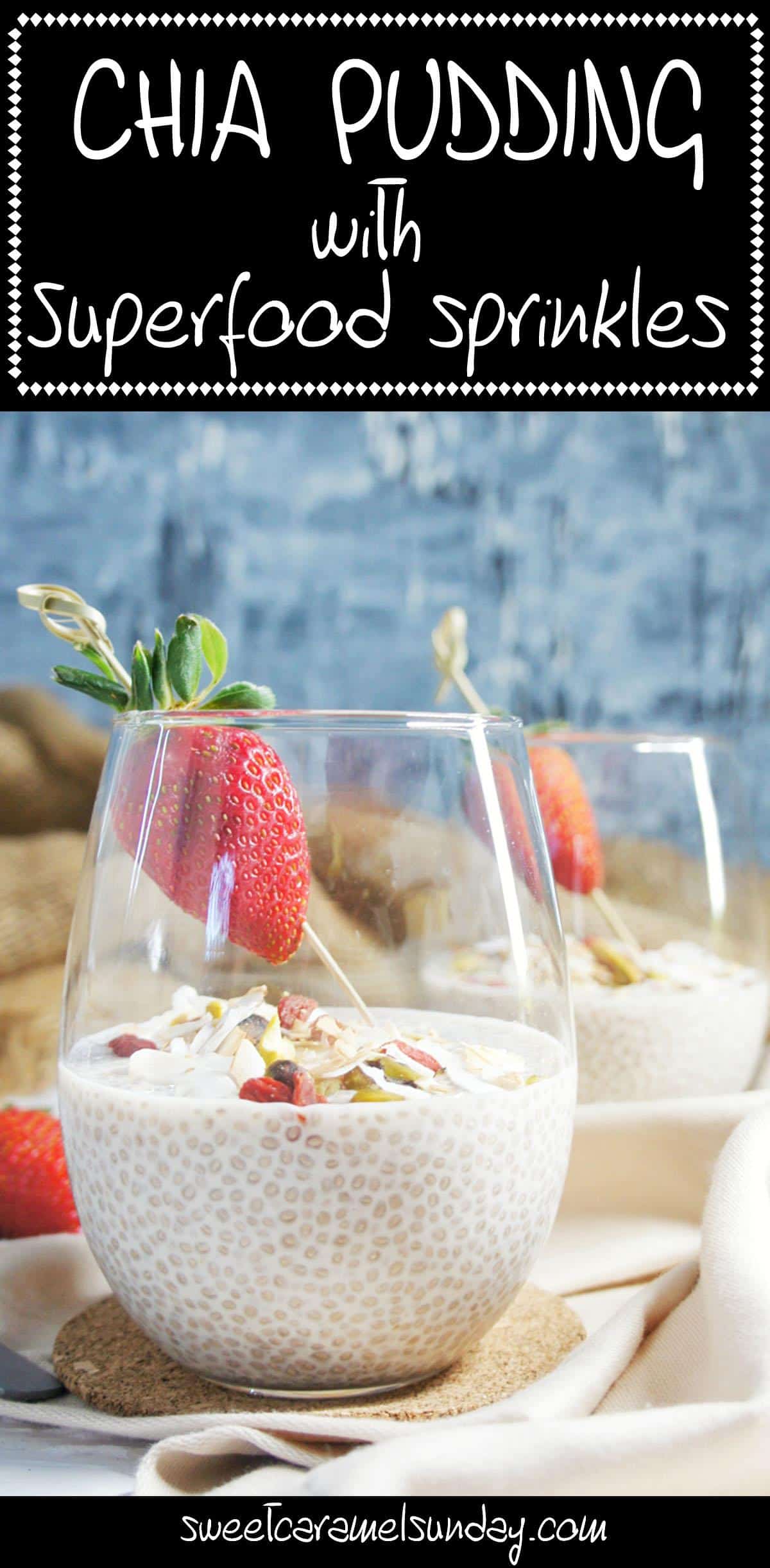 So………….don't leave just yet, I promise if you stay around for a little bit longer, I will make it worth your while, sounds good doesn't it….so let's talk some more sweet talk.
How about a recipe for a Super Easy 4 Ingredient Rocky Road it is perfect for a bake sale, or a housewarming, bridal shower, baby shower, you will name it. Check it out and I am sure that you will be happy you did. Grab it here.
But wait……….YOU WANT MORE, I hear? Well, ok my friends, we have talked about my chocolate bark, it is easy to make, looks very pretty and uses the same ingredients for the sprinkles as this chia pudding recipe, what more could you want. You will find that recipe right here.
And as I know life is not all about party pies and chocolates (we can still dream right!), I want to give you a healthy option too when you read this. How does a Beetroot Powder Smoothie sound……..it sounds good, doesn't it!! Well that recipe is right here.
Ok, that is all from me, I look forward to seeing you guys and your kitchen creations, that you languish in creating when you have sometime up your sleeves.
Have a good night and Tonks says, stay warm!
P.S If you haven't already subscribed to my blog, I would LOVE it if you do. Email is the best method and you can change your delivery preferences at any time. There is a box just below if you scroll down or on the main page, I would LOVE to add a bit of colour and creativity to your inbox!